Moving To Honolulu – A Relocation Guide for 2022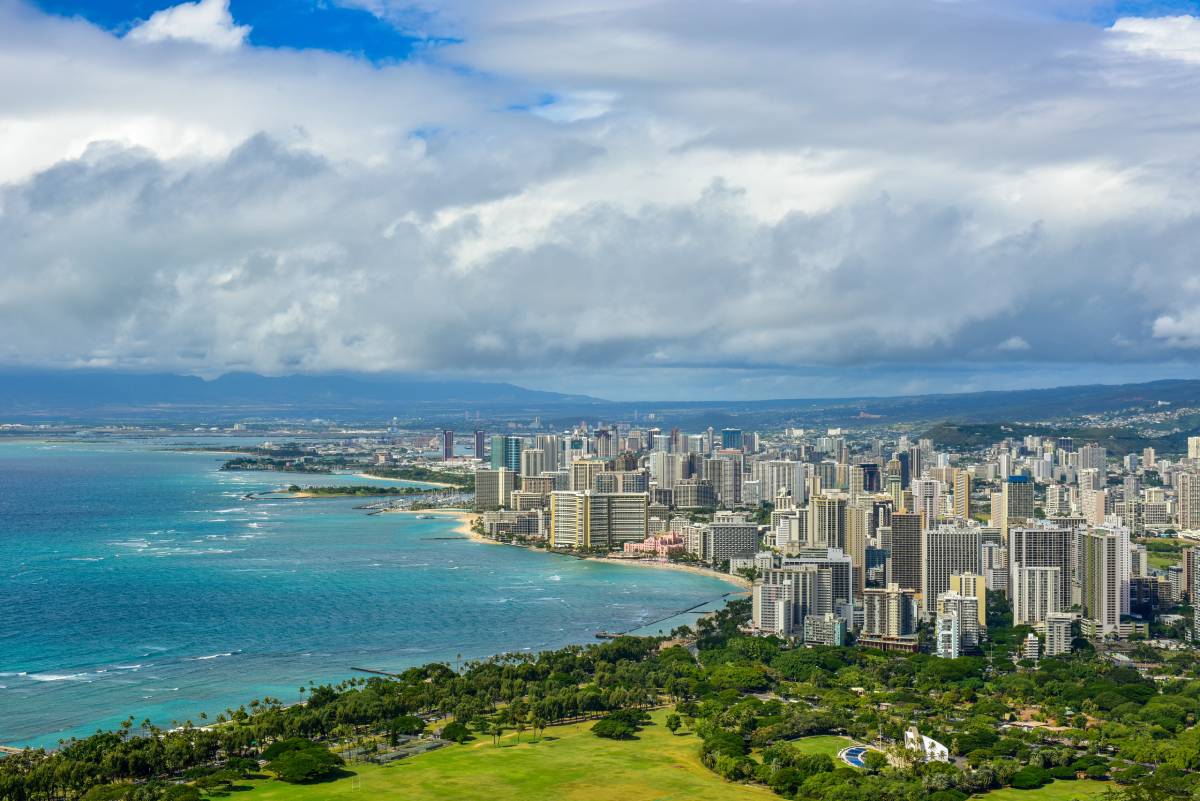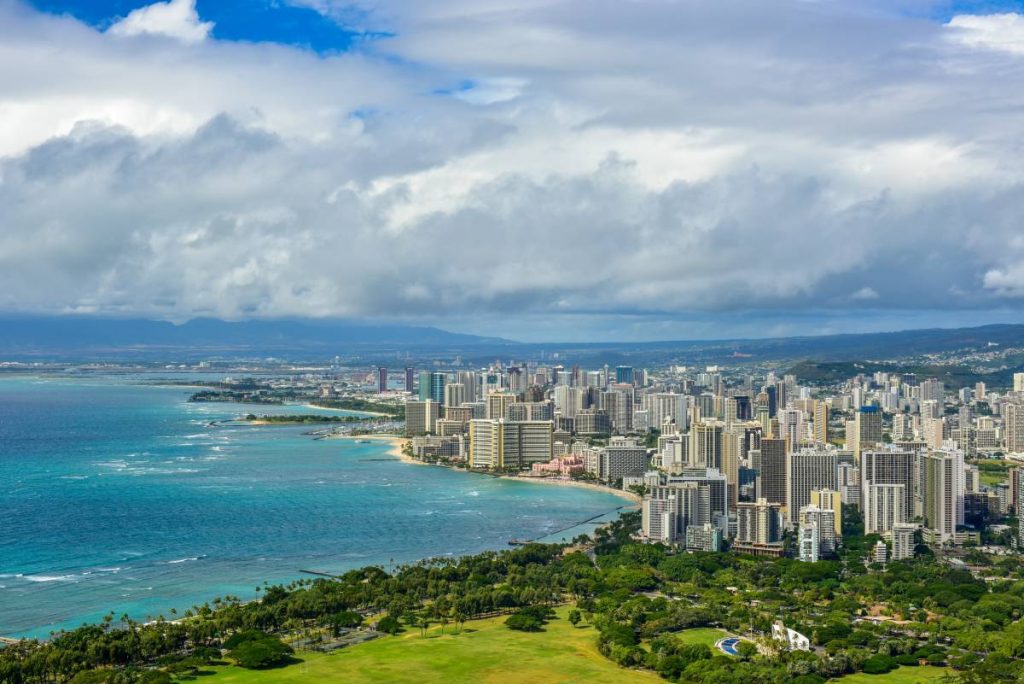 Honolulu, the capital city of Hawaii, truly feels like a metropolitan dropped in the middle of a paradise surrounded by the sea. Honolulu is the biggest hub for finance, business, military defense, and hospitality in both Oceania and the state of Hawaii.
Honolulu translates to 'sheltered harbor', which is a name that it gets because of the deep, narrow channel that makes it one of the most ideal ports in the state. This is very significant to the state since it lies at the crossroads of the trans-Pacific air and shipping routes. The city of Honolulu, along with the rest of the state of Hawaii, is very culture-centric. The culture here is greatly focused on camaraderie and friendship, making the experience of living here a rather comfortable one.
There are a few more things that you should know about the city of Honolulu before you decide to move. While there are lots of beaches, buddies, and luaus, there is much more than Honolulu offers to people wanting to live there. Keep on reading to figure everything out!
Pros And Cons
Pros
Thriving Job Market
Oahu, the island that is home to the city of Honolulu, is a pretty huge tourist destination. Every year, it attracts almost 9 million tourists, making the tourism industry here the biggest industry in this city. Other than the tourism and hospitality sectors, the healthcare in Honolulu is also very promising. These three industries are the holy trinity of the economic drivers in this city and they are booming.
Rich Culture
Even though Honolulu is relatively urbanized, the residents have held tight to their cultural roots. This is very evident in the cultural monuments and artifacts that are very well preserved in the city. Another piece of culture that is seen in Honolulu is the festivals and luaus held across the city. You will also see a lot of people speak in Swahili and Hawaiian Pidgin, which is a language that blends Hawaiian, Japanese, Filipino, Chinese, and Portuguese.
Beautiful Beaches
Well, it is Hawaii after all, you can literally turn in any direction and find a beautiful beach waiting for you. Some of the highlights on the list of sun-and-surf spots are Hanauma Beach and Waikiki Beach. If you want a different experience on the beaches of Honolulu, you can visit Mother's Beach, which provides its visitors with beautiful white sands, calm waters, and easy entry off the side of the Kamehameha Highway.
Cons
High Cost Of Living
Honolulu is a beautiful place with a laidback lifestyle and Hawaiian culture that allows you to access all the metropolitan amenities. However, living in this piece of paradise comes with a heavy price tag. The cost of living in Honolulu, along with the cost of housing, is on par with the expenses incurred in the bigger cities like New York or Chicago.
Away From The Mainland
The location of Hawaii is a little away from the mainland, making it secluded and quiet. The only caveat is, the state of Hawaii is only accessible by flight or boat, and the closest part of the mainland is Alaska. However, even Alaska is about five and a half hours away from Hawaii. So, while it is a great place once you get there, getting there, or getting out of there, might add a day's worth of travel to your plans.
Declining Population
In the past five years, the population of Honolulu has been decreasing consistently. While it is something to keep an eye on, it might not be a concern, yet. While there are many reasons that can contribute to this phenomenon, the higher possibility is that it is a combination of reasons that lead to it. Reasons like pandemics, political conflicts, or lack of basic services are some of the contributing factors.
Weather In Honolulu
The city of Honolulu experiences a semi-arid climate, which means that the weather is hot and dry in summers, and comfortable and humid in the winters. This city sees very little rainfall and the temperature varies between 68°F and 87°F.
Talking about the summer season, it lasts for about three and a half months between late June and mid-October. The temperatures in the summer season vary between 76°F and 87°F. The average daily temperature is 83°F.
The winter also lasts for a similar time as the summer. However, the winter in Honolulu begins in mid-December and stretches to early April. The average daily temperature rarely goes above 81°F, with the coldest month being January. The average temperature in winter can swing from 68°F to 79°F.
While there is no defined period for rainfall in Honolulu, the city does receive some rainfall in the months between October and March. The amount of rain averages to about 49 inches in a year. The state of Hawaii altogether does not receive any snowfall, making the climate here ideal if you are someone who's looking for a place with proper beach weather.
Cost Of Living In Honolulu
Buying A House In Honolulu
The housing market in Honolulu is an interesting one. Most of the single-family homes in Honolulu were built in the 1950s, 60s, and 70s and the overall average age of the houses in Honolulu is above fifty years. All of the houses in Honolulu are built on foundation poles to keep them away from the ground, since the land is mostly soil that reacts to the climate.
That being said, the housing market in Honolulu is highly competitive. On an average, a typical family home stays on the market for less than sixty days, with the hotter houses selling in almost half the time. So, if you are looking for a place in Honolulu, make sure you are on your toes.
| | | |
| --- | --- | --- |
| | Honolulu | United States |
| Median Home Value | $822,358 | $358,000 |
Renting A House In Honolulu
Renting in Honolulu is maybe the most expensive in the state, if not the nation. However, how expensive your rental place would depend on which side of the island you are on. On the island of Honolulu, the apartments are closest to the business district, making them the most expensive. We've curated a list of average rents in Honolulu, based on the size of the houses.
| | | |
| --- | --- | --- |
| Apartment Size | Honolulu Average Monthly Rent | US Average Monthly Rent |
| Studio apartment | $1,250 | $845 |
| 1-Bedroom Home | $1,560 | $875 |
| 2-Bedroom Home | $1,870 | $1,001 |
| 3-Bedroom Home | $2,350 | $1,167 |
Taxes In Honolulu
Income tax on the island of Honolulu is levied only by the state, and not any other local entity. The rate of income tax levied by the state government on the residents of Honolulu is 7.03%. For example, if your salary is $50,000 per annum, you might end up paying $137 every year as your income tax.
The residents of Honolulu pay very little in terms of property taxes. In fact, they pay some of the lowest property taxes in the country. The property tax rate in the county of Honolulu is merely 0.29%, which is a quarter of the average property tax rate in the USA.
Lastly, when it comes to the sales tax levied in Honolulu, the residents have to pay an effective combined sales tax of 4.5%. Out of this 4.5%, four percent is charged by the state of Hawaii and 0.5% is charged by the county.
Expenses In Honolulu
One of the biggest expenses when it comes to living in any place in the world is the cost of utilities as well as the operational costs. When you are living in a place like Honolulu, taking your eye off of the budget will end up burning a hole in your pocket. In order to give you a better idea, here are some of the basic costs of living in Honolulu.
When it comes to the utilities like electricity, water, heating, and garbage disposal, they'll bring you down by $281 every month. Throw a decent internet connection in the mix and you will end up spending about $60 more. Talking about the gas, a gallon of it will cost you about $3.50.
The cost of taking a trip down to the grocery store in the county of Honolulu would be around $800-$1,000. If you break it down into a few basic things from your fridge, you will figure out that a loaf of bread will cost you around $5.87, milk will cost you around $1.82, and a carton of eggs might go to about $4.5.
Speaking of healthcare, Honolulu is about 16% higher than the national average. A typical visit to the doctor's office will cost you around $128, while the same for your pet will cost you around $66.
Also Read: Moving from NYC to Hawaii
Crime Rate In Honolulu
To calculate the crime rate of any area, rates are analyzed based on the total number of crimes committed per 1000 residents. This data is then reflected numerically as a representation of the violent and property crimes committed in the concerned area. Based on these calculations, the total crime rate in Honolulu is 30.55.
Speaking of the violent crimes committed in Honolulu, the county scores a mere 2, which is half of the national median. These numbers bring the chances of becoming a victim of violent crimes to 1 in 500.
On the other hand, property crimes seem to be a little more frequent in Honolulu. The island scores 28.55 when it comes to property crimes, which is a little more than the national average of 19. The chances of becoming a victim of property crimes in Honolulu is 1 in 35.
Economy And Employment Opportunities
The economy of Honolulu is interestingly diverse. It is driven by industries like military, tourism, and agriculture, with secondary contributing industries like astronomy, space and marine sciences, and science-biotech.
Speaking of the GDP, this island county contributed $62,123.839 to the national GDP in the year 2020. This was possible because the employers in the area made it possible to survive here despite the high cost of living. To give you a better idea, here is a list of the biggest employers in Honolulu, with salary data from Zippia.
Obayashi – $73,000 per annum
Washington Middle School – $42,000
Temenos AG – $96,000 per annum
Queens Health Systems – $49,000 per annum
Hawaiian Airlines – $39,000 per annum
Matson – $53,000 per annum
The best part about these employers in Honolulu is that their combined average salaries are more than the average salary of the county, which is $66,000 per annum. You need to earn anywhere above $72,555 in order for it to be considered a 'good' salary.
Also Read: Job Relocation Guide
Education In Honolulu
Honolulu is a hub for education in Hawaii. It has a total of 283 public schools which include about 150 regular schools and a combination of special schools and public charter schools that serve close to 200,000 students every year. Honolulu is also an important center for higher education. We have curated a list of the best schools and colleges in Honolulu.
Schools
King Liholiho Elementary School
Moanalua Elementary School
Kaimuki Elementary School
King David Kalakaua Middle School
Kalani High School
Admiral Arthur W Radford High School
Colleges And Universities
Chaminade University Of Honolulu
University Of Hawaii – Manoa
University Of Hawaii – Hilo
Traffic And Transportation In Honolulu
Founded in 1898, the Honolulu Rapid Transit, or HRT is the non-profit organization that takes care of the primary mode of public transportation in Honolulu. HRT's initiative TheBus is the one that takes people all over the island with more than 110 routes, making it a very extensive bus network.
The HRT also runs a paratransit service in Honolulu called the Handi-Van. The only difference between this and TheBus is that you need to book a ride in advance when using the Handi-Van.
You have a limited number of options when it comes to public transportation if you choose to not get on a bus. You can either rent a car, rent a bicycle, or get a taxi. If you are thinking of renting a bicycle, remember that the entire island is not very cycle-friendly and the distances are a lot. So, you will be better off exploring the places closer to you.
Every other mode of transport is rather comfortable, except during the rush hours, which begin at 5 a.m. and end around 8 a.m. Don't get us wrong, this city does see some crazy traffic and travel times. But, it is not as bad as New York and you'll get to your destination on time if you leave early enough.
Also Read: Moving To Wisconsin – A Relocation Guide
Best Places To Live In Honolulu
Kaimuki
Kaimuki is one of the more affluent neighborhoods on the island of Honolulu. It offers the residents a safe, laidback, and tight-knit community with ample family-oriented amenities and a variety of family homes.
Moreover, there are a lot of shops and cafés in this neighborhood, lining streets that lead to top-notch schools like Waialae Elementary Public Charter School and the Kapiolani Community College. The best part? Downtown Honolulu is just a 10-minute drive away on the I-H-1.
Population: 49,833
Median Home Value: $817,633
Monthly Median Rent: $1,700
Annual Median Household Income: $90,888
Diamond Head – Kapahulu
This is a neighborhood that has an overflow of relaxed vibes and an easy pace of life amidst cottages, luxury high-rises, and mountainside homes. It boasts of a lot of recreational amenities as well as places to visit like the Honolulu Zoo and the Waikiki Shell, all while putting the residents next to the ocean.
The price point of the homes in this neighborhood makes it attractive to young professionals and retirees alike, while the availability of multiple schools makes it ideal for the families, too! Regardless of what you are looking for, this neighborhood will have something for everyone.
Population: 10,522
Median Home Value: $551,972
Monthly Median Rent: $1,411
Annual Median Household Income: $77,289
Kaneohe
Kaneohe allows its residents to have a lifestyle that keeps them close to the livelier parts of the islands while being able to disconnect as soon as they get home. It is located about 20 minutes away from downtown and is home to the U.S. Marine Corps Air Station at Kaneohe Bay.
This neighborhood is also home to some amazing schools like James B. Castle High School and Puohala Elementary School. Moreover, it offers spacious new constructions along with Hawaiian bungalows, making it ideal for young professionals working nearby.
Population: 33,844
Median Home Value: $662,613
Monthly Median Rent: $1,655
Annual Median Household Income: $81,906
Manoa
Located in the beautiful Manoa Valley, the neighborhood of Manoa is one of the most gorgeous neighborhoods in Honolulu. Along with some amazing spots for outdoor activities in the nature and farmer's markets, the community of Manoa includes traditional Hawaiian bungalows, renovated historic homes, and mid-century homes.
There are some amazing schools like the Punahou School, Noelani Elementary School, and Maryknoll School in the vicinity, making Manoa an ideal place for a family to settle down in.
Population: 23,757
Median Home Value: $739,777
Monthly Median Rent: $1,466
Annual Median Household Income: $77,276
Summing Up
A lot of people imagine Honolulu, if not the entirety of Hawaii, to be nothing but beaches, surfing, and sunshine. However, that could not be farther from the truth. Just like any other metropolitan in the world, Honolulu suffers from the wrath of traffic and the high cost of living.
On the flipside, Honolulu also puts your house, your place of work, and every other aspect of your life next to a beach, if not on it. Maybe that is the reason for the people to stick to this place with their heart and soul, or maybe it is the rich and wide cultural influence and sense of belonging. Either way, do your due diligence before making a move to this island and if you do, have the time of your life.
Also Read: Moving from California to Hawaii – A Complete Guide
FAQs On Moving To Honolulu
What Is Honolulu Known For?
For other Hawaiians, it is known as the gateway to America, while the rest of the world thinks of Honolulu as a metropolitan dropped on a beautiful island. The Hawaiian culture is overflowing on this island, and yet it managed to meet every metropolitan requirement.
Is Honolulu Safe?
Yes, Honolulu is known to be a rather safe place. However, there are some neighborhoods you need to be wary of like Wahiawa, Mokapu, and Ewa. So, make sure you do your research and know exactly where not to go.
Do I Need A Car In Honolulu?
If you are visiting the town, you might not need a car to get around. However, as a resident, it is a good idea for you to own a vehicle that can carry some load.
What Languages Are Spoken In Honolulu?
Along with a decent amount of English, the locals also speak Hawaiian and Swahili.
Also Read: Moving to Lincoln, Nebraska – A Relocation Guide for 2022
Enter your information
Almost done!
Enter your information to view your quote.
Your information is safe with us. By using this service, you agree to receive email communications solely regarding your relocation process