Moving From California to New York – A Detailed Guide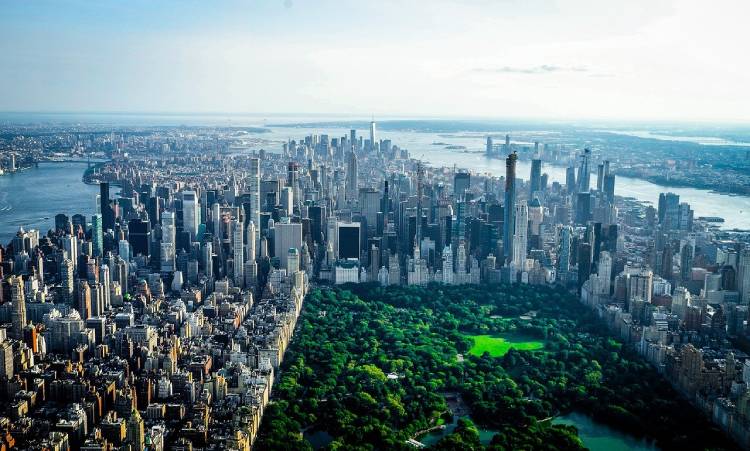 Relocating from California to New York can be both exciting and terrifying. Perhaps you are drawn to the completely different culture, the vibrant nightlife, the proximity to Broadway shows, or the natural beauty of the Adirondack Mountains. Whatever the reason, learning about your new home state is the best way to ease the transition. Here is what will help you to know about New York and get started for your move.
Advantages of Moving from California to New York
One of the most appealing aspects of New York is its thriving job market. When New York is mentioned, we immediately think of the Big Apple and its excitement. The state, however, has much more to offer than just the hustle and bustle of New York City. Some of the state's most popular outdoor spots are just north of Syracuse and Albany. Thousands of visitors visit the Adirondack Mountains, Lake Placid, and the surrounding wilderness. Skiing, boating, fishing, sailing, and hiking the Appalachian Trail are available here. New York is also great for those who appreciate a change of scenery. Residents can enjoy four distinct seasons and the activities that go with them. New Yorkers enjoy living in the state because there is never a dull moment. It is a great place for those who want art, culture, and entertainment.
The Cost of Living
In general, the cost of living in New York is relatively high. This, however, varies depending on where you live in the state. New York City, for example, is significantly more expensive than Los Angeles. Rent, utilities, gas, and groceries are all significantly higher in New York City. Having said that, upstate New York has a plethora of towns and cities with lower real estate costs and a lower overall cost of living. Syracuse, Albany, Rochester, and Buffalo are among these locations.
See Also: Hidden Moving Costs and Expenses
Transportation
For most people in California, having a car is essential because public transportation is insufficient to address the growing needs of the state's residents. Most people in these cities own a car, and there is much less traffic than in California.
Weather
California is known for its sunny weather, the polar opposite of New York. Nonetheless, anyone moving to New York should be prepared for a different climate. While New Yorkers may not have the same seasonal temperatures all year, they do have four distinct seasons, which can be a welcome change for those moving from sunny California. New residents from California will be greeted with beautiful fall foliage and, of course, snow! In New York, winter also means trying out new winter activities like ice skating, hockey, and sledding!
Things To Do
One thing is certain: New Yorkers never run out of things to do! Many of the country's most popular attractions can be found in New York City, including Broadway, the Statue of Liberty, Times Square, the Empire State Building, Central Park, and so on. Aside from the excitement of New York City, the state of New York has an abundance of treasures to be discovered. Spend the afternoon horseback riding along Long Island's shoreline. White water rafting in the Adirondacks is an exhilarating experience. Hike through the Catskills' tranquil forests and mountain scenery, or take in the breathtaking views of Letchworth State Park. New York offers a wide range of exciting activities, from the tranquil setting of the outdoors to the adrenaline of the "city that never sleeps."
See Also: Largest Cities in New York
New York's Most Popular Cities
New York City
New York City is known to be one of the most iconic cities in the United States and the country's largest metro area, with a population of nearly 21 million people. You must have seen it in movies and heard about it in songs; now it's time to figure out what makes New York so unique. Despite the high cost of living, residents of the city have access to some of the world's best theatres, restaurants, parks, and museums. New York is home to a diverse range of industries, including technology, fashion, finance, acting, and ofcourse the most Fortune 500 companies of any city.
See Also: New York DMV Change of Address
Buffalo
Buffalo is popularly known as one of the best places to live in New York for two primary reasons: it has one of the lowest living costs in the state and some of the best public schools. In Buffalo, the median home price is $111,200. New York may be less expensive than you thought!
Queens
Jackson Heights is a neighborhood in Queens' northwest quadrant. This is one of the best places in New York for families to live. This area is very popular among families with children because of its excellent schools, easy access to public transportation, first-rate medical facilities, and proximity to Manhattan.
Rochester
People may be surprised by how close-knit this community feels for being New York's third-largest city. In this welcoming small town, meeting new people is simple. According to Forbes, Rochester is one of the best cities to find a job, so this is indeed a great place to look for new opportunities. Several major employers, including the University of Rochester, Wegmans Food Market, and the Rochester General Health System, call it home. Combining these excellent job opportunities with the city's low cost of living makes it easy to see why Rochester is such a good value for residents.
Syracuse
Syracuse has consistently been ranked as one of the best cities in New York to live in. It is a preferred choice for families and retirees due to its high quality of life, low cost of living, and low crime rates. It also has a stable job market, easy commutes, and plenty to do, such as outdoor activities and museums and attractions.
New Rochelle
New Rochelle is a popular New York City suburb that is regarded as one of the best places to live in the state. Residents can enjoy the urban feel of a big city while owning their own home. Because of its highly-rated public schools and abundance of restaurants, coffee shops, and parks, it is a famous destination for young professionals and families.
Advice on Moving
June is considered the popular month for people to relocate. While the weather will be pleasant, it may cause traffic and parking issues. Avoid moving during the hot months of August. September, October, and November are ideal months to relocate because they coincide with the peak tourist season in New York City.
Moving to rural or suburban areas presents fewer challenges than moving to the city regarding cruising truck regulations. The majority of private homes have driveways, and parking on suburban streets is permitted—be respectful of your new neighbours!
Moving to New York City, on the other hand, may surprise you if you are not prepared. Although no moving permits are issued in New York City, parking regulations are stringent. Before the move, check with your building manager to see if there is enough parking for a moving truck and what size truck you can fit. Commercial moving trucks are subject to additional restrictions in New York City.
If you intend to move large items into a city apartment, inquire whether the building has a freight elevator—or even an elevator at all.
Also Read: Moving to a New City – Tips and Advice
Moving Cost Factors
Numerous factors influence the cost of your move:
Distance Moved & Shipment Weight and distance:
These are the two primary factors determining your "line-haul charges." Most businesses have standardized procedures for weighing trucks before and after loading. The further you move and the larger your home, the more you will pay.
Season:
The moving season generally lasts from May to September. If you know your move will fall within this time frame, you should think about booking ahead of time. This may help to mitigate any additional charges you may incur.
Advance Booking:
Booking a move within a week or a few days of the move date will often result in higher charges.
Service Requirements:
If your move necessitates packing services, crating, vehicle shipping, or other such add-ons, your move price may be significantly higher than the average figures shown above.
How to Select a Relocation Company
You should thoroughly evaluate each provider before deciding on a moving company. When doing so, the following things should be among your primary concerns:
Service Profile:
Different moving companies provide a variety of services at varying price points. When taking inventory of your home, make a list of the services you may require. This will give you talking points to use during any moving estimates you receive.
Negotiable Pricing:
You must shop around if you want to book a move at a competitive rate. Obtain quotes from several moving companies to help you find the best price for your move.
Well-Reviewed:
Before making a reservation, read customer reviews from multiple sources. Social media, Google, Yelp, and the Better Business Bureau are all legitimate review platforms.
FMCSA Registration:
All interstate movers must have an active FMCSA license as well as active USDOT and MC numbers. These numbers can be used to look up a mover's complaint history and registration status.
Workers' Compensation:
This is a requirement for all movers. It safeguards clients in the event of a work-related injury during a relocation. You could be held liable for damages if you do not have such coverage.
Released Liability Coverage:
This provides a base compensation rate for property lost or damaged during a move. It can, however, usually be supplemented with valuation coverage at an additional cost.
Conclusion
Everyone's dream home is in New York City. It is a city rich in culture, diversity, and opportunities. However, when considering a move to NYC from LA, many people wonder if the idea is even a good one, and what difference it will make in their lives.
You will undoubtedly fall in love with New York City. Even though these two opposite cities of the country attract more people from all walks of life, they both have many things that people enjoy.
Frequently Asked Questions
How much does it cost to relocate from California to New York?
The average cost of a move from California to New York is $4,149.74.
Is it expensive to stay in California or New York?
New York, NY has a 27.9 percent higher cost of living than Los Angeles, CA. To maintain your current standard of living, you would need to earn $76,741. Employees in New York, NY are typically paid 6.4 percent more than those in Los Angeles, CA.
Is it worthwhile to relocate to New York?
Depending on your lifestyle preferences and budgetary constraints (or lack thereof), you may find that living in a higher living cost city is still worthwhile. Among the reasons are: Better job opportunities, a wider range of public and private schools, and more convenient public transportation systems.
Enter your information
Almost done!
Enter your information to view your quote.
Your information is safe with us. By using this service, you agree to receive email communications solely regarding your relocation process