Moving From NYC To Denver – A Detailed Guide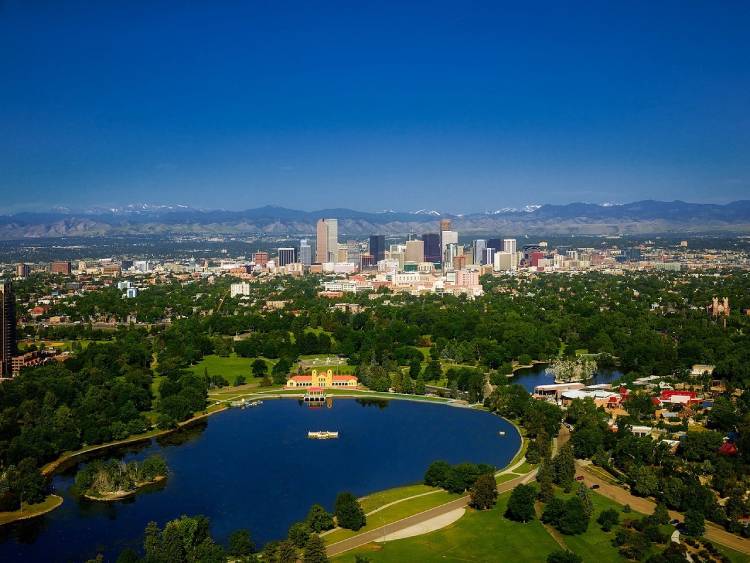 NYC is a great metropolitan city to live in and there's no doubt about it. The educational and job opportunities that the city offers attracted people to this city in droves. But let's face it: the fast-paced life of NYC isn't for everyone and the skyrocketing prices make can make life here difficult.
If you're looking for a much more relaxed and laid back lifestyle, Denver, Colorado is the place for you. Just like NYC, Denver is a city that is easy to fall in love with but difficult to let go of.
You'll fall in love with the slow-paced life with beautiful mountains around. It's unlike the bustling lifestyle and tall buildings that you see in NYC. The clear blue skies, young vibrant vibe, exciting outdoor and recreational activities, plenty of delicious food, job opportunities, and fresh air are some reasons why Denver can be the perfect city for you to move out of NYC.
Besides, Denver is a city waiting to welcome you with warm and open arms. If you've been thinking of moving from NYC to Denver, you need to know what Denver has to offer and how it is different from NYC. For this, we have made a concise list of things to compare the two cities to show you how different they would be.
Some Points To Consider Before Moving From NYC to Denver
Weather
When it comes to the cold, Denver and NYC are both similar as you'll experience freezing temperatures in both cities. But what Denver has is the ample recreational winter activities that you can engage in, so you don't need to worry about having to be cooped up indoors!
Besides, Denver is immune from natural calamities like blisters and storms that NYC experiences in abundance. Living in Denver, you'll get to enjoy your winters to the fullest.
You get to live 300 days of summer in Denver. Soaking in the sun with dry air is the normal everyday weather that you'll experience here. The average high temperature in Denver during summer is in the middle 80s.
One thing you need to remember is that you can experience rain, snow and wind anytime in Denver throughout the year.
Cost Of Living
Let's not sugarcoat this: Denver isn't exactly a cheap place to live in. But if you're moving from NYC to here, the first thing you'll notice is how comparatively affordable living in Denver is!
The cost of living in Denver is significantly lower than in NYC and you'll be saving a lot more than you could in NYC. The cost of living index of Denver is 128.7 and that of NYC is 187.2. The average cost of living index of the US is 100, which shows that both Denver and NYC are expensive cities to live in.
When it comes to the housing market, both cities have steep pricing for both rentals and when buying. But when compared the two closely, NYC has a lot more expensive houses available on sale and on rent. Besides, Denver offers a wide range of property for you to choose from unlike NYC. to give you a better understanding, we have listed the median home values of homes in each city:
| | | |
| --- | --- | --- |
| | Denver | NYC |
| Median Home Value | $571,163 | $733,289 |
As you can see, the houses in Denver are comparatively affordable, but the rates mentioned above change according to the neighborhood and size of houses you choose.
Just like buying houses, renting is equally as expensive in both Denver and NYC. If you're moving to Denver, we suggest you rent an apartment in the initial stages of moving. It will only allow you to get a feel of the city and then decide if you like the neighborhood and want to continue or not. Here's a breakdown of the average monthly rent in both Denver and NYC:
| | | | |
| --- | --- | --- | --- |
| City | 1 Bedroom | 2 Bedroom | 3 Bedroom |
| Denver | $1,299 | $1,580 | $2,513 |
| NYC | $1,748 | $1,992 | $2,120 |
One of the other contributing factors to the cost of living are the taxes you pay. The tax rates in Denver are almost half of NYC! The sales tax in NYC is 8.3% and income tax is 10.3% while the sales tax in Denver is 7.7% and the income tax is 4.8%. These tax rates in Denver may seem expensive when compared to the national average, but when you compare them to the tax rates in NYC, they're definitely a lot more manageable and affordable. Hence, moving from NYC to Denver can be a good financial decision for you.
See Also: Moving To Denver – Relocation Guide
Crime Rate
When it comes to crime rates in Denver, it's no good news. Denver has a higher crime rate when compared to NYC. Denver is only safer than 6 cities in the US, while NYC is safer than 26 cities in the US. This is a wide difference as the violent and property crime rates in Denver are high. According to NeighborhoodScout, the crime rate in Denver is 57.05 per 1,000 residents while in NYC, it stands at 25.80 per 1,000 residents.
The national median for violent crime in the US is 4 and that of Denver is 7.52. The national median for property crimes in 21 and in Denver is 37.85. Overall, the crime rate in Denver is high when compared to both the national median and NYC both. This shouldn't necessarily be a deterrent for you from moving from Denver to NYC; just choose safe neighborhoods like Washington Park, LoDo, or Platt Park.
Job Market
When it comes to the economy and the job market, Denver comes nowhere close to NYC. To give you a perspective, Denver's GDP in 2020 amounted to about $196 billion which pales in comparison to the stupendous $1.42 trillion in NYC!
If you keep the comparison out of the way, you'll see that the economy of Denver is blooming. The job industry in Denver is growing and has been the prime cause for professionals from across the country to move to this city. Some industries that young skilled professionals get jobs in Denver are:
Technology
Retail
Real estate
Consulting
Transportation
Food services
Healthcare
Entertainment
These are the same industries that have contributed to the economy of Denver. Thanks to the job industry, the people of Denver have high paying jobs and opportunities to grow in their career. To get a better understanding of how well professionals are paid in Denver, we have listed down a few stats for you:
| | | |
| --- | --- | --- |
| City | Median Household Income | Average Income Per Year |
| Denver | $60,098 | $38,991 |
| NYC | $57,782 | $35,761 |
As mentioned in the table above, you'll be earning more in the city of Denver as the job opportunities are wide. With a booming economy like Denver, it doesn't seem surprising that the unemployment rate of Denver (4.6% as of October 2021) is lower than that of NYC (6.9%).
Thanks to technology, healthcare and other industries, the opportunities for skilled professionals and young talent is widening. Some of the high paying companies that have a majority of Denver population working for them are:
JPMorgan Chase & Co.
Home Depot
McDonald's
Mount Sinai Health System
Walmart
Northwell Health Inc.
Macy's Retail Holdings Inc.
Stop and Shop Supermarkets
Also Read:
Education
Denver is known for the educational institutions it has for higher levels of education. A majority of students flock to Denver to avail of all the educational opportunities from colleges and universities in the city. The city has ample schools and higher educational institutes that provide some of the best opportunities for students.
We have listed down a list of the best schools, universities and colleges in Denver:
Schools
DSST Middle School
Denver School of Arts
Bromwell Elementary School
Park Hill School
Colleges And Universities
Early College of Denver
University of Denver
MSU Denver
University of Colorado Denver
Traffic And Transportation
Transportation is yet another important deciding factor that helps you know if you really want to move to a new city or a state. Living in NYC, you already know that it has the worst traffic congestion in major parts of the city almost throughout the day. That will completely change once you move to Denver. Denver has a really good traffic and transportation system in place. You'll only see some congestion during peak hours for a few minutes and everything gets back to normal within minutes.
But when it comes to public transportation, you already know how good the NYC public transportation system is: cost-efficient, frequent, and you don't even need to waste time looking for parking spots!
In Denver, public transportation may not be as good, but it's still efficient. The Regional Transportation District offers bus and train services, covering over 100 and 10 routes respectively. However, the one complaint you might probably have is the most populated areas across the cities are underserved.
See Also: Moving From NYC To Washington DC
Places To Visit In Denver
When you move to Denver, you'd want to move around the city and get to know a little more about the lifestyle, culture, music, and other places that you can visit. We have narrowed down a list of a few places that you can visit once in Denver:
1. Colorado State Capitol Building
If you're fond of history, you must visit the Colorado State Capitol Building. You can book a tour in advance and take a stroll around the neighborhood as well. It's one of the most attractive tourist spots in the city.
2. Denver Central Market
If you want to have some affordable yet delicious food, you can visit the Denver Central Market. You can take a tour of the market and buy some fresh produce of fruits and vegetables. The small stalls around are the best places to find some good deals on antique decor stuff you find.
3. Roxborough State Park
Roxborough is the most loved hiking spot you'll find in all of Denver. It's a good place to go for morning walks or hikes. A good family picnic is also another thing you can enjoy in the park.
Some of the other prominent places that you can visit when in Denver are:
Larimer Square
Red Rocks Park
Denver Art Museum
RiNo Arts District
Hike to Mount Evans
Also Read: Moving from NYC to Hawaii
Best Places To Live In Denver
Finding a neighborhood to reside in can be the most time-consuming task. To make things easier for you, we have listed down a few neighborhoods that you can consider moving to.
1. Country Club
As the name suggests, Country Club is a neighborhood for someone who wants to live a luxurious life. If you don't have any financial constraints and are willing to splurge, this is the place to be in Denver. The housing market for this neighborhood is skyrocketing right now. You'll find everything you need in one place as there are ample supermarts, malls, and other facilities open throughout the day.
Population: 3,170
Median Home Value: $942,310
Monthly Median Rent: $1,331
Annual Median Household Income: $72,402
2. LoDo
Lower Downtown Denver, aka LoDo, is one of the oldest neighborhoods in Denver with an old country vibe and a slow-paced life. The nightlife and party scene in this neighborhood are known among many. LoDo has seen a rise in housing prices in the past decade as more and more people have been flocking to this area. A large number of college-going students reside in these neighborhoods as it is closer to some universities and schools in the area. LoDo has outdoor activities, an effective transportation system, and educational institutions, making it a good fit for the youth and families.
Population: 8,519
Median Home Value: $441,900
Monthly Median Rent: $2,149
Annual Median Household Income: $90,384
3. Cheesman Park
Cheesman Park is a family-friendly neighborhood who live in a close community. The neighborhood is diverse and always lively. You'll find that a majority of the population is of families living together. The parks and playgrounds are always busting during the weekends. The quality of educational institutions in the neighborhood is top-rated as well.
Population: 8,895
Median Home Value: $295,235
Monthly Median Rent: $1,168
Annual Median Household Income: $85,865
4. Uptown
Uptown is also one of the oldest neighborhoods that you'll come across in Denver. It's majorly known for its affordable house rates and rental rates as well. You'll find all kinds of rentals in this area at affordables rates. The majority of the population living in this neighborhood comprises professionals who work in the leading companies located around the Uptown area. If you're a professional seeking a job and on a budget, Uptown Denver is the place for you!
Population: 6,040
Median Home Value: $257,668
Monthly Median Rent: $1,218
Annual Median Household Income: $61,718
Also Read: 5 Best Cheap Neighborhoods to Live in NYC
Cost Of Moving From NYC To Denver
If you've made up your mind about moving from NYC to Denver, you'll be crossing state borders. The distance between NYC and Denver is 1,631 miles and it will take you over 27 hours to drive to your new home in Denver. For such a long-distance move, you'll need advance planning, execution, and quite a lot of money as well. The approximate cost of moving from NYC to Denver would be around $3,200 to $9,400.
We recommend that you start planning the move way ahead of time and make sure you have everything noted down to the T. You do not want to be missing out on anything or making some needless expenses on things you won't be needing in Denver. You do not want to be struggling with your move and hence, need to divide and conquer everything in time.
Moving to a new place and crossing state borders can be overwhelming for anyone. If you need help, you must seek help from professionals to take care of the packing, loading, unloading and moving of all of your belongings. It will help you take care of some of the other important things that need to be cleared up before you leave.
Summing It Up
Denver is a city that has to offer you everything that you need. Even if the cost of living in Denver is high, it is definitely much more affordable when you compare it with NYC. Denver can be a good change for you and provide you with an excellent job market, sunshine, mild winters, growing economy, and a whole lot of other opportunities as well. If all these things appeal to you, then moving to Denver from NYC might just be perfect for you! You can Calculate the Cost of your Moving using our Moving Cost Calculator.
Also Read: 11 Best Denver Neighborhoods to Live In
FAQs
Is moving to Denver worth it?
Moving from NYC to Denver is definitely a good option for anyone looking for job opportunities, an affordable place to live, quality education and some good slow-paced life.
Is Denver more expensive than New York?
The simple answer is no. Denver is more affordable in all aspects. Even when the cost of living in both Denver and NYC is higher, the city of Denver is a lot cheaper to reside in. The housing market, taxes, cost of living, transportation, and all other aspects are a lot cheaper than NYC.
What do I need to know about moving to Denver?
Before you move from NYC to Denver, you need to know the following:
The cost of living in Denver is lower than that of NYC.
The winters are mild and you can enjoy some sunlight, fall, and spring.
The income tax rates in Denver are lower than in NYC.
Denver has a great outdoorsy vibe and the winter activities here are something worth checking out!
Also See: Moving From NYC To LA – A Detailed Guide | Moving From Florida To Colorado
Enter your information
Almost done!
Enter your information to view your quote.
Your information is safe with us. By using this service, you agree to receive email communications solely regarding your relocation process