11 Best Denver Neighborhoods to Live In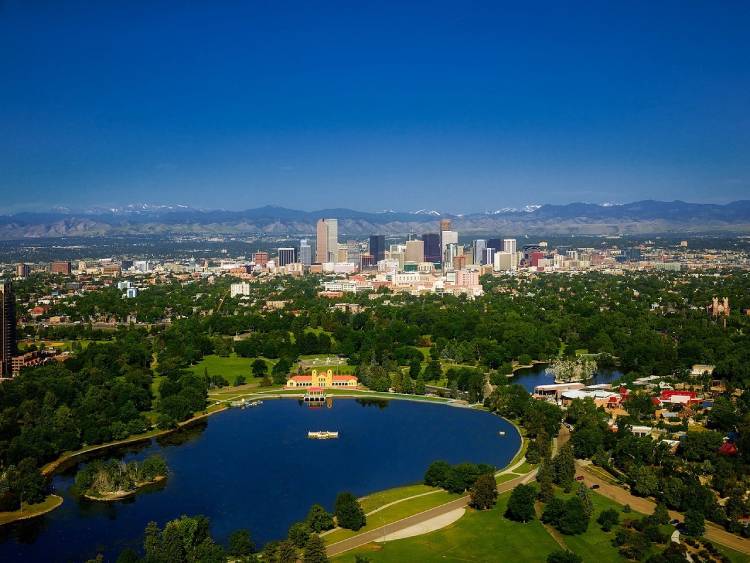 If you're looking to settle down in a new neighborhood, Denver has plenty of options. From the bustling downtown area with its mix of old and new buildings to neighborhoods that offer an escape from the hustle and bustle, this is a city where you'll find what you want.
Denver is Colorado's most populous city, with over 700,000 people living in the city proper and 3.2 million residents in the seven-county Denver Metro area. The Mile High City has fresh air, attractive weather, artisan beer, and a hip cultural scene to appeal to visitors.
Denver is a fantastic destination for terrace cocktails, outdoor gatherings, and adventure activities. With more than 300 days of sunshine each year (more than Miami!) and hot but arid summers, the city is perfect for patio drinks, outdoor events, and activities. The views in this city are gorgeous, the people are kind, and there's never a shortage of things to do. So, where should you live in Denver?
The following are some of our favorite Denver neighborhoods:
1. Capitol Hill
The Capitol Hill neighborhood, often known as Cap Hill because it begins near the Colorado State Capitol and runs north to the state capitol, is adjacent to downtown and picks up where the CBD leaves off. This historic district offers all types of shopping–from vintage stores to boutiques–as well as restaurants galore. It also boasts gorgeous Victorian architecture and lots of parks for strolling or playing in on sunny days.
The bustling arts and culture scene on Capitol Hill gives it life. This area has six museums (including the Denver Art Museum and Clyfford Still Museum), many galleries, and the Curious Theater Company as a stage for live performances. There are also a variety of international cuisine restaurants ranging from casual to high-end dining, breweries, cocktail bars, and coffee shops.
In this neighborhood, you'll find a wide range of dwellings. You may discover ancient or current homes.
The average monthly rent of houses in Capitol Hill is $1,600.
The majority of properties in this region cost between $200,000 and $400,000.
See Also: Best 5 Moving Companies in Denver
2. City Park West
A few blocks west of the Colorado State Capitol Building and adjacent to beautiful Cheeseman Park lies this residential gem. City Park West is perfect for city-dwellers who crave some greenery in their lives, as the park takes up a large portion of the neighborhood. The homes here are also quite charming.
You'll be just minutes away from two of Denver's biggest parks: Cheesman Park and City Park. If you have a dog and want to live in the city but still prefer to spend a lot of time outside, City Park West and City Park East are excellent options. There is also a nice range of restaurants (try Olive & Finch) and bars in this area, making it a perfect place to live, work, and play.
The median rent price in City Park West is $974.
The median value of homes in City Park West is $596,014.
3. Cherry Creek
If you're looking for high-end shopping and dining as well as plenty of nightlife options, Cherry Creek is the neighborhood for you. It's also home to beautiful parks and trails, perfect for a morning jog or afternoon walk.
In southwest Denver, the Cherry Creek area is a retail center with a 22-mile bike path and many spas, salons, boutiques, and art galleries — all within 16 blocks of walking. It's been called a more posh, adult version of Cap Hill. The most expensive properties in the neighborhood sell for over $1 million.
Cherry Creek is a foodie's paradise. When it comes to great meals, Cherry Creek isn't bashful. Elway's, the restaurant founded by former Denver Broncos quarterback and current general manager John Elway; the Cherry Cricket (best burgers in the neighborhood); and Postino 9CO, an Italian wine bar, are but a few of the places to enjoy a great meal in Cherry Creek.
According to Rentcafe, accommodation in this city is inexpensive. A home may be found for around $2200 a month. The schools are good here, but the middle and high school ratings aren't as high.
The median rent price in Cherry Creek is $1,869 to $2200.
The median value of homes in Cherry Creek is $721,326.
4. The Highlands
This lively district is located northwest of downtown Denver and is known for its eclectic mix of shops, bars, and restaurants. You'll find everything from art galleries to pizza places here, making it the perfect spot for those who love to explore.
The Highlands is a family-friendly neighborhood located just outside of downtown Denver. The area is packed with Victorian houses, local eateries, coffee shops, and a wide selection of boutique stores. If you're searching for a genuine sense of community and neighborhood, the Highlands will suit you perfectly.
Get a description of the neighborhood and its three unique districts: Highlands Square, Tennyson Street, and Lower Highland. The Highlands area is centered on Highland Square, home to many of the neighborhood's businesses. Discover the greatest shopping and services with unique, locally-made items as you walk the sidewalks. This area is great for young families and features a playground, tennis courts, and a recreation center.
Denver's historical buildings are concentrated on and around Tennyson Street, which is also a hotbed for the city's contemporary art scene. Tennyson Street has a Bohemian vibe and is home to independent bookstores, vintage clothing stores, and art galleries. The area is home to numerous art galleries.
The Lower Highlands (LoHi) district is perfect for those who love to bar-hop. It offers tons of great restaurants and bars. The community is also conveniently linked to downtown via the Highland pedestrian bridge.
The average rent of houses in the Highlands is $1,764.
The average house cost in The Highlands is $758,179.
5. Golden Triangle
This neighborhood is located in the heart of downtown Denver and is home to the city's most iconic buildings, including the State Capitol and Denver Art Museum. If you're looking for a prime location to take advantage of everything the city has to offer, look no further.
The creative district of Denver, known as the Triangle, is bordered by Colfax Avenue to the north, Broadway to the east, and Speer Boulevard on the west. It's a little region but home to Denver's finest museums and cultural institutions, including the Kirkland Museum of Fine Art, the Denver Public Library, and the Denver Mint. You'll also be close to the golden dome of the Colorado State Capitol Building. Speer Boulevard has a diverse range of big condo complexes, eclectic townhouses, commercial properties, and hotels.
The average rent for apartments in Golden Triangle is $1,870
The average house price in Golden Triangle is $255,000
6. River North (RiNo)
If you're looking for something edgy and artsy, RiNo is your spot. This neighborhood is home to galleries, studios, and various trendy restaurants and bars. It's also quickly becoming one of the city's most popular areas for living.
The River North Art District is Denver's hipster neighborhood, located just north of LoDo and Five Points. Like most hipster hangouts, this industrial area is the consequence of gentrification and sports all the typical flowers and scars of urban renewal.
The neighborhood is also developing several coffee shops like Lekker Coffee and Blue Sparrow, as well as creative examples of adaptive reuse such as The Source, all while (for the time being) maintaining a few of its old-school businesses with somewhat ragged edges.
The RiNo is walkable, but as a warehouse area, it's somewhat lonely and dangerous, especially at night — and there are no RTD services to be found.
The typical monthly rent in River North is around $2,045
The average house price in River North is $474,256.
7. Stapleton
This historic district was once an airport, and today it's a beautiful mix of residential neighborhoods and commercial areas. It offers plenty of parks and trails and a variety of shopping and dining options. The former 4,700-acre Denver airport was once located in Stapleton, which is one of the city's most fashionable districts. With so much vacant ground leftover after it moved, the city voted to convert the area into a residential neighborhood with 30,000 residents. Stapleton is now widely recognized as one of the greatest areas in which to live in Denver.
Stapleton is more commercialized than many of Denver's communities, with contemporary buildings and developments. The area boasts several features, including a 3-mile trail system, expansive parks, and easy access to downtown Denver. In addition, the district has a variety of commercial areas that provide plenty of shopping and dining options. The Improv Comedy Club is located in Stapelton, as well as public parks and restaurants.
This neighborhood of Stapleton has a median rent of $1,710 for a house.
The average house price in Stapleton is $715,000
8. Washington Park West
This neighborhood is located in south Denver and offers easy access to the city and the mountains. It's home to a variety of shops, restaurants, and parks, making it the perfect spot for those who want to enjoy all that Denver has to offer. Wash Park is one of the greatest areas in Denver. The neighborhood has 165 acres of parkland and is known for its enormous 100-year-old trees and the historic Mayan Theatre.
Newcomers should know that Washington Park is divided into two distinct zones and demographics. Although both regions are open to everyone, West Wash Park is home to cafés, brewpubs with hops, and live music venues. East Wash Park is the location of choice for quiet city dwellers and families who want to be close to the excitement but not too close.
The average rent for a home in Washington Park is $1,690.
The average house price in Washington Park West is $860,000
9. Westminster, CO
Westminster is a popular location for young professionals and new families commuting into Denver or Boulder, about 15 miles north of the city. The city, which comprises Adams and Jefferson counties, has around 113,000 residents and nearly 1,000 technology businesses. It's an important part of Denver's start-up economy, with more than 30,000 employees working in the industry.
It has a variety of schools, but this area is more famous for its diversity and more moderate political views. Denver has a lot of parks and open spaces for people to explore. There is also a butterfly pavilion that is very popular. There are 60 developed parks, over 3,000 acres of open space, and 145 miles of pathways for you to discover. The Butterfly Pavilion and Insect Center is a popular destination, with 1,600 butterflies and more than 5,000 creatures on display in its indoor tropical rain forest. The median household income is $73,000 a year, just over $20,000 above the national average.
The monthly rent in Westminster, CO, is approximately $1364
The houses for sale in Westminster, CO, have a median price of $307,600.
10. Berkeley
For discovering traditional single-family homes in the city of Denver, the Berkeley District is a fantastic location. It has a busy center of high-end dining and boutiques on Tennyson Street, which is known worldwide for its shopping.
Berkeley has two dog-friendly parks: Berkeley Lake Park and Rocky Mountain Lake Park, making it an excellent location to call home in Denver if you like the outdoors or have a dog. It's also close to I-70, making it easy to get to on weekends by heading easterly to the mountains for some skiing or snowboarding.
The average rent for a home in this area is $1,863 per month.
The typical home value of homes in Berkeley is around $1,626,505.
11. Sloan's Lake
Sloan's Lake is a large lake offering gorgeous views of downtown Denver to the east and the Rocky Mountains to the west. It is a popular place for runners, cyclists, and walkers and has a newly renovated park and playground. There are also several restaurants and bars around the lake to enjoy.
This area is perfect for those who want to be close to all that Denver has to offer but want a more suburban feel as it's located on the edge of the city. It is also great for families as it has several good schools and a low crime rate. The neighborhood is safe and offers a variety of housing choices that are both cozy and modern. It is near to several good breweries, eateries, and grocery stores, as well as several major Denver thoroughfares making it easy to get about or away. There are Tudors, contemporary restorations, duplexes, and townhomes available in this area.
The average rent for a home in this area, Sloan's Lake, is $1,275 per month.
The median listing home price in Sloan Lake was $825,000
See Also: How Much Does It Cost to Move Out of Denver?
Conclusion
Denver is a great place to live if you consider the many options that exist. Whether you're new to Denver or just looking for a change of scenery, take advantage of all this eclectic city has to offer today! The city has plenty of parks, an excellent school system, and some fantastic neighborhoods near downtown where it's easy to find your favorite things in life – whether you need a large yard or want walkable access to shops and restaurants.
Frequently Asked Questions
What is the best area of Denver to live?
The greatest places to live in Denver are Hilltop, Country Club, South Park Hill, and Washington Park West.
What is the coolest neighborhood in Denver?
Golden Triangle, Central Park (formerly Stapleton), City Park, Park Hill, LoDo, RiNo, Capitol Hill, and Uptown are the city's most trendy areas.
See Also: What Salary Do You Need To Live In Denver
What neighborhoods should I avoid in Denver?
The most hazardous areas in Denver are City Park, Central West Denver, Auraria, Baker, Alamo Placita, Highland, Park Hill.
Also Read: Moving From NYC To Denver – A Detailed Guide
Enter your information
Almost done!
Enter your information to view your quote.
Your information is safe with us. By using this service, you agree to receive email communications solely regarding your relocation process