What Salary Do You Need To Live In Denver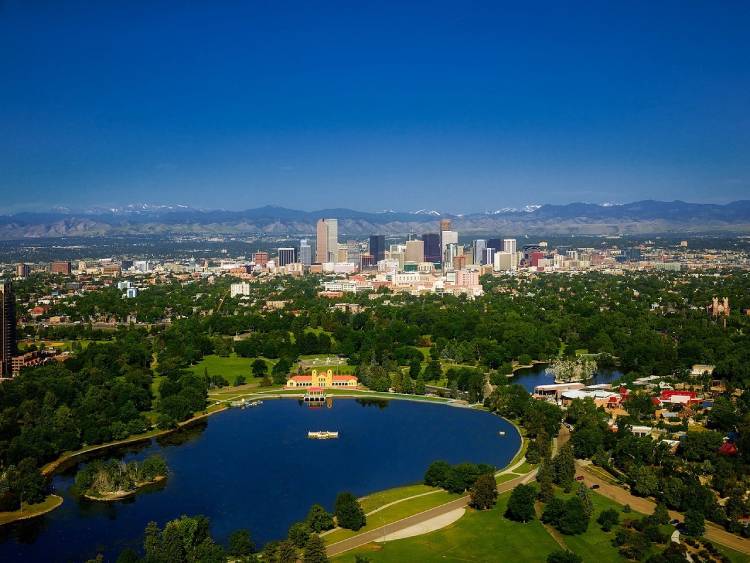 Very often, the state capital is known for its thriving economy and a myriad of job opportunities. The city of Denver is no different. Colorado's capital city has long been the hub for job seekers and employers. So, if you're wondering what your life in this diversified economy is going to look like and how much you'll need to earn to sustain a decent lifestyle, keep reading this article where we break down every facet of it.
Where Does Your Salary Go Living In Denver?
Costs Of Real Estate In Denver
The first area where you need to get hold of your expenses is the housing costs in any given place. In the case at hand, owning a house in Denver would require you to shell out almost double the amount of money than the national average. To give you a comparison, the typical home value in the USA comes about to be around $337,570. Whereas, the median house price in Denver is about $627,200.
When it comes to renting a house in the Mile High City, an average 843 sq. ft. apartment should cost you around $1,885. This cost can vary depending on the type of neighborhood you choose to reside in. If you are looking for an upscale neighborhood with a rather lavish lifestyle, consider relocating to areas like LoDo, Cherry Creek, and Congress Park where the rents go as high as $2,400 on average. If you are on a budget, neighborhoods like Westwood, Mar Lee, and Barnum should suit your interests best. The average rent in these neighborhoods will set you back roughly $1,165.
There is no preferred choice between renting and owning a house in Denver. The ratio is almost evenly split, with 51% of homes occupied by renters and 49% by owners.
Costs Of Transportation In Denver
If you're not a fan of owning a car and having to take care of its maintenance, the city of Denver would serve your interests well. With extremely walkable conditions and all major attractions accessible on foot, the need for a private car won't be the case for the most part. For places where you might need to travel a rather long distance, the city's public transportation comes to the rescue.
The bus services provided by the Regional Transportation Department (RTD) will cater to all your local commute needs. The extensive 170+ bus routes cover a huge chunk of the city's popular destinations. The RTD's simple yet effective fare system makes it easier to have a hassle-free commute in Denver. A local bus trip would cost you around $3.00, a regional trip – $5.25 and a trip to the airport would cost around $10. If you're a regular traveler with about 2 trips per day, you can avail of the local monthly pass for $114 or the regional/airport monthly pass for $200.
Another commonly used transport system in the city is the Light Rail. It is conveniently divided into four zones namely A, B, C, and Airport. For further convenience, the RTD has kept the fare prices common for all bus and rail routes. In the event that the rail fare exceeds the bus fare, you might need an upgrade on the same.
If you prefer riding around town on your bike, the city has numerous bike paths and parking. It is also one of the most bike-friendly cities in the entire nation. For when all fails and you're left with the option of traveling in a private car, you must know that the gas prices run at $3.97 per gallon in Denver.
See Also: Cities With The Best Public Transportation In The US
Taxes In Denver
A very crucial piece of financial information that you need to know about a place is the tax breakdown. As for Denver, it is considered one of the most tax-friendly cities in the entire country for retirees. The total combined sales tax rate in the city is 8.81 percent. To break it down even more, the Colorado state tax provides around 2.9 percent, while the Denver sales tax accounts for the remaining 5.9%. Speaking of income tax, you'll be paying a sum of $5.75 monthly if you earn more than $500 in a calendar month.
The state of Colorado also has some of the lowest property tax rates in the entire country. When it comes to the city of Denver, the property tax is computed at a rate of 0.54%. This means that a residence with a median value of $240,910 would be subject to a median property tax of $1,310 every year.
Utility Bills In Denver
Coming down to the nitty-gritty of your life in Denver, the utility costs here are nearly 6% lower than the national average. The monthly utility bill which includes electricity, water, heating, and garbage would read $151 here. Internet service of more than 60 Mbps would cost you anywhere close to $65.20.
Costs Of Food In Denver
Bringing your daily bread and butter home isn't that expensive either as the groceries prices in Denver are 2% lower than the national average. A loaf of bread would see you spill about $3.27, while a gallon of milk would cost $1.91. Buying a carton of eggs would set you back $1.78 and a bunch of bananas is priced at $3.30 here.
All this food talk is bound to make you crave some lip-smacking delicacies. So, the next time you are out and about in this city, make sure you get a taste of what the following food joints have to offer. The Maria Empanada will serve you some of the best empanadas you've had in a while. The tangy noodles at the Star Kitchen will leave you wanting for more, and the enticing Mexican Burger at La Fogata will take you to a whole different dimension!
Healthcare Costs In Denver
Healthcare is one sector where you might need to let go of a few extra bucks as the healthcare costs in the Mile High City are 5% higher than the national average. A visit to the doctor is going to cost you nearly $116.60 in Denver. The city has a number of good-quality hospitals that use state-of-the-art equipment for treatment procedures. Some of these hospitals are mentioned below:
SCL Health Saint Joseph Hospital
Colorado Acute Long Term Hospital
Porter Adventist Hospital
Children's Hospital Colorado Anschutz Medical Campus
SCL Health Good Samaritan Medical Center.
Childcare Costs In Denver
Raising your little ones is no easy task. To be looking after their every need and want would require you to keep some amount of money aside and let us tell you, the cost ain't peanuts. The daycare costs for an infant in Denver would cost you an average of $1,580 per month.
When they are old enough to enroll in a pre-school, you could be looking at a figure close to $1,440 per month. These price points are not steady and will largely depend on the neighborhood you choose to reside in the city.
One of the most important aspects that define a city's quality is its education system. The better the schooling system, the more suitable environment for families with kids. The city of Denver does a pretty good job when it comes to providing quality education. With 220 private schools and about 70+ high schools ranking among the best schools in the country, it is safe to say there is no shortage of knowledge around here.
Below is a list of some of the best schools in the Mile High City.
Bromwell Elementary School
Cory Elementary School
Park Hill School
Carson Elementary School
DSST Middle School
Miscellaneous Costs
Denver is widely known for its parks and excellent breweries. Washington Park is one of the top destinations that residents and tourists add to their weekend itinerary. The park has lots of green spaces, jogging paths, cafes & restaurants, and a serene view of the lake. A day's pass here would cost $6 for adults and $2 for kids under 18 years of age.
If you are an art enthusiast, the Denver Art Museum is something you need to check out here. The Native American and Asian art collections here are a treat for the eyes. For Colorado residents, the ticket fares here for adults below the age of 65 runs at $13, and for students with valid id, $10. For non-Colorado residents, all these fares are upped by $5.
When in Denver, experiencing a brewery tour is a must. The Coors Brewery Tour showcases the largest single-site brewery in the world. The 90-minute tour will let you in on the world of craft beer and can be availed of for a $20 fee. These are all the non assorted aspects on which you could see yourself stretching your budget for fun and leisure.
Understanding The Job Market In Denver
Coming down to the economy section of Denver, the city is blessed with a diversified economy with a stronghold in multiple industries. Energy and high-tech industries provide a massive boost to Denver's economy. Other thriving fields include aerospace, bioscience, broadcast services, and healthcare which have certainly helped the city reach new heights.
Some of the biggest employers in this city include:
Lockheed Martin Corp
Omaha Holdings
DaVita
Western Union
Qwest Communications
Re/max
Dish Network
ING Security Life of Denver
Virgin Media
If you are seeking a job in this varied economy, you can consider applying for roles like Project Manager and Software Engineer since the city is big on high-tech industries. Nurse and Nursing Assitant roles are also in great demand here. You will find a plethora of other job opportunities in the Queen City of the West. Lastly, the unemployment rate in Denver as it stands is 4.30% which is slightly higher than the current national average of 3.60%.
How Much Should You Earn To Live Comfortably Well In Denver
Before we sum up this financial guide to life in Denver, you need to know just how much you need to earn to live the kind of life you want here. Before we move on to that, let's also reveal how much residents make in Denver. According to Data USA, the median household income is about $75,646 annually which is relatively higher than most cities the size of Denver. If your household gross income amounts to this figure, you can live decently in the city. An annual income of 55k to 60k is also alright for a single person to live well but not big.
Aspiring to live a more lavish lifestyle? Then ideally you would need to earn over 75k annually. For a family with kids to spend a decent lifestyle in the Mile High City, an average annual income of $106,000 is the bare minimum to live comfortably.
See Also: Best 5 Moving Companies in Denver
Summing Up
Before moving to a new city, it is always a good idea to have a thorough concept of your potential expenses. It becomes a lot easier to handle everything if you have a budget in mind, from housing expenditures to leisure spending. Because we're talking about the lovely city of Denver, it is best to know how much money you will potentially have on hand so you can fully enjoy what the city has to offer.
FAQs On What Salary Do You Need To Live In Denver
What Is A Good Salary For Denver Colorado?
The median household income in a city like Denver is $75,646. An annual income of $55,000 to $62,000 should be sufficient enough for you to spend a quality lifestyle as a single adult.
Why Is Housing In Denver So Expensive?
The high housing costs in Denver can be attributed to the fact that the city's stronghold in the tech field attracts large populations from all over the country. With the increasing demand for houses in Mile High City, the real estate market is bound to go up.
See Also: 11 Best Denver Neighborhoods to Live In
What Is Considered Low Income In Denver?
An annual income of about $23,000 for an individual in the city of Denver is considered among the Extremely Low Income (ELI) bracket. With such a low income, it is difficult to spend your life in a city like Denver where the median household income is roughly $75,000.
Enter your information
Almost done!
Enter your information to view your quote.
Your information is safe with us. By using this service, you agree to receive email communications solely regarding your relocation process