6 Best Moving Companies In Milwaukee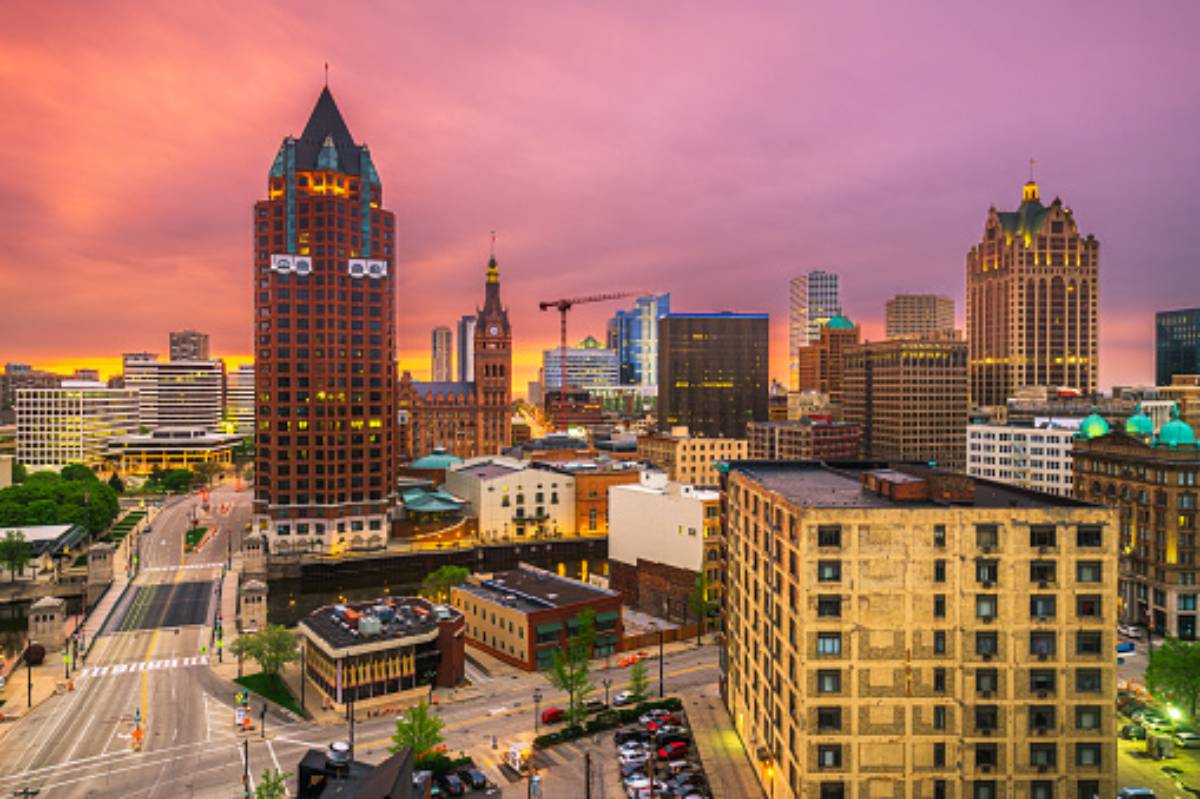 There's a lot brewing in the 'Cream City' and it's more than just Milwaukee's famous beer! Be it the ecology initiatives, innovative industry, or fantastic lifestyle, Milwaukee has a lot to offer to newcomers and old residents alike. Considered a gamma 'global city' due to its financial power, headquarters of nine Fortune 500 companies, cultural diversity, and extensive technological infrastructure, no wonder people flock to the Cream City in abundance! Milwaukee's seasonal festivals, art scene, and beautiful scenic view of Lake Michigan are worth moving for, too.
But, if you're moving out of Milwaukee – be it due to the sticky summers or cold, snowy winters, high tax rates, or traffic – moving to a new city means packing your lifetime's worth of belongings. And it is all this work that goes into moving that makes it a dreaded experience. Well, if you want a hassle-free and easy-breezy move, hiring movers is the only answer. So, we bring you the best moving companies in Milwaukee, for whether you're moving into or out of the city.
6 Best Moving Companies In Milwaukee
About Time Moving Systems
Gorilla Movers Of Wisconsin
Mr. Mover
Bluemound Express Company
Anchor Moving Systems
Eagle Moving and Storage
About Time Moving Systems
The true distinction of an excellent moving company from an average one is reflected in their customer reviews and ratings. The higher the customer satisfaction, the more customer-oriented the company's operations are. And About Time Moving Systems is as customer-oriented as a moving company can get! With affordable and competitive quotes to fit your budget, a flexible scheduling system for a well-planned move at your convenience, and prompt and dependable service, the company has garnered a loyal customer base in the past years.
This locally-owned and operated company serves the Milwaukee and Wisconsin area with high-quality residential and commercial moves as well as furniture moving and senior relocation. Whether you're looking to move across the country or simply across the street, they are the movers you can trust! Regardless of if you're moving into an apartment, a condo, your college dorm, or a senior living home, they have the crew and the equipment to help you attain a smooth and efficient transition. This licensed and insured company has the backing of thousands of customers who have nothing but positive things to say about them.
Services / Products Offered
Apartment Moving
College Moving
Commercial Moves
Furniture Moving
Interstate Moving
Residential Moving
Senior Moving
Pros
They are a licensed and fully insured moving company.
They offer affordable and competitive prices for their services.
You can reschedule your moving plans with ease; the company has a flexible scheduling process.
Cons
They do not provide international moving services.
Website: www.abouttimemoving.com
Contact Number: 262-222-2624
Address: 4909 8th Ave, Kenosha, WI 53140
Rating: Google (4.9/5), Facebook (5/5), Yelp (5/5)
Gorilla Movers Of Wisconsin
As their name says it all, no job is too big or too small, too heavy or too hard for them! They truly live up to their name – Gorilla Movers Of Wisconsin. This locally-owned and operated company has more than 20 years of moving experience which equips them with insider hacks and several effective ideas that can enhance and streamline your moving process. You can feel the confidence and efficiency through their comfortable and relaxed moving process!
This full-service moving company addresses every moving need from A to Z – from professional packing services to keep your belongings safe and secure to even overnight storage services at last-minute notice. Gorilla Movers are specialists in piano moving and gun-safe moving. Whether your Baby Grand is a cherished family heirloom or a valuable centerpiece of your home decor, these experts will handle it with utmost care and safety and use only the best packing supplies and equipment for its move. With gun safe moving, you need experience, preparation, the right equipment, and the muscle for a safe and secure move. And as with everything else, Gorilla Movers are ever-ready to get moving!
Services / Products Offered
Commercial Moving
Residential Moving
Professional Packing Services
Large Item Moving
Local Moving
Regional and Statewide Moving
Hot Tub Movers
Piano Movers
Gun Safe Movers
Pros
They are a locally owned and operated moving company with over 20 years of moving experience.
The company has an A+ rating and is accredited by the Best Business Bureau (BBB).
They are a licensed and fully insured moving company, with excellent customer reviews and ratings.
Cons
They are not operational on Sundays.
Website: www.gorillamoversofwi.com
Contact Number: 608-318-6060
Address: 310 Progress Wy Suite 140, Sun Prairie, WI 53590
Rating: Google (5/5), Facebook (5/5), Yelp (5/5)
Mr. Mover
One of the greatest moving worries is the last-minute price hikes and your belongings being in a hostage situation until you succumb to the demands of the movers. Well, with Mr. Mover you wouldn't have to worry about such a situation at all. They provide upfront and transparent estimations and guarantee no hidden charges or unwanted surprises. And the best part is that their upfront prices aren't all that 'up'! They offer high-quality moving services at affordable and budget-friendly prices.
With over 20 years of experience in the moving business, these South Wisconsin movers specialize in residential and commercial moves. Mr. Mover has earned excellent customer reviews and feedback and has won several awards and accolades for its superb moving services. So you can be sure about hiring these experts to handle your belongings with complete safety and care. Furthermore, the company has recently added portable storage units to its moving arsenal. Unlike the traditional PODS, their portable storage is sturdier, all-metal, and has specialized cargo tie-downs to ensure maximum security for your belongings.
Services / Products Offered
Residential Moving
Commercial Moving
Packing Services
Storage Services
Portable Storage Facilities
Pros
They are a family-owned and operated company that is fully bonded and insured.
They have been in the business for over 20 years and have a vast pool of experience to lean on.
They have their own franchise of portable storage units, in case a warehouse facility does not fit your needs.
Cons
They are closed on Sundays.
Website: www.mrmover.com
Contact Number: 262-376-9800
Address: 500 N Progress Dr, Saukville, WI 53080
Rating: Google (4.6/5), Facebook (4.1/5), Yelp (3.5/5)
Bluemound Express Company
This family-owned and operated company has over 70 years of experience in the moving industry. With all these years of experience comes the finer skills to assist all your moving needs. The company is customer-centric and aims to provide a personalized and flexible service, and has grown to become a crowd favorite moving company in the Wisconsin region. With their competitive prices and low hourly rates, the company ensures to provide their customers with a great moving experience without feeling the pinch in their pockets!
With years of perfected skills, latest model equipment, and trained professional movers, Bluemound Express ensures that your move is completed on time, within your budget, and that all your belongings are in mint condition after the move is complete. Rest assured, with their professional packing services and climate-controlled storage facilities, your belongings will be absolutely safe and secure. Bluemound Express specializes in piano moves. No matter the size of your piano and irrespective of how tricky your stairways are, these experts will bring your instrument into its new home with ease and utmost care. They have scaled many such tricky piano moves and with their long history of moving these precious instruments, Bluemound is one of the top choices for piano moving services.
Services / Products Offered
Residential Moving
Commercial Moving
Piano Moving
Senior Moving
Pros
They are a family-owned and operated company with over 70 years of experience.
They offer some of the most competitive hourly rates.
All your belongings in storage are under 24-hour surveillance and kept with utmost safety.
Cons
Unfortunately, they are not operational on Sundays.
Website: www.bluemoundexpress.com
Contact Number: 262-650-1870
Address: 1101 Marlin Ct, Waukesha, WI 53186
Rating: Google (4.4/5), Facebook (4.3/5), Yelp (3.5/5)
See Also: What Salary Do You Need to Live in Milwaukee?
Anchor Moving Systems
Unlike other moving companies, Anchor Moving Systems provides its customers with unique and specialized services like tradeshows, retail fixtures, and records storage. Even their residential and commercial moving services are quite unique and have a vast scope of personalization for customers. This moving company is truly customer-oriented, in terms of its services and the moving plan's flexibility to fit the customer's requirements.
These experts have been in this business for over 15 years and they ensure that their professionals are highly trained and responsive to unexpected moving problems or issues. They provide straightforward and transparent quotes and ensure that their customers do not face last-minute price hikes or other hidden costs. And in case moving was not part of your plan but now a last-minute move seems inevitable, Anchor Moving provides emergency moving services for a quick and efficient last-minute move, too! If you're moving for business, then be sure to avail of their business relocation services as the company provides you with a Chief Moving Officer who plans and coordinates your move down to the smallest detail, so all you gotta do is sit back and relax!
Services / Products Offered
Packing Services
Storage and Warehouse Facilities
Business Records Storage Space
Retail Fixtures
Residential Moving
Commercial Moving
Portable Storage Units
Pros
Each of their movers and staff has had at least 15 years of experience in the moving space.
They provide transparent estimates and guarantee no hidden costs or surprise line items in your invoice.
They are very flexible in cases of emergency moves or last-minute moving plans.
Cons
They are not operational during the weekends.
Website: www.anchormovingsystems.com
Contact Number: 414-355-6683
Address: W144 N5800, Shawn Cir, Menomonee Falls, WI 53051
Rating: Google (4.7/5), Facebook (4.8/5), Yelp (3/5)
Eagle Moving and Storage
Moving to a new city can be an exhausting process and relocation may, at times, feel like a battle. And to win any battle, you need highly trained professionals, top-quality equipment, and undeniable skill-sets. And Eagle Moving is the perfect partner against all your relocation battles! The company has been around for over 60 years and is bound to have picked up on the industry's know-how. These skills can't be taught and rather need to be learned with experience! No job is too big or small or tricky for these professionals.
This independent, locally-owned and operated moving company specializes in both residential and commercial moving. And with their customizable service options, you can decide how much help you really need – whether you need a full-service booking to pack your entire home/apartment or just need help with loading and unloading. They are experienced with all types and sizes of moves, from moving to a small apartment to a large estate, from a local move to an interstate move, they have you covered. Look no further, Eagle Moving has all your moving answers!
Services / Products Offered
Local Moving
Interstate Moving
Packing Services
Packing Supplies
Commercial Moving
Storage Services
Pros
They have over 80 years of experience in the moving industry.
They specialize in piano moving and moving heavy items.
They provide free estimates either on-site or over the phone, whichever is preferred by the customer
Cons
They do not provide international moving services.
Website: www.moves.net
Contact Number: 414-383-1776
Address: 929 W Bruce St, Milwaukee, WI 53204
Rating: Google (4.3/5), Facebook (3.9/5), Yelp (3.5/5)
How Much Does It Cost to Hire Movers In Milwaukee?
Moving is an inevitable part of life and each person in this world is bound to move at least once in their lifetime. Whether it's for a new job, education, or family, moving from one city or state to another is often a rite of passage. While the whole moving process can surely be exhausting, it also brings in a wave of excitement for a new chapter in life. And what's better than hiring movers to make the moving process easy, breezy, and stress-free?
Hiring a good moving company in Milwaukee would cost you an average of $435. This cost may change based on the type of move, the distance to be moved, the number of rooms to be moved, and so on. In contrast, if you're planning to move within Milwaukee or to a neighboring city, the movers will charge you on an hourly basis. They will cost you anywhere between $60 to $80 per hour. While a long distance or out-of-state move will cost you between $3,050 to $7,100. The cost of long distance moves, too, is variable depending on the distance to be moved, transportation fees, gas and mileage fees, etc.
See Also: 10 Largest Cities in Illinois
Conclusion
Moving isn't always a dreaded experience. Rather, it can be quite exciting and even fun if you hire the right people to aid your move. And the perfect moving company is only a few steps away! All you have to do is research. Based on the services you need, your location, and your budget, streamline your best moving pal and get moving! However, always ensure that they are licensed and insured at the very least, and have no hidden charges or shady policies in place.
FAQs On Best Moving Companies In Milwaukee
How Much Do Movers Cost In Milwaukee?
On average, movers in Milwaukee will cost you approximately $435. For a local move, they will charge on an hourly basis, anywhere from $60 to $80 per hour. These rates may change depending on the bulk weight and volume of the items to be moved, the distance to be covered, and any additional services you have availed of.
What Do Full-Service Movers Do?
A full-service mover will come into your home, wrap up all the items in your household, and safely deliver them to your new location. Furthermore, when it comes to packing, a professional mover will also provide associated packing services such as unpacking your belongings, reassembly of furniture, etc.
What Is Considered A Long Distance Move?
A general rule of thumb for most moving companies is that a move beyond 400 miles is considered a long distance move. A long distance move can be interstate or even intrastate and mainly depends on the miles to be traversed. It's sometimes referred to as a 'long haul' or cross-country move depending on the destination.
Enter your information
Almost done!
Enter your information to view your quote.
Your information is safe with us. By using this service, you agree to receive email communications solely regarding your relocation process