Moving to Washington – Relocation Guide for 2022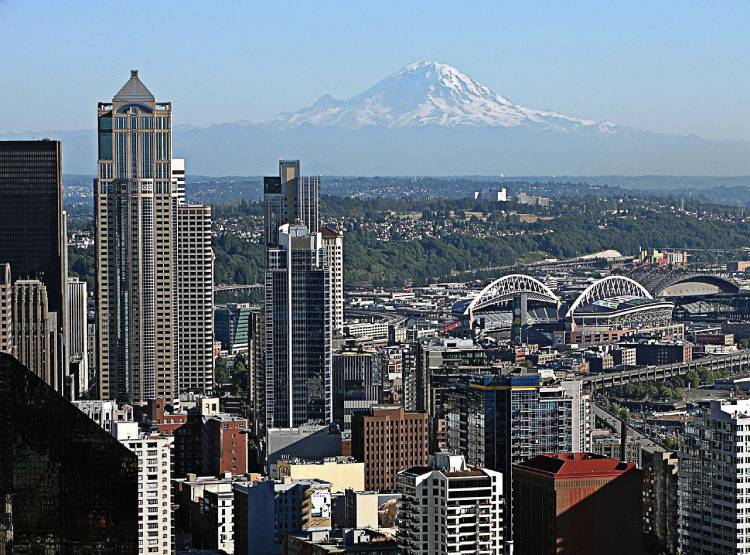 Washington is considered the prettiest state in the Pacific Northwest. It has earned a reputation for its stunning natural, urban epicenters, high quality of life, low income taxes, technology, opportunities, and developing economy. Many people have been moving to Washington for better opportunities or even to live their retirement life. Whatever the reasons are, it's important to know more about this place before you even decide on uprooting your life and moving to Washington.
Washington is the 18th largest state in the United States by size with an area of 71,289 square miles. With a population of 7.1 million people, Washington also ranks 13th in terms of population. The art and music scene, festivals along with the international cuisine are something you must look forward to when moving to Washington. Other than that, there are some other factors like housing, job market, economy, etc, that you must know of before you finally make any decision. So let's get down to it!
Pros And Cons Of Living In Washington
Pros
Washington is the perfect place for you if you want to expand your career. It has several job opportunities in the tech and aerospace industries.
The evergreen forests enable adventure enthusiasts to avail of some outdoor adventures like cycling, hiking, rock climbing, sailing, boating, skiing, fishing, kayaking, and much more.
Washington has a thriving economy with some of the leading industries like aerospace, tech and more. The GDP of the state is the highest in the nation.
There is no state income tax in Washington. You read it right, no state income tax! Mid to high-income earners pay taxes that are lower than those in other states.
Washington is home to some of the most renowned universities in the USA. The opportunities for higher education in Washington are the best. Tech-related courses and degrees are highly demanded.
Cons
True, Washington has a low personal income tax, but its sales tax rate is among the highest in the country!
The weather in Washington state is not exactly favorable for all. The western parts of the state experience a lot of rainfall all year long.
Property crime rates in Washington state are high. The state experiences rising property crime and the rate of violence for such crimes is higher than the national average.
The cost of living in Washington is high compared to most other states in the USA. It can be very expensive to live if you earn a low income.
Another con of living in Washington is the traffic. It takes a lot of time to get through the traffic and reach your destination in time.
Weather In Washington
Washington is divided into two separate regions: the eastern and central regions and the western region. About 80% of the population resides in the western region where the weather is usually mild.
The temperature during summers reaches a little above 80°F whereas the winters are at an average temperature of 45°F. Snow in the western region is not dense and is also a rare occurrence. The western region around cascades sees about 200 inches of snow a year. The temperature during winters keeps fluctuating and at times falls down to 20°F during the night in Washington.
The central and eastern parts of Washington State is mild, foggy, humid, cloud-covered along with ample rainfall. This is where the rest of the population resides. A majority of these people live in regions around Idaho. The weather and temperature in this region are more on the extreme side. The average temperature during summers goes beyond 100°F and it can be quite muggy! During winters, the average temperature goes below 0°F. The people of Washington otherwise have mild weather all year long with mild rainfall. Don't forget your raincoats!
Cost Of Living
The real estate market in Washington is hot right now. The median housing rates in Washington State are 45% higher than the national average. Even though the taxes on real estate are low, renting a home is expensive for a person with an average to medium-level salary. The rental rates in Washington State are 25% higher than the rest of the states in the USA!
Expenses
The overall cost of living in Washington is higher than the national average. You have to cover a few expenses on a monthly basis that add to your living costs in Washington. These include paying water bills, electricity bills, cable bills, internet bills, and more. On an average you'll be spending about $177.31 on all your utility bills on a monthly basis.
Other than that, there are a few other things that you'll be needing that add to your living costs. Here is a breakdown of some of the utility bills to give you a better idea. The average annual expenditure on some of the utilities is mentioned below.
Annual food expenses: $3,364
Annual healthcare expenses: $3,351
Annual transportation expenses: $10,225
The prices of groceries, housing, transportation, and other basic necessities are higher in Washington as compared to the national average. So, one thing you'll need is a high-paying job to be able to live a comfortable life in Washington.
Buying A House In Washington
The property rates in Washington have skyrocketed in the past decade. With the increase in job opportunities in Washington, the demand for real estate has also increased drastically. Many investors have been investing in some of the real estate properties in Washington as the real estate market is in high demand right now.
Here's a quick look at the average median value of homes in Washington and the USA to help you understand the value of homes if you are planning on buying one.
| | | |
| --- | --- | --- |
| | Washington | United States |
| Median Home Value | $504,200 | $291,700 |
Even with the job opportunities in the tech industry, Washington is an expensive state when it comes to the housing market. The average mortgage rate in Washington is $1,729 while the average monthly rental rate is $1,995. The cost of rent in Washington is higher and hence, most people tend to buy a house in Washington rather than renting one.
Renting A House In Washington
Cities like Seattle, Redmond, Tacoma and Bellevue are some of the best cities that have ample renting housing options for you. Along with the job opportunities, the housing market in these cities is highly demanded. The rent in these cities can be a bit on the steep side, but even then, the housing market is flourishing. In the following table, you'll get an idea of what the average rent in Washington is when compared to the US average, according to BestPlaces:
| | | |
| --- | --- | --- |
| Apartment Size | Monthly Average Rent | US Average Monthly Rent |
| Studio apartment | $1,168 | $950 |
| 1 Bedroom Home | $1,254 | $1,050 |
| 2 Bedroom Home | $1,519 | $1,278 |
| 3 Bedroom Home | $2,107 | $1,680 |
| 4 Bedroom Home | $2,500 | $1,950 |
This table gives a clear idea of how much an average person spends on monthly rent in Washington. The prices differ depending on the city you decide on living in. Even then, we'll tell you this: renting in Washington state is expensive and you'll have to make an informed decision when choosing whether to rent or buy a house in Washington.
Tax Rates In Washington
The tax burden on the residents of Washington is lower as the state does not levy high tax rates. Washington is one of the nine states in the US that does not impose any income tax. This means that you do not need to apply for income tax returns.
But hold on! The sales taxes are higher in the state with an average range of 6.0% to 10.1% which is higher than the national average. These rates keep changing depending on the city you live in. The property tax in Washington ranks 29th nationally and averages up to 10.1%. These rates are again, higher than the national average and play a huge role in increasing the cost of living.
Crime Rate In Washington
Washington is a relatively safer state to live in as the crime rates are higher only in a selected few cities of Washington. When it comes to crime rates, property crimes and violent crimes like murder, assault, robbery, and rape are a problem in the state of Washington.
The violent crime rate in Washington is 2.94 per 1,000 residents as compared to the US median of 4 per 1,000, according to NeighborhoodScout. Additionally, property crimes in the state are on a rise. The national median for property crimes is 26 per 1,000 residents while the average in Washington is higher with 26.82 per 1,000 residents. Before you move to Washington, you need to look at each of the cities to know which of those are safer for you to live in.
San Jose, Dallas, Chicago, Phoenix, and Skykomish are some cities that have a higher crime rate. But if you look carefully around the state, you'll find out that there are a few cities with a low crime rate and are safer to live in. Colton, Woodway, Maple Falls, St. John, Palouse, Black Diamond, Wilbur, etc, are some of the safest cities to live in Washington.
Along with the crime rate, homelessness in Washington is also a rising issue. You'll see a lot of homeless people around public areas across Washington. This issue is rising in recent years and has become quite prominent.
Economy And Employment Opportunities
Washington is rated at the number one state with the fastest-growing economy. The GDP of Washington was $612,996 billion as of 2019, making it an economic powerhouse.
The following table will give you a better look at the growing economic development that is observed in Washington.
| | | |
| --- | --- | --- |
| | Washington | US Average |
| Average Annual Income | $31,233 | $28,555 |
| Median Household Income | $60,294 | $53,482 |
| Unemployment Rate | 6.1% | 6.0% |
As the table elaborates, your average salary will be higher than the national average. This enables you to live a comfortable life in Washington even with the high cost of living. The unemployment rate is higher than the national average but according to some recent reports, the employment rate has gone higher by 1.6%. The overall economic growth of Washington has been developing at a steady rate.
Some of the major industries that provide employment to the majority of the population in Washington are tech, agriculture, aerospace, clean technology, and information and communication technology. Washington is home to some of the biggest businesses like Microsoft, Amazon, Providence Health and Services, Starbucks, T-mobile, Nordstrom, and Boeing. These are the same companies that employ a majority of the population of Washington.
Education In Washington
The quality of education in Washington is well managed and has a strong reputation. A majority of the school districts excel in education and have a majority of the population that opt to enroll for higher education. The universities and colleges offer exceptional programs in technology that students from all over the country enroll in.
Washington is home to some of the most renowned schools, colleges, and universities. The following is a list of a few renowned educational institutions in Washington State that you must consider.
Elementary Schools
Somerset Elementary School, Bellevue
Rosa Parks Elementary School, Redmond
Shelton View Elementary School, Bothell
Whittier Elementary School, Seattle
Cherry Crest Elementary School, Bellevue
High Schools
Tesla STEM High School, Redmond
Washington High School, Takoma
Lake Washington High School, Kirkland
Newport High School, Bellevue
Covenant High School, Tacoma
Universities And Colleges
University of Washington, Seattle
Whitworth University, Spokane
Seattle University, Seattle
Washington State College, Pullman
Pacific Lutheran University, Tacoma
Traffic And Transportation In Washington
Transportation is one of the major issues that is faced by residents of Washington state. Washington ranks third as the worst state for drivers according to WalletHub. The typical American commute has been getting longer anyway and Washington is one of the worst in that matter. This is mostly so because of the bad quality of roadways, traffic congestion, and even high rates of car thefts.
The average one-way commute in Washington takes about 27.1 minutes which is longer than the national average of 26.3 minutes according to BestPlaces. So, if you want to travel across the cities of Washington, you must be prepared to spend some time in your vehicles or leave a few minutes early to ensure you reach your destination on time.
Buying a vehicle is preferred in Washington as over 72% of the population travels in their private vehicles while only about 6% of people use the local transit. This increases the number of vehicles on the roads and causes congestion.
See Also: Largest Cities in Washington
Places To Visit In Washington State
1. Leavenworth
Leavenworth is a small town in Washington that has become a popular tourist spot for its European country aesthetic. The town is ideal for a comfortable weekend getaway with family during winters. Visiting Leavenworth town during Christmas allows you to visit local shops and also get a good taste of European culture without having to spend a lot of money.
2. Snoqualmie Falls
One of the best hiking destinations in Washington lies just 30 minutes from Seattle. Snoqualmie Falls is always flooded with tourists and locals who want to enjoy the serene view. It's an easy hike that takes about 2 hours along the most beautiful path.
3. San Juan Islands
San Juan Islands are one of the most beautiful islands a bit away from the busy city life of Washington. It's also one of the most visited islands and the credit goes to the beach life that people get to experience here. For people who want to experience living close to nature, this is the perfect holiday spot in Washington.
Some other notable places that you can visit in Washington are:
North Cascades National Park
Olympic National Park
Mount Rainier
Lake Chelan
Capitol Hill
Places To Live In Washington State
Finding a place to live is probably one of the very first things you need to take care of when moving to Washington. Here we have listed down a few cities in Washington that you might want to consider moving to.
1. Pullman
If you want to live in a small town away from city life, Pullman is the city to move to. It's located in the eastern portion of Washington and is known for its excellent schools and higher education. With a wide range of curriculums and inexpensive living costs, Pullman has become a hub for aspiring students. If getting a higher education is your goal, moving to Pullman seems like a good choice for you.
Population: 32,400
Median Home Value: $291,200
Monthly Median Rent: $1,612
Annual Median Household Income: $54,680
2. Seattle
Seattle is one of the fastest-growing cities in Washington and has a high ranking economic growth as well. It's a city with ample job opportunities in the technology industry. Granted, Seattle is expensive, but it also offers high quality of life and allows you to have a career.
Population: 688,200
Median Home Value: $874,877
Monthly Median Rent: $2,169
Annual Median Household Income: $92,263
3. Tacoma
Tacoma is another prime spot for professionals entering the job market. Alongside Seattle, Tacoma is a city that has several job opportunities and affordable cost of living as well. It's one of the best cities that offers job opportunities, housing availability, educational opportunities, and more. Want to move to a bustling city in Washington that's also suitable for families? Tacoma is the place for you!
Population: 207,300
Median Home Value: $432,400
Monthly Median Rent: $1,539
Annual household income- $62,358
4. Richland
Richland is a hidden gem of Washington that is a great combination of country life and city buzz. A small city in the deserted areas of Washington is secluded from the busy and bustling city life that most youth enjoys. The community is close-knit and conservative. This is ideal for all retired couples who want to live a life of peace and quiet. There are also a few outdoor activities that you can engage in like cycling, hiking, and more.
Population: 54,000
Median Home Value: $226,300
Monthly Median Rent: $1,165
Annual Median Household Income: $77,686
Summing Up
Finally, we'd like to mention that you need to look at both the positives and negatives that the state has to offer you. You also need to look at the opportunities these cities offer to enable you to pursue your goals. There's a lot at stake when you are planning to move your life and live in an unknown state. Hopefully, we have covered everything that you needed to know about moving to Washington.
As elaborated above, Washington is an ideal state to move to for people looking for educational and career opportunities. At the same time, you need to know that the traffic, housing rates, and the higher cost of living are some aspects that you must consider before making a final decision.
Wondering how much it will take you to move to Washington? Check out our moving calculator to find out and start planning your move now!
See Also: Best Moving Companies In Washington State
FAQs
Is Washington A Good Place To Move?
With low crime rates, ample job opportunities, and excellent educational institutions Washington is a great state to live in. For all the people who love being around nature and also enjoy the busy city life, Washington has ample adventure activities to engage in as well. Overall, if you are looking for quality of life and higher education Washington is definitely a good state to move to.
Is It Expensive To Live In Washington?
The cost of living in Washington is higher than the national average. The monthly bills, transportation costs, and housing expenses are all high. So, unless you have a high paying job that covers all these monthly bills, Washington is definitely an expensive state to live in.
What Are The Pros And Cons Of Living In Washington?
Living in any part of the world comes with pros and cons. Washington is no exception and the following are some of the pros and cons of living in Washington.
Pros
Job opportunities
Higher education opportunities
High quality of life
Thriving economy
No income tax
Cons
Unpredictable weather conditions
High property crime rates
Expensive housing market
Congested traffic
High cost of living
Enter your information
Almost done!
Enter your information to view your quote.
Your information is safe with us. By using this service, you agree to receive email communications solely regarding your relocation process