Moving To Michigan – A Relocation Guide for 2022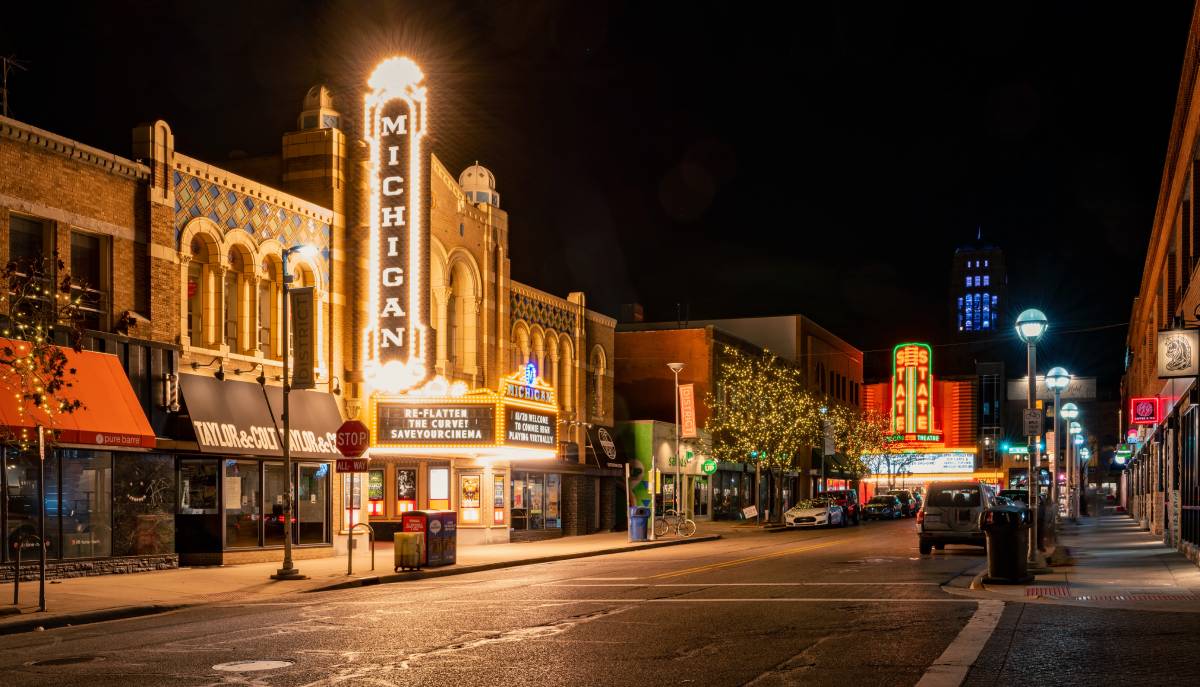 Sure, we've all heard about Michigan. But did you know that this Great Lake State is named after the Ojibwe word Mishigami which means 'great water' or 'great lake'? True to its nomenclature, Michigan is known for being the longest freshwater coastline in the entire country. So much so, that at any given spot you wouldn't be farther than 85 miles from a Great Lake. More than being a fishing haven, Michigan is home to a wide range of Sports Leagues including the Detroit Tigers baseball team, the Detroit Lions football team, and the Detroit Pistons men's basketball team.
If you've decided to carve a home out of this little Midwestern state but don't yet know where to begin, then today's your lucky day. We've compiled a bite-sized handbook of pretty much everything you need to know before moving to the state of Michigan.
Pros And Cons
Pros
All Four Seasons
If you're from one of those states that has just two seasons and only know what it's like to experience extreme summers or bitter winters, you're in for a treat when you arrive in Michigan. Michigan is known for having four distinct seasons, each with its own kind of beauty and uniqueness. The spring and fall are particularly beautiful as you get to witness the trees shedding their leaves in a melange of oranges, reds, and yellows.
Safe From Natural Calamities
According to the National Oceanic and Atmospheric Administration, Michigan is one of the safest American states in terms of natural calamities and disasters. Owing to its geographical advantage and its natural propensity, it is fairly well protected from serious calamities like volcanoes, hurricanes, and earthquakes. This is not to say that the state is completely free of all such incidents as there have been cases of thunderstorms, power outages, and flooding in the past. But none of these incidents have been of widespread concern or loss of life, and they are lower in frequency.
Exciting Cuisine
Michigan is a state that is known for its eclectic, offbeat foods that are the pride of the region. Many of the foods have native origins and involve seafood. A few examples of the varieties that you ought to try while in the Mitten State are Cider and Doughnuts, freshly shucked oysters, Packzi or Polish Doughnuts, Cornish Pasty, etc.
Cons
Inefficient Commute
In the winters, Michigan gets quite a lot of snow and this affects the public commute system quite badly. There are no major highways that connect to the Upper Peninsula, and snow and hail make it impossible to navigate the roads without snow tires. The roads are not in the best possible condition in the state and have quite a long way to go in order to ensure smooth travel.
High Costs of Education
Sure, Michigan has some of the best institutions for higher education in the country, but even with scholarships, it's going to cost you a bundle for a college degree. The average tuition fee in the state often exceeds $52,266 for all four years, and for many, this is an exorbitant rate to pay. Good education in the Great Lake State means a bigger burden of student loans.
Weather In Michigan
Michigan has a continental climate with short summers and long, extended winters. The weather is generally on the colder side in the region and it receives around 60.66 inches of snow every year. January is the coldest month in the state with temperatures ranging from 21°F to 31°F. The high level of snowfall leads to what is called the lake-effect snow.
Lake-effect snow is a phenomenon that occurs in exceptionally cold climates when masses of cold air travel across warmer waters. This causes the lower mass of the cold air to be warmed into vapor, the vapor then freezing and depositing itself on the shores. Both the lake-effect snow and actual snow lead to hitches in the public transportation system. If you're someone who is not a fan of cold weather, you should probably reconsider your decision.
But as mentioned above, Michigan does get a taste of all four seasons–fall being exceptionally beautiful in the months of September to November.
Cost Of Living In Michigan
Buying A House In Michigan
Buying a house is a huge achievement and a milestone to remember forever. However, it is also a massive investment and an endeavor that costs a whole lot of effort and money. If you're planning on making permanent your residence in the Great Lake State by buying a house, we've got good news for you. The median home value in the state is only 71% of the average median home prices in the USA as the information below from Zillow would help clarify:
| | | |
| --- | --- | --- |
| | Michigan | United States |
| Median Home Value | $222,659 | $374,900 |
Renting A House In Michigan
Even though buying your own house is an asset for life, it is not for everyone. If you're someone who's going to be in Michigan for a short period of time or don't yet have the financial stability to invest in a house, renting is the next best thing. Here are the average rent prices, courtesy BestPlaces:
| | | |
| --- | --- | --- |
| Apartment Size | Michigan Average Monthly Rent | US Average Monthly Rent |
| Studio apartment | $692 | $949 |
| 1-Bedroom Home | $778 | $1,048 |
| 2-Bedroom Home | $979 | $1,278 |
| 3-Bedroom Home | $1,255 | $1,689 |
| 4-Bedroom Home | $1,372 | $1,950 |
Taxes In Michigan
Taxes are an important aspect of your finances and shifting to a state with high taxes will reflect accordingly on your yearly budget. Luckily for you, Michigan isn't that state. Michigan has a flat-rate tax system that is relatively tax-friendly, especially if you're from a tax-heavy state like Washington or California.
The state has an income tax rate of 4.25% and a sales tax rate of 6%. This means that both Michigan's income and sales tax are lower than the national US average. The state's real effective property tax rate is 1.64%. However, you can expect small changes as you shift from county to county.
Expenses In Michigan
Ah yes, the big question. How much would moving to Michigan cost? Living expenses are almost as important an aspect as the standards of living a state would provide. With this regard, you'd be glad to know that Michigan has a relatively affordable cost of living. Michigan's average living expenses are 11% lower than the national average. This, paired with the umpteen geographical and cultural advantages the state provides, adds to the appeal factor of moving to the state.
Here's a breakdown of your monthly utility bills as per Numbeo. In a month, on average, electricity would cost you around $105, your internet bills $30, cable $41, and water $28. Natural gas is priced slightly higher at $74 per gallon.
As for grocery bills, a gallon of milk would cost you around $1.89 in the state, with bread and eggs costing you around $2.07 and $1.58 respectively. Average healthcare costs around $3,455 per year in the state. This is considerably lower than the national average.
Also Read: Moving to Baltimore – Relocation Guide for 2022
Crime Rate In Michigan
Living in a city is not always easy. It comes with its own set of challenges to personal safety and security. The crime rate in Michigan, while not exceptionally high, is not negligible by any means. The violent crime rate is 4.73 incidents (per 1,000 residents). The property crime rate is far higher when compared to this at 13.46 (per 1,000 residents). An average of 183,274 such incidents take place every year in the Wolverine State.
However, this is not to say that all of Michigan is unsafe or unfit for residence. As with all places, this state also has good and bad neighborhoods. Thetford Township, Spring Arbor Township, Grosse Ile Township, and Oakland Township are some of the areas that are known for being extremely secure and place a lot of value on citizen safety. However, Detroit and Lansing are some of the most notorious cities in the United States known for their high crime rates.
Economy And Employment Opportunities
As mentioned before, Michigan is primarily a fishing state. It is known for its wide range of seafood businesses which generates a large number of jobs every year. Other major industries that boost the economy of Michigan include information technology, aerospace, food production, automobiles manufacturing, beverage production, and mining. An interesting fact that might surprise you is that Michigan is the third-largest producer of Christmas trees in the country. So if that niche business is what you happen to be looking for, then jackpot!
It is a great place for start-ups and places an inordinate amount of attention and reception for research and development. Some of the major companies that are headquartered in the state include Little Caesars, Domino's Pizza, Ford, General Motors, Lear, Whirlpool, Masco, Visteon, Ally, Kelly Services, WABCO, etc. The current unemployment rate of the Wolverine State is 4.8%. Michigan's economy is not regarded as the best as it can get quite saturated and slow in its growth. But, there are still plenty of opportunities and job openings in the state, especially in the regions of Kentwood, Portage, Wyoming, etc.
Education In Michigan
Good education is not a luxury, but a necessity. The educational framework of any region is the yardstick to the intellectual and economic development of the place. If you're someone who is moving for college or in pursuit of good quality education, then have no fears as Michigan is here to serve. The Michigan State Board of Education currently has nearly 3,555 public and private schools with a large number of reputed research universities and institutions for higher studies.
Lets us have a look at some of the best-rated schools and colleges in and around Michigan-
Schools
International Academy
Novi High School
Webster Elementary School
International Academy of Macomb
Brown Elementary School
Crestwood Accelerated Program
Northville High School
Universities And Colleges
University of Michigan
Eastern Michigan University
Central Michigan University
Michigan Technological University
Michigan State University
Andrews University
Oakland University
Traffic And Transportation In Michigan
Sure, any state is easy to navigate if you've got a car of your own. But what about those who haven't yet reached that point yet, you ask? We've got the answer: public transportation. The Michigan Department of Transportation (MDOT) is the primary body that overlooks public transport and transport planning projects in the state.
All frequent fliers' biggest concern is a centrally located airport that enables quick transport to and from the airport. We have spectacularly good news for you: the state of Michigan has four international airports! The Flint-Bishop International Airport, Detroit Metropolitan International Airport, the Gerald R. Ford International Airport, and the Kalamazoo-Battle Creek International Airport are all of Michigan's international airports.
Michigan's rail system has three intercity passenger rail routes and is one of the cheapest ways to travel the state. For road travel, there are plenty of public local transit options including Detroit People Mover, Blue Water Transit, Transit Detroit, and QLINE Detroit. Greyhound is also a bus service that has nearly 47 stops in the state. Taxicabs are available at any hour of the day, and there are also many bike-sharing programs like MoGo Bikeshare available for people who care an extra beat for their health.
Even though the Mitten State has public transportation systems across roadways, waterways, rail, and air, the infrastructure has a long way to go in order to ensure smooth and convenient travel for all. The wet winter weather and the lake-effect snow are known to constantly impede public transport and the bad roads don't help the case.
See Also: Michigan DMV Change of Address
Best Places To Live In Michigan
Ann Arbor
One of the best things about Michigan is that there is something for everyone. If you've reached a certain status in life and want an exclusive neighborhood that has a central focus on luxury and comfort, Ann Arbor is the place for you. It's officially Michigan's Tech Start-up City because of its attention to entrepreneurship and is one of the most expensive cities in the state. It is home to the Big House Stadium and is filled with sprawling bungalows, luxury cafés, restaurants, and every amenity imaginable.
Population: 123,851
Median Home Value: $448,106
Monthly Median Rent: $1,749
Annual Median Household Income: $131,071
Bingham Farms
Located in Oakland County in Michigan, Bingham Farms is a picturesque little village, the perfect resting spot for retirees who are looking forward to the next phase of their lives. The Farms are known for their heavily forested areas, which primarily constitutes of oak trees. Today, it is the perfect blend of suburban and rural life, and is quiet, has a low crime rate, and fantastic healthcare infrastructure. The frequent council meetings and events among the residents foster a community feeling amidst the people living there.
Population: 1,455
Median Home Value: $521,752
Monthly Median Rent: $1,060
Annual Median Household Income: $72,137
Big Rapids
If you're someone who has opted out of campus housing and has chosen instead to rent an apartment to yourself, there's no better neighborhood than Big Rapids. Home to the main campus of Ferris State University, Big Rapids is known for being a picturesque college town with a high focus on sports like hockey, football, and basketball for college students. Overall, Big Rapids is an area with satisfactory commute, student-friendly services, and restaurants that remain open throughout the night.
Population: 10,366
Median Home Value: $151,212
Monthly Median Rent: $2,000
Annual Median Household Income: $26,227
Fulton Heights
Shifting by yourself is markedly different from shifting by your family. If you're on the lookout for a safe, affordable, family-friendly neighborhood in the city, our recommendation would be Fulton Heights located in Grand Rapids, MI. This little neighborhood has some of the best schools in the state including Marywood Head Start, Living Stones Academy, etc. It is located close to the Grand Rapids Arts Museum, John Ball Zoo, Hillcrest Dog Park, and more, so that your little ones are never bored or uninspired!
Population:1,818
Median Home Value: $258,000
Monthly Median Rent: $1,196
Annual Median Household Income: $47,844
Also Read: Moving to Orlando – Relocation Guide for 2022 | Moving To Grand Rapids, MI – Relocation Guide for 2022
Summing Up
Any state comes with its ups and downs. However, if you're willing to put in ample research, time and effort, your move is bound to be entirely worth it. Michigan is one of America's finest states with promising access to many of the world's reputed institutions and an enviable cost of living. It is protected, beautiful, and mostly natural.
While there are things that you might have to be wary about, this Great Lake State is still one of the best places to live in. We hope that this comprehensive list of information has helped you make up your mind and we wish you a pleasant move!
Also Read: Moving To Iowa – A Relocation Guide for 2022
FAQs On Moving to Michigan
What Are The Best Parts About Moving To Michigan?
Michigan is a midwestern state that has quite a lot to offer in terms of geography, people and culture. It is picturesque and has a lot of beautiful forested areas, is a great spot for those who want a mix of rural and urban, and is also perfect for experimenting with boating, kayaking, and other water sports owing to its close proximity to water. Michigan also has relatively low living costs and is said to be the safest American state in terms of natural calamities.
See Also: Largest Cities in Michigan
What Is The Distance Between New York And Michigan?
The two states of New York and Michigan are separated by a distance of 814.4 miles. While a car ride of nearly 15 hours on tough Michigan roads can be quite a tricky adventure, you could always opt to fly into one of the state's four international airports.
Which Is The Most Beautiful Place To Live In Michigan?
South Haven is perhaps the most exquisite spot to live in Michigan with regards to its natural bounty. However, depending on what you're looking for, the state has neighborhoods that are tailor-made to your budget and preferences.
Also Read: Moving To Baton Rouge – A Relocation Guide for 2022
Enter your information
Almost done!
Enter your information to view your quote.
Your information is safe with us. By using this service, you agree to receive email communications solely regarding your relocation process