Moving To Grand Rapids, MI – Relocation Guide for 2022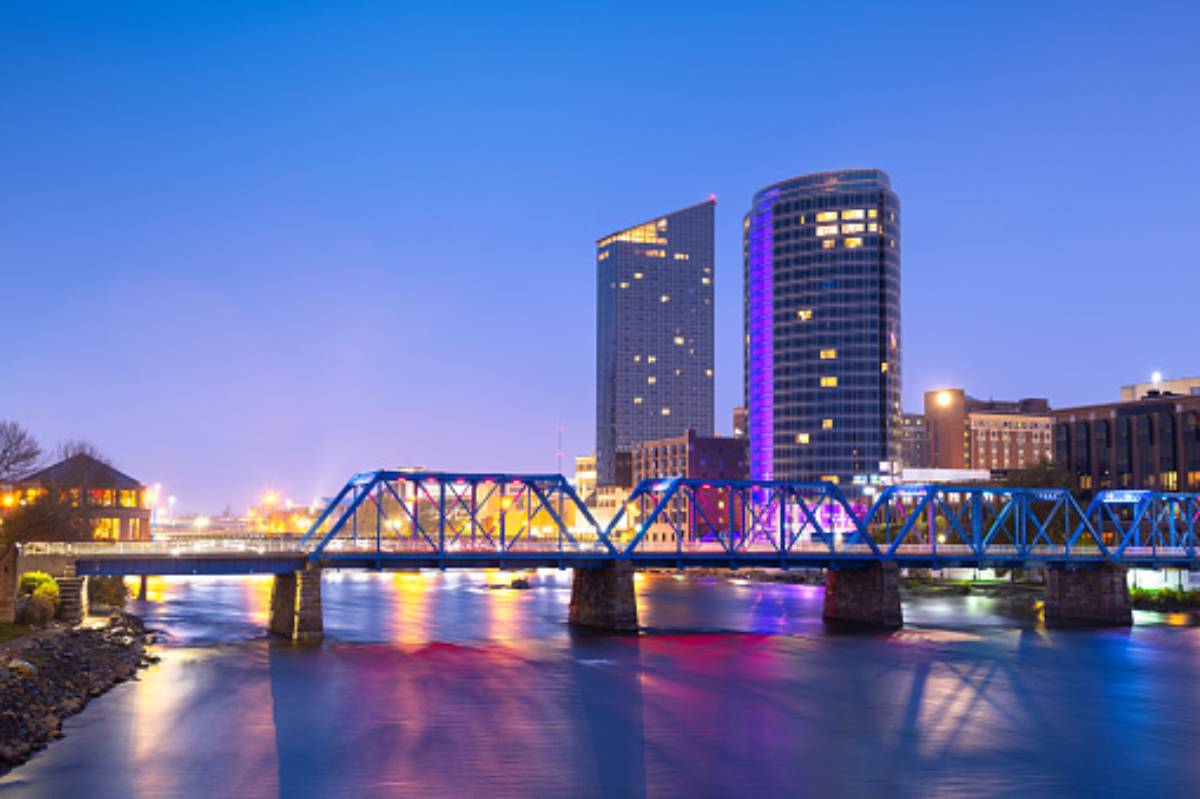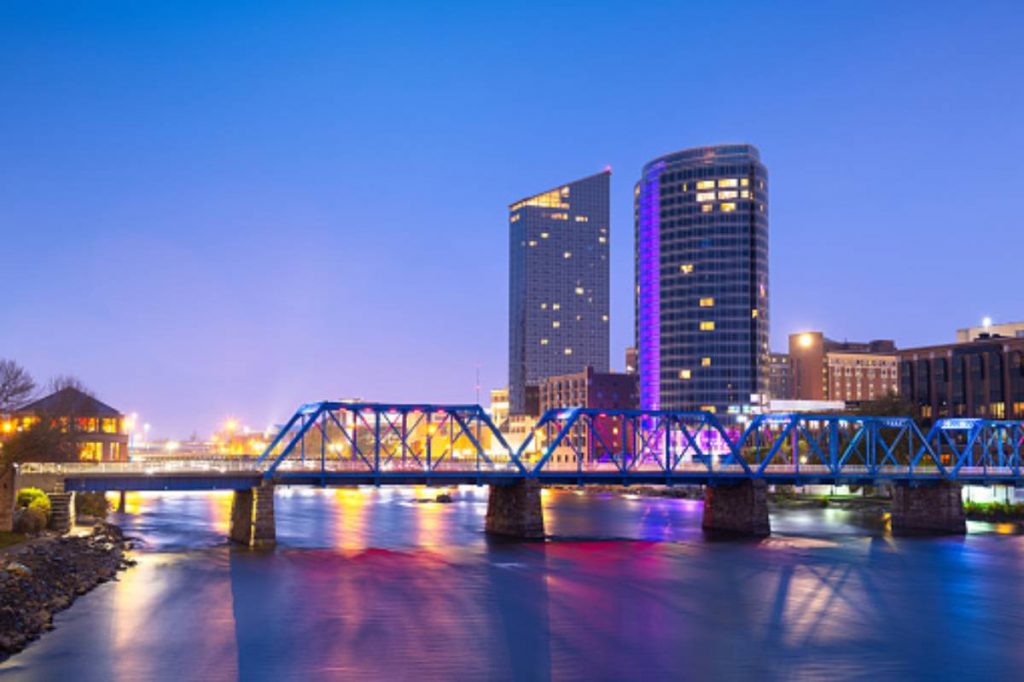 Grand Rapids is the second-largest city in Michigan and is also a college town that has seen a boom in the job market. All of this has caused the city to have a rapid increase in population. However, the Furniture City (thus called thanks to its 1800s logging industry) still manages to maintain its small-town charm. If you're a young professional or a young family, this city is the perfect place for you to grow roots.
There's a lot more to this city and we're sure that you would like to know more. So, keep on reading our guide on moving to Grand Rapids, Michigan.
See Also: Moving To Olympia, WA – Relocation Guide for 2022
Pros And Cons
Pros
Very Walkable
Grand Rapids has a lot of venues for you to pass your time. The only reason this is a credible pro of this city is that you can actually take your time to walk to the different places and take in the scenery. In fact, a lot of Grand Rapids residents use bicycles to commute to their workplaces. Since it is a city designed to handle traffic like this, you are assured to have a good time walking or cycling across town.
Beer City
Grand Rapids is home to more than 60 breweries. So, it's safe to say that you'll find a fair bit of variety for your drink with the eclectic food menus in the pubs here. Some of the most famous spots in town are Atwater Brewery and Founders Brewing Company.
Balanced Cost Of Living
The cost of living in Grand Rapids is expensive in some aspects and fairly inexpensive in others. According to Bestplaces, transportation and utilities hit a little harder, but the cost of healthcare and housing are lenient enough to mellow that blow.
Decent Quality Of Education
Most of the public and private schools in Grand Rapids are rated as above average. While there's a wide scope of improvement in this department, the city is taking efforts to make sure that more and more students choose to complete their education. Evidence to that statement is the 77% graduation rate in the high schools in the area.
See Also: Pros and Cons of Downsizing
Cons
Relatively High Crime Rates
While the Beer City is safer than a lot of cities in America, it has the second-highest crime rate in Michigan. The interesting part about this is that the property crimes rank lower than the national median, while violent crimes overtake the national median to a noticeable extent.
Rough Winters
The geographical location of Grand Rapids is such that it takes a good beating from the Arctic Winds during the colder months. Moreover, this city also receives a lot of snow. In fact, the amount of snowfall averages out at about 5 feet every winter!
See Also: Moving in the Winter – Useful Tips and Advice
Evident Partisanship
Most of the residents of Grand Rapids are conservative. So, if you hold a different political stance, you might feel a little out of place once you move in. One more thing to note is that the population is mostly white. So, if you belong to a different community, you might require a little time to adjust to the city.
Weather In Grand Rapids
The climate in this city is classified as humid continental. This means that the summers are rather warm and slightly cloudy, while the winters are snowy, windy, and overcast. Throughout the year, the temperature typically swings between 18°F and 83°F. You also get to experience four distinct seasons.
Speaking of seasons, the summers in Grand Rapids last for almost four months. From May to September, you can expect the temperatures to hover between 63°F and 82°F, of which the month of July sees the highest.
On the other hand, winter paints the entire city white for around 3.5 months. From December to March, you will have the temperature gauge pointing to a number between 19°F and 31°F. The month of January sees the worst of it, with an average high-temperature landing in the high thirties.
Lastly, as a resident of Grand Rapids, you should expect precipitation throughout the year. This city receives rainfall for about nine months between March and November. For the other three, there's a heavy layer of snow to greet you when you wake up. The rainfall averages out at about 3.2 inches, while the snowfall doubles that number with an average of 6.8 inches.
Cost Of Living In Grand Rapids
Buying A House In Grand Rapids
As of 2022, the housing market in Grand Rapids has seen a good appreciation in the prices of homes. In fact, the median price has gone up by more than 10% in this time. This is the result of rising demand in the housing market. However, this high demand is also slowing the market down, so you might have to stay on your toes for a while. To give you a clear idea of the housing market in the area, here is a table with data from Zillow.
| | | |
| --- | --- | --- |
| | Grand Rapids | United States |
| Median Home Value | $241,923 | $325,677 |
Renting A House In Grand Rapids
According to RentCafe, Grand Rapids ranked 17th in the list of most people competing for a rental property. Considering the healthy job market, educational opportunities, and amenities in the city, the expensive rental market doesn't come as a surprise. Even then, Grand Rapids manages to keep the average rent below the national average. So, you might be able to find a good deal on a house but you'll have to be quick to grab it. Here's a table of the average rents from Bestplaces.com.
| | | |
| --- | --- | --- |
| Apartment Size | Grand Rapids Average Monthly Rent | US Average Monthly Rent |
| Studio apartment | $722 | $950 |
| 1-Bedroom Home | $777 | $1,050 |
| 2-Bedroom Home | $942 | $1,280 |
| 3-Bedroom Home | $1,227 | $1,680 |
| 4-Bedroom Home | $1,391 | $1,951 |
Taxes In Grand Rapids
One of the reasons Grand Rapids is a favorite of the people looking to move is because of the low tax burden. As a resident, you will mostly pay taxes that are under the national average. Here's a breakdown of the same to help you understand the specifics of taxes in this city.
Starting with the income taxes, the effective tax rate in the state of Michigan is 3.84%, excluding the federal taxes. The same in Grand Rapids is 1.5%, bringing the total income tax rate to 5.34%. Once you buy a piece of property, you'll be eligible for paying property taxes. These are levied at 1.55% in Kent County, which is home to the Beer City.
Lastly, as of 2022, the sales taxes in Grand Rapids are charged at 6%. Since Kent County and the city itself don't charge any sales tax, you will be bound to pay 6% flat.
Expenses In Grand Rapids
The cost of living in any location can be a factor of stress, if not understood properly. Thankfully, these expenses in Grand Rapids are known to be reasonable. However, they only fall under that banner because the more expensive aspects of living here are balanced out by other factors, which are not as expensive. Here's a breakdown of the cost of living in Grand Rapids, so you know what to expect when living here.
Starting with the operational costs, basic utilities like electricity, water, garbage disposal, and heating will cost you around $107. Adding a decent internet connection to this list of bills will add about $70 to your expenses every month.
The next biggest expense in a house is the cost of food. According to Payscale, grocery costs in Grand Rapids are about 7% lower than the national average. On an average trip to the grocery store, you'll end up spending $3.10 for a loaf of bread, $1.81 for a gallon of milk, and $1.69 for a carton of eggs.
Lastly, healthcare costs in the area also lie below the national average. A typical trip to the doctor's office for a check-up will cost you around $100 in Grand Rapids. The same for your pet might end up costing around $48.
Crime Rate In Grand Rapids
Grand Rapids has a reputation for having slightly higher crime rates. The peculiarity, in this case, is that the number of violent crimes per 1,000 residents is more than the number of property crimes per 1,000 residents. According to NeighborhoodScout, the total crime rate in this area is 27, which is higher than the national average of 23.
To give you the specifics, the violent crime rate in Grand Rapids is 7.31, while the national average for the same is 4. This brings the chances of becoming a victim of violent crimes to 1 in 137. On the other hand, the rate for property crimes is 20, which is slightly higher than the national average of 19. This brings the chances of becoming a victim of property crimes to 1 in 50.
Economy And Employment Opportunities In Grand Rapids
The furniture manufacturing industry has been a major driver in the economy of Grand Rapids. However, industries like healthcare, consumer goods, technology, automotive, and education have become significant contributors to the economy. This city is also very welcoming to small businesses. So, you'll find a lot of residents here are business owners, running their own trades for quite a while.
All of these factors have pushed the GDP of this city to $61,371 million, as of 2021. This translates to the residents of Grand Rapids having an average salary of $56,528 per year, according to Ziprecruiter. The credit for the health of this economy goes to the employers in the area. Here's a list of the biggest ones in and around the city so that you know where to look when looking for a job.
Varnum
Van Andel Institute
Spectrum Health Hospitals
Steelcase
Meijer
This has led to an unemployment rate of 6% in Grand Rapids. While this is very close to the national average, it is going down because of the efforts taken by the local and state government.
Education In Grand Rapids
The Grand Rapids School District ranks above average when compared to other school districts in Michigan. The high school graduation rates in the area are above 75%. Grand Rapids is also known to have a high number of residents with a college degree. As a result, Grand Rapids is one of the best places in the state when it comes to education. Here is a list of the best schools and colleges in and around the city taken from GreatSchools!
Schools
Breton Downs School
Wealthy School
City Middle High
East Grand Rapids Middle School
Central High School
Northern High School
Colleges And Universities
Calvin University
Grand Valley State University
Davenport University
Traffic And Transportation In Grand Rapids
The condition of roads in Grand Rapids lies just above the national average. However, this city doesn't see a lot of traffic woes as most people choose to walk, use cycles, or hop on the buses run by the city.
Speaking of which, the city-run bus network is called The Rapid Transit System, or The Rapid in short. It serves greater Grand Rapids through 30 bus routes and more than 1,700 bus stops. These buses operate between 6:30 am and 6:30 pm on weekdays, 6:00 am to 9 pm on Saturdays, and between 7:00 am and 7:00 pm on Sundays. Regardless of which part of the city you live in, the bus network will drop you within walking distance of your destination.
Lastly, Grand Rapids is home to the Gerald R. Ford International Airport. As the name suggests, it is an international airport and is very well connected to the rest of the country as well. It is located about 9.3 miles away from the city center and has buses plying directly to a bus station in the center.
Best Places To Live In Grand Rapids
Alger Heights
Alger Heights is a tight-knit community that is located only 13 minutes away from Downtown Grand Rapids. There are beautiful Tudor and Cod Cape homes that are surrounded by spots of green cover, allowing the families living here to have picnics, play tennis, or wander on some trails. It is also home to a few schools that offer top-notch education, making it sweeter for the families living here.
Population: 7,106
Median Home Value: $122,325
Monthly Median Rent: $1,196
Annual Median Household Income: $53,305
Creston
Located on the east of the Grand River, Creston is a beautiful neighborhood known for its affordable homes. It has a diverse culture that has pushed small businesses to flourish. You will find housing options ranging from Craftsman-style bungalows to cottages, all of which are in close vicinity to good schools as well.
Population: 30,080
Median Home Value: $141,323
Monthly Median Rent: $1,290
Annual Median Household Income: $58,768
Eastgate
Eastgate is the next popular suburb in the making. Located about 10 minutes away from Downtown, this neighborhood offers beautiful homes in a variety of architectural styles and all the social venues you could ask for. Schools like the Immaculate Heart of Mary School and the Grand Rapids Christian Middle School make this neighborhood that much more appealing to the young families looking for a home.
Population: 9,500
Median Home Value: $265,817
Monthly Median Rent: $1,023
Annual Median Household Income: $110,470
Eastown
Eastown is a rather fun neighborhood that puts you very close to the Downtown area. It is an affordable neighborhood that is in close proximity to Aquinas College and a few schools as well, making it the perfect spot for young adults to grow roots. The best part is, there are a lot of unique food joints and bars in the area, making it even better for the individuals living there.
Population: 9,075
Median Home Value: $261,245
Monthly Median Rent: $1,267
Annual Median Household Income: $99,145
Summing Up
Grand Rapids, Michigan is a city that is inviting to most people. You have a booming economy, affordable housing, tons of sunlight, and the opportunity to lead a fun life. Of course, like every other place, there are a few pitfalls to living here. But, one short conversation with the locals will reveal that the pros outweigh the cons. So, research a little more, find out what works for you, and when you realize Grand Rapids is the spot for you, have a great time moving!
FAQs On Moving To Grand Rapids
What Is Grand Rapids Known For?
Grand Rapids, Michigan has three nicknames: Furniture City because it has some of the biggest furniture manufacturers in the world headquartered here. Beer City, because the city has an amazing beer culture. Lastly, River City, because, well, it has a few beautiful rivers flowing right alongside.
Is Grand Rapids A Big City?
The area of the city is 45.64 square miles. Meaning that the city is not the biggest city, but it isn't the smallest one either.
Is Grand Rapids A Nice Place To Live?
Yes! In fact, the city of Grand Rapids was named one of the top 100 American cities to live in 2020 by Livability.com. This is because of the healthy economy and above-average quality of life that this city offers.
What Is The Fastest Growing City In Michigan?
The Grand Rapids-Kentwood Metro area is the fastest-growing city in the state of Michigan. In the ten years between 2010-2020, the population of this area grew by 8.8%, which brought the population to 1,081,372 residents.
Enter your information
Almost done!
Enter your information to view your quote.
Your information is safe with us. By using this service, you agree to receive email communications solely regarding your relocation process