Moving to Utah – Relocation Guide for 2022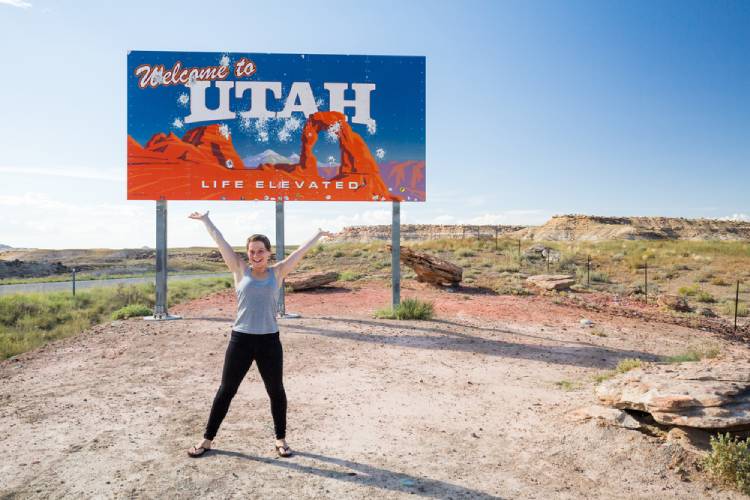 Known as the Beehive State, Utah has a strong sense of community. Even its nickname represents the values of its people: industry, self-reliance, thrift, stability, and perseverance. Utahns take their independence and hard work seriously, and they often consider themselves lucky to live in their state.
Utah is home to a vast desert landscape, but there's still plenty of activities to go around. For example, you can find seven national monuments, six national forests, and five national parks within its borders. With all kinds of sights to see, there's plenty of reason to spend your time outside. Plus, the state hosts numerous festivals every year.
Utah has the fourth-fastest growth rate in the United States. Over 3 million people call the state home so far, and more than 50,000 move to Utah every year. Despite these facts, Utah has a relatively sparse population; no city is overpacked with neighbors.
Living in Utah: What to Know Before Moving to Utah
So you can't stop thinking about what it would be like to live in Utah, but you're not entirely convinced yet?
You've come to the right place! Here, we've put together a bite-sized guide to the most significant factors that people should consider before moving to another state.
Read on to discover important information about the state of Utah, and decide for yourself whether it's the best place for you to move. You, too, can live a life elevated!
Pros and Cons of Living in Utah
Like with any state, Utah life comes with advantages and disadvantages.
Pros
Ease of travel: Though Utah has big cities, there's little-to-no traffic throughout the state. There are miles and miles of beautiful desert scenery, with many towns scattered about with sparse populations. Because there aren't so many drivers on the road, Utah has one of the lowest car fatality rates in the country.

Low crime: Utah consistently ranks highly on "safe states" studies. Utahns feel a strong sense of community, and that desire to keep each other safe helps drive the crime rate down. Neighbors look out for each other and stay involved.

Adventure sports capital: Fans of Utah's diverse terrain coined the state as America's adventure sports capital. The rivers and lakes allow for water sports, desert areas are open for off-road exploration, climbers can go to the mountains, and the forests have many trails for hiking.

Strong economy: Utah's economy is stable, and its unemployment rate is low.
Cons
Expensive housing: Surprisingly, Utah isn't as cheap as similarly-populated states. Of course, when you consider the state's amenities, like energy, health care, groceries, and low property taxes, the overall cost of living balances out.

Extreme weather: Utah is a desert, so it scorches in the summer. The entire state can easily reach the triple digits during the season's peak. Winters are also chilly, but the temperature rarely dips below 10 degrees.
Tax Rates
Utah has a uniform tax rate for all income levels:
Property tax: 0.66%

Sales tax: 4.70%

Income tax: 4.95%
Housing Market
In Utah, the median home value is just under $300,000. Houses currently listed on the market average to about $350,000. Depending on your credit history and other factors, you can expect to pay about $1,425 per month for the mortgage.
Lately, the value of homes has increased as much as 10 percent. Experts claim values will continue to rise in the coming year.
If you're looking to rent instead, you can expect to find a one-bedroom in Salt Lake City for $994 per month. For a two-bedroom, the rent is closer to $1,150 per month. Of course, the rates go down in smaller cities, even for larger units.
Cost of Living
Utah's cost is a little higher than the national average, but Utahns have it a little better.
According to a study, $100 spent in Utah on goods and services would not cover the average $103.09 price tag for the same services in other states. Effectively, Utahns are 3 percent richer than the face value of their salaries.
Of course, it's all relative. In Salt Lake City, you can expect to spend about $6,800 per month for housing, food, childcare, transportation, healthcare, taxes, and other necessities. In Cedar City, you can save a few hundred on the same expenses.
Weather and Natural Disasters
Although Utah's terrain is mostly an arid desert with scorching summers, regional climates vary with the change in terrain. Thanks to its many mountains, Utah features over 11,000 feet in elevation change.
Naturally, the weather can get a little extreme. Certain parts of the state can reach up to 115 degrees in the summer, and the mountains can get snowy in the winter. In fact, every year, the state receives about 43 inches rainfall! Fortunately, it's all beautiful snow that doesn't get trampled and grey.
On average, the state experiences about 240 days of sunshine. Compare that to the rest of the country, which experiences an average of 205 days of sun, and you can see why Utahns fall in love with their homes even before they get there.
The Economy
Utah has a strong economy and a low unemployment rate on a steady decline for the last 10 years. The minimum wage also matches the federal minimum wage of $7.25 per hour. Remember that the dollar stretches a little farther in Utah than in similar states.
If you're looking to move to Utah and wonder whether your industry has a spot there, you're probably in luck. The fastest-growing jobs include web developer, miner, software developer, operations analyst, veterinarian technician, and interpreter/translator. The highest-paying careers match that of the rest of the country: physician, surgeon, general practitioner, CEO, petroleum engineer, and law teacher.
Traffic and Transportation
Thanks to a generally low population and lots of roads to travel down, there's little-to-no traffic cluttering the streets in Utah. The most-used major interstate highways include 15, 70, 80, 80N, 84, 215, and 415.
Public transportation options in Utah include:
TRAX Light Rail

UTA Buses

Greyhound

Rideshare

Air
Things to Do
In Utah, there's something for everyone!
Food and Drink
Angie's Restaurant

Caffe D'Bolla

Cat Cora's Kitchen

Cheers to You

Chocolate Conspiracy

Downtown Farmer's Market

Epic Brewing Company

Farr Better Ice Cream Co.

Harmon's

Hell's Backbone Grill

Lucky 13

Mom's Kitchen

Park Cafe

Penny Ann's Cafe

Powder

Pretty Bird

Red Iguana

Roof Restaurant

Settebello

So Cupcake

Stacked

That Hot Dog Place

Tony Caputo's Market and Deli

Under Current

Valter's Osteria

Waffle Love
Nature/Parks
Angel's Landing

Arches National Park

Best Friends Animal Sanctuary

Big Cottonwood Canyon

Bryce Amphitheatre

Bryce Canyon National Park

Calf Creek Falls Recreation Area

Canyon Overlook Trail

Canyonlands National Park

Cedar Breaks National Monument

Corona Arch

Hell's Revenge

Little Wild Horse Canyon

Narrows

Navajo/Queens Garden Loop

Navajo Trail

Peek-A-Boo Loop

Rim Trail

Wall Street

Wave at Coyote Buttes

Zion National Park
Landmarks
Arches National Park

Bryce Point

Cedar Breaks National Monument

Cove Fort

Delicate Arch

Highway 12 Scenic Byway

Moki Dugway

Muley Point Overlook

Provo City Center Temple

Sunrise Point

Sunset Point

Zion Canyon Scenic Drive

Zion-Mt. Carmel Highway
Schools and Universities
There is no shortage of education opportunities available to Utahns. The state ranks sixth in higher education in the country and ranks #22 in K-12 school. It also ranked #10 in overall state education in a ranking by US News and World Report.
The top colleges in Utah include:
Brigham Young University in Provo

Dixie State University in St. George

Snow College in Ephraim

Southern Utah University in Cedar City

University of Utah in Salt Lake City

Utah State University in Logan

Utah Valley University in Orem

Weber State University in Ogden

Western Governors University in Salt Lake City

Westminster College in Salt Lake City
Utah also proudly hosts several top-ranking public school districts:
Alpine School District in American Fork

Cache County School District in Logan

Canyons School District in Sandy

Davis School District in Farmington

North Summit School District in Coalville

Park City School District in Park City

Salt Lake School District in Salt Lake City

Success Academy in Cedar City

Wasatch County School District in Heber City

Washington County School District in St. George
How to Become a Utah Resident
To become a resident of Utah, you must:
live in Utah for 12 months

be financially independent
Additionally, you must be a citizen of the United States, have permanent US resident status, have legal immigrant status, or have refuge or asylum status to become a Utahn.
See Also: Moving To St. George UT – Relocation Guide for 2022
Utah DMV
Once you qualify for Utah residency, you'll need to get an ID.
Getting a driver's license
If you want to drive in Utah, you need to have a valid driver's license in Utah. There isn't a grace period.
To get your license from Utah, you must:
Schedule an appointment with your local DMV

Complete the application provided

Have your photo taken for the new license

Give the clerk your unexpired out-of-state license

Provide proof of Utah address, your social security number, and proof of ID

Pass a vision test

Take the written and driving tests, if you've never had a driver's license before

Pay the fees
Registering a vehicle in Utah
You have 60 days to transfer your registration and title from out of state.
Additionally, your vehicle might need an inspection for safety reasons. You will also have to write down your vehicle identification number. If you don't know this information, a DMV employee or licensed dealer can help with this.
Registering to vote
Once you have a Utah ID, you can register to vote. To quality, you must be:
18 years of older

A citizen of the United States

A resident of the state of Utah for at least 30 days before the date of the election
To register, you can complete the application in person, submit it by mail, or you can use the online system. Utah allows you early voting and no-excuse voting alike.
In Utah, felons who complete their prison sentence also have the right to vote again.
Best Places to Live in Utah
With all of the great things the state has to offer, moving to Utah might just be the best thing to ever happen to you.
A recent study placed the state #2 on a ranked list of happiest states in the country.
So what makes Utah such a great place to live? Much of it has to do with how many great cities it has to choose from.
1. Highland
Population: 19,000
Average Home Value: $586,000
Located just south of Salt Lake City, Highland is the number one place to live in Utah County. Nearly all the residents here own their homes, and the public schools rank highly in the state. Highland's community is also quite young, with an average age of 23 years.
Highland is home to several public schools, like Cherry Hill Elementary, Cedar Ridge Elementary, Long Peak High, American Fork High, Timberline Middle School, Ridgeline School, and Westfield Elementary.
There's also plenty of fun sights and outdoor activity options in Highland. Here, you can go to Provo Canyon, American Fork Canyon, Lone Peak, the Alpine Loop, and Thanksgiving Point.
2. Logan
Population: 51,100
Average Home Value: $235,000
Located in Cache County, Logan is a lively city with a median age of 24 years. More than half of the residents own their own homes. Several others attend Utah State University, where students can learn from renowned engineering, education, and agricultural professors.
Quality education goes beyond the college level, too. Top public schools include Wilson School, Ellis School, Logan High, Hillcrest Elementary, and Bear River Charter School.
There's a multitude of outdoor recreation options here, ranging from family-oriented to college sports. In Logan, you can hike, camp, rock climb, mountain bike, ski, and much more.
3. Orem
Population: 97,800
Average Home Value: $325,000
Orem is well-known among Utahns as the state's family city, and for a good reason: It's easily one of the best places you can raise a family in the state. The city is rich in diversity, which is unfortunately not true for other parts of Utah. A little over half of the residents own their homes.
You can get to Orem by driving 45 minutes south from Salt Lake City, and the scenic drive is breathtaking. The cost of living is reasonable, and there are many outdoor activities for youths and adults alike.
4. Provo
Population: 117,300
Average Home Value: $320,000
Provo is Utah's third-largest city. As the home to Brigham Young University, Provo is a lively college town with a technology industry presence. About 60 percent of residents own their homes, and the public schools in the city rank highly in the state.
Provo is safe, kind, and friendly, and there's plenty to do. In addition to food trucks, diverse restaurants, and close proximity to the mountains, Provo offers regular city events, swing dancing, farmer's markets, and excellent public transportation.
In addition to Brigham Young, Provo houses several colleges. These include Acadia School of Aesthetics, Paul Mitchell the School, AmeriTech College, and Aveda Institute.
Population: 200,500
Average Home Value: $396,900
The most well-known city in Utah, Salt Lake City is the largest in the state. Utah's capital city rests along the Wasatch Mountains, making it a natural home to top ski resorts. There are also five national parks for residents to enjoy all year round.
The city has a reasonable cost of living and a diverse population. It's packed with young professionals, half of whom rent their homes. Residents can enjoy art galleries, world-class museums, religious sites, good public transit, and historical buildings.
The top public schools in Salt Lake City include West High School, Hawthorne Elementary, Indian Hills School, Ensign School, and the Salt Lake Arts Academy. Young professionals often get their training from local universities, like the University of Utah, Salt Lake Community College, LDS Business College, Westminster College, and Fortis College.
6. Cedar City
Population: 31,800
Average Home Value: $240,000
Another college town, Cedar City has a surprisingly affordable cost of living. The Iron County city is home to many homeowners, and there are plenty of above-average public schools.
Cedar City is a warmer city compared to its northern neighbors. The weather is perfect for regular visits to Zion National Park, Bryce Canyon, and Kanarraville Falls while living a high-quality life all year round. Overall, the city is family-friendly and safe, hosting several events for families like the Utah Shakespeare Festival, the Neil Simon Festival, and the Utah Summer Games.
Are you looking to raise a family in Cedar City? The top schools in the region include Fiddlers Canyon School, Three Peaks School, SUU Success Academy, Iron Springs School, and Enoch School. If you're looking for colleges, there is Southwest Technical College, Evans Hairstyling College, and Southern Utah University.
7. Kanab
Population: 4,700
Average Home Value: $260,500
Kanab is a small town with a population of under 5,000. The majority of residents own their homes, and they've moved to Kanab to retire and live out their best years. Kanab is actually well-known across the state as an excellent place for Utahns to retire thanks to its lower cost of living. It is not a very diverse population. It has a high Mormon concentration, and it's considered a conservative city.
The city is also an ideal tourist destination thanks to its proximity to several national parks. From here, you can reach Zion National Park, Lake Powell, Bryce Canyon National Park, and even the northern rim of the Grand Canyon. Kanab itself has beautiful weather, stunning scenery, natural peace and quiet, and lots of nature to enjoy.
Public schools in the city include Kanab Preschool, Kanab Elementary, Kanab Middle School, and Kanab High.
8. St. George
Population: 84,400
Average Home Value: $245,000
St. George, Utah is one of the fastest-growing urban regions in America. In fact, it was even voted as the number one city in the state. It has a diverse population of families, retirees, and singles, all drawn to the eclectic city and its wide range of amenities. More than 60 percent of the residents own their homes, and each of the public schools has a high ranking.
Thanks to Dixie State University and its students, parts of St. George has that familiar college town atmosphere. The sun shines nearly every day of the year, so residents and tourists can enjoy the outdoors. There's plenty to offer out there: 65 miles of urban trails, several national parks, and wide-open spaces.
FAQs
Is Utah a good state to move to?
Living in Utah can benefit you with a high quality of life, a straightforward tax system, an upgraded job and housing market. Also, a recent study says Utah is the second-highest happiest state in the US, so moving to Utah can be your best decision ever.
Is it expensive to live in Utah?
As compared to other states of the US, it is expensive to live in Utah. If you consider living in Salt Lake County, you'll need more than $85,000 per year to live comfortably.
What is the best area to live in Utah?
Salt Lake County and Kaysville are the best areas to live in Utah. You can also consider Provo, Sandy, Highland, Cedar City, Heber City, for living in Utah.
Is Utah a good place to live if you are not Mormon?
It is recommended to avoid Utah County for the ones who are not Mormon. South Jordan, Sandy, and parts of Murray in Salt Lake County are the best places to live in for a non-Mormon.
What is the cheapest city to live in Utah?
Pleasant Grove, Taylorsville, West Jordan, North Salt Lake, Bountiful, Herriman, Layton are the cheapest cities to live in Utah considering the average rent prices.
---
Conclusion
Now you have all the information you need to decide if moving to Utah is the right choice.
In Utah, you can enjoy life every day in one of the biggest natural playgrounds in America. Here, you can enjoy several festivals around the year; you can enjoy all kinds of outdoor sports, take inspiring photos of national parks, climb red rock formations, attend independent film festivals, and enjoy stargazing at night in a place where the light doesn't pollute.
All in all, there's plenty to love about Utah, whether you're a college student, a young professional, a retiree, or looking to raise a family. Come and see it for yourself!
See also: Best Moving Companies in Utah
Enter your information
Almost done!
Enter your information to view your quote.
Your information is safe with us. By using this service, you agree to receive email communications solely regarding your relocation process