Moving to Jacksonville – Relocation Guide for 2022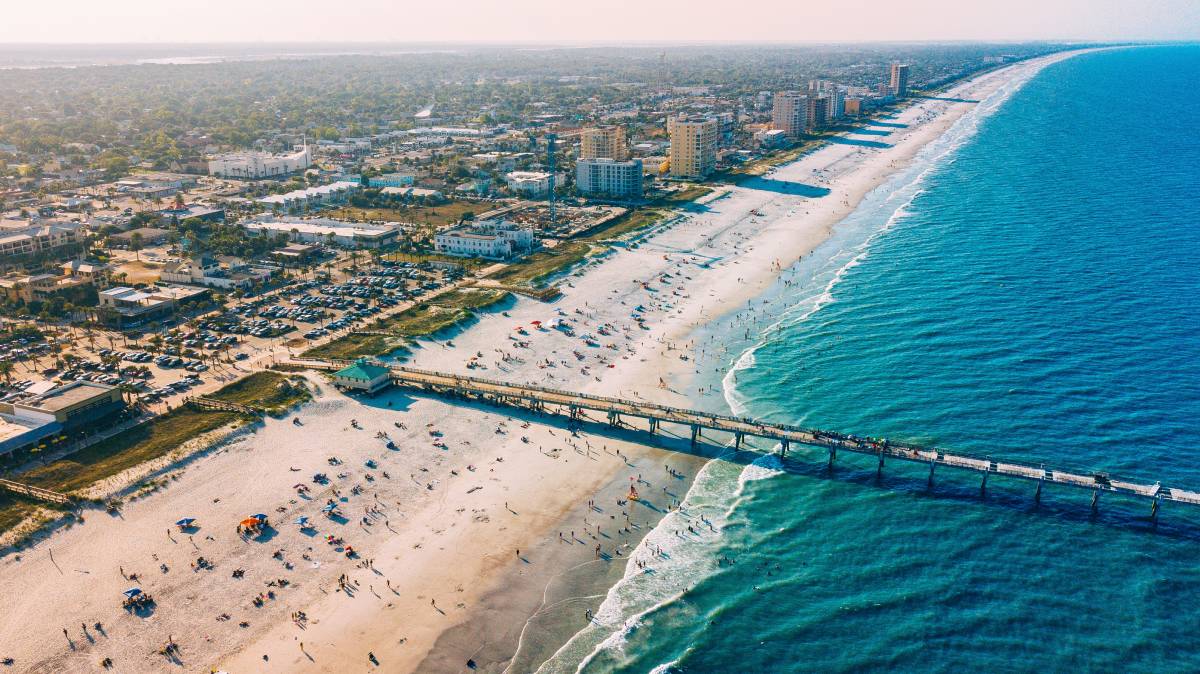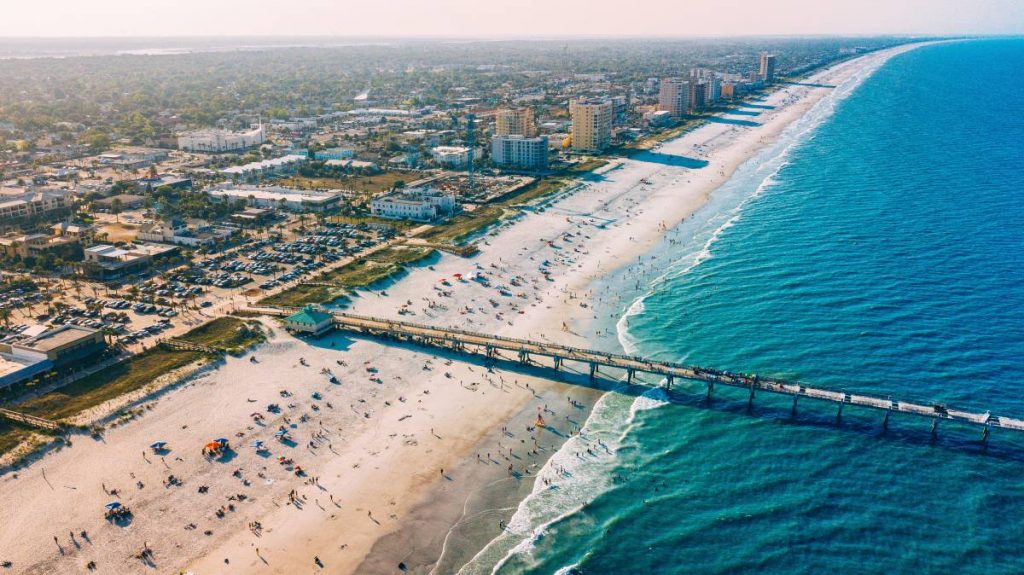 Jacksonville is the largest city in Florida, and has become a popular destination to move to for many families, students, and retirees. Located in the northeastern parts of the Sunny State, Jacksonville has long beaches, bright sunlight all year long, plenty of golf courses, good neighborhoods to live in, a close-knit community, and more! But, every city has its pros and cons that you should look into before you make any final decisions. Here are a few things you should know to make an informed decision about moving to Jacksonville.
Pros And Cons Of Living In Jacksonville
Pros
Low Cost Of Living
Out of the many big cities in the US, Jacksonville is one of the more affordable cities to live in. The city has a lower cost of living than several other metropolitans, and has ample opportunities for you to live a life of comfort here.
Mild Winters
The weather in the city is one of its biggest strengths. The mild winters in Jacksonville have always been one of the city's best assets, and are quite the boon for people who can't stand the snow and ice.
Clean Beaches
For all the beach babies out there, Jacksonville has some of the most beautiful and clean beaches to hang out at. Coupled with summers filled with plenty of sunshine, Jacksonville could just feel like living in beach-bum heaven!
Close-Knit Community Life
The small-city feels in this big city are appreciated and loved by many. Jacksonville's neighborhoods have close-knit, warm communities, and their cozy vibes are definitely one of its pros.
Diverse Neighborhoods
The neighborhoods in Jacksonville are diverse and welcoming to all. There's plenty of cultural vibrance to go around, and the neighborhoods are spread across varied price ranges. Most of these neighborhoods are close-knit and self-sufficient; no matter what stage of life you're in, you're sure to find a suitable neighborhood in Jacksonville.
Cons
Inconvenient Traffic
Public transportation, even though affordable and well-maintained, is not the most convenient thanks to the traffic in the city. The traffic makes traveling in the city a bit of a hassle, and it's not the easiest to get to your destination in time. You'll have to own a car to be able to reach your desired place in time, especially if you're going to commute daily to work.
Concerning Crime Rates
Looking at the overall crime in Jacksonville, the rates are definitely concerning. Some of the neighborhoods in the city have a higher concentration of crime rates than others, which means you can certainly live in security in safer areas. However, there's no denying that the city has a bit of a reputation of being a hotspot for crime.
Developing Job Market
The job market in Jacksonville is still in its developing stages. Finding high-paying jobs is certainly possible, but can be a bit tricky to achieve. This in turn could affect your cost of living in the city.
Urban Sprawl
Jacksonville is the most populous city in Florida, and with more and more people looking to call it home, the big city faces urban sprawl in many parts. This is being worked upon but it's not up to the mark yet.
Poor Education System
The educational standards in the city are not highly ranked. The schools in the city have been ranked on an average scale by Greatschool.org., and there aren't too many top-notch options. You'll need to go neighborhood hunting to find a convenient area with good schools if you're moving with kids.
Weather In Jacksonville
Living in Jacksonville, you will experience just two major seasons; long, hot, and humid summers and mild winters. With an average rainfall of 50 inches every year and plenty of sunny days, the city observes no snowfall at all.
When we talk about summers in Jacksonville, expect typical sunny, muggy Florida summers. During peak summer the temperature reaches a high of around 90°F and a low of around 73°F. The weather also gets extremely hot and humid during the summer months of July and August with occasional hot winds. In July, the temperature averages around 91.1°F, making it one of the most discomforting months to spend in Jacksonville. Annually, you will experience around 221 days of sunlight in the city, giving you plenty of time to head to the beaches.
The winters are some of the best months in Jacksonville as they are mild and comforting. However, the season is fleeting – temperatures start to dip in November and take a turn by the time February comes around. The temperature during the winter season lies anywhere in the mid-40s to around 60°F. In January the temperature drops to an average of 44°F, often the lowest temperature observed in Jacksonville. It can still get nippy from time to time, so don't discard all your coats entirely.
Jacksonville is also prone to hurricanes that are observed from July to November. These hurricanes tend to be mild and cause less damage when compared to the hurricanes visiting the rest of the cities in Florida, but it is always safer to keep your emergency storm kits prepared. If not a hurricane, then you'll definitely have a few heavy showers or thunderstorms.
Cost Of Living In Jacksonville
Jacksonville ranks 51st on the list of most expensive cities to live in the US according to Uphomes.com. This tells us that despite being a big city, Jacksonville is an affordable place to reside in, and the data certainly reflects a low cost of living. Looking at the cost of living index from Bestplaces, Jacksonville has a cost of living of 91.2, which is lower than the national average of 100. According to Uphomes.com, it is also the most affordable city to live in the state of Florida. So, if it's the place you want to move to, budgeting may be a little easy on you.
See Also: How Much Does It Cost to Move Out of Jacksonville?
Buying A House In Jacksonville
The housing market in Jacksonville is largely affordable, with evenly-priced homes in most neighborhoods. Because of the affordable housing rates in the city, more than 55% of the residents are homeowners.
| | | |
| --- | --- | --- |
| | Jacksonville | United States |
| Median Home Value | $274,271 | $320,664 |
As you can see in the table above, the median value of a house in the city is lower than the national average. Buying a house in the city is reasonably affordable, but this has attracted more and more people to the city, making the real estate market competitive in the past few years. With a well-paying job, you should be able to afford a nice house in a good neighborhood in Jacksonville.
Renting A House In Jacksonville
When it comes to renting apartments or houses in Jacksonville, the market is very affordable with plenty of options available in most neighborhoods. Renting is a great option for students or people who are still on the lookout for a nice house or neighborhood.
| | | |
| --- | --- | --- |
| Apartment Size | Average Monthly Rent | US Average Monthly Rent |
| Studio apartment | $770 | $950 |
| 1-Bedroom Home | $948 | $1,050 |
| 2-Bedroom Home | $1,100 | $1,278 |
| 3-Bedroom Home | $1,354 | $1,680 |
| 4-Bedroom Home | $1,846 | $1,950 |
As you can see from the table above, the city is an affordable one to live in when it comes to renting.
Taxes In Jacksonville
When it comes to tax rates in Jacksonville, you'll be pleased to know that the state of Florida issues no income tax on its residents. The sales tax in the city is 7%, inclusive of both the state, county, and city sales taxes. Luckily, the sales tax is equivalent to the national average.
Better yet, the average effective property tax rate is 0.83%, lower than the national average of 1.07%. Taxes in Jacksonville are all moderate, helping you save up that much more of your income.
Expenses In Jacksonville
An essential part of your monthly budget will be all the expenses you have to incur to live a comfortable life. This includes your overall cost of living, your utilities, groceries, and of course, healthcare. According to Payscale, the cost of living in Jacksonville is 6% lower than the national average. Let's take a closer look at just where this 6% comes into play.
According to Numbeo, your monthly expenditure on utilities (water, electricity, heat, and garbage) can come to around $143, while you could be paying around $72 for internet. Your phone bill will be around $164.77, and gas is around $2.55 a gallon, according to Payscale. Overall, utilities in Jacksonville cost around 8% lower than the national average.
If you're someone who prefers doing their own basic meal prep, then you'll naturally spend on groceries. Lucky for you, Jacksonville's groceries cost as much as the national average so you won't shell out exorbitant prices for them. A loaf of bread costs around $3.33, while a carton of eggs is about $1.83 and milk is $1.98 a gallon.
Staying on the winning streak of being cheaper than the national average costs is healthcare in Jacksonville, a pleasant 13% lower. A visit to the doctor will be around $96.66 while heading to the vet for your furry pals will be around $50.33.
See Also: What Salary Do You Need To Live In Jacksonville
Crime Rate In Jacksonville
The increasing crime rate in Jacksonville is a concerning aspect of living in the city. The crime rates spiked during the 2008 economic crisis and are yet to show a significant dip. Both the violent crime and property crime rates in the city are pretty high when compared to the national average.
According to Neighborhoodscout, the city of Jacksonville is safer than just 9% of the cities in the USA. While the violent crime rate is 6.78 per 1000 residents, the property crime rate is 28.09 per 1000 residents. Your chances of being a victim of violent crime in the city are 1 in 147, while you have a 1 in 36 chance of being a victim of a property crime. The law enforcement in the city has managed to get violent crimes under better control but property crimes are on the higher end even today.
But keep in mind that this doesn't have to apply to the entire city. The crime rates vary across the city depending on the neighborhoods; some areas have a higher rate while others are safe. So instead of letting the numbers overwhelm you, ensure you get in enough research for when you're choosing a neighborhood to live in.
Economy And Employment Opportunities In Jacksonville
The economy of Jacksonville is still in its developing stages, and the 2020 GDP of Jacksonville came to around $91,023. Healthcare, military, tourism, education, finance, social assistance, insurance, and retail trade are the major industries that contribute to the economy of the city. With a large number of the Jacksonville population being employed in the tourism industry, it is one of the largest income-producing industries in Jacksonville and Florida as well.
The job market in the city is also in its developing stages but has picked up at a good pace in recent years. The unemployment rate in Jacksonville is 3.3%, lower than the national average of 3.9%, a testament to the improving scene of employment opportunities in the city. In terms of salary, the average annual salary of a resident of Jacksonville is around $54,945 according to Payscale.
Some of the biggest employers in Jacksonville are:
Blue Cross and Blue Shield of Florida Inc. (BCBSF)
Deutsche Bank
Duval County Public Schools
Naval Station Mayport
Acosta Sales & Marketing Company, Inc.
Education In Jacksonville
Jacksonville is a big city with plenty of schools and universities, but they've been ranked as just above average by Greatschools.org. The quality of education in the city depends on the schools and neighborhoods, so you'll need to be a bit picky when choosing where to live. Jacksonville has a total of 324 schools that provide education to the students in the city, so you certainly have enough of a choice.
We have listed down a few of the top-rated schools and universities in Jacksonville for your knowledge:
Elementary Schools
J. Allen Axson Elementary School
Bartram Springs Elementary
River City Science Elementary Academy
Middle Schools
Duval Charter School
Darnell Cookman Middle School
Lavilla School Of The Arts
High Schools
Stanton College Preparatory
Paxon School Advanced Studies
Atlantic Coast High School
Universities
Florida State College
Edward Waters University
Jacksonville University
University of North Florida
Traffic And Transportation In Jacksonville
Jacksonville doesn't have the best public transportation system in the US, but the existing services can get you around the city with not too much of a hassle. The Jacksonville Transportation Authority (JTA) is in charge of public transportation in the city, and they currently have a monorail, a bus system, and water taxis.
The Skyway monorail is one of the popular transportation services used by the residents, and it's free of charge. This people mover is somewhat of an automated "tram" system that offers transportation services to the neighboring areas of Downtown. The Skyway runs every four minutes from Monday to Friday, from 6:00 am to 9:00 pm.
As mentioned, there are also some ferries and water taxis available in the city to commute to its different parts. The JTA's St. Johns River Taxi provides transportation services on both sides of the St. John river. It runs from the north to the south side of the Downtown area on a daily basis, and stops at 8 docks along the way. With regular services, you ought to easily get ample taxis to drop you off at your desired destination. But, make sure you check their website to be in the loop about their latest updates. A daily pass for the St Johns River Taxi costs $12.
The JTA's bus system is one of the cheapest modes of transportation in the city. The bus fare costs $1.25 for a one-way ticket and covers around 38 routes – a bit sparse considering the size of the city. Additionally, the bus system is always delayed for one reason or another and is not the most efficient way to get around the city.
You will also find a Riverside Avondale Night Trolley that runs on the first Fridays and Saturdays of each month in the Riverside and Avondale areas. It runs from 6:00 p.m. to 2:00 a.m., and is meant to be an eco-conscious alternative to explore this buzzing neighborhood. Mostly used by tourists who want to explore the sights, it makes for a good ride for a night-out in the area. The Night Trolley covers areas of the Brewery District, Park & King, the St. Johns Village area, Stockton & College, and the Shoppes of Avondale.
Jacksonville has an international airport called Jacksonville International Airport (JAX) which is located a few minutes away towards the west of Downtown Jacksonville. This is the airport that you will head to if you plan on getting to and from the city by air. Getting to the Jacksonville International Airport is convenient if you take a taxi – they cost about $25 from Downtown.
There's a good and a bad to the transportation services in Jacksonville; while they're fairly affordable, they're not all well-maintained. Additionally, the traffic in the city delays everything. We advise you to get your own private vehicle to move around the city at your own pace. Besides, the city is well-connected via roadways, adding a layer of convenience to getting around the city using your private vehicle.
Places To Visit In Jacksonville
When you move to Jacksonville, getting around the city and visiting some of its most famous tourist destinations is a good idea. It'll help you get familiar with your new home and the culture of the city as well. Here are a few places that you can visit in Jacksonville:
Jacksonville Zoo And Gardens
Jacksonville Zoo and Gardens is a great place to have a family picnic over the weekend. You can see more than 2,400 species of animals and 1,000 varieties of plants in the area, or simply stroll around for a break from the urban hustle.
Little Talbot Island
Little Talbot Island is the perfect destination to spend a great weekend away from the city. Just a few miles away from Jacksonville, the isolated island is where you get to capture nature at its best.
Kathryn Abbey Hanna Park
For a day out to the beachside with clear water and the beauty of nature's green lands, you must visit Kathryn Abbey Hanna Park in Jacksonville. You can go for treks, hikes, or even camp at this park if you'd like.
Some other places worthy of a visit in Jacksonville are-
Kingsley Plantation
St. John's Town Centre
Beaches Town Centre
Museum Of Science and History (MOSH)
Riverside Arts Market
Also Read: Moving To Delaware
Best Places To Live In Jacksonville
You shouldn't have any issue finding a place to live in Jacksonville as it has more than 500 neighborhoods, all of which are diverse and welcoming. Depending on your needs and choice of lifestyle, you can pick out any neighborhood you like in the city. Remember to keep things like crime rates and schools in mind.
To make things easier for you, we have listed down some of the best neighborhoods in Jacksonville that you can choose to live in.
Beach Haven
Beach Haven is one of the best neighborhoods for families with children. The neighborhood has ample schools with above-average school ratings. There are also several parks, playgrounds, and other amenities that your kids would need. Beach Haven is just 20 minutes away from the coastline, and also has hiking trails along the way. Families with young kids and people who thrive in the outdoors will definitely love calling Beach Haven home.
Population: 10,874
Median Home Value: $428,699
Annual Median Household Income: $82,878
Monthly Median Rent: $1,617
Springfield
Springfield is a neighborhood in Jacksonville that is popular among retired couples and singles. It has more of a countryside vibe with old architecture, thanks to it being an old neighborhood and having a Historical District, and is characterized by slow-paced life. The housing market in this neighborhood is very affordable and everything you need to make a living is around and within the area.
But don't let the languid pace of life fool you – Springfield also has several restaurants, cafés, markets, and some great nightlife as well. If low housing expenses, easy living, and modern amenities excite you, Springfield is your place to live in.
Population: 9,787
Median Home Value: $288,500
Annual Median Household Income: $38,741
Monthly Median Rent: $750
Neptune Beach
Neptune Beach is one of the family-friendly neighborhoods in Jacksonville and is along the eastern coastline. The real estate market in this neighborhood is quite competitive as most houses are sea-facing. However, the crime rate in this area is also on the lower end making it one of the safest neighborhoods in Jacksonville. Plus, Neptune Beach celebrates its culture and heritage during the winters and spring with several music, art, and cultural festivals. Because of the clean beaches and great places to eat, Neptune Beach is also a famous tourist destination.
Population: 7,201
Median Home Value: $642,753
Annual Median Household Income: $90,137
Monthly Median Rent: $1,511
San Marco
San Marco is a neighborhood in close proximity to downtown Jacksonville. It is the ideal place for people who want to save some time when commuting to work in Downtown Jacksonville (several companies are located there). It is one of the most happening neighborhoods with an energetic vibe, amazing bars, parks, restaurants, cafés, shopping centers, and more. It has a skyway station that makes commuting in and out of the neighborhood convenient for all. The cherry on the cake is that it happens to be one of Jacksonville's safest neighborhoods! However, the housing market is extremely competitive as more and more people have been flocking to San Marco.
Population: 6,100
Median Home Value: $486,500
Annual Median Household Income: $78,215
Monthly Median Rent: $1,482
Also Read: Best Jacksonville FL Neighborhoods to Live In
Summing Up
By the looks of it, Jacksonville is a great place to move to. There's a low cost of living, long coastlines, mild winters, country life, and natural beauty, all in abundance. The city doesn't feel as rushed as America's other cities, yet is not lacking in any way when it comes to amenities.
But you do have a few things to consider. For one, picking the right neighborhood is one of the most crucial tasks on hand. The city's localized yet high crime rates, lack of public transportation, and average education system are what give this task its importance. Pick the right neighborhood and land a good job, and the high crime rates and low educational quality won't matter as much.
Also Read: Largest Cities in Florida
FAQs On Moving To Jacksonville
What Should I Know Before Moving To Jacksonville, Fl?
Jacksonville is the biggest city in Florida, known for its low cost of living, long and clean beaches, mild winters, and natural beauty. On the downside, the city also has a high crime rate, bad traffic, and an inadequate transportation system. These are some of the many things that you need to know about Jacksonville before moving there.
Is Jacksonville, Florida Expensive To Live In?
No, Jacksonville is one of the most affordable cities in Florida to live in. The tax rates in the city are moderate, the cost of living is low, and the houses are affordable in most neighborhoods. All of these things combined make Jacksonville an affordable city to live in.
How Far Is Jacksonville, Fl From The Beach?
You don't have to look far for a beach in Jacksonville since it's located on the coast of Florida. It has 22 miles of long stunning beaches with white sands and clear blue water. Most neighborhoods in the city are just 20-30 minutes away from these beaches. You can even choose to live in a neighborhood with a view of the sea if you like.
See also: Moving to Orlando, FL | Moving to a New City – Tips and Advice
Enter your information
Almost done!
Enter your information to view your quote.
Your information is safe with us. By using this service, you agree to receive email communications solely regarding your relocation process