Moving to Chicago – Relocation Guide for 2022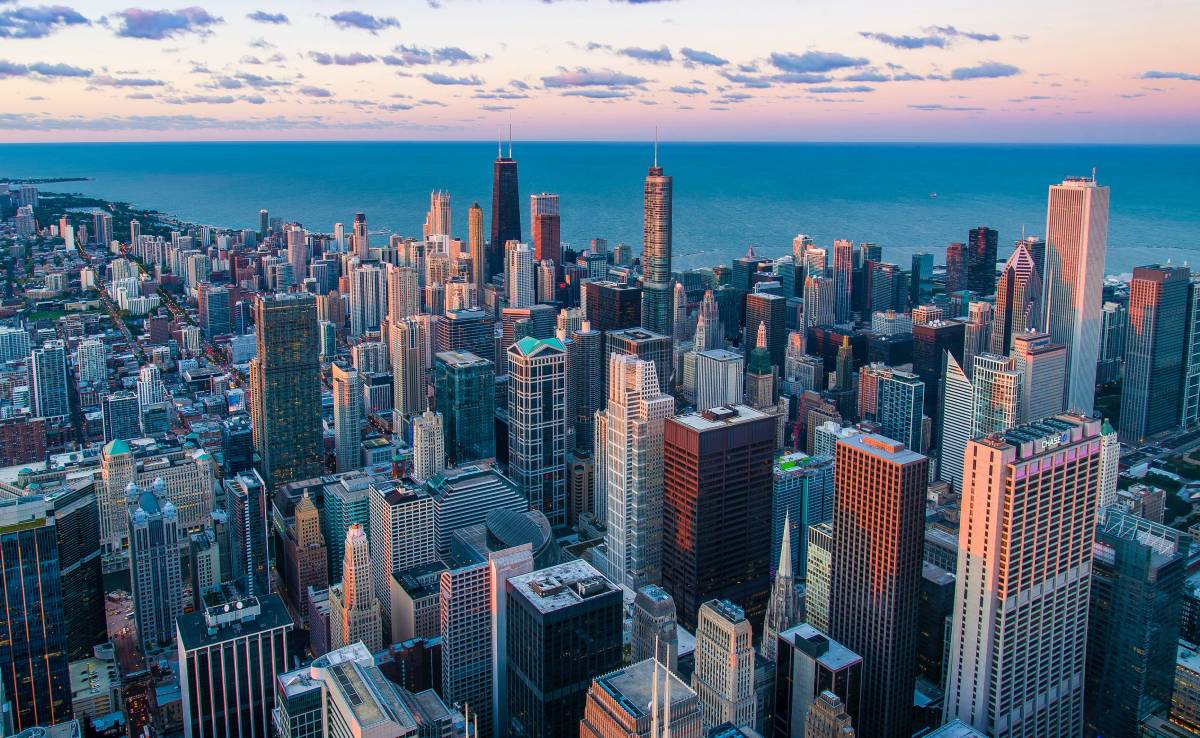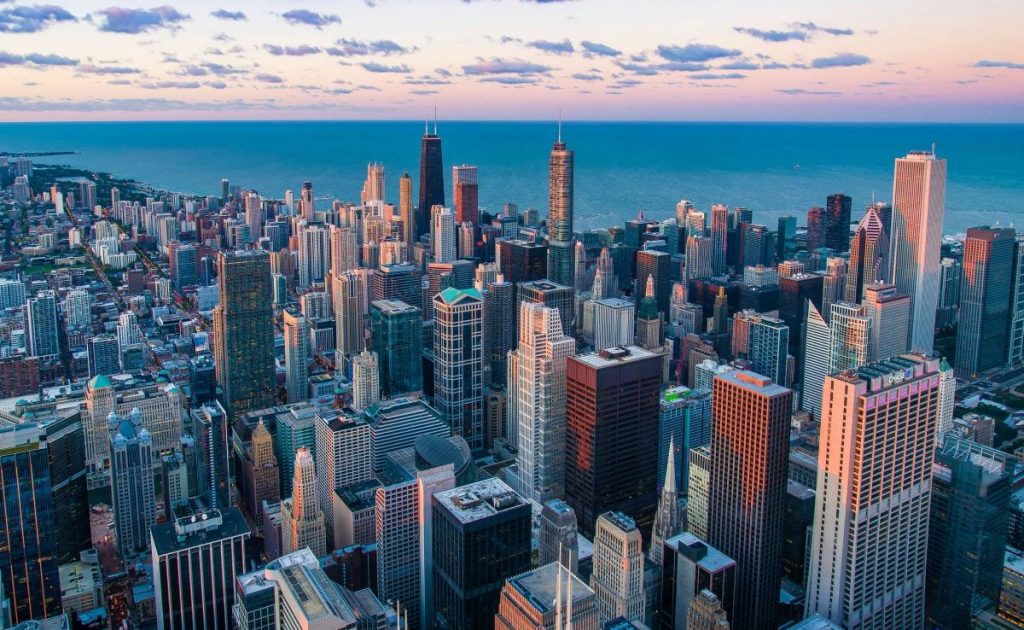 The third-largest city in the United States is the city of Chicago, also home to more than 2.7 million people. With a city this size, you will never run out of options to go out to eat, go sightseeing, shop, or look for neighborhoods to live in. It is one of the most thriving cities in the Midwest with ample opportunities for higher education and career advancement. The long beaches along Michigan lake add to the beauty of the city. Moving to Chicago can be ideal for anyone looking to grow their career, looking for higher education, or even just looking for a city that provides something for everybody.
We have listed down some of the most important things that you may want to browse through before finalizing your move to the city of Chicago.
Pros And Cons Of Living In Chicago
Living in a large city like Chicago has its pros and cons. Read on for a better understanding of what to expect when moving to Chicago.
Pros
Wide Range Of Neighborhoods
The city of Chicago has more than 77 neighborhoods and dozens of suburbs. Plus, each neighborhood is as culturally unique as the next. It gives you plenty of options to pick a place to live in.
Ample Job Opportunities
Chicago has a great job market for professionals who are qualified and have the required skill sets. The IT and finance sectors in the city are blooming. With good skills and qualifications, you can land a really well-paying job in Chicago.
Amazing Outdoors
For all adventure-loving people, Chicago has a number of watersports spots located along the beachside. There are also a number of bike trails and several parks to lounge around in. You can engage in several outdoor activities over the weekends with friends and family.
Quality Of Education
Chicago is home to some of the most well-known and big universities in the United States. It has many opportunities for higher education, making it perfect for students and families with young kids.
Great Transportation System
The transportation system in Chicago is one of the best in the United States. Commuting anywhere in and around the city is extremely accessible and convenient for all.
Cons
Widening Urban Sprawl
With more than 2.7 million people living in the city, urban sprawl is consistently expanding. This may make the city a little too bustling and crowded for some.
Harsh Winters
The winter in Chicago can be a little bit harsh. Snowstorms sometimes make residents stay indoors for a couple of days. If you're not used to a cold snowy winter, it could be a handful for you to deal with.
High Cost Of Living
The cost of living in Chicago is a bit high. This is because of the high tax rates and expensive housing market in the city.
Crime Rates On The Rise
There are certain neighborhoods where the crime rates are through the roof in Chicago. Watching out for these neighborhoods is a must.
Weather In Chicago
One of the best things about living in Chicago is that you will experience all seasons here. From summer and spring to autumn and winter, you get to experience each of the seasons individually and soak in the beauty of nature along with it.
Winters in Chicago are notoriously harsh. You cannot leave your house without warm jackets and boots during the winter months from November to mid-March. The month of January experiences the lowest temperatures, normally averaging 26°F – 33°F. However, temperatures can sometimes drop even lower. Chicago also experiences a decent amount of snowfall during winters. On average, Chicago gets about 38 inches of snow per year.
If you didn't know already, Chicago is called 'the Windy City'. The summers experience a lot of wind, and are usually mild. The average temperature during summers in Chicago is anywhere between 72°F to 88°F. July being the hottest month of the year, it experiences about 84.9°F temperature on an average.
When it comes to natural disasters, Chicago is a pretty safe city to live in. Other than tornadoes, the city does not experience any other threats. Even with the tornadoes, the inner city limits are pretty safe while the coastal areas suffer a little bit of a risk.
Cost Of Living In Chicago
The cost of living is an essential factor that determines whether living in a big city like Chicago is ideal for you or not. Living in Chicago does not come cheap as according to Bestplaces, the cost of living in the city is 17.8% higher than the national average. The overall monthly bills and expenses, housing market, and tax rates all combined contribute to the cost of living. We have broken down these expenses below to give you a better understanding of how much you're likely to spend when moving to Chicago.
Buying A House In Chicago
Investing in a house is something that you would definitely want to do at some point in time. The real estate in the city of Chicago is thriving as there are ample houses on sale in many neighborhoods in the city. Most people are interested in the properties in the suburban areas as they are in the slightly lower price range.
The following table gives you an understanding of the median home value in Chicago as compared to the national average. These statistics have been taken from Zillow.
| | | |
| --- | --- | --- |
| | Chicago | United States |
| Median Home Value | $310,700 | $291,700 |
As you can see above, the median home value in the city of Chicago is definitely higher than the national average of the United States. This has made real estate in the city extremely competitive.
Renting A House In Chicago
If renting is an option that you are looking for, Chicago has some of the best rentals available in its suburbs and neighborhoods. There are an equal number of people renting houses and owning houses in Chicago. Along with the availability of apartments and houses for rent, the average rent in Chicago is also quite affordable if you have a decent monthly income in the city.
The ratio of average income to rent is quite reasonable and making a living in the city with a reasonable income is fairly comfortable. To further help you understand the kind of average rent you would be paying when in Chicago, we have listed it out in the following table.
| | | |
| --- | --- | --- |
| Apartment Size | Chicago Average Monthly Rent | US Average Monthly Rent |
| Studio apartment | $1,007 | $950 |
| 1-Bedroom Home | $1,125 | $1,050 |
| 2-Bedroom Home | $1,296 | $1,278 |
| 3-Bedroom Home | $1,639 | $1,680 |
| 4-Bedroom Home | $1,947 | $1,950 |
As you can see in the table above, the average rent in Chicago and the US average are almost on the same level as per data from Bestplaces.
Taxes In Chicago
The standard of living in Chicago is fairly high, but this privilege also comes with a price tag. The sales tax, income tax, and property tax are all high in the city of Chicago.
The sales tax in Chicago is 10.3% which is one of the highest sales taxes across the different cities of the USA. This rate is 3% higher than the national average and is one of the things that the residents of the city complain about.
The income tax of the city of Chicago is 5% according to Bestplaces. This rate is just 0.4% above the national average and is the highest tax rate in the state of Illinois. All of these high rates contribute to making the city's overall cost of living higher than the national average.
Expenses In Chicago
Your monthly utility bills, groceries, internet bills, and other miscellaneous expenses contribute a major chunk to your cost of living in a city. Chicago is a city that provides for all of your needs but it comes with a price.
The utility bill covers the basic utilities that you need around the house, i.e. garbage, heating, water, and electricity. According to Numbeo, ll of this amounts to an average of $163.73 per month in Chicago. If you also want an internet connection in the house, you'll have to add another $58 on a monthly average to this bill. Your phone bill will come to around $162 in a month, and gas is around $3 a gallon, so you can count that in as well.
Your monthly groceries also amount to a fair bit of your expenditure. According to data from Payscale, the price of groceries in Chicago is 8% higher than the national average. To save yourself some cash, you can go to the local grocery stores and get your groceries at discounted rates. You can get your milk at $2.15 for a gallon, a loaf of bread for $3.59, and a carton of eggs for $1.50.
Another aspect that adds to your expenses is healthcare. Chicago has a fairly good healthcare system that provides excellent services. According to Payscale, the healthcare in the city of Chicago is only 1% higher than the national average. A doctor's visit can cost you around $112 while a visit to the vet is around $59.
Crime Rate In Chicago
The city of Chicago has a pretty high crime rate as you may have heard. It is one of the bigger problems that the city faces in most of its neighborhoods. According to Neighborhoodscout, Chicago is only 9% safer than the rest of the other cities in the States.
The violent crime rate in the city is 9.69 per 1000 residents, higher than the national average of 4. This means that you have a one in 103 chance of being a victim of a violent crime in Chicago. Similarly, the property crime rate is also higher than the national average. You have a one in 39 chance of being a victim of a property crime in Chicago. This makes it one of the few cities to have such a high property crime rate.
But, you need to know that a lot of these crimes are localized. They tend to only be concentrated in certain neighborhoods around the city. Some of these are West Garfield Park, West Englewood, Washington Park, and Riverdale. As long as you know what neighborhoods have a higher crime rate and which ones are safe, you're good to go.
Economy And Employment Opportunities In Chicago
The economy of Chicago is one of the most diversified and developed economies in the United States. With some of the major Fortune 500 companies and industries that provide excellent job opportunities to Chicago's residents, the economy has been doing really well since the past decade. The GDP of Chicago was nearly $700 billion according to Statista. While the unemployment rate at 4.5% is higher than the national average of 3.9%, it is just a slight difference.
Some major industries that contribute to the economy of the city are leisure, information technology, health services, manufacturing, transportation and hospitality. These are the service sectors that you may want to look at when applying for jobs or even pursuing higher education.
Plus, residents of Chicago earn an average of $85,300 annually. This means that you can live a comfortable life in the city without being burdened financially. A decent-paying job should be able to pay your bills and your mortgage if any.
Along with economic growth, Chicago has also seen an increase in the job opportunities available in the market today. The unemployment rate has diminished in the past few years with the growth of job opportunities for skilled professionals. Deloitte, Mars Inc., J. P. Morgan Chase, United Airlines, Boeing, Abbot, Helman's, Ferrara Candy, and Ford Motors are all some of the significant employers in Chicago city.
Education In Chicago
When it comes to education, Chicago definitely does not fall back. Alongside 869 schools, Chicago is also home to some of the most renowned universities in the USA. Catholic schools and institutions are spread all across the city and are a popular choice of educational institutions among the people of Chicago. DePaul University is the largest Catholic University in the United States, located in Chicago.
It is one of the best cities to provide quality education for students wanting to pursue higher education. Journalism, management, health, engineering, business, marketing, arts, and science are some of the most demanded subjects in the universities in the city. Let us have a look at some of the top-rated schools and universities in the city of Chicago.
Schools
Columbus Elementary School
Burley Elementary School
Disney Elementary Magnet School
Jones College Prep High School
Noble St Charter-Noble Campus
Canty Elementary School
Universities
DePaul University
University of Chicago
Northeastern Illinois University
Loyola University
Illinois Institute Of Technology
Columbia College Chicago
Traffic And Transportation In Chicago
The transportation services in the city of Chicago are the best you will come across. The Chicago Transit Authority is in charge of public transportation in the suburban areas of the city. They operate the 'L' trains (L derived from 'elevated') and buses.
CTA's trains have 8 lines, each named after a different color, with 2 operating 24/7. The lines wind through over 140 stations and conveniently connect you to the entire city. Hop aboard a train on the Red Line to go through downtown Chicago and to the North and South Sides. Looking to head to Chicago O'Hare International Airport? It's the Blue Line for you. The cost for a single ticket for an adult is $2.50.
Over 120 bus routes crawl across the city, each with its own schedule. The CTA bus routes are accessible in all parts of Chicago and several run until 2 am in the morning. There is a stop after every few blocks and makes traveling convenient for all. A bus ticket costs $2.25. You can also purchase passes for both, the buses and trains, or get a reloadable Ventra Transit Card so you can tap to pay your fares.
CTA's services are well maintained, well managed, and are always on time. Despite the heavy snowfall during winters, you're almost certain to reach your workplace in time (provided you leave on time too!). That's how good the transportation services are in the city. In case there are any delays, you will be given an indication of the same via a notification at the stations or on the CTA app.
The Metra Rail in Chicago is the fastest way to get around the city. It connects the downtown area with all the suburban areas and makes for a convenient route. It is quick, runs all day long, is affordable and easy to use as well. Your base price is $4, after which you pay depending on how far you've traveled. The highest you can pay is $9.50, for the farthest you can travel on the trains. Regular commuters have the option of buying a monthly pass.
You can also use the famous water taxis in Chicago to get around. They are a fun ride that connect the city with its major tourist attractions. All in all, public transportation in Chicago is top-notch. All of the services are reliable, affordable, and accessible to a major part of the population in the city. This makes moving in and around the city of Chicago easy to navigate. You don't need to own a car to have a safe and timely journey.
Places To Visit In Chicago
When you move to Chicago, you're bound to want to explore the city and get a feel of the culture and the life! Here's a small list of places that you must visit when you move to Chicago.
● Cloud Gate
Visit the Cloud Gate AKA the Bean, which is the hallmark of public art in the city. The Bean is one of the most famous touristy places in Chicago that you must visit.
● Willis Towers
Willis Towers is one of the highest buildings in the city with a height of 1450 feet. The tower has 108 floors, many of which you can explore for yourself.
● Grand Park
Grand Park is another landmark that you can visit anytime during the day in the city. It is a great place to stroll around amidst nature.
● Navy Pier
For some fun time with family and friends, Navy Pier is the best place in Chicago. It's got loads of entertainment like a Ferris wheel and other rides, and some good food too!
Best Places To Live In Chicago
When you finally decide to move to Chicago, the first thing you will have to look for is a neighborhood to live in. It is one of the most crucial parts of moving to a new city. As mentioned earlier, Chicago has plenty of neighborhoods that you can live in – we've listed some of the best ones down for you.
Hyde Park
Hyde Park is one of the most culturally-diverse neighborhoods in all of Chicago. This neighborhood is famous for being home to the 44th President, Barack Obama. It happens to be sandwiched between the two most culturally celebrated places in the city, the University of Chicago and The Museum of Science and Industry.
Hyde Park has some of the best schools and universities that cater to the minds of the younger generation in Chicago. If you have children moving with you to Chicago, this is the neighborhood that you should consider moving to.
Population: 26,900
Median Home Value: $238,000
Annual Median Household Income: $35,480
Monthly Median Rent: $1,473
River West
River West is one of the relatively newer neighborhoods of Chicago and has a thriving restaurant scene and nightlife. This neighborhood is perfect for people who want to stay away from the busy city life but also don't want to miss out on the fun of living in the city. This is one of the more expensive neighborhoods as a majority of the houses and properties are on the riverside and are fairly big condos. Not everyone living in the city can afford to live in River West, but it sure makes for an ideal place to stay!
Population: 3,005
Median Home Value: $444,900
Annual Median Household Income: $98,420
Monthly Median Rent: $2,755
Lincoln Park
Lincoln Park is one of the most popular neighborhoods among the younger generation in Chicago and it is easy to see why. There are job opportunities, great nightlife, shopping centers, dining places, and colleges (including the prestigious DePaul University) in the neighborhood. These features make it very appealing to the younger generation. It is one of those neighborhoods that has something for everybody – great schools for your kids and ample housing options make it perfect for families too! From being easily walkable to boasting of some lavish eateries, the neighborhood has it all.
Population: 67,200
Median Home Value: $626,750
Annual Median Household Income: $99,600
Monthly Median Rent: $1,989
Logan Square
Logan Square is probably one of the only neighborhoods in Chicago that has a slow-paced life mixed with a bustling and happening nightlife. It has the best of both worlds and is known for its food joints. The close community in the neighborhood is a mix of families and singles who are working professionals in the city. It is an affordable neighborhood, but be warned, the cost of living is rising along with its housing prices. The housing market in this neighborhood is highly competitive in current times.
Population: 73,800
Median Home Value: $370,100
Annual Median Household Income: $77,411
Monthly Median Rent: $1,996
Also Read: 16 Best Chicago Neighborhoods to Live In
Summing Up
Chicago is definitely not the cheapest city to live in, and without a doubt, you need a steady source of income for a happy life in the city. But when considering the high standard of living the city offers, those high rates start to seem like they're worth it. The public transportation is among the best in the US, so you can save up on that budget you set aside for a new car. Traffic is a pain, as is expected with any big city in the US, but choose a location that makes your commute easier and you'll manage just fine.
Winters get cold and snowy, so if you're a stickler for the summer, it may put you off. However, the city is brimming with activity, so you can still find things to do no matter the season. Naturally the crime rates are a concern, but speak to some locals from the neighborhoods you're eyeing for their take on the topic. In most cases, the crime will be localized to certain areas and you can live a safe life in Chicago. Having considered all of the aspects that we have mentioned in the article above, Chicago remains a vibrant city. So if experiencing life in 360 degrees is what you aim for, Chicago is definitely the city you can move to.
Related: List of Best Moving Companies for your Relocation to Chicago
FAQs On Moving To Chicago
Is It Worth Moving To Chicago?
Chicago is the third-largest city in the USA with a buzzing economy and several job opportunities. Even though the cost of living in the city is slightly higher than the national average, a decent job can easily cover up the costs. Additionally, the quality of education in the city is excellent, the public transportation makes it easy and cheap to get around, and the neighborhoods are vibrant. Overall, moving to Chicago is certainly worth it.
Also Read: Moving To Illinois – A Relocation Guide for 2022
What Do I Need To Know Before Moving To Chicago?
Chicago is a big city with a growing population; it has an excellent transportation system, several universities for higher education, and plenty of job opportunities for professionals. However, the cost of living is a little high, and winters are snowy and cold. These are some of the things you need to know about Chicago before moving here.
Is Chicago Safe?
Chicago is not the safest city when it comes to crime rates, since its high crime rates are unfrtunately well-known. But if you look on the brighter side, the crime rate in the city is concentrated only to certain districts and neighborhoods. So if you move to a safer neighborhood, you should do just fine.
What Are The Pros And Cons Of Living In Chicago?
Living in any city has its own set of pros and cons. Some of the pros and cons of living in Chicago are
Pros-
Chicago has some top rated schools and universities
You do not need to have a car to commute in and around the city of Chicago
Chicago is an economically diverse and developed city
Cons-
The tax rates in Chicago are high
The city is known for its high crime rates
The winters in Chicago can be harsh
Also Read: How to Calculate Moving Costs
Enter your information
Almost done!
Enter your information to view your quote.
Your information is safe with us. By using this service, you agree to receive email communications solely regarding your relocation process