Moving from New York to Florida – A Detailed Guide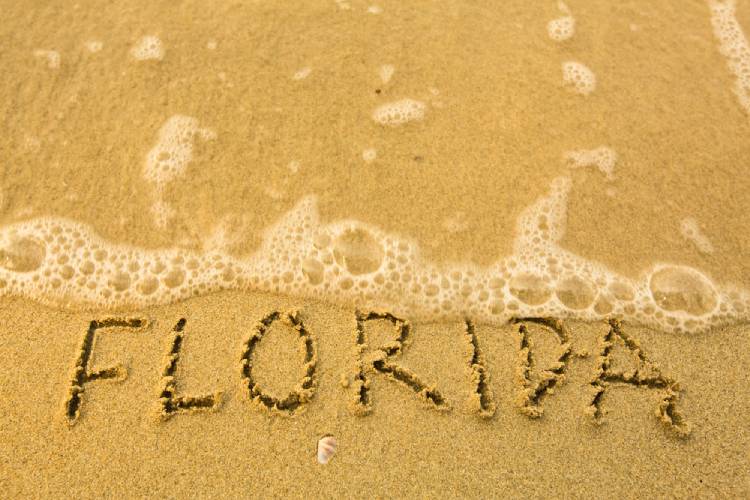 If you're fond of pristine beaches, sunny weather, a laid-back lifestyle (and Disneyland!), Florida is the place you need to be. Don't get us wrong, it's not all about leisurely activities but has vast diversity with a huge economy. New York offers pretty much the same, but it could be way over the budget for quite a few people.
If you're considering moving from New York to Florida, don't do so without factoring in all the positive and negative aspects of both states. We've done just that in this article and this will help you weigh your options and make for a successful move.
Some Crucial Points To Explore Before Moving From New York To Florida
Weather
Florida ranks slightly higher than New York on the comfort index scale. New York receives immense snowfall and rainfall year-round as compared to Florida. As a result, New York just receives 165 sunny days while Florida gets an immense 237 days.
A typical day during peak summer in Florida ranges between 90°F to 92°F. It rarely goes above 100°F, but you never know as the weather is unpredictable. Locals usually do not go out during this period as the conditions can get harsher at times. If you tend to often go out, wear light-colored cotton clothing and hats to survive the heat. On the contrary, the average daily high temperature in New York during peak summer hits around 75°F to 85°F. Some parts such as New York City do see temperatures rising above 100°F, but the overall temperatures are milder.
Winter in Florida has average low temperatures between 35°F to 37°F while the average daytime temperatures are within the 68°F to 76°F zone. This is the time people prefer spending a day on the beach, especially in Miami and the Everglades. Carry sunscreen to protect yourself from UV rays as the heat can be biting.
As far as snowfall goes, Florida rarely sees any because of it being a southeastern state whereas New York receives a substantial amount of 62 inches per year. August is the wettest month in Florida with an annual rainfall average of 55 inches, which is wetter than most of the other states.
Key Points About Florida's Weather
Florida rarely sees any snowfall. Good news for those who enjoy the sun! But the temperatures can get pretty high, so be careful.
Winter in Florida is warm as well. Move during this period as temperatures are a bit more lenient than in summer.
The wet season lasts from May to October and is more prone to storms and hurricanes. So check for weather forecasts.
Cost Of Living
It only makes sense to move to another state if you want to reduce expenditure. Moving to Florida will be one of your wisest choices because it is 14% less than in New York. And this is all credited to Florida's cheap real estate. As a result of Florida's geographical and demographical position, real estate is 58% cheaper than New York's. If you're thinking about rent, Florida fares better as well as its average rate per month is 31% cheaper than in New York.
To add to that, property taxes are significantly lower in Florida compared to the national average. You'll not feel the slightest pinch in your wallet when moving from Florida to New York.
| | | | |
| --- | --- | --- | --- |
| State | Average Home Value | Average Rent Per Month | Property Tax Percentage |
| Florida | $260,905 | $1,622 | 0.83% |
| New York | $476,702 | $2,232 | 1.69% |
Taxes
When it comes to state income taxes, Florida shines as it has no income tax whatsoever!. On the other hand, New York's top marginal state income tax is around 8%. You should know that sales tax is relatively higher in Florida (6%) than in New York (4%) to combat sales loss from low property taxes. Driving will be a lot more convenient in Florida as well as the gas tax has a flat of 4 cents per gallon on gasoline and diesel as opposed to 8 cents per gallon of the same in New York.
Groceries
Grocery shopping in Florida is much cheaper in Florida than in New York as well. If you need to buy ingredients such as a dozen eggs ($2.40), a loaf of bread ($2.84), and around a pound of tomatoes ($4.47) to prepare a healthy breakfast, you'll pay a net amount of $9.71. The same would cost you a total of $10.69. Not much of a difference, to be honest, but nothing better than saving a few cents in the pocket!
Utilities
Florida scores a few more points again as a Floridan will spend an average of $118 monthly on utilities than a New Yorker ($130). You save around 9% more in Florida than in the Empire State. Since practically everything nowadays is done on the Internet, you'll be pleased to know that a stable Internet connection is 1.7% cheaper in Florida. The rate in New York is $68.42 whereas the same in Florida is $67.23. So, you'll be saving a lot of money on utilities.
Economy
You should always scout for better prospects in the state you are moving to by analyzing its economy. To score high-profile jobs, being familiar with the job market is key. New York has an annual GDP of $1.4 trillion at the same time Florida ropes in $935 billion. Florida's economy might seem smaller as compared to New York's. But that does not mean Florida is lacking.
Tourism has created a plethora of job opportunities in Florida and rakes in over $85.9 billion to the state GDP. Agriculture has contributed over $130 billion to the state's economy and has been America's major exporter of citrus fruits. Some other industries that offer white-collar lucrative jobs are:
International Trade
Aerospace And Aviation
Life Sciences
Financial Services
The unemployment rate is much higher in New York than in Florida. This proves how making a living in New York is far more competitive and strenuous. The unemployment rate in Florida is 5.1% whereas the rate in New York is locked at 7.6%.
To survive the rising inflation, an average New Yorker will unquestionably earn more than a Floridan. By looking at the median household income, we can see how low the cost of living in Florida is as compared to living in New York:
| | |
| --- | --- |
| State | Median Household Income |
| New York | $68,486 |
| Florida | $55,660 |
Assuming you do not have any children, you'll need to earn $30,825 per annum, accounting for taxes, medical, and housing. However, the costs increase with each extra individual. Say you're the sole earning with one child and no spouse, then you need $64,317 per year including child care and taxes.
Getting Around In Florida
In a country where people mostly like to drive, there's a segment of people who are dependent on buses and trains. Nearly every major city in Florida has some mode of public transport:
Miami is served by the Miami-Dade Transit.
Tampa has several buses commuting to various parts of the state-run by Hillsborough Area Regional Transit (HART).
The Lynx bus system is popular in Orlando.
As far as railways go, Florida has 3 Amtrak routes. Silver Star and Silver Meteor daily commute passengers to major cities like Orlando and Miami. On the other hand, The Auto Train route grants special privileges to those who want to escape long-distance drives. You can bring your vehicle onboard and enjoy the journey from Lorton to Sanford.
What Makes Florida Special?
Lucrative jobs are fairly easy to acquire since the economy is diverse and booming. Over here, you'll always find something for your calling.
Florida has comfortable winters with the average daytime temperature ranging between 68°F to 75°F. This is the time to enjoy the amazing outdoor activities the Sunshine State has to offer.
Groceries and appliances are affordable because of the low cost of living and sales tax.
Must Read: Moving to Florida
Top Places To Move To In Florida
Gainesville
Since it is home to the University of Florida, this city has a college town vibe filled with youngblood. But that does not mean Gainesville lacks diversity. Perfect for those who want to start or continue their education. Moving downtown, you'll discover the art, music, and food scene of Gainesville. It's filled with many joints that are suited for your taste buds. For watching movies with your families, there is Celebration Pointe and Butler Plaza for shopping. The Oaks Mall is regarded as Gainesville's official shopping spot for students. It's generally crowded, but exploring it is a perfect pastime to end a long day.
Median Home Value: $161,900
Median Rent: $953
Tampa
Tampa is filled with a variety of restaurants and malls. The colleges and emerging job market here facilitate various opportunities for its residents to grow. The weather can get a bit extreme at times, but when it's calm, the beaches and parks are enjoyed the most. There's plenty to do in this city; you can pique your curiosity in the Museum of Science & Industry or you can delve into a bit of Florida history at the Tampa Bay History Center.
Median Home Value: $238,900
Median Rent: $1,131
See Also: Moving From Miami to Tampa
Tallahassee
Tallahassee has all the ingredients for a family. Its education is its strongest element. Here you can find the Florida State University, Florida A&M University, and Flagler College. Its neighborhoods are much safer and not overcrowded. Tallahassee has a much more laidback lifestyle, but that does not mean it has nothing fun to do. Keeping up with its high education, this city has many museums such as the Tallahassee Museum of History and Natural Science, Challenger Learning Center, and Tallahassee Antique Car Museum.
Median Home Value: $203,800
Median Rent: $1,023
Orlando
Orlando is basically your one-stop theme park destination. You'll stand in awe of the infrastructure of Legoland, SeaWorld, Universal Orlando, and the famous Walt Disney World. Since these are prime tourist destination spots, the traffic is even more bustling. New cafes and restaurants are mushrooming from sidewalks. Hence, you can never return home on an empty stomach. Filled with an array of experiences, Orlando sure has a lot in store for you to explore.
Median Home Value: $240,000
Median Rent: $1,196
Also Read: Largest Cities in Florida
Some Points To Think About When Moving From New York To Florida
When you think of moving, you ponder on the confusion and commotion it brings along. This can be avoided by making an inventory 2-3 months before your move. You'll be more organized and punctual in this manner.
You have a variety of movers to choose from. But select the ones that are registered and insured. You should not fall into a soup in case of a sudden inspection from the authorities or feel scammed later onwards.
Carry less! Costs increase with the number of items. Do not hesitate to organize garage sales to sell off the unnecessary items you possess. In a way, you'll earn a buck or two to spend on your move instead.
Driving will take you 17 hours to reach Florida; excluding the fuel and rest stops. On the other hand, a flight from New York will take you 2 hours. The former option is viable only if you want to avoid car shipping costs. Otherwise, flying will be cost-efficient and energy-saving.
Have at least 3 movers in mind before taking the plunge into any deal. Different moving companies have various packages and price ranges. Explore each and every one of them, learn their rates and then make a decision.
How Much Will It Cost To Move From New York To Florida?
Florida is 1,146.1 miles from New York via I-95 S. A long-distance move like this not only requires adequate planning, but also sufficient finances. Therefore, do thorough research on your mover; check for discounts or special packages. Furthermore, the time, size, and location of the place affect costs too. If you have the time, do not move during peak moving or the holiday season. The difference in price rates off and peak season will astonish you.
| | | | | |
| --- | --- | --- | --- | --- |
| Size Of The Move | Moving Company | Moving Containers | Trailer Rentals | Truck Rentals |
| One Bedroom | $1,600-$1,700 | $1,800-$2,275 | $1,235-$1,755 | $1,055-$1,430 |
| 2-3 Bedrooms | $1,900-$3,500 | $2,290-$2,890 | $1,660-$2,365 | $1,110-$1,500 |
There are two ways to go about your move: you can hire a professional moving company which will take care of the packing, loading, and unloading. They even offer junk removal and car shipping services via special bundles. Renting a truck and a moving container is a budget-friendly move, but the hard work is left up to you. However, the former option saves time and energy.
Conclusion
If housing and cost of living are what you're looking at, then Florida is a better match. New York is expensive and the hustle and bustle of city life can get a bit stressful. Apart from that, jobs are easy to come by since the economy is vast and there is Legoland! Who does not like Legoland?
FAQs
Is Moving From New York To Florida Worth It?
Florida's economy may not be as great as New York's, but the cost of living is much cheaper than in New York. To add to that, the job market is booming; especially in the aerospace and agricultural domain. Plus, Florida's real estate is cheaper than New York's. Therefore moving to Florida will be less of an investment.
How Long Does It Take To Move From New York To Florida?
A long-distance move like this usually takes between 6 to 9 days. A premium package will take 4 to 7 days for an additional $500-$600 to the net cost.
What Is The Average Cost To Move From New York To Florida?
The average cost of such a long-distance move ranges from $1,700 to $5,000. The size, date, and location of the place will affect costs as well.
Also read: Moving from New York to California | Moving From California To Florida | Moving From New Jersey To Florida – A Detailed Guide
Enter your information
Almost done!
Enter your information to view your quote.
Your information is safe with us. By using this service, you agree to receive email communications solely regarding your relocation process