Moving From California To Florida – A Detailed Guide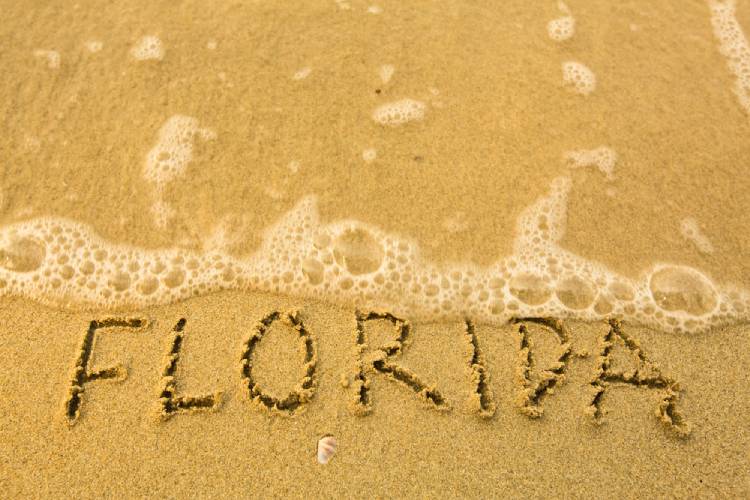 Moving to a whole different state and restarting everything you had built takes courage. People have their reasons for pulling such a stunt like that. But, wishing to rebuild by saving a buck or two in your pocket is nothing like it. Florida can fulfill that wish!
If you're also considering moving from California to Florida, don't do so without factoring in all their pros and cons. We got you covered in that regard!
Some Crucial Points To Explore Before Moving From California To Florida
Weather
On the comfort index scale, Florida (6.6) loses a few points to California (8.4). This is all due to Florida's scorching summers and long wet seasons. Florida receives a total of 237 sunny days and 55 inches of rain per year. California sees 258 sunny days 22 inches of rain per year. That's a lot of water for Florida!
Summers in Florida can get a bit uncomfortable with average high temperatures in the range of 90°F to 92°F. To be fair, you'll not have to worry about temperatures going above 95°F and 100°F, as this rarely happens. Planning an outing in such temperatures is never a good idea, but if you have to move out, wear light-colored clothes and hats to reflect the summer heat. However, average day temperatures in California are within 80°F to 85°F. Some desert regions do see temperatures rising above 100°F.
It can get quite chilly in Florida during the winter months, with average low temperatures ranging from 35°F to 37°F, and average daytime temperatures ranging from 68°F to 76°F. Beach days are more popular during this time, especially in Miami and the Everglades. It may be quite hot, so carry sunscreen with you to stay safe from UV rays.
Do you hate snow and want more sun and sand? Then that's one good reason to move from California! As far as snowfall is concerned, Florida rarely sees any snow because of its geographical position whereas California gets an average of 7 inches of snow per year.
Key Points About California's Weather
There's hardly any snowfall in Florida, but it receives abundant rainfall above the national average. It can get extremely hot during summer, so keep an eye on the temperature.
Florida also experiences warm winters. As temperatures are much milder than in summer, you may wish to move during this time.
During the wet season, within May-October, thunderstorms, hurricanes, and other natural disasters are more likely to occur. Consider weather forecasts when making your decision.
Cost Of Living
Saving money for future plans is necessary. It may be for education, retirement, or a trip to Bali. You save more when you spend less and you will be saving much less here in Florida than in California. According to MyLifeElsewhere, the cost of living in Florida is 15% cheaper than in California. This is attributed to many factors such as low housing rates, taxes, and utilities. If you dreamed of owning a house, you will be pleased to know that real estate is a stupendous 77% less in Florida than in California. Furthermore, the average rent per month is 35% less in Florida than in California as well.
| | | |
| --- | --- | --- |
| State | Median Home Value | Average Rate Per Month |
| California | $587,233 | $2,337 |
| Florida | $260,905 | $1,622 |
Taxes
We don't love them either, but well, taxes aren't going anywhere! There's a stark difference between the tax rates in California and Florida as well. Floridians enjoy no state income tax, but they have a slightly higher property tax rate (0.83%) than in California (0.73%). Clothing is 11.3% cheaper in Florida as well as its base sales tax is 6% while California's rate is locked at 6%. Finally, you can shop without having to worry about credit card bills, but do not overdo it.
Driving will be 7% cheaper in Florida than in California also. So now you have more freedom to drive around the state without worrying about burning a hole in your pocket.
Groceries
When it comes to edibles, you'll again save some more cash as Florida is 2% cheaper than California. To prepare a wholesome breakfast, a loaf of bread ($2.84), about one pound of cheese ($5.44), one dozen eggs ($2.40), and around a pound of bananas ($1.62) will cost you $12.3, whereas the same ingredients would cost you $14 in California. So, have a healthy start to your day!
Utilities
When it comes to utilities, again Florida scores over California. You'd be spending an average of $345 monthly on electricity, gas, cable, water, Internet, etc. in Florida. On the other hand, in California, you'd be shelling out approximately $400 monthly for the same.
Economy
Both states have massive economies. California ropes in an enormous $2.98 trillion whereas Florida garners $935 billion. It may seem that Florida is smaller, but the job market and opportunities it offers are as good as in California. The Golden State's economy rides mainly on the agriculture and tech industry whereas Florida garners its revenue from several sources: tourism, international trade, health care, aerospace, and banking. These billion-dollar industries have created various streams of employment for all walks of life in Florida.
To add to that, Florida is home to 18 companies that have featured in the Fortune 500 list some of which are Tech Data, World Fuel Services, and Publix Super Markets. Some well-sought positions in Florida are:
| | |
| --- | --- |
| Profession | Starting Salary Per Annum |
| Chief Executives | $57,340 |
| Computer and Information Systems Managers | $79,550 |
| Financial Managers | $62,180 |
| Aerospace Engineers | $66,760 |
| Family Medicine Physicians | $94,830 |
Since Florida has a higher literacy margin, its unemployment rates are far lower than in California. Giving in figures, the unemployment rate in Florida is at 5.1% while California's is at 7.6%.
However, people earn way more in California than in Florida. This must be attributed to California's booming economy. On the other hand, Floridians make a decent amount as well for their cost of living.
| | |
| --- | --- |
| State | Median Household Income |
| California | $75,235 |
| Florida | $55,660 |
To live in Florida, you will need to make approximately $30,825 per annum assuming there are no extra members to support. However, the cost increases when the sole earner has other members to provide. A sole working person having 2 kids must earn $79,126 including child care and medical expenses.
Read Also: Moving from California to Colorado
Getting Around In Florida
Florida has a network of buses and rail lines that covers most parts of the state. Although cars are preferred as the most efficient mode of transport, the public transportation system is pretty decent in this state.
Where buses are concerned, each city has its own system. Miami is looked after by the Miami-Dade Transit, the Hillsborough Area Regional Transit (HART) serves Tampa, and the Lynx bus network is adopted in Orlando.
Trains on the other hand have 3 routes marked by Amtrak. Orlando and Miami are seen by Silver Star and Silver Meteor, and The Auto Train commutes citizens from Lorton to Sanford.
Frankly speaking, only Florida's main cities have some modes of public transport. To go into some remote areas of the state, you might need a car.
Also See: Moving from New York to Florida
What Makes Florida Special?
There are plenty of lucrative jobs to be had since the economy is diverse and booming over here. You can always find something to suit your interests here.
As the temperatures range from 68°F to 75°F on average during the winter, this is the best time of year to enjoy the outdoors. Also, Florida has an average of 237 sunny days, higher than the national average of 205. No wonder it's known as the Sunshine State!
Since the cost of living is low and there is no sales tax, you can live a reasonably comfortable life here without needing to make ends meet.
Also Read: Largest Cities in Florida
Top Places To Move To In Florida
St. Petersburg
This city is a place for aesthetics. It's like living in Hawaii, without the Mokoliʻi of course. The streets and the parks are clean, and the neighborhoods are filled with immense diversity. If you're wondering about education, this city has some of the best higher and elementary schools as well. Going downtown, the sidewalk has numerous stalls and cafes to choose from. For art fanatics, visit the Dali Museum which holds a wide collection of Salvador Dali's works.
Median Home Value: $205,000
Median Rent: $1,116
Clearwater
Clearwater is considered more temperate than other cities. With its low population and traffic, this city is regarded as one of the best places to retire. But that does not mean life is all laid back here. With its sandy beaches and evergreen parks, this city is known for its marine aquarium. All the sea life you see in this aquarium has been rescued from some kind of disaster or the other. If you want to give yourself some exercise and still see some water on a warm afternoon, head over to Down South Kite & Paddle.
Median Home Value: $206,300
Median Rent: $1,092
Orlando
As one of the premier tourist destinations, Orlando has multiple theme parks such as Legoland, SeaWorld, Universal Orlando, and Walt Disney World. Since these are top tourist destinations, traffic is very heavy in Orlando. You can never go home empty-handed in Orlando since there are so many great eateries sprouting all over the city. Filled with so many places to explore, Orlando is sure to intrigue you.
Median Home Value: $240,000
Median Rent: $1,196
Tampa
Besides restaurants and malls, Tampa offers a variety of employment opportunities. While the weather can get a bit extreme at times, the beaches and parks here are the most popular. It's a great city to explore! One can peek at the wonder of the Museum of Science & Industry or explore some Florida history at the Tampa Bay History Center.
Median Home Value: $238,900
Median Rent: $1,131
See Also: Moving From Miami to Tampa
Some Points To Think About When Moving From California To Florida
Moving is hectic. The planning itself drains a portion of your energy. And nothing is more infuriating than being underprepared and disorganized. Therefore, create an inventory 3-4 months before your move. List out all the important and not so important items you have to carry. This will release some amount of anxiety and you will be better prepared.
Speaking of listing out things, carry things only which are needed. Think of it this way: more items, more money. You can earn some side money by having a garage sale or selling to friends. In this regard, you will have more income to spend on your move.
Many movers will come to you with different offers but check first if they're registered and insured. You should not fall into a legal hassle at the time of your move.
If you plan to drive, Florida is 40 hours from California without traffic. Fuel stops and coffee breaks will add to the number. However, a flight will just take you 5 hours to Florida. We suggest you choose the latter as it will save your time and money.
Keep your important documents – licenses, passports, property documents – in a single cabinet. That way you have everything in one place and your chances of forgetting them are nullified. Just imagine traveling back all the way to California just to get something important back.
How Much Will It Cost To Move From California To Florida?
Florida is approximately 2,706.3 miles from California via I-40 E. This cross-country move is surely going to cost some amount of money. Hence, get quotes from at least 2 movers. Do not finalize the first deal they offer. Each moving company has special packages and perks, so go through all of them before finalizing any deal. Plus, never move during holidays or peak moving season. Take your time and plan smartly.
The time, place, and size of the location also affect costs, so you will need to factor in that too. However, the prices below do not include special packages and fuel costs.
Also Read: Why are Retirees Leaving Florida?
| | | | | |
| --- | --- | --- | --- | --- |
| Size Of The Move | Moving Company | Moving Containers | Trailer Rentals | Truck Rentals |
| One bedroom | $1,800-$3,900 | $2,720-$3,400 | $2,000-$2,900 | $2,015-$2,650 |
| 2-3 bedrooms | $3,500-$6,900 | $3,530-$5,300 | $2,650-$4,050 | $2,200-$3,150 |
Depending on your budget, there are two ways of going about with your move. Hiring a professional moving company will do everything for you that includes packing, loading, unloading, and even junk removal. Some moving companies offer auto transport shipping as well, so you can bundle both the services together and receive a discount. The other option is moving containers and truck rentals. Sure, they can be great to reduce costs, but that's more time-consuming as you will have to do the heavy work.
Also Read: Moving from California to Virginia – A Complete Guide
Conclusion
Florida has a low cost of living, cheap housing, and professional educational institutions. Summers can get a little too hot and muggy, but you'll also have a lot of sunny days! The plethora of job opportunities provided with a booming economy is a thing to be regarded as well. If all those points tick your boxes, you should consider Florida in your list of potential moves.
Also Read: Moving from California to Hawaii
FAQs
What Is The Average Cost To Move From California To Florida?
Not including packages and fuel costs, the average price to move from California to Florida is roughly around $3,600-$6,300. The size of the move and the location affect costs as well.
Is Moving From California To Florida Worth It?
Absolutely! California is the best when it comes to education, sightseeing, or lucrative jobs. You might feel the heat a bit, but this calls for an outing to Disneyland or Legoland. Who doesn't like these places?
Is It More Expensive To Live In Florida Than In California?
The cost of living in Florida is much cheaper than in California. It is a wonderful place to buy a house as real estate rates are low, and the overall quality of life is much better than in California.
See Also: Moving to Florida
Enter your information
Almost done!
Enter your information to view your quote.
Your information is safe with us. By using this service, you agree to receive email communications solely regarding your relocation process