Moving to Florida | Relocation Guide for 2022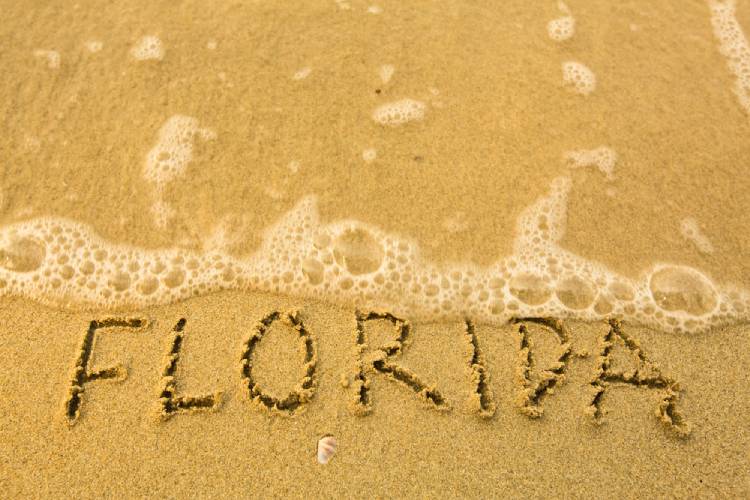 Have you ever wondered what it would be like living with the expanse of white sand and sea all around you? Add to this an abundance of the sun's warmth and a million different recreational activities. If you guessed the state of Florida, you're right!
This beautiful expanse of land is also called the Sunshine State because of the warmth it bestows for a larger part of the year. Fun fact: Florida also has other nicknames like Alligator state and Orange state, owing to the number of alligators in its swamps and Orange Grooves.
Apart from its many beaches and warm climate, Florida is also known for its amusement parks and quality of education. If you're planning on moving to Florida, we've prepared a comprehensive list of things that you would need to look into before the big move.
Living In Florida: What To Know Before Moving To FL
Florida is the third densely populated state in the United States with a population of 21.48 million. The state is known for its warmth, amusement parks, and excellent quality of education among other things. Florida is the place to be if you are a young professional or a retiree, since the Sunshine State has much to offer.
Pros And Cons Of Living In FL
Below we give you a short list of the pros and cons of living in the sunshine state.
Pros
1. Education
Florida ranks third in education in the country according to U.S World rankings. Additionally, it has some of the best higher education institutions and public schools in the country like the School for Advanced Studies and the University of Florida.
2. Job Opportunities
Florida is the fourth-largest economy in the country, with a GSP of $1.0 trillion in FY 2018. Not only does the sunshine state have the best industries and businesses, this, in turn, generates a large number of jobs annually. You will find jobs that cater to numerous fields in the state.
3. No State Income Tax
You read that right, Florida does not charge any income tax! This means that it's a great place to be for budding professionals and families that are just starting out and want to save.
Cons
1. Climate And Natural Disasters
Florida is prone to many natural disasters like hurricanes and tornadoes that occur on a large scale annually. Furthermore, the Sunshine State is also known for lightning strikes and floods that sometimes cause havoc. For those of you who live in cold climates, the heat in Florida can get extremely overbearing.
2. Overcrowding
As you've read, Florida is the third most populated state in the United States, and population trends in the past years show that this increase will not slow down. On top of that, there's also the 1 million + tourists who visit the state every year. This has increased traffic, made parking a nightmare and also increased housing costs due to demand.
Tax Rates
If you're worried about taxes and whether they will drive a wedge through your pockets, hold your thought right there! You have nothing to fear when it comes to Florida. The Sunshine State is sunny in terms of taxes as well, because they do not charge any income tax!
You heard it right, the state of Florida does not levy any income taxes. On the contrary, the state charges 6% sales tax statewide, which might even go up to 8.5%, since many counties charge their own sales tax. Moreover, this additional tax levied by the counties can be anywhere between 0.5% to 2.5%. Note that cities in Florida don't charge any sales tax at the city level. Property taxes in Florida stand at an average effective rate of 0.98% and are also only collected in counties.
In conclusion, if you fall in a higher income bracket, living in Florida will save you a lot of money and hassle. Even if you don't, the state's taxes aren't as high as one would expect for all the amenities and benefits you will get!
FL Housing Market
Florida is a fairly affordable state to live in except when you look at housing costs. The housing market in Florida is expensive because of its location, warmth, and facilities for families that move here.
The median home price in Florida stands at $335,000 while the median monthly rent for a two-bedroom apartment stands at $1,175. These prices can go lower or higher depending on where you choose to move to. For example, average house prices in Miami stand at $454,502, whereas those in Tampa stand at $255,976. Similarly, the apartment rent in Daytona Beach can go up to $1,018, whereas renting the same apartment in Miami might cost $1,355.
In conclusion, you can expect Florida's housing market to be on both ends of the spectrum. Depending on where you choose to move to, the real estate prices will vary. However, the common pattern is this – move closer to populated urban areas and the price increases.
Cost Of Living in Florida
The cost of living in Florida is tentatively lower than the national average, which makes Florida a very affordable place to live in. On the contrary, if you plan to move to a major city or an urban space, this cost can go higher than 17% from the national average.
Speaking of groceries, the pattern continues with cities like Miami and Tampa, charging 11% higher average rates than less urban parts of the state. Consequently, all over the state on average, the range of groceries cost 4% lower than the national average. You wouldn't be surprised to know that the energy averages in Florida are high owing to excessive usage because of the warm climate. Residents of Florida pay an average of $126.44 monthly for energy bills. Subsequently, this is 13% higher than the national average of $111.67.
In terms of healthcare, average costs are 16% lower than the national average in places like Jacksonville. But at the same time, they're higher in places like Vero Beach and Miami.
See Also: Moving From Miami to Tampa
Weather And Natural Disasters
With an average temperature of 70.7°F (21.5°C) daily, Florida is the warmest place to be in the United States. The state has a tropical climate in the south and a humid subtropical climate in the north and central areas. Florida also receives heavy precipitation in the months of May to October, with average annual precipitation at 55″ (1397mm). So as expected, Florida receives the highest rainfall as compared to any other American state.
Moreover, the dry season lasts from November to April, with January being the coldest month. Areas in Northern Florida reach average freezing temperatures of 35°F (1.7°C) to 37°F (2.8°C), whereas the southern part stays warmer with temperatures ranging from 68°F (20°C) to 76°F (24.4°C).
Another fun fact: Florida is also known as the lightning capital of the United States. As the term suggests, the state experiences the highest number of lightning strikes annually in the wet months. The Sunshine State does have a reputation of being prone to thunderstorms, hurricanes and tornadoes. Unfortunately, it has also witnessed some of the worst ones in history.
And if that wasn't enough, the state also has the most number of tornadoes per area, as compared to all other states. With respect to hurricanes, Florida witnesses a large number of category 4 hurricanes annually from June to October due to its vast coastline. In such times, it is advisable that you keep a stock of food, medicines and other essentials while staying safe at home.
The Economy
Florida's economy benefits the most from agriculture, thanks to its warm climate. Now that's accentuated by the fact that agriculture itself generates $131 billion annually for the state's economy, while employing around 1.4 million people. The Sunshine State also has another appeal – its growing industries that range from aviation to security. You would be surprised to know that the state ranks first in innovation, with around 1000 pharmaceutical, biotech and medical device manufacturing companies. Other industries that generate revenue are military, mining, real estate and the sale of powerboats.
Tourism is another industry that contributes greatly to the state economy. Visitors spend more than $100 billion annually, which in turn supports more than a million jobs across the state. As of 2019, Florida has 131 million visitors, and the state continues to break these records. Some major sightseeing destinations that receive international tourists are the Walt Disney World Resort, SeaWorld Orlando, Universal Orlando Resort and the Busch Gardens Tampa.
Traffic and Transportation
Florida has an extensive transportation system that ranges from Amtrak/commuter rail services, Interstate Highways, airports and ports. Moreover, the Florida Shuttle Transportation Service offers transit between most major cities. Places like Miami Beach and Punta Gorda also offer bicycles as part of bike-sharing programs.
As you might expect, congestion problems do exist in major cities like Miami and Orlando, which can increase commute times. A report by the financial website Smart Asset also showed that in 2019, Florida ranked fourth for worst drivers in the country. If you own a vehicle, you might want to note that Florida charges high gas taxes which makes traveling by road expensive. For regular gasoline, you will have to pay 41.99 cents per gallon as tax, which makes it the 8th highest tax rate for gas in the country. On the other hand, you will have to pay 34.97 cents in gas tax per gallon of diesel.
Things to do in FL
Florida is known for its numerous amusement parks, recreational centers, and leisure activities. The state has a multitude of things to see and places to visit. We give you five things you can do when you're in the Sunshine State.
Walt Disney World
Unsurprisingly, the most popular attraction in Florida is the Walt Disney World which is a replica of the Disney Magic that is adored worldwide. The giant amusement park has something to offer for adults as well as children and families.
Moreover, children can meet their favorite Disney characters, while adults can visit the legendary Space Mountain. Fun fact: the FastPass system allows you to skip the queues on certain rides, which you can book 30 days in advance.
Busch Gardens Tampa
If you're an animal lover, you must visit the Busch Gardens. Unless of course, you are okay with missing out on a safari park offering visitors a chance to get up close and personal with a wide selection of exciting species. The park offers some of the most renowned thrilling rides in the nation which includes SheiKra – a floorless roller-coaster with a 200-foot vertical drop.
Everglades National Park
Everglades National Park is the second-largest national park in the country. You would be glad to know that the park was created when a petition filed by environmentalists in 1947 managed to convince the government that the area was something special. The area of this park is around 1.5 million acres, consisting of subtropical swamp and marshes.
The Kissimmee River flows from Lake Okeechobee in the park, providing a perfect environment for wildlife such as otters, turtles and crocodiles. Additionally, Everglades is full of flora and fauna and a great place for spotting wildlife, even panthers sometimes!
Daytona 500
If you are enthusiastic about car racing, the Daytona 500 race which is held on Daytona Beach is an important event to visit. The race is legendary and is widely regarded as one of the most important events in the Nascar cup series held annually.
Here's an interesting trivia you might not have known. Prior to building the Daytona National Speedway in 1959, the races were traditionally held on the sand of Daytona Beach. Fascinating, isn't it? Races usually start in the month of February.
Duval Street In Key West
Duval Street in Key West is known for its Caribbean charm and wonderfully restored old buildings. You can walk down the streets viewing the old buildings, which will fill you with memorable experiences. The place is busy throughout the year with a lot of restaurants and bars lined across the street, making it the main attraction in Key West.
Schools And Universities
The state of Florida has top-rated public schools and independent private schools with excellent academic performance and equity. Moreover, Florida ranks third in the United States for education and first for higher education.
The School for Advanced Studies (SAS) located in Miami is ranked first within Florida and fourth in National ranking, followed by Pine View School in Osprey. Some of the other top schools are Young Women's Preparatory Academy in Miami and Westshore Junior/Senior Academy in Melbourne. The average tuition fee for a private school is approximately $8,918 annually. If you are looking for a school with the lowest tuition fee, Hope Christian School in Tampa has an annual fee structure of $1,500.
Florida has some of the best colleges and universities in the country located all around Miami, Tampa, Jacksonville, and Fort Lauderdale. Embry-Riddle Aeronautical University and the University of Florida are some of the well-known universities in the state. If you are looking for a private university, then the University of Miami in Gainesville is considered the best. However, it also comes with a hefty tuition fee of approximately $53,682.
How To Become A Resident Of FL
Like most states, to become a resident of Florida, you will first have to live in the state for 183 days. To add to that, once you have established residency, the process of obtaining the license has to be done within 30 days. For registration or title, the state has made it mandatory to obtain insurance from an agent licensed to sell insurance in the state. This registration/title process has to be done within 10 days of establishing residency.
Florida DMV
The process of obtaining your Florida driver's license is fairly simple. Your first step will be visiting the DHSMV office and submitting the following documents:
Proof of Social Security number
Identity Proof
Out-of-State driver's license
residency proof/proof of address (find the list of acceptable documents for the same on the state DHSMV website)
You will be required to pass a vision test and pay a fee of $48 for a Class E driver's licence. After you have completed the previous steps, you will be given a temporary driver's license that you can use till your new license is mailed to you within 2 to 4 weeks. If you don't have a social security number, it is important that you provide a secondary proof of identity and a letter from the Social Security Administration when you apply for the license.
If you have an international driver's license, the law allows you to drive in the state till your international license expires. Once it expires, you will have to apply for an FL license.
Also Read: Best Jacksonville FL Neighborhoods to Live In
Four Best Places To Live In Florida
Florida has numerous beautiful places to live that might suit every person's needs. So here are the top cities and locales in Florida that are worth living in.
1. Brickell
With a population of 27,732 Brickell in Miami is among the top of the best places to live in Florida. With a fairly decent number of population, Brickell will offer you the urban feel that you might have on your list. Additionally, Brickell has a lot of parks, restaurants, coffee shops and bars to tend to.
The median home value in Brickell is around $455,866 and the median rent is $2,038, both of which are above the national average. However, according to real estate website Niche's ranking, it stands first out of 25 for best place to raise a family, best neighborhood and best place to live for young professionals in Miami. Moreover, it has a very low crime rate and clean places to go around.
Brickell has a large number of public schools. Some of the best schools include the School of Advanced Studies – North, School of Advanced Studies – South and Mast Academy, to name a few.
2. Orlando
If you're an adventure seeker, you've definitely heard of the city of Orlando. The city is famous for its theme parks and recreational facilities. With a population of 275,690, Orlando is the place to be if you want the mixed feeling of living in an urban suburb. The city has a lot of restaurants, bars, and coffee shops along with numerous parks for recreation, making it ideal for both young professionals and families.
The median home value in Orlando is around $245,000 and the median rent $1,139, which is reasonable considering the amenities the city offers. Additionally, the cost of living in Orlando is also cheaper than the national average.
Winter Park Highschool, Timber Creek Highschool and Olympia Highschool are some of the top public schools in Orlando. Moreover, the city has some great colleges, of which the University of Central Florida and Valencia College are public colleges.
3. Spanishtown
Spanishtown is a neighborhood in Tampa with a small population of 1,387. This tiny picturesque place bagged 2nd place in the category of best places to live in Florida in real estate website Niche's Survey. The median home value is around $491,359 and a median rent is $1,755. One thing is for sure though, contrary to what the name suggests, the population here is pretty diverse, so you will have the opportunity to engage in various cultures.
Public schools in Spanishtown are highly rated for quality of education. The best schools in the area are Terrace Community Middle School, Walker Middle Magnet School and Bell Creek Academy. When it comes to colleges, The University of South Florida and Hillsborough Community College are close by.
4. Harbour Island
Harbour Island is a neighborhood in Tampa, with a population of 3,506. All modern facilities are available within the reach of the neighborhood, making it peaceful while giving you all you need. Furthemore, Harbour Island is a safe and friendly place, with a lot of places to visit, like Sparkman's wharf, downtown etc. If you have kids, the huge Halloween and Holiday Party organised annually will be a highlight!
The median home value is around $358,115 and a median rent is $1,798. This little island also has some great public schools. With respect to colleges, Hillsborough Community College, The University of Tampa and Sykes College of Business are closeby.
4. Naples
Naples is a small town in Collier County with a population of 21,564 and is also called the paradise of retired people, as you will find most of them settling here! This quaint town is clean, safe, and has a well maintained traffic system. During the day, you can enjoy the beach, go shopping at multiple different malls, or go for walks in any of the board walks and parks.
The median home value in Naples is around $470,000 and the median rent is $1,343 which means that buying a house is quite expensive as compared to renting a house. Naples also has a large number of public schools and two private schools. Hodges University and Florida Gulf Coast University are two of the closest universities in terms of commute time.
Also Read: Largest Cities in Florida
---
Conclusion
Planning a move can be extremely taxing with plenty of lists and to-dos constantly lingering around to overwhelm you. If you're planning on moving to Florida, and are on the fence about things, we suggest you refer to our guide and take your time to decide if it ticks off most of the boxes for you.
See also: Moving Companies in Florida
Enter your information
Almost done!
Enter your information to view your quote.
Your information is safe with us. By using this service, you agree to receive email communications solely regarding your relocation process