The Cheapest Way to Move Locally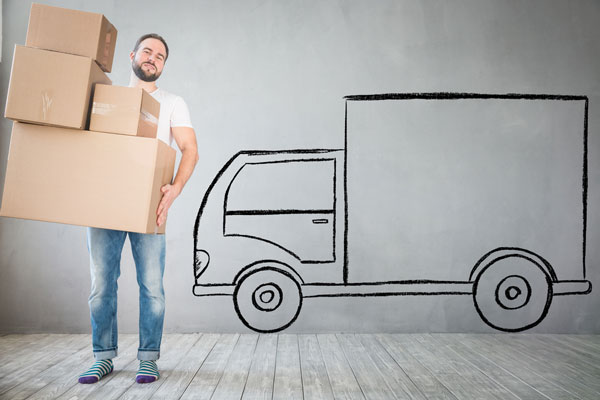 Moving is always a costly undertaking, but there are ways to cut costs and fit things into your budget. For example, moving within the same city is cheaper than moving across the country from state to state. The average cost of a short-distance move comes to about $1,500. Yet, if $1,500 seems like too much for someone who is moving on a shoe-string budget and cannot possibly afford that much, then you have to know how to move to your new house with minimal expenditure.
Moving Locally on a Shoe-string Budget
The most important thing you can do when you want a cheap way to move houses is to make sure you don't pay a penny more than exactly what is needed for this process – so make sure that you have kept a record of your accounts and estimated expenditures from the get-go. This will also allow you to reduce costs as much as possible.
The good news is there are many avenues where you can cut costs:
1. Pack only what is necessary and leave behind the irrelevant items
2. Buy your packing supplies and recycle what you can from your belongings, like old clothes and blankets, which can provide padding and cushion.
3. Don't hire professional movers to pack your things for you. Instead, pack your belongings by yourself and save a lot of money on packing supplies and hired labor.
4. Ask anyone who can help you. This could include friends, relatives, colleagues, neighbors, and other volunteers.
See Also: Long Distance Move On A Budget
Driving down in your vehicle
You probably will not be able to fit every single household item and belonging in your car all in one go, but that shouldn't be a problem since you are moving locally and can go back and forth as many times as needed between your old home new one. Where you will be giving a lot of time, you will be saving on money that goes into renting a truck or hiring movers to do the driving. Your only great cost will be gas for your car.
Since you are not a professional mover, there are some more risks attached to doing the move yourself. But you can make the process easier and safer by following these tips:
• Calculate roughly how many trips you may need to make back and forth beforehand. You can figure this out by seeing how many boxes fit in your car at a given time.
• Make a timetable of trips throughout the day or days (in case you can s[read your move over some time). This will help you stick to a schedule and give you space to rest.
• Get your car fixed, topped up, and ready for moving. If there are any car problems, make sure they have been looked at and repaired in good time.
• Empty anything from your car that doesn't need to be there so that you can lower your backseats and create more storage space for your things, thereby reducing the number of trips you will need to take.
Using a Trailer
While you can still move with your vehicle, it may not be equipped to carry heavier items and might break down halfway. So you can look at renting a tow-behind cargo or utility trailer to carry your heavier items (all your items since they will have greater storage capacity than your car). It costs about $15-$45 a day to use a utility trailer, depending on the size. Cargo trailers are a little more expensive but still easily affordable. To use a tow-behind trailer, you will need a trailer hitch. The cost of a trailer hitch is approximate $700-$1,000, and another $300 for installation. So if you don't already have a hitch at the back of your car, this might not be the best option from an economic point of view.
Borrowing from friends
If you have a friend or relative who owns a pickup truck or van, you are in luck because they are likely to lend you their vehicle and possibly help you with the move, depending on how close you are and how much work needs to be done. You can always repay the favor by treating them to a meal or drinks later on or even buy them a small gift as a token of your gratitude. Your only other cost would be fuel, which you would have to pay for anyway, irrespective of which vehicle you use. Depending on how many items you have, you may still need to make multiple trips. But if the truck has a trailer hitch, you could attach a trailer and pack and move everything in one go.
Renting a moving truck
Renting a moving truck for a DIY move is usually the first thing people think of when they plan to move out of their houses and find ways to make budget cuts. It is affordable if you pack and move your things independently or with (free) help from friends and family. This way, the grunt work, heavy lifting, loading, and unloading are all taken care of internally, free, and the only major cost you would have to pay is the truck rental.
The average cost of renting a moving truck when moving locally is between $150 and $300.
This price includes:
• Daily truck rental fee
• Mileage fee
• Insurance costs
• Environmental fee
• Taxes
• Extra charges (any moving equipment, packing supplies you may ask for)
Still, if you want to save money on your truck rental, here are some ways to cut corners:
• Choose to move mid-week in the middle of a month versus weekends or major holidays
• Rent the correct size so that you don't waste fuel with multiple trips
• Get several estimates from different companies before locking into one
• Ask about penalties or extra fees
Renting a Moving Container
Portable moving containers are another affordable and easy way to move locally on a budget. The container is dropped off at your residence at the designated time and is yours to use for the pre-decided period. You can pack and load your belongings inside the moving container at your own pace. Once you are done, you let the company know, and they will pick up the container and transport it to the new address. Once you have unloaded your items, the company will pick up the container. The average cost of moving locally with a moving container is about $400-$600 (depending on the size of the move).
The cost of using a moving container service depends on:
1. The number of containers you need
2. The size of the container (smaller ones are cheaper, but then you might need more than one)
3. The period you need them for
4. The distance traveled by the container between your pickup and drop off addresses
5. The company you choose, because different companies have different tariffs
Moving containers are convenient and easy to load and unload, giving you the freedom to move at your own pace. They offer solid protection for your items and can be used temporarily to store your belongings (either right outside your house or at a specialized facility). The containers are dropped off, picked up, and transported by professionals, so you don't have to be stressed about where to pick them up or drop them off. All you have to do is call the professional moving company, and they will do the needful.
Finding Affordable local moving professionals
DIY moves can only go so far or efficiently without professional help. You may not be equipped to handle the consequences of improper packing, unbalanced lifting and loading, bad planning conflicts, and property damage. The best thing to avoid these situations is to ask the experts to help you. But this comes at a price, so you need to find moving companies that fit your budget and provide good service. It would help if you moved experts who offer quality service at a reasonable price. They will then provide specialized equipment, technical expertise, and years of experience to perform your move safely and efficiently. You can rest assured they will do a good job and save you time and stress. With some good research, the final bill won't necessarily have to be much higher than moving yourself with a rented truck or moving container.
Here are some ways to find cheap movers to help you move locally:
1. Start searching for them as early as possible, because then there are more options available at flexible times.
2. Ask people you know for good recommendations. Indeed someone from your friends, relatives, neighbors, and co-workers has moved in the past few years and hired a moving company they find reliable and affordable.
3. Find small local moving companies that rely on moving jobs within their immediate areas, and make an effort to gain the trust of the locals by providing quality service and lower prices
4. Get several estimates and as much information as possible about the companies.
5. Compare the offers and choose the movers that suit your requirements the best and your budget as well
6. Keep in mind that moving companies charge less during off-season months when their services are not in high demand.
Conclusion
When you are pressed for time and cash, you have to find cheap hacks and shortcuts to help you move comfortably and economically. Doing it, Yourself seems to be the best and most popular option but can be adjusted based on your capabilities. Suppose you can enroll with the help of your social network and family. In that case, you might luck out on many free packing materials, transportation, labor, and general support, wherever needed. And if all else fails, it is wise to invest in a moving company that saves you the cost, time, and energy of doing everything yourself.
FAQs
What is the average cost for a local move?
The national average cost. This price range describes a 2-person moving team completing a local move of fewer than 100 miles. The cost is calculated based on the size and weight of the items being moved, the distance traveled, the packing materials used, and any hired labor. 
See Also: How Much Does it Cost to Move a House
What is the cheapest way to move a short distance?
Moving is expensive, especially if you plan to hire a moving company to handle the entire process. The main avenues you can look at to move at the cheapest cost across the city are:
1. Do-It-Yourself (DIY) with the help of friends and volunteers
2. Rent a moving truck plus Do it yourself
3. Hire the moving company only for the labor
4. Rent a Moving Container or POD
5. Hire the moving company for the full service
How do you calculate relocation costs?
Typically, to calculate approximate relocation costs, you take the estimated time to complete the entire process and multiply it by the moving company's hourly rate for local moves. To that amount, you will have to add other fees like the packing material, travel time, lifting and carrying costs, add-ons, and tips if you work with professional movers.
What is a hybrid move?
Hybrid moving is a much newer concept in the real estate and professional moving industry, which means that you can use more than one method to help your moving process. This means you could do some parts of the moving by yourself while hiring help for other, more challenging processes. This way, you get the help you need and save money from doing other tasks yourself. Hybrid moving methods are ideal for moving locally on a budget.
Enter your information
Almost done!
Enter your information to view your quote.
Your information is safe with us. By using this service, you agree to receive email communications solely regarding your relocation process