Moving from New York to California – A Detailed Guide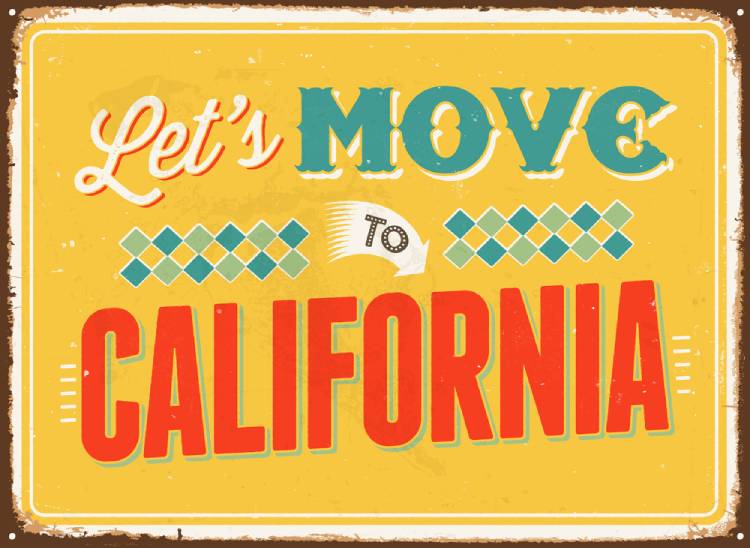 Planning to achieve the Californian dream? With a vast economy and numerous employment exchanges, you can be sure of bagging your dream job. We're not denying that New York is an awesome state to stay in, but perhaps you'd like to move someplace warmer.
No matter the reason for your moving from New York to California, it makes no sense to do so without planning and understanding the pros and cons of both states. Through this article, we'll help you make a well-rounded decision before your move.
Things You Should Know About Before Moving From New York to California
The Weather
There's a reason why we mentioned the weather right off the bat. On the comfort index scale, California ranks higher (8.4) as opposed to New York (6.6). This is all credited to California's moderate summer and winter temperatures.
A typical summer day in New York falls in the range of 70°F to 85°F. But the heat can even reach up to 100°F, especially in New York City making summer unbearable. However, downstate New York is much milder with temperatures not beyond 85°F. The Great Lakes Region, which receives a substantial amount of rainfall than other parts, is a popular spot for New Yorkers to spend a hot summer day.
On the other hand, California's average summer temperature ranges between 80°F to 85°F. Desert areas usually see temperatures above 110°F, so be careful if you plan on visiting such areas during the day. Hikers enjoy trailing on the mountains before winter as hiking becomes strenuous due to excessive snowfall. It is also the time where the rain and humidity drops, and Californians see clearer skies. The Yosemite National Park is a central attraction for Californians to relax and have a dip. Wear light clothing and carry sunscreen to counter the heat, and wear a hat.
Winters can be harsh in New York. Temperatures go below freezing upstate whereas downstate falls in the range of 21°F to 40°F. The snowfall is immense as well (about 25 inches of snow). On the contrary, winter temperatures do go below freezing in some parts of California, but throughout the state, Californians receive milder temperatures between 54°F to 70°F. Carry a couple of coats and jackets if you are moving during this period.
Key Points About California's Weather
The summer and winter are pleasant. With such moderate temperatures, outings will be more delightful than in New York.
You'll not see much rainfall in California as the annual frequency is just 21 inches which are below the national average, making it drier than most states.
Expect more sunshine since California gets 258 sunny days which is again, above the national average. So get those sunscreen lotions out!
Cost Of Living
Moving to a new state only makes sense if you want to reduce expenditure and save a little more for yourself. But in California, you'll be paying 3% more than in The Empire State. This inflation is caused due to California's rising real estate. It's a 13% increase as compared to New York. As a result, this affects the rent per month as well (approximately 5% costlier in California than in New York).
| | | |
| --- | --- | --- |
| State | Median Home Value | Average Market Rent Per Month |
| California | $587,233 | $2,337 |
| New York | $476,702 | $2,232 |
Taxes
California enjoys a 0.73% average effective property tax rate as opposed to New York's 1.69%, but that's the only redeeming factor about California's taxes. The state income tax rate in California can shoot up to 13% as compared to New York's 8%. Even so, the sales tax rate in California (7.25%) is much higher than in New York (3%). Therefore, appliances and cars will be at a much higher price in California than in New York. Moreover, California taxes gasoline at 50 cents per gallon whereas New York taxes it at 8 cents.
Utilities
California earns a few brownie points when it comes to utilities. According to MyLifeElsewhere, utilities are 1.8% less expensive in California than in New York. An average New Yorker spends $130 per month whereas a Californian pays $128. This could be attributed to the fact that California does not require much heating during winter.
Groceries
When it comes to groceries, you'd be paying more for less in California than in New York. But you don't have to worry, as it's just a 2% difference. For instance, a loaf of bread ($3.02), 500 gms of cheese ($5.55), and a dozen eggs ($2.59) would cost $11.16 in New York whereas the same would cost $12.97 in California (a loaf of bread = $3.30, 500gms of cheese = $6.58, and a dozen eggs = $3.09). Sure, you could survive on ramen, but that doesn't guarantee good health, does it?
The Economy
The economy depicts the health of a state. And you can say that California is a healthy state with a GDP of close to $3 trillion. New York is not far behind with a GDP of $1.4 trillion. While New York obtains its revenue from the financial, health, and technical services, California garners its income from agriculture, manufacturing, mining, and tourism. These are some of the fastest-growing professions in California:
Electrical Engineers
Material Movers
Microbiologists
Food Service Managers
Film And Video Editors
Despite both states having strong economies, the unemployment rate is at par with each other (7.6% to be precise). The high cost of living in both states makes job-hunting tedious and competitive.
Speaking about income, you'll be earning at a higher rate in California than in New York. Look at these stats to find the difference:
Median household income in California – $75,235 per annum
Median household income in New York – $68,486 per annum
The booming economy in California generates various job opportunities. As a result, people are exposed to choice and have higher probabilities of scoring lucrative jobs. That's why there's such a wide gap in household incomes between both states.
To live comfortably in California, you'd need to earn close to $38,823 annually, assuming you don't have children or extra members. However, the costs increase with each member. A single working individual having one child will have to make approximately $85,000, including child and health care.
Traveling in California
Compared to New York, California is huge. Commuting through such a vast state requires an extensive system of buses and trains. Public transportation in California does somewhat live up to its size but falls short of reaching remote areas. That's why California is particularly a car-driven state. However, The Golden State does have a pretty neat public transportation system.
For buses, your best bet will be the San Francisco Muni and San Diego Metropolitan Transit System for local commute. Some of them serve the neighboring cities as well. You'll just have to check the timings of these buses beforehand.
Coming to rail transport, California has Metro Rail, Bay Area Rapid Transit (BART), Sacramento Regional Transit District, and the San Diego Trolley.
Must read: California Relocation Guide | Moving From New York To Texas – A Detailed Guide
What Makes California Special?
The weather is amazing! Sure it does get warmer in some areas, but overall, the temperatures are pretty moderate.
There is always something to do in California. With such a booming economy, the job market has ample scope, and the opportunities are endless.
California has a pretty solid public transportation system, but you'll require a car to get to some remote parts of the state.
True, the cost of living is slightly higher in New York, but the low cost of utilities makes up for it somewhat.
Top Places To Move To In California
Berkeley
Housing is slightly towards the higher end in Berkeley, but it is one of California's safest cities to have a family. A lot of young individuals have been moving into this city to take advantage of its vibrant, diverse culture, peaceful environment, and job opportunities. Apart from that, Berkeley has several scenic venues for individuals who love to surround themselves with nature. Visit the University of California Botanical Garden, Tilden Park, and Indian Rock Park to catch up on Berkeley's aesthetic value.
Median Home Value: $1,004,900
Median Rent: $1,722
Irvine
This city is much less of a concrete jungle than other cities in California. Surrounded by several national parks and museums, you can say that Irvine is blessed with nature and rich history. The Irvine Spectrum Mall is a place many locals visit as it is a convenient place for shopping, grabbing a bite, or just hanging out with friends. If you're pondering about having a family, this city has some of the finest schools for children to have a formal education. In addition, the neighborhoods are clean and the roads are vast. The Irvine Historical Museum, Bommer Canyon, Oak Creek Golf Club are popular holiday spots amongst tourists and locals for spending a vacation.
Median Home Value: $838,000
Median Rent: $2,361
Sunnyvale
Sunnyvale is far from the hustle and bustle of a typical city; it is much quieter and serene. Spending an evening taking a walk has never been easier as this quaint city is surrounded by several parks such as Las Palmas Park, Baylands Park, and Serra Park. The Sunnyvale Farmers' Market draws locals to purchase fresh produce from local farmers: a healthier alternative to support and encourage local businesses. If you're planning a night out, Downtown Sunnyvale has several clubs, bars, and restaurants to entertain you.
Median Home Value: $1,223,600
Median Rent: $2,508
Santa Clara
When one thinks about Santa Clara, education comes to mind. Santa Clara University has some of the country's highest graduation rates. That's why many young individuals flock to this city to make use of its diverse campus and educational system. The crime rate is much lower than in other cities, making it a great place to raise children. Housing may be costly here but it is compensated with a healthy job market. And to top it all, Santa Clara knows how to celebrate. Being the host of several wine festivals and markets, you'll not find a dull moment in this place.
Median Home Value: $1,034,000
Median Rent: $2,396
Also Read: 11 Largest Cities in California
Some Points To Think About When Moving From New York To California
You should know by now that moving interstate is expensive. Therefore, you might want to reduce costs in any possible manner. Carrying less is the most practical way to go about reducing unnecessary expenditure; carry only what you need. Sell irrelevant items if they're a burden to your move.
Moving from New York to California will take you approximately 43 hours to travel. Driving such a distance requires multiple stops, which means more time. Also, you'll have to think of fuel costs. A long-distance trip requires sufficient fuel which is expensive. To save on time and energy, fly instead. Flight time from New York to California is just around 6 hours from any major airport.
Create an inventory 3-4 months before your move. List out the items that are necessary and unnecessary. This will allow you to separate the items which are important or are an extra expense.
While listing out movers, get quotes from at least 3 of them before finalizing a deal. Chances are you'll get better packages from other movers than the first one you find. Check for discounts or any offers on packages to further reduce your moving expenditure.
Going over the legality of the moving company is necessary. See if they're registered and licensed with the government. Always check for customer reviews. They will weigh the pros and cons and will help in highlighting the reputation of the moving company.
How Much Will It Cost To Move From New York To California?
California is about 2,900 miles from New York via the I-80 W. A long-distance move like this requires quite a bit of money. We cannot stress more how important it is to carry less and research at least 3 movers before taking the plunge.
The table below is an approximate evaluation of the total cost of your move from New York to California:
| | | | | |
| --- | --- | --- | --- | --- |
| Size Of The Move | Professional Moving Company | Moving Container Company | Freight Trailer Company | Truck Rental Company |
| Studio/One Bedroom | $1,782-$3,160 | $2,940-$3,720 | $2,100-$2,650 | $2,134-$2,701 |
| 2-3 Bedrooms | $4,702-$7,234 | $4,5895-$5,800 | $4,280-$5,404 | $2,644-$3,340 |
The above prices do not include other services and fuel costs.
Depending on how much you're willing to spend, there are two ways of going about with your move. One, you can hire a professional moving company who will do all the work for you – packing, loading, and unloading, junk removal – for a higher price, or you can either rent a truck or moving container to further reduce costs. However, you'll have to pack, load, and unload your items or in the case of a truck rental, even drive it. This strategy is best if you have company to help you in dealing with all the lifting and pushing.
Conclusion
Let's face it: California's cost of living is higher than New York's. But you'll also have to consider California's booming economy and job development. Those factors ease the extravagant standard of living in California. In addition, education is competitive and the infrastructure is developed. What more could you ask for?
Read Also: Moving From California To Florida
FAQs
How Much Does It Cost To Move From New York To California?
The average price to move from New York to California is $3,000-$6,350. This does not include extra services and fuel costs. Hiring a truck or moving container will be cheaper, but requires you to do the hard work.
Is It More Expensive To Live In California Than In New York?
Putting it simply, YES. The inflated housing costs and taxes are the main contributing points of California being more expensive than New York.
See Also: 7 Best Moving Companies In California
Is California A Good Place To Live In?
California has a higher cost of living than New York. But California has a diverse education system, good neighborhoods, and a comparatively more serene lifestyle. If these qualities agree with you, this will be an excellent fit for your next move.
See also: Moving from Texas to California | Moving from New York to Florida
Enter your information
Almost done!
Enter your information to view your quote.
Your information is safe with us. By using this service, you agree to receive email communications solely regarding your relocation process