Moving from Texas to California – A Detailed Guide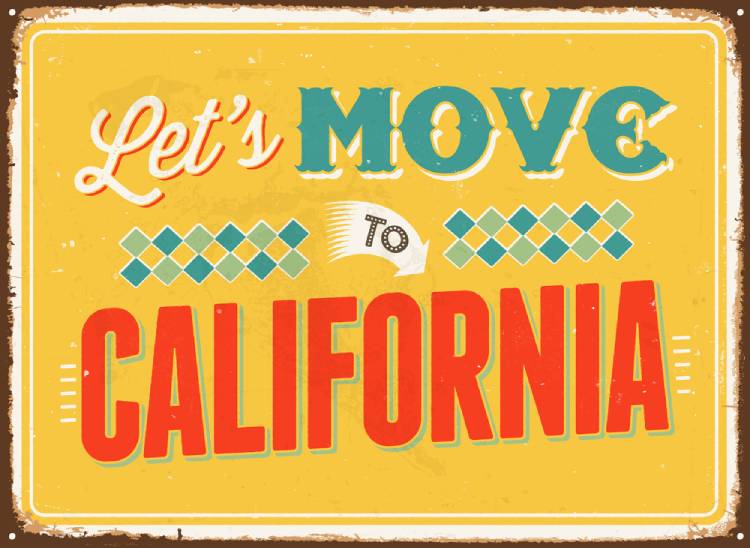 Feel like that Texas heat is getting to you? Then consider moving to California, a state of opportunity, wonder, and delight. Its nearly-perfect weather encourages retirees to spend the rest of their life in ease and comfort.
But just like any state, California has its ups and downs. Get ready for percentages and numbers as we explore the Golden State bit-by-bit, bringing you the pros and cons of moving from Texas to California.
Some Points To Explore Before Moving From Texas To California
Weather
Texas and California both have moderate temperatures year-round and are pretty similar. The only issue Texas has is its summers. Average high temperatures can range between 92°F to 100°F and sometimes be a bit unpleasant in the Lone Star State. This does not stop Texans from hiking, camping, or trailing. Due to such temperatures, Texas is more susceptible to wildfires as well. On the contrary, California has an average high temperature of 70ºF to 85ºF during summer. It crosses 110ºF in some desert regions and can cause wildfires. Look out for weather reports before visiting any dry region.
Californians prefer hiking the mountains in this season as high altitudes can have pretty heavy snowfall. You do not want to be buried under a blanket of snow while hiking. As far as outdoor activities go in California, the Yosemite National Park area pools in a lot of tourist revenue during the summer. Take a dip in these waters and enjoy the summer! However, wear light clothing and save yourself from ultraviolet rays. Carry a tube of sunscreen as well if you plan on basking under the sun.
Winter in California is pleasant as well. Day temperatures are between 52°F to 70°F, but the nights can get colder with temperatures in the 30°F to 45°F range. Light woolen clothes and scarves should do the trick during the day, but you will need a thicker jacket to survive the night temperature. Texas has a slightly warmer climate even during the winter (averaging between 52°F and 71°F).
Texas and California do not see much rain and snow on average. However, snow is common in the northern parts of California where it averages around 60 inches per year. Throughout the state, you should expect around 7 inches of snow per year. Speaking about rainfall, August receives the most amount of rain in California. So, you might want to carry an umbrella if you are moving in this month.
California's Weather In A Nutshell:
Temperatures are moderate year-round but can get severe based on the geographical location. A glance at a weather report is all you need to scout for potential weather hazards.
Winter temperatures go below freezing in the northern parts of California. Hence, carry extra warm clothing, gloves, hats, and scarves if you have to visit high-altitude areas.
Summer is the best time to move to California. The temperatures are mild, and you will not feel the strain overall.
Cost Of Living
Having a budget is crucial when moving to a foreign state. If a commodity is above your budget, you will have to cut certain corners to manage or net a better-paying job. Moving to California will make you do either of the two as the cost of living in this state is 30% more than living in Texas. Real estate is not the only reason for such inflation but also groceries and transportation.
We are not exaggerating when we say housing is expensive in California. The limited supply of homes is one of the reasons real estate prices skyrocket here. Housing is approximately 46% higher in California than in Texas. However property taxes are higher in Texas than in California, but the real estate prices will not budge in California.
| | | | |
| --- | --- | --- | --- |
| State | Median Home Value | Average Market Rent (Per Month) | Property Taxes (Per Annum) |
| California | $587,233 | $2,337 | $1,800 |
| Texas | $186,441 | $1,331 | $4,550 |
Taxes
While property taxes are lower in California, the state and income tax rates are much higher than in Texas. California's taxpayers have to pay a 13% effective state income tax rate and 7.25% sales income tax. On the other hand, Texas is free from income taxes but has a 6.25% sales tax rate.
Groceries
Groceries and transportation are more expensive in the Golden State than in Texas as well. Here is where California loses a few points. A loaf of bread, 500 gms of cheese, and around a pound of apples cumulatively would cost $15 whereas the same items would be $12 in Texas.
Utilities
You are probably wondering if there is anything in California that is cheaper. That is where the utility bills come in. Talking about your electricity bills, you will be spending about $125 in Texas and $110 in California. Why the difference, you ask. The hot summers of Texas are to blame as air conditioners become an absolute necessity.
But wait, there is more to it! The high tax on gasoline and steep prices on monthly public transit passes make transportation 34% costlier in California than in Texas.
Economy
No doubt, Texas and California are America's economic goliaths. With Texas' agriculture and production industries booming, Texas has had a GDP of $1.9 trillion in 2020. On the other hand, California's GDP is over $3 trillion, surpassing even that of some countries. California's agriculture, entertainment, and tech industries have influenced this economic growth. If you are seeking employment in any of the three industries, then California will serve you well.
You will earn more by bagging a lucrative job in California than in Texas. The median household income in California is $75,235 per annum where in Texas, it is $61,874. Compared to Texas, California's employment opportunities are vast but you will have to work in California's top economic industries.
Both states have sturdy economies, but the unemployment rate is more in California. Texas has an unemployment rate of 6.2% as opposed to 7.6% in California. Which explains this state's higher cost of living.
To afford California's high cost of living, you should earn a minimum of $38,823 per annum, assuming that there are no other members to support. If you are a single parent providing for one child, you will need approximately $83,917. California has higher childcare costs than Texas as well.
Transportation
Public transportation is more efficient in Texas than in California. Major cities in Texas have bus services and an extensive network of commuter trains touching several cities within the state. In California, people prefer driving because it saves time as opposed to using public transportation. Also, people are spread out and prefer using their cars, so public transportation is not California's element. But keep in mind that the major cities of California may have horrible traffic congestion. For instance, Los Angeles is among the most congested cities in the U.S.!
There are other modes of public transportation in the city such as SMART (Sonoma Marin Area Rail Transit), BART (Bay Area Rapid Transit), VTA (Santa Clara Valley Transportation Authority), Metro Rail, and Sacramento RT Light Rail. Even so, public transportation in California is not exactly cost-efficient too, so you will be inclined to get your own car.
California's Core Strengths
California has a great economy with a plethora of opportunities to work in the tech or agriculture field.
The property tax rate is much lower than the national average. A slight compensation to relieve you from the exorbitant real estate prices.
The weather is more temperate than in Texas. That means more outdoor fun.
It is better to drive around California to get around quickly.
Must Read: Moving to California
Best Places To Live In California
San Francisco
San Francisco is pretty well-recognized around the globe. Many people will identify the Golden Gate Bridge which links with Marin County up to the north. The culture and diversity in this city are immense. With a sense of community developed over the years, entrepreneurs and local businesses are received with the most love and support in this city.
People from all walks of life enjoy walking, biking in the Golden Gate National Recreation Area against the backdrop of this city's breathtaking view. In all, the atmosphere is vibrant and healthy. If California's history piques your interest, visit the California Academy of Sciences and California Historical Society to learn about the city's historical development.
Median Home Price: $1,047,714
Median Rent: $1,905
San Jose
San Jose is the tech hub of California. Known as the capital of Silicon Valley, it is the headquarters of some of the top technological and networking companies including Apple and Google. A wonderful place for aspirants who are seeking prospects in the IT industry. However, San Jose goes beyond its IT hub. The Santa Cruz Mountains and the Diablo Range provides thrill and adventure for those who enjoy the sun. Are you a foodie? Then visit the San Pedro Square Market in San Jose Downtown. You get fresh produce from local farms in this bustling market. If you prefer a more upscale type of shopping, visit Santana Row. That lane has a variety that will suit your fashion needs.
Median Home Price: $1,302,118
Median Rent: $2,249
San Diego
The locals recognize San Diego for its warm weather and clean beaches. Coronado Beach and Flat Rock Beach are known for their family-friendly vibe and welcoming atmosphere. The mild weather makes the outdoors amusing, as a result, boating, hiking, and beach volleyball are the most enjoyable activities in the summer of this city. For those who prefer leisurely activities, Balboa Park is a cultural and scientific hub that is home to several museums.
Median Home Price: $835,207
Median Rent: $1,658
Sacramento
If you have a voracious appetite for food, then you will be pleased to know that Sacramento is America's Farm-to-Fork capital. The metro area at Central Valley has an abundance of eateries along the sidewalks. Not only for the food, but people flock to this city for its job market. Newcomers have opportunities in technology, healthcare, and construction. Despite the hustle and bustle, Sacramento has a tight-knit community feel. One such event is The 2nd Saturday Art Walk, where people come out to support local businesses.
Median Home Price: $549,893
Median Rent: $1,290
Also Read: 11 Largest Cities in California
Some Points About Moving From Texas To California
Interstate moving is complex and can be a task. Plan ahead. Make an inventory of all things needed to pack. That way you will be organized and less stressed at the time of moving.
To cut costs, sell items that are of less significance. Always remember that the more items you carry, the more you have to pay. Have garage sales. They are practical methods of downsizing your move and acquiring side income to fund your move.
Separating your important documents beforehand is crucial. File them in a separate cabinet so that you can just pull out the required document as and when required. Proper organization is key for a smooth move.
It's a 21-hour drive from Texas to California. You can choose to drive if you are used to the exertion. However, it will be cheaper to fly from Texas. You will reach California in just 2 hours!
Above everything else, check that the moving company has insurance and is registered before finalizing a deal. You should not feel scammed afterwards.
The Cost Of Moving From Texas To California
California is 1,406.4 miles from Texas via the I-40 W. Of course, this long-distance move is going to cost a lot of money. To reduce costs even more, do not settle for the first deal put forth by the mover. Check with at least 2 more movers before making a decision. Moving companies offer various prices and packages based on the size and location of the place. Choose the most reasonable one. Also, have a thorough knowledge of your mover's pricing breakdown. Ask for discounts and if there are any hidden costs during or after the move.
Here is the approximate breakdown of costs (does not include accessories and additional services):
| | | | | |
| --- | --- | --- | --- | --- |
| Size Of The Move | Moving Company | Moving Container | Freight Company | Truck Rental |
| 1 bedroom | $1,800-$2,458 | $1,930-$2,440 | 1,720-$2,170 | $1,120-$1,512 |
| 2-3 bedrooms | $2,980-$4,642 | $2,900-$3,657 | $2,520-$3,190 | $1,307-$1,765 |
You can hire a professional moving company that will pack, load, and unloads your items to your house. Some moving companies even offer free junk removal as well. However, this is a more expensive route. Renting a truck will be a cheaper alternative, but packing, driving, unloading, and cleaning will be left to you. Imagine driving those 1,406 miles (It can be taken positively or with a pinch of salt)!
Summing Up Everything
California has its moments. It has a booming tech and agriculture economy and many millennials are moving to this state because of that. After all, it all boils down to the cost of living. You will have to do more than cutting some corners to remain in this state. But that will not be a problem because California has some of the most lucrative jobs than in Texas. Apart from that, moving from Texas to California is a superb change from Texas' heat.
FAQs
Is California Cheaper Than Texas?
Definitely not! California is in fact among the most expensive states in the U.S. According to BestPlaces, California's cost of living index is 149.9, which is much higher than the national average of 100. On the other hand, Texas with a cost of living index of 93.9 is much more affordable than California.
How Much Does It Cost To Move From Texas To California?
This long-distance move will cost an average of between $2,600-$4,260. This is independent of other accessories and services. Also, the size and location of the place affect cost factors as well.
Is California A Good Place To Live?
If you are seeking a place filled with diversity and job opportunities, then California is a great place to move to. Sure, it has its pros and cons, but the overall standard of living is much better than in Texas.
Also read: Moving from New York to California
Enter your information
Almost done!
Enter your information to view your quote.
Your information is safe with us. By using this service, you agree to receive email communications solely regarding your relocation process