Moving to California – Relocation Guide for 2022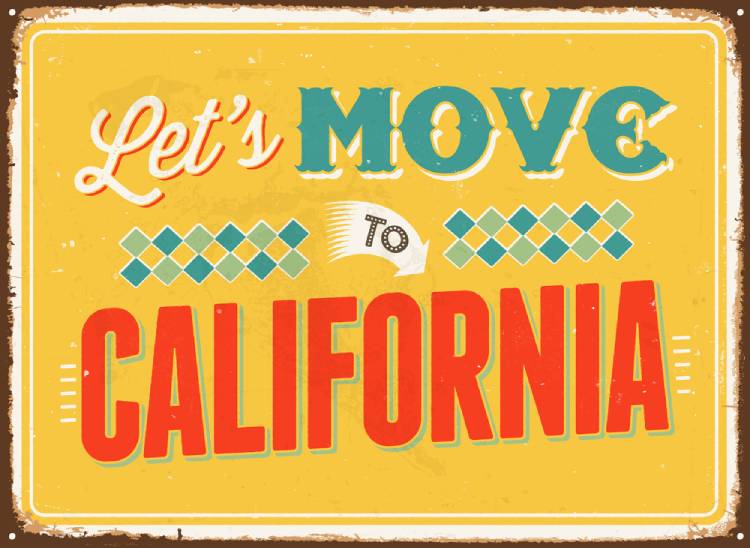 Diversity, climate, natural beauty, culture, and history, are just some of the attractions to moving to California. Whether you love cities, vast rolling hills in the countryside, visiting wineries, or enjoying expansive views of the Pacific Ocean, there is something from everyone in the vast state of California.
Living in California: What to Know Before Moving to The Golden State
Due to the large geographic area that encompasses California, there are distinct cultural differences between the regions. The mountains of Lake Tahoe offer a laid-back resort atmosphere, cooler climates, and the ultimate lake-side activities. Napa is the epitome of upscale wine country. San Diego offers a sunny, dry, beach-goers dream. Of course, LA offers city lovers and those with stars in their eyes, the perfect place to shine.
Pros and Cons of Living in California
With every state, there are pros and cons to living there. Let's look at some of the advantages and disadvantages you will encounter before taking the plunge.
Pros
If you are considering going back to school or have college-bound children, California has the largest, top-notch university system in our country. The best part is the in-state tuition program.
Are you a nature lover? California offers some of the most incredible state and national parks. You can hike, ski, surf, swim, camp, and explore boundless natural wonders in the state of California.
The Golden State offers more fresh produce than any other state in our country. You will have access to fresh fruit and vegetables all year round.
Healthy living is a huge priority in California. If you value a healthy diet, you will find organic grocery stores, organic fast food, and the most options for vegan, paleo, and vegetarian options at restaurants.
Along with its other claims to fame, California is the largest producer of wine. Open your horizons to the wonder of wine production. The winery tours and events are abundant, providing the opportunity to expand your horizons as a wine aficionado.
Cons
Unless you live in a city, you will probably need a car. It's a huge state and many of the towns have limited public transportation.
The unemployment rate in California is 4.3%, higher than the national average.
Due to the state having a dense population and illegal immigrants, the crime rate in California is high. Crime is especially abundant in the cities.
10% of California residents have drug addictions. Illegal drugs and substance abuse are very high in this state.
Tax Rates
There is no skirting the subject of high taxes. California has the highest tax rates in the US. The state and local governments impose proportional taxes. This means the more you make, the more taxes you will be paying.
While sales tax is the highest in the country at 7.25% and ranging up to 10.25%, property taxes are the 16th lowest in the US. There are many additional taxes imposed on products like gasoline and cigarettes.
State income tax is also high. The average personal income tax rate as of 2020 rates can be as high as 13.3%. They do have lots of deductions to help balance this out. The standard deductions per person in the state are $4,537 per person.
Housing Market
One of the biggest concerns in California is the cost of housing. Costs of residences are high; the supply of houses is low. This keeps the costs high. Before considering a move to California, check out your housing options to make sure you can find an affordable solution.
For many years, California has suffered from a lack of new homes. While prices have risen, the government has stood in the way of new construction. Many middle-class homeowners are forced to commute in order to find jobs to support homeowning costs. The cost of renting an apartment in the big cities is more than in other large cities in the US.
Here is the average price of a house in the four largest cities:
Los Angeles – $899,0000
San Diego – $848,500
San Jose – $1,100, 000
San Francisco – $1,400,000
If you are looking for a house under the $500,000 range, you will probably need to do some scouting and you will be living in one of the smaller cities or suburbs.
Cost of Living
A state of extremes, a single cost of living can't be predicted for California. It contains some of the richest people in American and also has some of the poorest cities.
Apartment rental – 2019, the average rent for a two-bedroom apartment was $1, 175 a month, apartment rental in big cities is around $2,00 a month.
Utilities – average consumers will pay a monthly electric bill of around $100. The average for the US is around $111.
Food – around 12% of the average budget or $3,500 a year. There are discount and bulk stores with moderately priced groceries.
Gas – 2019, the average cost of a gallon of gas was $4.09.
Car Insurance – the average premium is $4,800 which is $400 more than the national average.
Weather and Disasters
Know as having a climate similar to the Mediterranean, the typical climate in California is warm and dry summers followed by mild and wet winters. Along the coast, the average daily temperature is around 70 degrees F. Temperatures can get much hotter during the summer and occasionally reach freezing temperatures in the winter. The mountain regions are subject to cold weather and abundant snowfall.
Natural hazards do occur in California. The most prevalent is forest fires. Droughts causing extremely dry conditions precipitate fires caused by lightning or human activity. Once fires begin, they often burn thousands of acres before they can be stemmed.
California is a well-known state for earthquakes because the state is situated along fault lines. When the Earth's crust shifts, earthquakes can occur causing damage and devastation. They can also trigger landslides in areas that are devoid of vegetation.
Tsunamis are a risk if you live along the California coast. Underwater earthquakes trigger these giant waves which can be a threat, especially around Eureka and Long Beach. In addition to the waves, bodies of water can flood when there is heavy rainfall.
See Also: Best Moving Companies In Long Beach
Economy
The state of California's economy has changed due to Covid-19. As of 2019, California's gross national products was $3.2 trillion. The GDP growth rate was 2.6%. Per capita, the yearly earnings were over $80,500. The population living below poverty was just over $13% and there were around 20 million people comprising the labor force.
It is predicted that California's economy will slow down considerably in 2020 due to the closure of stores and businesses. However, the two bright spots that remain constant for California's industry are the tech sectors and the ports which continue to stay active.
Traffic and Transportation
The three worst cities in California for traffic are Los Angeles, Oakland, and San Francisco. These cities rank the highest in the country for the amount of time spent behind the wheel in traffic. Not only is the traffic in LA bad, but it has the worst gridlock out of 1,365 cities, In 38 countries around the world. San Francisco is ranked 3rd, just behind LA and NYC.
California as the most extensive freeway system in the US. Most of the highways are non-toll roads. It even has major non-toll bridges in LA, San Diego, and Sacramento. There are high occupancy lanes on many of the highways to encourage carpooling.
Some of the largest airports in the United States are located in California, including LA and San Francisco.
The public transportation in California is complex as it offers bus, rail, and ferries. There are a large number of local and regional rail systems. Bus transit is available in every county. There are also numerous bike routes and pathways. Bike lanes have been included on the roads in many towns to accommodate bike safety.
See Also: What Salary Do You Need to Live in Oakland, CA?
Things to Do in California
While just driving along the California coastline that stretches from Mexico to Oregon can be dramatic and spectacular, there are few highlights you don't want to miss if you want to experience the best sights California has to offer.
Featuring the oldest and tallest trees in the US, the Redwood forests are not to be missed. You can take hikes and scenic drives through the national parks. There are camping sites and visitor centers to inform and guide you. General Sherman is a Giant Sequoia in the Sequoia National Park. It is one of the largest trees in the world. This forest contains five of the tallest trees on the planet.
LA is renowned for its gorgeous beaches. Venice Beach is one of the most stunning. The active culture around the beach hosts street performers, and runners, cyclists, and skaters. Muscle Beach is the famous spot where the out-door, beach-side gym attracts bodybuilders. There is no shortage of shops and great restaurants in Venice Beach.
For theme park lovers, Disneyland is a popular stop. With all the rides and famous Disney attractions, it is one of the most popular destinations in the state of California.
For sports lovers, those who enjoy swimming, boating and hiking in the summer, and skiing, snowboarding, and snowmobiling in the winter, Lake Tahoe is one of the most beautiful mountains in California. The activities, shops, artist boutiques, quaint towns, and mountainside resorts have something for everyone.
Depending on whether you prefer cities or the countryside, it will help narrow down the multitude of choices of spectacular places to visit in California. The Hollywood Walk of Fame is a destination for those that love cities and cinema. Death Valley and Yosemite National Park are perfect for nature lovers. Take a wine train, a ferry to tour Alcatraz, or get a sourdough bread bowl filled with clam chowder on Fisherman's Warf in San Francisco. There are no wrong choices.
Schools and Universities
Public schools in California are suffering from insufficient funding. Public schools have some of the lowest test scores in reading and math in the country. There are a number of private education systems that excel in education.
While the public school system may need improvement, California more than makes up for that deficit by having some of the most prestigious universities in the country. The state university system contains around 430,000 students, is in-state funded, and has world-class public and private universities.
The most prestigious of these universities include Stanford, Cal Tech, and the Universities of Southern California, Los Angeles, Berkeley, and the University of California. Some of the most renowned Schools of Acupuncture and Oriental Medicine are located in California.
How to Become a California Resident
Live in California for 9 months out of the year. If you are trying to qualify for state tuition, you must live in the state for 366 days and move there to live in the state, not just attend school.
Lease a house or apartment and have a legal address.
You can get a California driver's license by showing documents that prove that you live in the state.
California DMV
The California DMV has had some growing pains. Having been established for 100 years, by 2017, it had registered more than 35 million vehicles. It employs over 8,000 people and has 200 offices statewide. It is best to make an appointment before visiting the DMV. The best times to visit with the least wait are early morning or after the lunch rush between 2 and 4 P.M. Driver's licenses can be renewed by mail or online.
By the summer of 2018, reports began filtering in through the media of the slow-moving lines and uncaring workers. The wait in line for some people has been five to six hours. In order to combat these issues, last August, the DMV took several new steps.
In response to the criticism, several of the busiest offices extended their hours of operation. They are piloting self-check kiosks, and text messages for those who want to check in then leave while waiting for an appointment.
They are installing DMV Self-Service Terminals to locations outside the DMV in supermarkets and libraries. The kiosks can be used to obtain vehicle registrations. They are also branching out to third-party services to renew vehicle registrations, filing driver license change of address, and transferring vehicle ownership.
Best Places to Live in California
Before deciding where you want to live in California, remember it is a large state with a variety of options for weather, culture, entertainment, employment, and cost of living. Choose your geographical preference and then take a look at the list of best places to live in California.
1. Santa Monica
Located west of downtown L.A., Santa Monica is ideal because of its weather, nightlife, and outdoor activities. It's one of the cities known for its outstanding public school system. It even has great neighborhoods.
Many of the job opportunities revolve around tourism, hospitality, and creative services. Santa Monica is progressive in its pursuit to be a Green city and promotes environmental sustainability and eco-friendliness. If you are active, it is the ideal city for surfing, biking, running, and beach weather.
Consider Santa Monica if you have children and want your children to attend a good school system. It's a great option for those that care about the environment and desire a strong and safe community. If you are looking for a socially aligned and diverse profession, there are unique job opportunities in Santa Monica.
2. Irvine
Located in Orange County, Irvine is another city with a great reputation and outstanding school systems. In Irvine, you will get the quaint feel of an urban, suburban mix. There are loads of coffee shops, restaurants, and is close to parks. This city is ideal for young families and tends to have moderate political views.
Less than 300,00 people live in Irvine. It's ranked at the top of the lists for the healthiest cities and cities with the best public schools. It has extremely low crime rates. It's a safe and happy community ideal for those that want to be close to the beaches and hiking trails. There is plenty of access to outstanding parks and trails.
Irvine boasts cultural diversity and a variety of cuisine options. New businesses are growing in Irvine offering employment opportunities. Residents describe Irvine as a "bubble" city, clean, safe, friendly, and close to the airport, shopping, and beaches. If you are looking for a friendly community that has the perfect climate and an excellent school system, consider Irvine.
3. Coronado
Coronado is located in San Diego. It is an island strand that connects to the mainland, creating San Diego Bay. Residents can enjoy the ocean or bay side of Coronado. Coronado began as a resort destination. Its name means "crowned one" and while once established for modest vacationers, it has bloomed into a magnificent residential community.
There are many servicemen and women living in Coronado. It's home to two Naval stations. It is a training center for Navy Seals who can often be seen working out on the beaches.
Why consider Coronado? The community is close-knit and chock full of things to do and places to visit. It's a great place to raise a family with its perfect climate and ocean and bay views. There are lots of cultural experiences close to Coronado. The school system is excellent as well as its recreational department which has sports leagues and cultural opportunities for adults and kids. The housing market is stable and there are some of the most scenic golf courses in California.
Also Read: 11 Largest Cities in California
4. Los Altos Hills
Named one of the top five suburbs to raise a family in the San Francisco Bay area, Los Altos Hills get a grade of A-plus. With a small population of around 8,500 people, it offers a distinctly rural feel. However, there are still many restaurants, coffee shops and parks to enjoy. The quiet community has many retirees living there and has moderate political views. The public school system is highly rated.
A suburb of San Jose, over 90% of the residents of Los Altos Hills own their own home. There are excellent employment opportunities in the area and the average household income is $250,000 a year. While the cost of homes in Los Altos is on the high side, it does provide excellent school systems and great safety. There is not a lot of ethnic diversity in Los Altos. You will need a car to live here as there are not a lot of walkable places to visit within the city.
If you are looking for a quiet neighborhood, perfect for walking, biking, hiking, or jogging, you will love Los Altos Hills. It gives the feeling of wide-open spaces while still being accessible to major freeways. There are lots of jobs and activities, but it is far enough from the noise and bustle of the big city to be relaxing. It's an excellent place to raise a family.
5. Belmont
Named the 8th best place to live in San Mateo County, Belmont is a suburb of San Francisco. It has a population of 27,000 residents and is a suburb with an urban feel. Belmont has many coffee shops, restaurants, and parks to choose from, and their school district is highly rated. It is halfway between San Francisco and San Jose making it easy to commute to either city.
Belmont is rated highly as an ideal suburb for young professionals. There is ethnic and economic diversity, and it is a safe and welcoming community. It has a great reputation for its job rate, business growth, and has a reasonable cost of living.
Those people who have lived in Belmont, describe Belmont as a beautiful city with very friendly neighbors. Highlighted by beautiful trees, the streets and hills are perfect for walking or bike riding. The schools are amazing and the community provides you will all the resources you need. Belmont is safe, has lots of job opportunities, even for teens.
The weather is mild with gentle winters and pleasant summers. While housing is a bit pricey, it is a loving place to live.
6. Aliso Viejo
If you are looking for the ideal suburb in Orange County, close to Los Angeles, Aliso Viejo is nestled in the surrounding hills. This larger suburb is a fairly new city. It has great public schools and a neat organization of its housing system. It has many wonderful shops and businesses. It's also close to the gorgeous Soka University.
Because of its location in the hills, Aliso Viejo has access to numerous trails if you are into hiking, biking, or running. This residential city is the perfect place to raise a family as the school system is so good and most of the residents own their own homes. There are plenty of coffee shops, bike shops, big stores, and a good mix of just about everything.
What Aliso Viejo doesn't have is night clubs. It is a quiet city in the evening. It has clean and accessible dog parks. There is abundant parking in town with access to the shopping centers and grocery stores. The town is scenic and beaches are a short drive away.
Aliso Viejo has a booming economy. It was ranked the 3rd safest town in the nation. It's family-oriented, has lots of opportunities for walks, hikes, and exercising, and it is close to the beaches. The housing is on the expensive side, but the school districts are great and the city is very family-oriented. Those who live in this town rate it 5 stars.
See Also: Moving To Roseville, CA – Relocation Guide for 2022
FAQs
Is moving to California a bad idea?
Being one of the largest states in the US, California is a bit expensive to live in. So, if you are willing to spend a large amount of your salary on housing, transport, and your lifestyle; it is a great idea to move to California.
How much money do I need to move to California?
It depends on which city of California you are to moving to. For instance, if you are moving from Los Angeles, you'll need a minimum savings of $10,000, or if you have traveled much and know the risks, $7,000 shall do the job.
What are affordable places to live in California?
The top 5 affordable cities of California are Oxnard, Camarillo, Ventura, Simi Valley, Vacaville.
See Also: What Salary Do You Need to Live in Fresno, CA
Is California a good state to live?
Yes. With an awesome cosmopolitan vibe, outstanding outdoors, world-class restaurants, excellent weather, California is the best state to live in. But as compared to other states, the cost of living in California is high.
Is 60k a good salary in California?
Yes, 60k is a decent amount to live in California. But if you wish to have a great lifestyle and live comfortably, you need an 80k salary.
---
Conclusion
There are so many beautiful places and natural wonders in the State of California, it is difficult to point them all out. No matter what your preference, city life and cultural experiences, small towns or remote countryside, beaches or mountains, you will find it all in California. Discover the beauty of the coastline or the wonders of wine country, but no matter where you land in the Golden State, the weather will be amazing, the people will be friendly, and you will be thrilled to call it home.
Useful Resources: Moving from Texas to California | Moving from New York to California
Enter your information
Almost done!
Enter your information to view your quote.
Your information is safe with us. By using this service, you agree to receive email communications solely regarding your relocation process