Moving To Arizona – Relocation Guide for 2022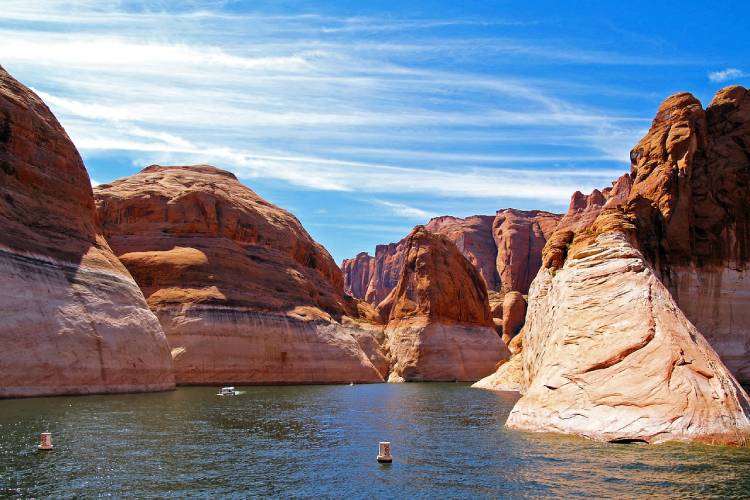 Arizona is filled with many experiences and opportunities. Its vibrant and diverse culture is shaped mainly by Native Americans who have added a substantial amount of uniqueness to the state. Speaking of size, Arizona is the 14th most populous and 6th largest state in America. Phoenix, being Arizona's largest city has the most hustle and bustle anyone can find.
But all of this is just the tip of the iceberg. If you're planning on moving to Arizona, you need to know all there is to know about this state. You've come to the right place! Read our detailed article and experience Arizona as we take you through all the aspects of this state.
Living in Arizona: What to Know Before Moving to Arizona
Each state has its pros and cons. Arizona has a couple of imperfections, but the pros outweigh all of them. Here are some good and bad aspects of Arizona:
Pros and Cons of Living in Arizona
Pros
The Winters: If you aren't fond of blistering winters, then Arizona is the place you should be. Its citizens enjoy going outdoors during this season as the temperatures are pleasant and a breather from the harsh summer. Arizona's peak winter season is usually in July, where the average temperatures are within the 17°F to 70°F bracket (night and day). If you head towards Phoenix, the capital, this city sees ever more pleasant temperatures that range between 46°F to 69°F.
Plus, you'll receive snowfall only in the northern part of Arizona. Throughout Arizona, there's barely any.
The Economy: Do you know that Arizona's economy is bigger than Ireland's? Its GDP is in 2020 was roughly around $320.66 billion. According to Forbes, that figure makes it the 19th biggest economy in America. Sure, its economy took a dip because of the COVID-19 pandemic, but it still remains one of the nation's top economic contributors. If Arizona were a country, its economy would outshine New Zealand's and Finland's as well.
The Booming Job Market: Such a huge economy will surely create numerous employment opportunities. Arizona runs its wheels on defense, healthcare, manufacturing, and tech spheres.
You should know that Phoenix and Tucson offer a variety of blue-collar jobs since a majority of the industries are based in these two cities.
Cultural Diversity: If you're looking for a culturally diverse place to raise your child, then you would be glad to know that 25% of the population comprises Native Americans in Arizona.
Cons
The Traffic: The traffic can be a bit of a pain especially during the winters. Due to its ideal climate, people try to make the best of this season which results in traffic jams. The interiors of Arizona might not experience much of this problem, but major cities like Phoenix and Tucson are affected the most by traffic.
The Summers: There is a reason why we mentioned the winter season first at the top of our list. Summers are hot and humid in Arizona. You will see temperatures rising from 90°F to 120°F in most parts of the state. Carry sunscreens and extra pairs of light-colored clothes to combat the heat.
Also, flash floods happen pretty much throughout the state from mid-June to the end of September. That's when the monsoons begin. Raincoats and umbrellas are a must during this time.
Public Transport: Major cities like Phoenix and Tucson have decent public transportation services, but some remote parts of Arizona do not see any public transit. This becomes extremely frustrating for those who do not have cars. Since most people prefer driving, the public transportation system in Arizona is neglected by the authorities.
Carry a set of gloves as well, because the steering wheels can get really hot during the summer.
See Also: 8 Best Moving Companies in Arizona
Tax Rates
When it comes to taxes, Arizona will ensure you have some spending cash left. Use this money to pamper yourself with some comfort food. What facilitates this is the below-average income and property tax rates. Driving will be cheap as Arizona has the 4th lowest gas tax rate in America.
Arizona has a base income tax of 2.59% which is pretty low as compared to the other states. Depending on how much you earn, the tax rate can hit 4.50%. Basically, the more you earn, the more your income will be taxed. According to NeighbourhoodScout, your income tax should come to approximately $10,817 per year.
Sales tax rates are a bit on the higher end in Arizona. The base sales tax rate in this state can fluctuate between 5.60% to 11.20%, depending on which part of Arizona you live in. Not all purchases of items are taxed in this state (groceries, gasoline, and over-the-counter medicines are not taxed); however, furniture, home appliances, and motor vehicles are taxed upon purchase.
Also, Arizona boasts of property tax rates below the national average. The average effective property tax rate in this state is just 0.62%. So if you lived in Arizona, you would pay about $1,709 per annum on these taxes.
Housing Market
If you're looking to purchase a house in Arizona, you might want to start saving first because the median home cost in this state is $349,300. This is 19% higher than the national average. Such exorbitant increases in real estate prices are due to the sudden influx of people moving to Arizona.
The average market rent per month stands at $1,768. You can easily rent a 3-bedroom home or apartment in Phoenix or Tucson within this amount. Also, this option is more economical if you don't plan on purchasing real estate.
Cost Of Living
As per data shared by BestPlaces, Arizona is slightly higher than the national average on the cost of living index. This makes this state a bit expensive, but you don't have to cut a lot of costs to live here. Utilities and real estate bump up the prices a bit.
Typically, a US household spends $2,060 on average per year on utilities. If you do the math, that would be $171 per month. In total, you would pay approximately $352 per month in Arizona, which means you will be paying 105% more than the national average. That is quite an enormous margin!
Weather
As stated earlier, Arizona has temperate winters but harsh summers. The best time to visit this state is during the autumn season that lasts from September to November when the temperatures are much more lenient than the peak of summer. You will have day temperatures within 65°F to 85°F on average and the nights are much better.
Arizona is least appealing from June to August. Temperatures are blazing during this time and you'll surely feel uncomfortable since you're not used to the climate. Storms, tornadoes, and flash floods usually occur during these months as well. Hence, frequently check the weather forecasts for potential hazards before your move.
Economy
We stated earlier that Arizona has a huge economy; even bigger than some countries! This state primarily gains its revenue from the manufacturing sector. Many of the nation's aerospace and electronic equipment comes from Arizona. Tagging along, we have tourism, business services, and back-office operations doing their fair share of contribution as well.
We're sure you're keen to know how much you'll earn in Arizona. Stats from DataUSA says that an average annual household income is $62,055, which admittedly is slightly lower than the US average of $65,712.
Given how massive Arizona's economy is, its unemployment rate stands at 6.5%; the national average is 6%. Like most states, Arizona has succumbed to the effects of the pandemic, where the job market was hit the most. Hence, such a rise in unemployment rates in the state.
Traffic and Transportation
Being the fifth most populous state in America, you can be sure to expect a lot of traffic in this state. If you decide to drive in Phoenix, prepare to endure at least 34 hours a year in traffic. There are a total of 6 interstate highways where Interstate 10 (I-10) is the longest of them all.
People usually prefer driving in this state, but as far as public transportation in Arizona is concerned, it is underdeveloped. You'll have some amount of convenience if you live in the Phoenix and Tucson metropolitan areas because all the major bus transits begin from these areas. To travel within the state, Greyhound Line is your best bet. For out-of-state commutes, the Navajo Transit System from Flagstaff which commutes through New Mexico and Window Rock would be your best option.
For rail transit, Amtrak serves a couple of routes. The Southwest Chief and the Texas Eagle carry passengers to almost every major city of the state.
See Also: What Salary Do You Need to Live in Tucson, AZ?
Schools And Universities
Sad to say, the public school system in Arizona is among the worst in America. As per WalletHub, the state has the worst dropout rate and highest pupil-to-teacher ratio. You might want to think about this factor especially if you have children.
However, the higher education system in Arizona is pretty decent. These are some of the most recognized universities and colleges in this state:
Arizona State University
University of Phoenix
Argosy University
Maricopa Community Colleges/Phoenix College
Grand Canyon University
Western International University
Thunderbird School of Global Management
These colleges have a wide range of undergraduate and master's degree programs for you to join.
How To Become An Arizona Resident
You're considered an Arizona resident after you have completed 7 months of living in Arizona. You also need proof such as utility bills and employment records to prove you have lived in this state. Having a business in Arizona can declare you as a resident as well.
After establishing some sort of residency, you need to first give up your previous state's license and vehicle registration and then apply for a new license and register your vehicle under Arizona's DMV. Arizona state law suggests immediately register your vehicle as soon as you find a home.
Vehicle Registration
If you're registering your out-of-state vehicle for the first time, you need to personally fill the forms out at an MVD office. Renewing your license can be done online after you gain a permanent one registered under Arizona's DMV. To apply for a new license, you need the following:
Your out-of-state registration certificate and license plates
Proof of vehicle ownership (car insurance)
Proof of car insurance
Filled Title and Registration Application
Some sort of proof of vehicle ownership
Photo ID
Money to pay the fees
If you cannot produce these documents for whatever reason, you can apply for temporary registration.
Also Read: Moving To Tucson, Arizona
Places To Visit in Arizona
Although Arizona is home to many monuments and national parks, its canyons are the main highlight of the state's aesthetics. It's called the Grand Canyon State for a reason. If you're much of an adventure freak, you can start out with the following places below:
1. Antelope Canyon
This place is prone to frequent flash floods and you may need to take a guide with you for added safety. But when you've crossed that, you'll certainly be smitten by its beauty. This place saw many pronghorn antelopes back then, hence it was christened the 'Antelope Canyon'. This place is so enormous, that there are two parts to it – the upper and lower canyon. If you're here just for a casual glimpse of the place, the upper canyon will give you a birds-eye view of the place.
2. The Grand Canyon
The Grand Canyon is voted as one of America's most beautiful places to visit and you might be familiar with the name. This place is so huge that it can be seen from space. If you want to explore more of the Grand Canyon, the place has several mule rides and white river rafting expeditions along the Colorado River.
3. Petrified Forest National Park
The name itself sounds pretty petrifying, right? What's more petrifying is the fact that this whole forest has been fossilized. Declared a national park in 1906, this place possesses a lot of aesthetic value. In fact, you'll be astonished by what Mother Nature is capable of with each mile you walk in this terrain.
4. Musical Instrument Museum
This place is for all the history fanatics. You don't always see a special place dedicated to preserving musical instruments. Home to over 15,000 instruments in its galleries, this is a sight all you music buffs won't want to miss.
Also Read: Moving To Phoenix – Relocation Guide
Best Places to Live in Arizona
Scottsdale
As a low-crime area with abundant aesthetic beauty, Scottsdale is the perfect place to retire or raise a family. There are a lot of people bicycling and jogging on the pathways here because residents prefer a healthy lifestyle. In addition to the McDowell Sonoran Preserve, Butterfly Wonderland, Southwest Wildlife Conservation Center, and Penske Racing Museum, Scottsdale offers many things to see and do.
Population: 250,602
Median Home Value: $475,300
Annual Median Household Income: $88,213
Monthly Median Rent: $1,365
Mesa
Mesa is a city with many opportunities for people from all walks of life. It's the third-largest city in Arizona. If you're looking for a job or want to start an education, you'll find plenty of opportunities here. The proximity of stores and restaurants makes Mesa even more attractive. Those who love the arts should check out the Mesa Art League, Artists Cooperative Gallery, and Millet House Art Collective.
Population: 499,720
Median Home Value: $226,500
Annual Median Household Income: $58,181
Monthly Median Rent: $1,044
Tempe
A more outdoorsy scene exists in Tempe. To prove that, Tempe Town Lake and Kiwanis Park are ideal for camping, hiking, and kayaking. In the downtown area, you'll find a variety of ethnic restaurants, shopping stalls, and malls. Furthermore, the nightlife in this city is vibrant. There's no doubt that you'll feel a few years younger around Arizona State University, given the influx of youngsters.
Population: 187,454
Median Home Value: $272,900
Annual Median Household Income: $57,994
Monthly Median Rent: $1,164
Conclusion
Arizona has a lot to offer you. It's vibrant, loud, and has some of the best job markets in the nation. If you're seeking something unique, or just need a change of pace, moving to Arizona will be your best and wisest choice yet.
FAQs
Is It Expensive To Live In Arizona?
The cost of real estate, utilities, and sales tax is a bit on the higher side in Arizona. But you don't have to worry because Arizona has a booming economy. The job market is vast and we're sure you can find a good-paying job for yourself.
Is Arizona A Good State To Move To?
Arizona is quite a pleasant state to move to. The winters are pleasant and the neighborhoods are enriched with diversity. Arizona will be a perfect fit if you can cope with some of the negatives of this state (hot summers, poor public school system and transportation, and a higher cost of living).
See Also: Largest Cities in Arizona
Where Should I Move To In Arizona?
Scottsdale, Mesa, and Tempe are some of the safest and friendliest neighborhoods of the state.
Read Also: Moving Companies to Move to Arizona
Enter your information
Almost done!
Enter your information to view your quote.
Your information is safe with us. By using this service, you agree to receive email communications solely regarding your relocation process