Moving To Connecticut – Relocation Guide for 2022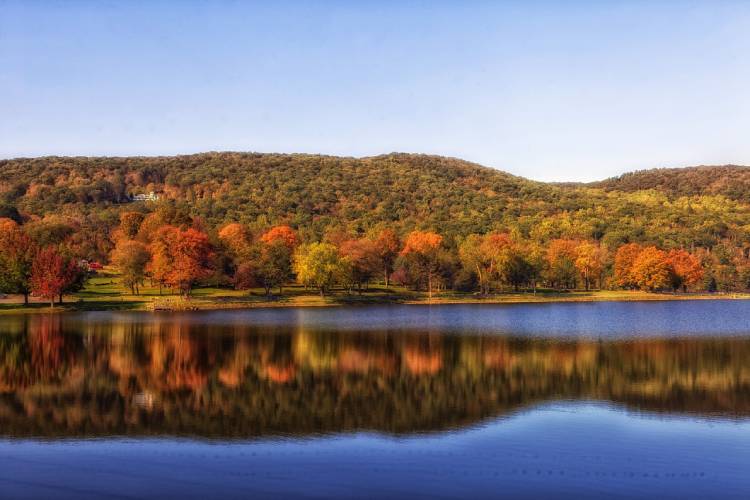 The New England region of the US has a whole different vibe altogether; maybe it's the East Coast breeze that brings about that distinct ambiance to these states. Embedded in the southernmost part of the New England region, we have America's third smallest state by area, Connecticut. This state was once a Dutch settlement that was later colonized by the British in the year 1630. It was during the American Revolution, Connecticut did away with the British regime and was later admitted to the Union in 1788.
However, Connecticut is more than just a state with a rich historical background. To know more about what the state offers, keep reading our article which will, in turn, help you to decide whether moving to Connecticut works for you or not. 
Living In Connecticut: What To Know Before Moving To Connecticut
What Are The Pros And Cons Of Living In Connecticut?
Pros
Wonderful Seafood: If you're a foodie, then Connecticut will surely make you crave for its cuisine. The state is known for its Apizza, lobster rolls, hot dogs and steamed cheese burgers.
Deep History: We touched a bit of Connecticut's history in the introduction. If you want to learn more about this state's roots, then you need to visit its museums.
Low Crime Rate: According to NeighbourhoodScout, the violent crime rate per 1,000 residents is 1.84, which is below the national median of 4. Property crimes are below the national median as well with the rate being 14.27 per 1,000 residents, again lower than the national median of 21.
Friendly Neighborhoods: People living in the New England area have a welcoming spirit in them. And Connecticut is not short of warm people. Expect new friends and relationships to be formed after moving to Connecticut!
Cons
High Cost Of Living: Living in Connecticut is a bit more expensive than the US average. You'll need to have a well-paying job to afford the rising rates.
High Tax Rates: Since the majority of the government infrastructure is constructed from the taxpayers' money, the rates are higher than usual.
Expensive Real Estate: If you plan on buying a house in CT, then you better have a big bank balance because real estate rates are not lenient here in this state. Even renting an apartment is expensive.
Frigid Winters: Pack an extra pair of jackets and coats to survive Connecticut's blistering winters!
Tax Rates
The tax rates in Connecticut are some of the highest in the country. The state income tax rate stands at 3% and extends up to 6.99% depending on how much you earn per annum. The sales tax rates are high as well. Since there is no local tax rate, Connecticut has its base sales tax rate at 6.35% which can even jump up to 7.75% on the rate of cars above $50,000. However, if a non-resident from Connecticut purchases a car from this state, the sales tax rate drops to 4.5%.
If you're looking at property taxes to ease your overall tax burden, then we should let you know that property taxes are the 3rd highest in the country with the average effective rate standing at 2.14%. Depending on which county you choose to live in, you can see yourself paying around $3,671 to even $7,393 per year on property taxes.
Housing Rates
Buying a house will be heavy on your pockets as well. The high property tax rates combined with the expensive real estate rates are something to be considered before moving to Connecticut. The median home value stands at $318,400 which is 9% higher than the national average of $291,700.
Renting will also not do you well since the average rent rates per month are above the US average as well. Here are the approximate rates at a glance for you to go through:
| | | |
| --- | --- | --- |
| Size Of The Apartment | Average Rent Per Month | US Average |
| Studio | $1,084 | $949 |
| 1-bedroom | $1,287 | $1,048 |
| 2-bedroom | $1,580 | $1,278 |
| 3-bedroom | $1,970 | $1,681 |
| 4-bedroom | $2,265 | $1,950 |
Cost Of Living
Connecticut has consistently ranked among the top states in the country with a high cost of living. Currently, it sits at the 40th rank just behind Vermont and after Nevada. On the cost of living index, this state scores 107.8 with utilities and housing costs being the main reason for its inflation.
You'd pay around $525 per month on utilities which are 30% higher than the national average.
Electricity: $148
Gas: $136
Water: $70
Sewer: $74
Cable: $46
Internet: $51
To put it shortly, Connecticut is an expensive place to live in. To live in this state, you may have to do some serious budgeting and cut down unnecessary expenses.
Weather And Natural Disasters
Connecticut has hot and humid summers whereas its winters are cold mainly in the interior parts of the state. The winters along the coastal region of Connecticut are much milder, but you will be much closer to the state's humidity.
The average high temperature on a hot summer day falls between 78°F to 85°F. Some inland areas like Hartford and Danbury see temperatures crossing 100°F during the peak summer season. On the contrary, night times are a bit warmer ranging in the 55°F to 65°F zone, so you might require to decrease the aircon temperature a bit to combat the warmness.
Winters are frigid in this state with temperatures going below freezing. Therefore, packing a couple of extra woolen clothes and gloves is mandatory if you want to survive Connecticut's winter temperatures. Snowstorms are consistent in this state especially during the peak winter season, so you might want to check forecasts before moving to any place. The average temperature during winter is between the cold 13°F to 39°F. If you live in Hartford, the winter temperatures are slightly lenient (18°F to 45°F), but you would still require a jacket and a pair of gloves to keep yourself warm.
Economy
Connecticut has a GDP of $241.05 billion in 2020 and stands 22nd in the economy rankings list. This healthy GDP is attributed to the state's manufacturing, finance, insurance, and health sectors. Also, tourism has contributed a significant amount to the state's economy with Foxwoods Resort Casino and Mohegan Sun raking in tourists from all parts of the country.
To give you a bit more clarity about Connecticut's booming economy, here are some of the top companies that have been most instrumental in not only contributing to the state's GDP but also providing numerous job opportunities for the people.
Glencore
XPO Logistics
Charter Communications
Amphenol
Otis Elevator Company
Baker Hughes, a GE company
Stanley Black Decker
Henkel
Aetna
First Health Medical Group
Connecticut has a pretty diverse economy. However, the most flourishing industries of the state are more towards the technical end, and finding employment for non-technical jobs can be a bit of a challenge in this state. The unemployment rate in Connecticut stands at 8.3% which is above the national average of 6.0%.
However, if you land yourself a lucrative job in any of the state's most prominent sectors, you'll be earning more than the rest of the country.
| | | |
| --- | --- | --- |
| | Income Per Year | US Average |
| Average annual income of a Connecticut resident | $38,485 | $28,555 |
| Annual median household income | $69,900 | $53,482 |
Traffic And Transportation
Connecticut's roads are ranked as some of the worst in the country. Keeping this in mind, it won't come as a surprise when we tell you that traffic congestion is a major problem in this state. Adding to the congestion, you'll have work traffic coming from New York City and Boston as well. So don't be appalled if you reach home a few minutes late.
On the other hand, the public transportation system in Connecticut is some of the best in the country. Due to its diminutive nature in landmass, the government can easily afford public transit touching even rural parts of the state.
Buses
CTtransit under the ownership of the Connecticut Department of Transportation caters to the bus services statewide. Residents from major cities like Hartford, Stamford, Norwalk, Bridgeport, and New Haven are entirely dependent on the bus transportation system for getting around different places in the state. Also, if you need to travel between New Britain and Hartford, use the CTfastrak service, a bus rapid transit, for even better traveling efficiency.
Rail
Connecticut has a pretty decent rail system as well. You can travel around the state even if you don't own a car.
Metro-North: Has services traveling through Greenwich and New Haven, reaching up to New York City.
Shore Line East: Rail services passing through New Haven and New London.
CTrail Hartford Line: Hartford, New Haven, and Springfield are covered by this rail line.
Schools And Universities
The New England region has given the country some of the best schools, colleges, and universities. And Connecticut is not short of good educational infrastructure. This state's educational districts record some of the highest graduation rates (above 80%) in the country. So if you're seeking quality education for your children, Connecticut has got you covered.
Out of the 1000+ schools Connecticut has, we have narrowed down the ones which are well recognized by parents. Here are some of them at a glance:
Elementary
Coleytown Elementary School, Easton Road Westport, Westport School District
Tashua School, Stonehouse Road Trumbull, Trumbull School District
Middle
Middlesex Middle School, Hollow Tree Ridge Road Darien, Darien School District
Smith Middle School, Addison Road Glastonbury, Glastonbury School District
High
Wilton High School, Danbury Road Wilton, Wilton School District
Glastonbury High School, Hubbard Street Glastonbury, Glastonbury School District
Colleges And Universities
Yale University, New Haven
Trinity College, Hartford
Quinnipiac University, Hamden
University of Connecticut, Storrs
The United States Coast Guard Academy, New London
Furthermore, the state has 12 community colleges affiliated with the Connecticut State University System as well.
Places To Visit
1. Lighthouse Point Park
Located in New Haven, Lighthouse Point Park has a lot to offer in terms of entertainment. One notable attraction is the Lighthouse Point Park Carousel. Built in 1916, this carousel is still among the 100 others that are functioning to this very day. The place is even open for private functions, so if you want to celebrate your birthday while admiring the view of the carousel, then come to Lighthouse Point Park.
2. Sheffield Island Clambake
You can learn a lot about Connecticut's seafood cuisine by visiting the Sheffield Island Clambake in Norwalk. The Norwalk Seaport Association hosts the clambake event every Tuesday in August at prices that aren't heavy on the pockets. Enjoy an assortment of fresh clams from the sea, delectable lobsters, baked potatoes, and buttered corn while staring into the vastness of the East Coast.
Other Notable Places Worth Visiting
Two Roads Brewing, Stratford
Hammonasset Beach State Park, Madison
Elizabeth Park Rose Garden, Hartford
Club Getaway, Kent
Best Places To Live In Connecticut
Greenwich
Greenwich is more of Connecticut's opulent side. Located along the coast of Long Island Sound, this quaint town is just an hour's drive from New York City. Known for its proficient public school system, you can be sure that your child will receive a quality education in the best possible manner; this is one of the many reasons why people have been moving to this quaint town. You'll escape most of the heavy traffic by living in Greenwich which means that you'll be able to catch up on a good night's rest without the screeching sound of car tires.
Population: 62,587
Median Home Value: $1,251,200
Monthly Median Rent: $1,910
Annual Median Household Income: $152,577
Stonington
Stonington may not be as extravagant as other parts of Connecticut, but its historic elements add a whole different vibe to the atmosphere of the place. Much of that atmosphere can be felt when you visit downtown as many of Connecticut's Victorian mansions are preserved in that area. The Old Lighthouse Museum also contributes to that rustic vibe. Although there are not many things happening in this town, Stonington does have a couple of events for socializing and displaying some of the community's best local produce. People living in Stonington have close proximity to Dubois Beach, which is a great place for spending time with family and friends.
Population: 18,445
Median Home Value: $335,100
Monthly Median Rent: $1,133
Annual Median Household Income: $81,667
New Britain
Located just nine miles from the state's capital of Hartford, New Britain is another one of Connecticut's quaint cities free from congested traffic roads. This place was known as the 'Hardware City' because of the manufacturing industry's immense presence. Stanley Black & Decker, which is a Fortune 500 company, is headquartered in New Britain. If you're thinking of raising a family in New Britain, then you're making a good choice because most of this city's neighborhoods are safe and the proximity of supermarkets makes shopping easier.
Population: 72,767
Median Home Value: $160,800
Monthly Median Rent: $1,025
Annual Median Household Income: $46,499
Connecticut has its own personality that has contributed to making the state recognized by many. You'll find it's seafood cuisine, and humid climate either attractive or repulsive. There's no in-between. When it comes to living in this state, you'll have to be earning a lucrative amount to keep up with the rising costs. If you can manage with that, then moving to Connecticut is for you.
FAQs
Is Connecticut A Good State To Live In?
Connecticut has a lot to offer to newcomers. The beaches are clean, the people are welcoming, and the seafood cuisine is something to die for. The neighborhoods in this state are safe due to low crime rates and the educational facilities are much better than most states. If all those points satisfy you, then moving to Connecticut will be ideal for you and your family.
Is It Worth It To Move To Connecticut?
When it comes to the cost of living, Connecticut is much more expensive than other states. You'll have to cut some corners to afford the inflated rates of this state. But when it comes to the quality of life in this state, Connecticut's education and healthcare rank above the national average. Also, residents of Connecticut earn more than the rest of the country. Hence, it's safe to say that moving to Connecticut is worth it.
What Is A Good Salary In Connecticut?
Assuming that you don't have any children, you'd need at least $33,240 per annum to live a comfortable life in this state. However, if you're the sole working adult having two children, you'd need to rake in at least $85,860 per year to afford to live in Connecticut. If there are two working individuals in a household, the cost of living in Connecticut will be a bit more lenient.
Enter your information
Almost done!
Enter your information to view your quote.
Your information is safe with us. By using this service, you agree to receive email communications solely regarding your relocation process