Moving From New Jersey To Florida – A Detailed Guide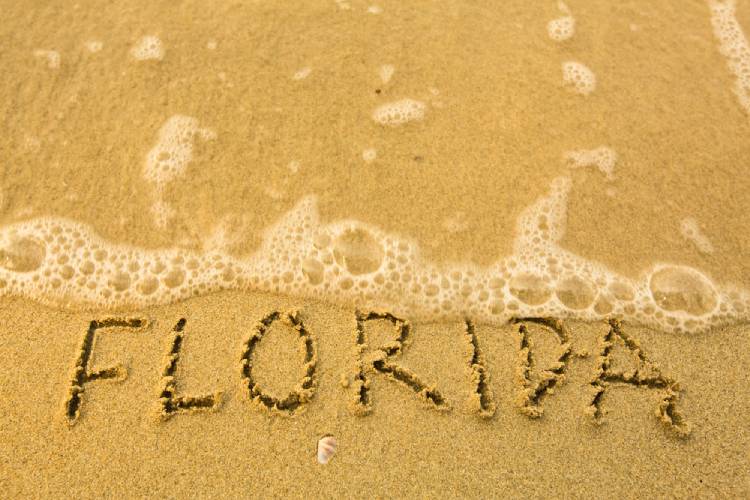 Florida is the place to be if you love beaches, Disney, and a relaxed lifestyle. It's not just the touristy places, Florida is a state with vast diversity and a great economy. If you think New Jersey is the only state with pristine beaches, wait till you hear about Florida.
Considering moving from New Jersey to Florida? We'll go bit-by-bit into each and delve into every aspect of Florida's good and not-so-good points.
Some Crucial Points To Explore Before Moving From New Jersey To Florida
Weather
The only thing you might miss from New Jersey is their temperate summers. A typical day during the peak summer season in this state is between 79°F to 89°F whereas Florida sees an average high temperature of 90°F to 92°F. Prepare to embrace loads of sunshine in Florida. Talking about sunny days, Florida has 237 sunny days per year while New Jersey has 206 of those days.
As far as winters are concerned in Florida, their daytime temperatures are pleasant. You should expect temperatures between 62° to 70°F during the peak winter season. In some southern parts of the state, the temperatures can vary between 68°F to 76°F. So if you want some of that beach sun, this is the best time to head towards Miami. Carry a few extra woolen clothes as some parts of Florida can head towards the 35°F to 37°F zone; besides that winters aren't much of a concern.
Get your umbrellas and raincoats out of your closet because Florida receives more rain than New Jersey. On average, Florida receives an amount of 55 inches of rain per year with August being the wettest month. On the other hand, New Jersey receives a substantial amount of 48 inches of rain per year.
Not a fan of snowfall? Then you'll love the idea of moving from New Jersey to Florida. New Jersey receives a substantial amount of 23 inches of snow per year. On the brighter side, snowfall is rare in Florida, so you won't have to fret about your car getting damaged by the melting snow in Florida.
Key Points About Florida's Weather
The best time to move to Florida is during spring (March to Mid-May). In this period, the sea temperatures are between 70°F to 75°F, which makes sea-related activities like surfing and swimming enjoyable.
Summers are scorching. Don't go out unless it's an emergency. Carry sunscreen and wear light clothing to ease the heat off.
You need to take care of the wet season in Florida, which lasts from May to October. Thunderstorms and hurricanes are frequent during this time, so read weather forecasts thoroughly before heading out of your house.
Cost Of Living
Knowing how much you are going to spend in your new neighborhood is important. And we have good news for those moving from New Jersey to Florida: Florida is 16.8% cheaper than New Jersey. That is quite a huge margin! This stark difference is attributed to the fact that real estate in Florida is 32% less than in New Jersey. Along with that, Florida's taxpayers pay the least on property taxes (0.83%) while New Jersey's citizens pay an astounding 2.42% If buying property is not what you want, then having something on rent is your next viable option. Again, rent is around 26% less in Florida than in New Jersey.
| | | |
| --- | --- | --- |
| State | Median Home Value | Average Market Rent |
| New Jersey | $401,877 | $2,424 |
| Florida | $271,171 | $1,774 |
Taxes
Coming to taxes, Florida has no state income tax, but has a pretty steep base sales tax (6%). Nevertheless, you will still be saving 8.3% on clothing in Florida than in New Jersey. The only redeeming quality of New Jersey's taxes is their base sales tax; it starts at just 3%. But, their state income tax can go as high as 10%. Therefore, we can conclude by saying that you'll be saving a ton of money on taxes in Florida.
Groceries
Good news once again! You'll be saving 8% on groceries here in Florida than in New Jersey. To show you how much you will be saving, a loaf of bread ($2.84), around a pound of cheese ($5.44), one dozen eggs ($2.40), and around a pound of bananas ($1.62) would cost $12.3 in total. The same would cost you approximately $14 in New Jersey. More food!
Utilities
Basic utilities (electricity, gas, water, heating) will be cheaper in Florida than in New Jersey. A Floridian pays an average of $118.67 per month on utilities, which is 9% less than what a New Jerseyan spends ($131.15). However, a basic internet plan in Florida is slightly expensive, but it is just 2% more than the actual rate in New Jersey. For a 50 Mbps connection in New Jersey, the cost is $65.82 while the rate for the same connection is $67.23 in Florida. You won't have to cut corners to watch your favorite Netflix shows.
Economy
We know how well a state is doing by looking into its economy. A strong economy means stable inflation, good economic growth, and a high production value. Florida and New Jersey both have steady economies, but Florida has a higher value of growth than New Jersey. The difference can be seen in their GDPs: Florida has a GDP of $935.67 billion whereas New Jersey has a GDP of $534.13 billion.
New Jersey runs its wheels primarily on the financial services, pharmaceuticals, and transportation industry. You'll find several Fortune 500 companies based in New Jersey too. On the other hand, Florida rides on the back of these industries stated below:
Tourism
Agriculture
Aerospace and Aviation
Life Sciences
With such a diverse job market in Florida, you'll be able to bank a lucrative job. Also, Florida's booming economy is reflected in the unemployment rate. As opposed to New Jersey's unemployment rate of 7.3%, Florida's rate stands at 5.1%, which is significantly lower than in New Jersey.
New Jersey has a pretty higher cost of living than Florida; hence, New Jerseyans earn slightly more than Floridians. That shouldn't be frightening as you'll be saving a lot more in Florida than in New Jersey.
| | |
| --- | --- |
| State | Median Household Income |
| New Jersey | $82,545 |
| Florida | $55,660 |
Assuming you don't have children, you need to make approximately $30,825 per annum to support yourself in Florida. However, if you have one child, you will need to make $64,317 to provide for yourself and your child.
Also See: Moving From California To Florida
Getting Around In Florida
People prefer getting around in Florida by car because driving is more convenient, and there are parts of Florida public transport does not reach. But if you need to get across any major city within the state, the public transportation system is quite decent.
For bus transit, you have the Miami-Dade Transit in Miami, the Hillsborough Area Regional Transit (HART) in Tampa, and the Lynx bus network in Orlando.
Where trains are concerned, Amtrak has 3 routes: Silver Star and Silver Meteor commute passengers from Orlando and Miami, and the Auto Train has a shuttle service from Lorton to Sanford.
Also Read: Largest Cities in Florida
What Makes Florida Special?
Florida has a booming economy with a vibrant job market. You can be sure of finding a well-paying job in Florida as its economy is not restricted to one industry only. So, happy job hunting!
The generally warm weather of the Sunshine State makes it perfect for those who enjoy the outdoors.
Another point that makes Florida a better place than New Jersey is that Florida has no state income tax. Bravo! You now have more money in your pockets!
See Also: Moving to Florida | Relocation Guide
Top Places To Move To In Florida
Tallahassee
If you're looking for a safe city in Florida, then Tallahassee is your best bet. Plus, with education being Tallahassee's strong point, you should consider moving here if you have a family. With Florida State University and Florida A&M University based here, you'll surely see a lot of young adults strolling down the street. Apart from that, you can delve into a bit of history by visiting the Tallahassee Museum of History and Natural Science, Challenger Learning Center, and Tallahassee Antique Car Museum.
Median Home Value: $220,100
Monthly Median Rent: $1,368
Annual Household Income: $39,407
Tampa is usually a one-stop shopping destination. Its streets are lined with numerous restaurants and malls. Various opportunities are available for its residents to grow in the community thanks to its colleges and the growing job market. While the weather can sometimes be extreme here, when it's calm, it's perfect for beach days and parks. This city has plenty to offer: you can explore the Science and Industry Museum or go back in time a little bit at the Tampa Bay History Center.
Median Home Value: $306,900
Monthly Median Rent: $1,647
Annual Median Household Income: $43,740
Clearwater
In comparison with other cities, Clearwater has a moderate climate. Because of its low population and low traffic, this city is one of the best places to retire. Despite that, life here is anything but slack. The beaches are bustling with activity, and the marine aquarium attracts many people to this city. Take a trip to Down South Kite & Paddle on a warm afternoon to enhance your physical fitness as well as to see some water.
Median Home Value: $268,600
Monthly Median Rent: $1,580
Annual Median Household Income: $43,306
Some Points To Think About When Moving From New Jersey To Florida
Driving from New Jersey to Florida will take you approximately 17 hours while a flight will take you just 2 hours. The latter option is the most cost and time-efficient.
Before selecting a mover, check if they are first registered and insured. Many unauthorized moving companies try to scam customers by asking them for a down payment. If any moving company asks you for anything in advance you should withdraw from their proposal immediately. Be smart and avoid such companies.
We understand that moving is strenuous and time-consuming and it is something you just want to get done with. Especially at the time of getting quotes, you might go with the first one to finish things immediately. Don't let this impatience get the better of you. Request quotes from at least 3 movers to get a wider range of deals and offers on your move.
Store all your important documents (passports, property papers, licenses) in one place. You don't want to be searching for any of those items at the last minute.
Also See: Moving From Florida To North Carolina
How Much Will It Cost To Move From New Jersey To Florida?
Florida is 1,112.3 miles from New Jersey via I-95 S. Such a long distance move is going to cost you quite a lot of money. To reduce costs, you might want to check the season before making your move. Moving companies tend to charge at higher rates during peak moving season, so better check your calendars and plan ahead. The size and location of the place affect costs as well. The below prices do not include those costs:
See Also: New Jersey DMV Change of Address
| | | | | |
| --- | --- | --- | --- | --- |
| Size Of The Move | Moving Company | Moving Container | Freight Company | Truck Rental |
| Studio/1 bedroom | $1,730-$2,900 | $1,728-$2,350 | $1,427-2,030 | $900-$1,216 |
| 2-3 bedroom | $2,660-$4,200 | $2,590-$3,500 | $1,860-$2,640 | $1,060-$1,430 |
You can go about your move in two ways:
Hire a professional moving company
Rent a moving container or truck
A professional moving company is a bit expensive, but they will do all the packing, loading, and unloading for you. Some of them even offer junk removal for a small price. We'd recommend this option because your time and energy will be saved.
Renting a truck or a moving container is cheaper, but it's a bit strenuous. You'll have to do most of the hard work and in the case of renting a truck, even drive. If you have friends or family to help you with the loading and unloading, then you could go with this option.
Some moving companies offer auto transport shipping as well. If you want your car moved, you can bundle your move and the shipping service together for a discount.
You can go through our article How to Calculate Moving Costs for more information on this.
Conclusion
Let us conclude by saying that Florida is a pretty decent place to move to. And you should consider putting Florida on your bucket list. The beaches are clean and beautiful; the people are welcoming and the culture is filled with diversity. If all those factors tick your checklist, then Florida will be an excellent fit for you.
FAQs
What Is The Average Cost To Move From New Jersey To Florida?
To move from New Jersey to Florida, you'll need approximately $2,800 to $4,200. This is excluding packing, loading, and unloading costs. Also, the time, distance, and location of the move affect costs as well.
Is It More Expensive To Live In Florida Than In New Jersey?
Not at all. You'll be saving a lot more money in fact by moving from New Jersey to Florida. Housing is really cheap in Florida, so if it's your dream to buy a house, you should absolutely go for it.
Is Moving From New Jersey To Florida Worth It?
If New Jersey's high cost of living is not going easy on your pocket, then Florida is a better fit. You get well-paying jobs due to the booming economy in Florida and pay a minimum on taxes. What more could you ask for?
Enter your information
Almost done!
Enter your information to view your quote.
Your information is safe with us. By using this service, you agree to receive email communications solely regarding your relocation process