Moving From Florida To North Carolina – A Detailed Guide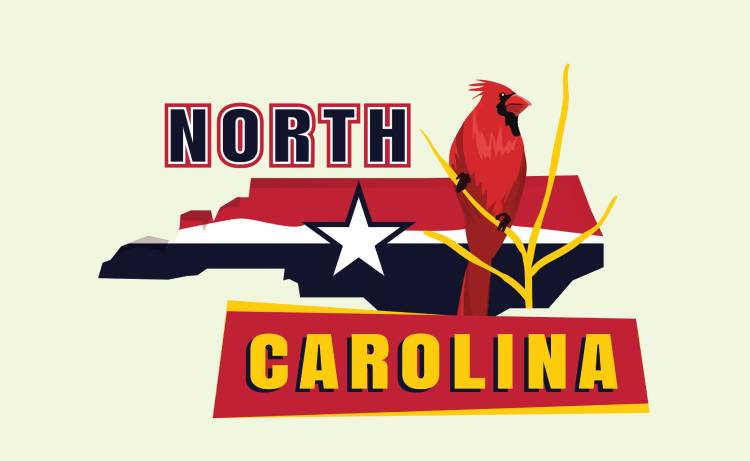 Is Florida's sunshine getting to you? Then move to North Carolina; its weather is much more pleasant and temperate. Apart from favorable weather, North Carolina boasts about its booming economy, thriving neighborhoods, and ethnic diversity as well. Approximately 40,000 Floridians have been moving from Florida to North Carolina for these same very reasons.
Want to know more about what North Carolina possesses? Then continue reading our article.
Some Points To Consider Before Moving From Florida to North Carolina
Weather
Florida has been termed The Sunshine State for a reason. Throughout the year, this state receives an abundance of 237 days of sunshine and dry weather, which can literally be "too hot to handle" for those who aren't fond of such immense sunshine. Summer temperatures in the Sunshine State are usually between 90°F to 95°F, but they rarely go above 100°F. Floridian winters are quite cold during the nighttime as the temperatures range between 35°F to 37°F; otherwise, daytime temperatures remain in the warm 62°F to 70°F throughout the state.
Summers in North Carolina are much milder since their temperatures range from the comfortable 77°F to 91°F. On the other hand, winters in North Carolina are comparatively colder as the temperatures fall between the 20°F to 36°F range.
Since North Carolina has a humid subtropical climate, you'll see some more rainy days, especially during the summer. So keep a spare raincoat or umbrella in the back of your car trunk.
See Also: Best Moving Companies In North Carolina
Cost Of Living
On the cost of living index, Florida scores 102 whereas North Carolina scores 90. This means living in North Carolina is more affordable than living in Florida. Transportation, utilities, and groceries are inexpensive in North Carolina. If you're looking to buy a house, real estate is 17% cheaper in North Carolina than in Florida. Even the property taxes in North Carolina (0.77%) are less than in Florida (0.83%) as well.
Median Home Value in Florida: $294,900
Median Home Value in North Carolina: $242,300
You can at least rent an apartment if you cannot afford to buy a house. Rent in North Carolina is much cheaper as well.
| | | | |
| --- | --- | --- | --- |
| State | 1-bedroom | 2-bedroom | 3-bedroom |
| North Carolina | $825 | $976 | $1278 |
| Florida | $1,105 | $1,355 | $1,800 |
Income and sales taxes in North Carolina are higher than in Florida. Maybe, a reduced tax burden is one privilege you will not be able to enjoy once you move to The Old North State.
No matter what, you'd be upset about one thing after moving from Florida to North Carolina. The reason being Florida doesn't have any state income tax! On the other hand, North Carolina has a steady top marginal income tax rate of 5.25%. Sales tax rates in Florida and North Carolina are 6.8% and 7.0% respectively.
See Also: Moving From North Carolina To Florida – A Detailed Guide
Job Market
Florida and North Carolina have massive economies catering to some of the top industrial, technological, and financial companies. Florida has a humongous GDP of $1.1 trillion in 2020 whereas North Carolina's GDP is close to $500 billion in the same year. Just because North Carolina's economy may not be as strong as Florida's doesn't mean it doesn't have opportunities. Once you're in NC, you will notice that its aerospace and defense, food processing and manufacturing, business and finance, automotive and heavy machinery, pharmaceutical and finance industries have been rapidly growing.
Here are some of the top companies highly grossing in North Carolina. If you bump into anyone on the street, they will most likely tell you that they're employed in any of these 10 companies:
Compass Group
Lowe's Companies
Bank of America
Honeywell International
Total S.A.
Quintiles Transnational
VF
Hanesbrands
Food Lion
Family Dollar
The unemployment rate in North Carolina stands at 4.6% whereas the rate in Florida is 5.3%. Although the unemployment rates of both the states are below the national average of 6.0%, Florida has a slightly higher unemployment than North Carolina because of the population rates. With 21 million people residing in Florida, the quest for finding lucrative jobs becomes highly competitive, especially in an age of rising inflation; thus, this influences unemployment rates to rise.
The salary in both the states is more or less the same. You won't feel much of a difference, but since the cost of living in North Carolina is cheaper, you'll have a bit more spending income at the end of each year than in Florida.
| | | |
| --- | --- | --- |
| State | Annual Median Household Income | Average Income Per Year |
| North Carolina | $46,693 | $25,608 |
| Florida | $47,212 | $26,499 |
Also Read: Moving From Florida To Colorado
Transportation
Florida has a pretty decent public transportation system. They have a few Amtrak train services running through some major cities. Megabus, SHOFUR, and Greyhound buses facilitate intercity travel, and a ferry service that connects Fort Myers Beach, Marco Island, and Key West.
Similarly, North Carolina's public transit system is efficient and reliable although a car might help you to reach some parts of North Carolina that are remote. Locals prefer using buses as their primary mode of transportation because they efficiently cover nearly all the major cities of NC. These bus services include Megabus, Greyhound, and Amtrak Thruway.
North Carolina has a couple of Amtrak trains running through its cities as well. Here are some you should familiarize yourself with:
The Crescent: Amtrak's train service serving New York and New Orleans with stops in Gastonia, Charlotte, Salisbury, High Point, and Greensboro.
The Carolinian and Piedmont: These trains have stops in Charlotte, Kannapolis, Salisbury, High Point, Greensboro, Burlington, Durham, Cary, Raleigh, Selma, Wilson, and Rocky Mount. The service extends to New York.
The Silver Meteor and Silver Star: Runs between New York and Miami with stops in Rocky Mount, Wilson, Selma, Raleigh, Fayetteville, Southern Pines, and Hamlet.
If you wish to visit the Outer Banks, 21 ferries are serving regularly on 7 routes across the Currituck and Pamlico sounds as well as the Cape Fear, Neuse, and the Pamlico Rivers.
Also See: Moving To Raleigh, NC – Relocation Guide
Some Notable Places Worth Visiting In North Carolina:
Biltmore Estate
Great Smoky Mountains National Park
USS North Carolina Battleship
North Carolina Zoo
Best Places To Live In North Carolina
Greensboro
There are many good reasons why you should choose Greensboro as your next city to move into. First of all, it's affordable. This city has been ranked as one of North Carolina's most affordable cities consistently, so you won't have any problem where rent or buying a home is concerned. Second of all, many well-known brands have set up a base and have been soaking up talented employees over the years. Companies such as Volvo Trucks of North America, the Honda Aircraft Company, and ITG Brands are just a few of the many companies you'll find in Greensboro. With such affordability and job opportunity, Greensboro will surely make living a bit easier.
Population: 291,303
Median Home Value: $156,300
Monthly Median Rent: $877
Annual Median Household Income: $48,964
Charlotte
Charlotte has been praised by many for its friendly neighborhoods, vibrant restaurants, and big-city small-town vibe. When people think of moving to North Carolina, they think of moving to Charlotte—such is the reverence this city holds. Along with that, you have Charlotte's financial and health sector booming along with the technological field not falling behind. These fields have numerous lucrative opportunities and getting into any of them will make you live The American Dream in no time. If Charlotte knows how to work hard, it also knows how to party harder. Its nightlife consists of some of the city's best nightclubs, pubs, and live music events.
Population: 857,425
Median Home Value: $220,300
Monthly Median Rent: $1,135
Annual Median Household Income: $62,817
Also Read: 11 Best Charlotte NC Neighborhoods to Live In
Durham
Durham is another one of North Carolina's most affordable cities having pleasant weather, good educational institutes, and a tobacco culture. Due to these reasons, many have been relocating in Durham's neighborhoods and as a result, the community has been expanding ever since. Its unemployment rates are low since the job market is thriving in the medical and tech field and the literacy levels are amongst the highest in the country due to the presence of its universities. If all of those points are appealing to you, then you should include Durham in your list of potential moves.
Population: 269,702
Median Home Value: $224,100
Monthly Median Rent: $1,058
Annual Median Household Income: $58,905
The Cost Of Moving From Florida To North Carolina
If you're moving for the first time, you should know that effective planning is the first step for a successful move. If you don't set proper deadlines for yourself, then you will be just running in circles and wasting your time.
Here are some of the prices you should expect to see when moving from Florida to North Carolina. The time, distance, and location of the place gravely affect costs as well, so the rates may fluctuate accordingly.
| | | | | |
| --- | --- | --- | --- | --- |
| Size Of The Move | Moving Company | Moving Container | Freight Company | Truck Rental |
| 1-bedroom | $1,655-2,603 | $1,515-$2,045 | $1,047-$1,487 | $889-$1,200 |
| 2-3 bedroom | $2,234-$2,805 | $2,260-$3,050 | $1,190-$1,690 | $1,047-$1,415 |
| 4+ bedroom | $2,994-$5,756 | $2,809-$2,790 | $1,334-$1,900 | $1,237-$1,670 |
You can either hire a professional moving company or rent a truck for your move. The former option will cost you a bit of money but will do all the hard work such as lifting, loading, unloading, and even packing and unpacking. Some moving companies offer free junk removal services as well, but it is something you will have to find out with your company beforehand. The latter option is inexpensive, but you will have to load and unload the articles yourself. This option is best if you have fewer articles to transport, or if you have many hands to help you with the hard work of lifting.
Also, never finalize the first deal you find! Research at least 2-3 more movers for getting a broader understanding of the range in prices. Doing this will help you compare and analyze the best bang for your buck.
Also Read: Why are Retirees Leaving Florida?
Conclusion
Florida and North Carolina have contrasting personalities. It's now up to you to choose which one appeals to you the most. If a temperature climate, diverse job market, and booming neighborhoods attract you, then North Carolina is a great place to fulfill your calling.
FAQs
How Much Does It Cost To Move From Florida To North Carolina?
Moving costs fluctuate according to the size, location, and time of the move. On average, you would be paying around $2,305 to $3,009 for moving from Florida to North Carolina, but it can be lower with some moving tips we have shared above.
Why Are Floridians Moving To North Carolina?
Florida, known as the Sunshine State, has maybe, a bit too much sunshine for some. North Carolina has fewer days of sunshine and less intensity of heat, so that's why people have been making the move. Also, the low cost of living and booming job market are other factors that have made North Carolina such a desirable state to move to.
See Also: Moving From Michigan To Florida – A Detailed Guide
How Much Money Do You Need To Comfortably Live In North Carolina?
A yearly income of $30,620 should be enough for you to "live the life" in North Carolina, assuming that you're providing solely for yourself. However, if you have one child, then to provide for yourself and that child, you'll need to earn around $62,600 per annum to live comfortably in NC.
See Also: Moving to North Carolina
Enter your information
Almost done!
Enter your information to view your quote.
Your information is safe with us. By using this service, you agree to receive email communications solely regarding your relocation process