Moving To Raleigh, NC – Relocation Guide For 2022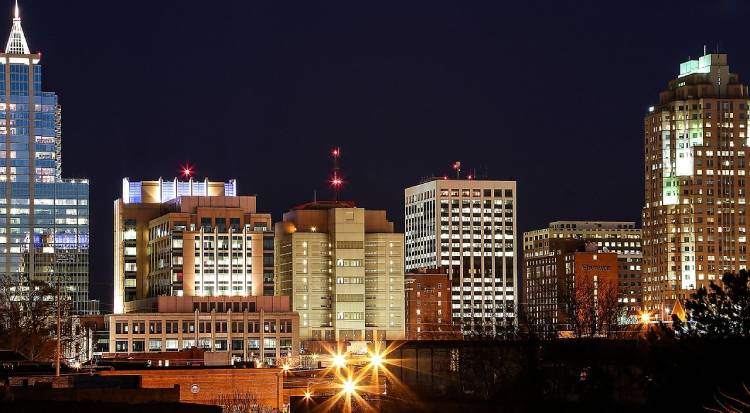 The city Of Oaks, as the name suggests, also has a lot of green spaces that are enjoyed by the people of a loving community in this big city with a small-town vibe. That's Raleigh for you! The capital of North Carolina, it's also among the best cities in the state, thanks to its booming economy and a rich, vibrant culture that's nothing but attractive.
There are a few more things other than the trees and the money that make this city as alluring as it is. So, we have created a small list of pros and cons for you to go through and decide whether moving to Raleigh is worth a shot for you!
Pros And Cons Of Living In Raleigh
Pros
Small-Town Vibe
The presence of a research park that has a heavy green cover, tree-lined streets all over, and multiple interstates that go through the city give this city the vibe of a small town, even when the city is growing in all aspects of the word.
Thriving Job Market
While the median income in Raleigh is slightly lower than the national median income, you'll find that there is very low unemployment. One of the biggest contributors to this is the oldest research park in America. The Research Triangle Park is home to about 200 companies and 50,000 employees. So, you'll find a suitable job rather easily.
Excellent Educational Opportunities
The presence of 11 different universities, colleges, and other educational campuses in the city is more than evidence to the statement that the quality of education in Raleigh is beyond comparison. Not just that, the huge educational institutes in this city add about 90,000 jobs and over $6.6 billion to the economy.
High-Quality Healthcare
If you decide to make Raleigh, or the Triangle, your home, you'll find a lot of doctors working in all sorts of medical organizations. In fact, the city of Raleigh has one of the highest doctor/hospital-to-patient ratios. This essentially means that regardless of what you want to get checked, you might not have to break your bank.
Family-Friendly Atmosphere
The abundance of parks, trails, and cultural or historical monuments make Raleigh one of the best cities to live in with a family. The crème de la crème is the slower pace of life, which allows people to have an actual family life.
Cons
Lack Of Nightlife
While there are a few bars and pubs sprinkled around the city, a majority of the entertainment in Raleigh is oriented towards the families that live here. So, if you're a young, single person in this city, cafes might just be your best bet.
Urban Sprawl
The city of Raleigh has seen a large number of people moving here in the last two decades. A result of that is the increasing urban sprawl and a public transportation system that is struggling to keep up. More often than not, driving would be your best bet when thinking of traveling in the city.
Loud College Life
When living in Raleigh, you'll be living in close proximity to one of the 11 educational institutes in the city. Moreover, this city loves college sports and is not shy about it. So, if you want to live in this city, you need to accept that there's going to be large crowds of excited college students all around the city.
Super-Hot Summers
The temperatures in Raleigh are generally higher, making it an ideal place to enjoy outdoor activities all throughout the year, except summers. The summer season in Raleigh can go above 100°F for multiple weeks at a time. The relative humidity can also be very high, sometimes as high as 95% to 100% for multiple weeks.
Weather In Raleigh
Much like the majority of the southeastern United States, the city of Raleigh sees a humid subtropical climate. This means that the summers in Raleigh are hot, humid, and muggy, while the winters are short, very cold, and wet. The average temperatures in Raleigh vary from 33°F to 89°F throughout the year.
The summer season in Raleigh lasts from late May to mid-September. In these four months, the temperatures swing between 70°F and 89°F, with an average daily temperature being around 81°F and the hottest month being July.
On the other hand, the winter season begins in late November and ends in late February. In these three months, the daily average temperature is generally below 59°F, with the coldest month being January. The average temperatures vary from 33°F to 51°F.
The city of Raleigh sees about three and a half months of precipitation. This includes rain, snow, or a combination of both. From mid-May to mid-August, there's a 33% chance of any day being a wet day. The month with the highest precipitation is July, with an average of 13.9 wet days.
Cost Of Living In Raleigh
The city of Raleigh, albeit beautiful and welcoming, is slightly costly to live in. It does offer a lot to the people who move here, though. So, nobody minds paying a little more than the national average. To give you a scale, the national average cost of living in America is 100; the same in Raleigh is 103.
Factors like housing and groceries are the biggest expenses while living in this city. However, since everything else is below the national average, the city's economy does make it possible to live here without worrying a lot. Here's a small breakdown of the fundamental expenses that constitute the cost of living in Raleigh.
Buying A House In Raleigh
According to NeighborhoodScout, the city of Raleigh has seen a 110% appreciation in the real estate market, bringing the median home cost for a typical family home in Raleigh to about $341,853. A huge reason for these prices is the heavy influx of college students and young professionals moving to the city and settling down. Due to this, the housing market in this city is also fairly competitive and you'll lose a house if you don't move fast.
Renting A House In Raleigh
About 50% of the residents in the city of Raleigh are renters and a huge part of this demographic is college students. Even with the high number of renters, the average monthly rent in Raleigh is $1,842, which is relatively higher than the national average monthly rent that happens to be around $1,100.
Taxes In Raleigh
The taxes in the city of Raleigh are almost on par with the national average, with a few differences here and there. The minimum combined sales tax applicable to the residents of Raleigh is 7.25%. This includes the sum total of a 4.75% tax rate from the state, and 2% levied by the county. The national average sales tax rate in the US is 7.3%, making it almost the same on both ends.
Other than that, the residents of Raleigh have to pay their income taxes, which are also governed by the state. The rate for income tax is 5.5%, which is higher than the national average of 4.6%.
Utilities And Other Expenses In Raleigh
In Raleigh, utilities are the second-most important factor when it comes to figuring out the overall cost of living. The cost of utilities like electricity, gas, water, and fuel add up to about $231.91 per month. If you add in a decent internet connection, you will spend about $65 extra.
When it comes to healthcare, a typical visit to the doctor's will cost you about $113, while the same for your pet would be around $54. These numbers indicate the healthcare costs in Raleigh to be about 3% above the national average.
Crime Rate In Raleigh
When it comes to crimes, you'll sleep easy in Raleigh as the city has among the lowest crime rates in the US! According to NeighborhoodScout, with a total crime rate of 25.49 per 1,000 residents, Raleigh is about 43% safer than other US cities.
When it comes to violent crimes, the city sees a rate of 4.15, which is slightly above the national median of 4. This number makes the chances of becoming a victim of violent crimes in Raleigh are 1 in 241.
Property crimes, on the other hand, are ranked at about 21, while the national median for the same is 19. This ranking translates to a 1 in 47 chance of becoming a victim of property crimes in Raleigh.
Economy And Employment Opportunities In Raleigh
With a GDP of $95 billion in 2020, Raleigh has proved that the job market is strong and flourishing. The biggest contributing industries to the growth of the economy are government, healthcare, and education. Other than these, there are many jobs available in fields like green spaces, advanced manufacturing, and life sciences.
A lot of these industries find their home turf to be the Triangle Research Park. In which, some of the big-name organizations like IBM, Wakemed Health, SAS, Cisco Systems, and Fidelity Investments have established their offices. When combined with all the big and small employers in the city, you have enough jobs for you to find one that you like rather comfortably.
In the many industries that are flourishing, the highest average salary in Raleigh would be offered to professionals in the medical field, closely followed by people specialising in engineering and people in managerial roles. The highest salary in Raleigh is around $288,180 while the median annual income is somewhere around $74,177. At an unemployment rate of 1.3%, we recommend you to apply to multiple places in the city before moving.
To give you a better idea of the salaries and overall economy of this city, here is a table from BestPlaces that gives you all the required information.
See Also: What Salary Do You Need to Live in Raleigh NC?
Education In Raleigh
While North Carolina is known for its higher education, the school level, or K-12, education had a different stigma around it for a long time. However, in the last decade and a half, many changes were made to the school system and new schools were built. These have given rise to an education system that offers a lot to the ones looking. In order to help you to make a judgment for yourself, here's a curated list of the best schools in Raleigh, NC:
Elementary Schools
Woods Charter School, Chapel Hill
Quest Academy, Raleigh
The Expedition School, Hillsborough
Sterling Montessori Academy, Morrisville
Middle Schools
Woods Charter School, Chapel Hill
Quest Academy, Raleigh
The Expedition School, Hillsborough
Sterling Montessori Academy, Morrisville
High Schools
North Carolina School Of Science And Mathematics, Durham
Cary Academy, Cary
Durham Academy, Durham
Raleigh Charter High School, Raleigh
Colleges And Universities
Duke University, Durham
The University of North Carolina At Chapel Hill, Chapel Hill
North Carolina State University, Raleigh
Meredith College, Raleigh
Traffic And Transportation In Raleigh
For a city as big and crowded as Raleigh is, the public transportation system is seemingly inefficient, rendering the city predominantly car-driven. You might think of walking instead of driving, but that's only good for a few locations as Raleigh isn't the most walkable city. That being said, there are three ways of traveling in the city. By car, by bus, and by bike. Here's how they pan out.
By Car
One of the best things to happen to this city, in terms of traveling through it, is the Interstate 440. Also known as the Raleigh BeltLine, Cliff Benson Beltline, or just the BeltLine, it circles around the city in clockwise and anti-clockwise directions with multiple exits to different parts of the city. However, once you get off of the I-440, you might have to endure slow but steadily moving traffic. So, make sure you download a podcast or two before you get to driving.
By Bus
There are three major bus service providers in the city of Raleigh that connect different parts of the city. However, even when combined, the bus network does not reach all ends of the city. So, you might have to walk, hail a cab, or use the bike-share service in the city.
The GoRaleigh Bus Service only serves local and regional buses with multiple stops in the city. For a bus network that goes a little farther into the city, you may use the Wolfline bus service, which serves all residents of Raleigh fare-free. If you want to get to the Downtown area, you can use the RLine, which is also a free bus service that only covers downtown.
Bike-Share
A company called Citrix Cycles has installed a self-service bicycle rental system that operates 300 bikes across 30 stations in Southeast Raleigh, Hillsborough Street, and at the North Carolina Museum Of Art.
Places To Visit In Raleigh
North Carolina Museum Of Art
You'll find pieces of art like the Renaissance, Ancient Greek, and Roman sculptures and arts, pre-Columbian works, and Egyptian burial artwork, along with a lot more in the galleries of NCMA, the first state-funded collection that opened its gates in 1956.
Pullen Park
Pullen Park first opened its doors in 1887 as the first public park in North Carolina. The visitors can take a ride in the Gustave A Dentzel Carousel, or the C.P. Huntington Mini-Train, or even catch a show at the children's amphitheatre—all of which are a part of this 66-acre wide cultural exhibit.
Yates Mill
Yates Mill is the last remaining water-powered gristmill. The best part—it's actually in the city! About five miles south of the city center, you can still see the equipment used in the mills, when they ground corn and wheat into flours in the 1950s. The mill is only open to the public from March to November, where you can see exhibits and learn about the operation of these mills by costume-clad guides.
Mordecai Historic Park
Mordecai Historic Park is a historical estate that started its life in 1785, later turning into a park that preserves the birthplace of Andrew Johnson, the 17th president of the United States Of America. You can choose to take a guided tour of the estate to learn about the monuments like St. Mark's Chapel, Allen Kitchen, and Badger Iredell Law Office. If not, you can hop on to the Historic Raleigh Trolley to skim through the exhibits.
Best Places To Live In Raleigh
North Hills
Known as 'Raleigh's Midtown', North Hills is one of the fastest-growing communities in this city. The area offers modern homes, affordable apartments and condos, easy access to social life by means of music events, mind-blowing food culture, and a vibrant nightlife (by Raleigh's standards).
North Hills also has great schools like Lacy Elementary School and LeRoy Martin Magnet Middle School. You can also take the kids to the NC Museum Of Art, JC Raulston Arboretum, or even the Midtown Farmers Market. All of these venues make North Hills an amazing place to live with a family.
Population: 3,355
Median Home Value: $267,200
Monthly Median Rent: $1,049
Annual Median Household Income: $72,120
Mordecai
Mordecai is just a few minutes away from Downtown Raleigh, which has some of the best shopping, entertainment, and food venues. This neighborhood is also known for its tree-lined streets, high walkability, and a tight-knit community. Mordecai's close proximity to William Peace University and St. Augustine's University makes it an even more likable place to students and young professionals who move into the city.
Population: 1,154
Median Home Value: $287,625
Monthly Median Rent: $806
Annual Median Household Income: $66,350
Five Points
Five Points is one of the more affluent neighborhoods in Raleigh, with large homes and sprawling yards that allow its residents to live a variety of lifestyles. Located near Glenwood Avenue, this neighborhood provides all the opportunities to live luxuriously. Of course, this luxury comes with an equally heavy price tag.
There are great schools like Underwood Magnet Elementary School, Oberlin Magnet Middle School, and Broughton Magnet High School. You can also take the kids, your special someone, or just yourself to Roanoke Park, Kiwanis Park, or the Jaycee Park & Community Center.
Population: 8,393
Median Home Value: $526,550
Monthly Median Rent: $762
Annual Median Household Income: $106,178
Brier Creek
Brier Creek is a quiet, suburban neighborhood situated about 30 minutes northwest of Raleigh's city center. Safe streets, large houses, close proximity to Raleigh-Durham International Airport, and plenty of activities for people of all ages makes Brier Creek the ideal neighborhood for families and retirees who want to settle down.
For those looking for rather peaceful venues of outdoor recreation can visit the Brier Creek Park and the Brier Creek Country Club. The ones looking for things that are a little more lively and exciting can visit Frankie's for a bunch of arcade games or hit the Regal Brier Creek for a movie. The neighborhood also offers a rich food culture and has a few bars, too.
Population: 20,281
Median Home Value: $279,428
Monthly Median Rent: $973
Annual Median Household Income: $86,404
Summing Up
If you're someone who is looking for a quaint life, you might just fall in love with Raleigh. Of course, it comes at the cost of foregoing a huge chunk of the party culture and an actual nightlife. But this family-oriented city will make you feel like you're coming home while you settle into a new one.
Yes, it can be a little expensive, and yes, you'll have to mostly drive everywhere. But regardless of how much the city grows, the increasing influx of college students and young professionals will keep it evergreen. Perhaps, for you, moving to Raleigh might just be the best move you've ever made!
Also Read: 8 Best Raleigh NC Neighborhoods to Live In
FAQs
Why Is Raleigh Famous?
Raleigh is mostly famous for its evergreen surroundings, since the City Of Oaks has a lot of oak trees that beautifully line the trees. In addition to that, being in the Research Triangle Park makes it very appealing to jobseekers and students.
Is Raleigh A Good Place To Live?
Yes. In fact, Raleigh was named one of the best cities to live in North Carolina, owing to the growing economy, reasonable cost of living, and relative peace and quiet.
See Also: Best Moving Companies In Raleigh, NC
How Far Is Raleigh From The Beach?
Raleigh is about 131 miles away from Wrightsville Beach. This translates to a roughly two-hour drive.
Also See: Most Affordable Moving Companies to Move to Raleigh
Enter your information
Almost done!
Enter your information to view your quote.
Your information is safe with us. By using this service, you agree to receive email communications solely regarding your relocation process