5 Best Moving Companies In Raleigh, NC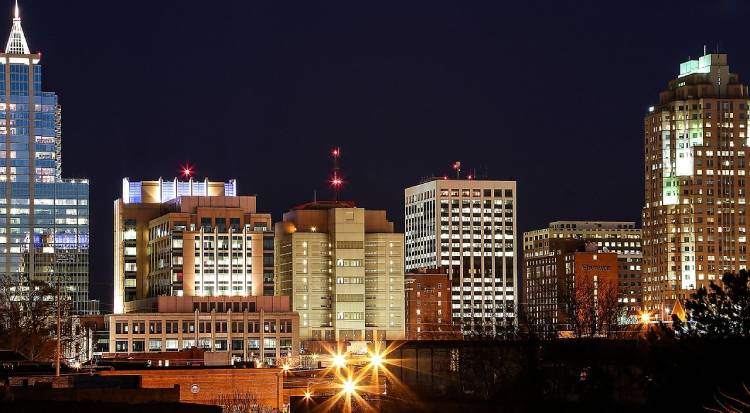 Living in a city that is literally nicknamed 'The City of Oaks' is nothing short of a blessing. Even the thought of being surrounded by majestic oak trees everywhere you go brings a sense of calmness to the mind. However, the same views and surroundings tend to lose their charm over a period of time and that is when you need a change of pace (and place).
While the city of Raleigh in North Carolina has a wide range of spectacular things to offer you, many things – including a change in job, better prospects for higher education, or a sense of exploration – might propel you to move away from the city. In order to do that, you will need a reliable friend to assist you. The below list of the best moving companies in Raleigh will certainly help you narrow down your search.
5 Best Moving Companies In Raleigh
Little Guys Movers
Athens Moving Experts
College Hunks Hauling Junk & Moving
Crabtree Family Moving
Dogwood Moving Co.
Little Guys Movers
Don't judge a book by its cover and a company by its name. This company named Little Guys Movers is a great example of it. Carrying out intense and long relocation processes on a daily basis is their forte and the numerous positive reviews from the company's loyal customers are a testament to that. This also conforms with their righteous motto of 'Do right by people and you will be rewarded.'
The company specializes in residential and commercial moves. However, if leaving your lovely home is not on the cards for you just yet, you can avail of the in-house shuffle services provided by the company. This way, you can give your house a new look by rearranging your furniture and decor. Apart from this, Little Guys Movers also offer specialized moving services for senior citizens looking to downsize and relocate to retirement facilities. The company takes extra care and attention during such moves.
If you need a safe place for your belongings while you sort things out in your new home, you can consider opting for the storage services provided by Little Guy Movers. The company also offers a plethora of packing supplies like boxes of different sizes, tape measures, bubble wraps, etc.
Services / Products offered
Commercial moves
Residential moves
In-house shuffle services
Storage services
Packing supplies
Pros
Properly licensed, insured, and registered with the U.S. Department of Transportation.
Prompt response times.
Cons
The cost of availing of the services of this company is on the higher end of the spectrum.
Reasons To Choose Little Guys Movers
The company focuses on transparency, professionalism, and complete customer satisfaction.
Little Guys Movers have an impressive 4.9/5 rating on Angi.
Website: www.littleguys.com
Contact Number: (919) 439-2454
Address: 1301 Capital Blvd, Raleigh, NC 27603
Google Rating: 4.9/5
Athens Moving Experts
Another moving company that is popular not just in Raleigh but in the entire state of North Carolina is the Athens Moving Experts. No matter the size of your move or the distance that needs to be traversed, once you join hands with Athens Moving, they'll make sure your relocation is as seamless as possible.
What makes this company stand out among others is the fact that they customize and provide tailor-made services based on the requirements of the customers, because we all know that no two moves are the same! If you want to carry your tunes to your new house, consider the company's piano moving service which will make sure that the pianist in you stays on top of your game – even in your new abode! Their professional packing service is also something that might interest you if DIY moves aren't really your thing. On the off-chance that your belongings get damaged, you can always claim compensation from the company's website under the 'Claim' tab.
Services / Products offered
Specialty moving services
Local moves
Long distance moves
Residential moves
Loading/unloading services
Professional packing services
Pros
Well-trained, expert professionals.
Properly licensed and insured moving company.
Cons
No international relocation services are provided by the company yet.
Reasons To Choose Athens Moving Experts
The high-quality services provided by the company will be worth every buck you spend.
No hidden fees are involved as the company is upfront with its pricing.
Website: www.athensmovingexperts.com
Contact Number: (919) 760-7774
Address: 6601 Hillsborough St #111, Raleigh, NC 27606
Google Rating: 4.9/5
College Hunks Hauling Junk & Moving
This list won't be complete if there is no mention of the hunks of the moving industry. Starting out its operations in 2004, College Hunks Hauling Junk & Moving has earned quite a reputation. When two high school best friends actually come through with the plan of starting a business, you know it's only going to go upstream, and that is exactly what College Hunks has been doing.
You can hire the services of this company for local and residential moves, labor-only services, or even packing services. But wait, there's more. Another peculiar offering that this company is widely known for is its junk removal services. College Hunks believe in creating a safe and healthy environment which is why the company will help dispose of unwanted items and declutter your space if need be. Its tie-ups with multiple NGOs and charitable organizations only make one's trust in them grow stronger.
So, if you're looking for a company that will do all your heavy lifting and more while you enjoy your trip to your new house, College Hunks should be the first company you call. It also has multiple branches across the entire nation and is continuously providing smiles to its customers through its top-tier services.
Services / Products offered
Local moves
Long distance moves
Junk removal services
Furniture moving
Packing services
Truck loading and unloading
Labor-only services
Pros
Their quick response time makes it easier for you to clear any doubts regarding the move without having to wait for multiple days.
Budget-friendly pricing.
Provides free moving estimates.
Cons
The company doesn't provide storage services.
Reasons To Choose College Hunks Hauling Junk & Moving
Along with the moving services, you can avail of other services like junk removal and logistics that the company provides.
This all-rounder of a company is well-equipped to handle moves of any size.
Website: www.collegehunkshaulingjunk.com
Contact Number: (919) 648-0700
Address: 6212 Westgate Rd Ste C Raleigh, NC 27617
Google Rating: 4.9/5
Crabtree Family Moving
Personifying the phrase simple is best is this family-owned company called Crabtree Family Moving. The company takes pride in the fact that a good number of its clients are repeat customers which says a lot about the quality of their services. Putting good use of its experience, Crabtree has mastered the art of local as well as long distance moving.
As long as you're okay with a repeat of the hilarious 'couch situation' from the sitcom FRIENDS, you might be good even without a moving company at your service. But if you do mind similar mishaps occurring with your couch and/or other big household items, give Crabtree Family a call and they'll help you with all your furniture moving needs. Knowing the amount of care and attention that goes into a senior moving service, you will have no problem downsizing or moving to a senior facility should you choose Crabtree Family Moving.
With an average 4.75 rating across four major review websites, the company also has a hoard of accolades under its belt. Some of which include North Carolina's Top Rated Local Moving Service Companies Award and being ranked among the Top 10 Movers in Raleigh list by Great Guys Movers.
Services / Products offered
Local and long distance moves
Commercial moves
Packing services
Senior moving
International moving services
Storage services
Pros
The company provides international moving services which a lot of moving companies don't generally offer.
Extremely conscientious and an efficient crew of movers.
Cons
The company is non-operational on Sundays.
Reasons To Choose Crabtree Family Moving
Since it's a family-owned business, the company is aware of all the ins and outs of the moving process.
If yours is a last-minute hire, the company will provide you with affordable prices that will not burn a hole in your pocket.
Website: www.crabtreefamilymoving.com
Contact Number: (919) 500-2013
Address: 3216 Spottswood St Unit #115, Raleigh, NC 27615,
Google Rating: 4.9/5
See Also: 8 Best Raleigh NC Neighborhoods to Live In
Dogwood Moving Co.
A rather new induction to the moving industry, Dogwood Moving is taking big strides to attain complete customer satisfaction in the Raleigh area. The company started its operations just two years ago but already has about 600+ Google reviews – the majority of which are positive – and an overall score of 5/5 to its name.
The company specializes in residential and commercial moves. Other services include furniture moving, piano moving, and packing services. The cost-effective moves provided by the company are just one of the many reasons for Dogwood Moving's astronomical rise in a very short span of time. The hourly rates depend on the day of the week and the size of the truck required. If you have additional items such as a piano or some heavy equipment, the company has a separate charge for them which is still easy on the pocket.
Speaking of the company's authenticity, Dogwood Moving maintains an excellent score on Thumbtack and an A+ rating by Better Business Bureau (BBB). This pretty much sums up our verdict on the company's reliability.
Services / Products offered
Residential moves
Commercial moves
Expert packing services
Packing supplies
Piano moving services
Pros
Last-minute moves are less of a hassle with Dogwood Moving.
The company is operational on all days of the week.
Free estimates are available.
Cons
No international relocation is provided by the company.
Reasons To Choose Dogwood Moving Co.
Their well-trained movers will treat your belongings as their own and ensure that they make it to your new home in a single piece.
If you are looking for a cost-effective company that has a fresh approach to moving, you cannot go wrong with Dogwood Moving.
Website: www.dogwoodmoving.com
Contact Number: (919) 656-1426
Address: 5205 Capital Blvd, Raleigh, NC 27616
Google Rating: 5/5
How Much Does It Cost to Hire Movers in Raleigh?
Moving is a stress-free task – said no one ever! We don't blame them either. It does require a whole lot of mental and physical strength to pull off a smooth move. Considering all the minute details that you need to take care of to complete a moving process, it's better to leave this tedious job to the ones who do it on a regular basis and are trained for the same.
Hiring professionals to help you in your relocation process will obviously invite some costs. In the present case, the average cost of hiring a moving company in Raleigh is considerably low at about $375. If we break it down a bit more, you will spill about $66 per hour for the services of 2 movers for an average 1-bedroom apartment. Keep in mind that these costs may vary depending on a number of factors like your location, size of the move, and the cargo space your belongings occupy.
See Also: What Salary Do You Need to Live in Raleigh NC?
Conclusion
Moving to a new place is a lot like switching schools. It has a feeling of excitement and nervousness attached to it; excitement of meeting new people and the nervousness of whether you'll fit in well or not. While the outcome of all these variables will be witnessed once you actually move to your new place, there are a few things you can do before your relocation that will ensure that your transition starts on the right foot. One such aspect is choosing the right moving company and we hope that our introduction to the best moving companies in Raleigh has helped you gain some insight into the moving industry in the city.
FAQs On Best Moving Companies In Raleigh, NC
How Much Does It Cost To Hire Movers In Raleigh, North Carolina?
The average cost of hiring a moving company in Raleigh, North Carolina is $375 which is relatively low if we compare it to the costs in cities of similar size.
Do Movers Pack For You?
A full-service moving company will help you with packing, unpacking, and even loading/unloading services. It all depends on the moving company you avail of.
What Is A Hybrid Move?
A combination of a DIY move and a full-service move is called a hybrid move. This is a great way to save a few bucks on the moving process and a company like Athens Moving Experts will be a great partner to do it with.
Enter your information
Almost done!
Enter your information to view your quote.
Your information is safe with us. By using this service, you agree to receive email communications solely regarding your relocation process