The Average Cost of a Moving Company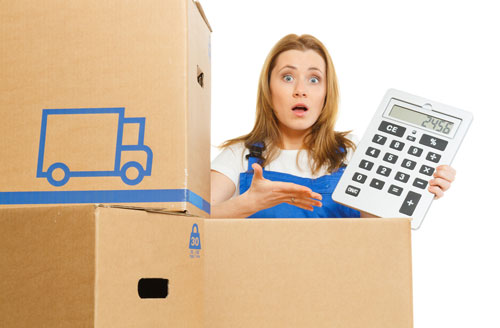 Find out how much you're going to need to save up for your next big move.
When you're packing up and starting a new chapter in your life in a completely new neighborhood, there are a lot of little tasks that need to be completed in order for you and your family to make the big move. Professionals may need to be booked, equipment and vehicles may need to be rented out, and packing supplies will need to be procured. You will also have to shell out to pay for the house you'll be moving into, whether you buy it or rent it. With all the different expenses you are going to have to make provisions for, the moving company you choose to go with will be one of the bigger expenses in your budget.
The Type of Move Affects the Average Cost
Depending on where you are moving to, how big the residence is that you're moving into, how many things you are going to need to be packed and transported and how much they weigh, corresponding travel fees and possible charges per hour, moving companies calculate their cost for helping you move. Moving costs may vary from company to company, and also from state to state. So whether you are moving locally, cross country or even out of the country, your average moving cost will be affected.
Also Read: Why is hiring movers so expensive?
Moving Locally
Moving from one city to the next is considered a local or 'short distance' move. The cost of moving would largely depend on the size of your house, the quantity and weight of items to be moved, and how large a team you'd require for the entire operation. The average hourly rate for a local move, that is within a 50-mile radius of your current place of residence, ranges from $25 to $50 per hour.
Moving Interstate
Moving out of the state cross country will result in a higher cost bracket. Since the cost broadly depends on how far you are going, how much you have decided to take with you, and what it all weighs. For an average distance of 1225 miles, carrying an average weight of 7000 to 7400 pounds, you can expect the average moving cost to range from $2000 to $8000. You would be charged roughly 50 cents per pound by the moving company for any distance over a hundred miles. Your labor costs beyond 100 miles would amount to approximately $100 per hour.
Moving Internationally
When you are moving out of the country, you get the additional cost of shipping added to the mix. Movers will mostly use ocean freight shipping for international transfers. If your house is bigger than 2 bedrooms, then you will likely get your own shipping container. Smaller homes are usually transferred in shared containers. If you are keen on hiring your own shipping container, then that would cost you an additional $4500 to $16,000, depending on your specifications. Overall, you can expect to spend anywhere between $1000 and $10,000 for the entire move. Keep in mind that there are different cost brackets for different items. For example, if you are moving your vehicle as well, that would cost between $1000 and $5000. Don't forget your visa fees, depending on your purpose for the move (whether it's permanent or for studies or work).
See also: Average Cost to Move a 4 Bedroom House
Moving cost based on size of house
The size of the house makes a huge difference in calculating the average moving cost. Given that there will be more furniture and cargo if there are more bedrooms, this would decide the size of the truck or shipping container, quantity of laborers and number of working hours required for the move.
1 Bedroom: It would cost movers an average of $60 per hour to move your things locally. So if it should take about 2 laborers and 4 hours to pack, load and move your 1 bedroom house, it would cost you about $480 just for labor. If you're moving across states, moving an average weight of 3000 pounds, then the cost would rise considerably to anywhere between $1000 and $3000.
2 Bedroom: Moving a 2 bedroom house locally would need about 3 laborers and at least 6 hours. This would amount to $1080 for labor only. If you're moving long distance, you can expect a moving cost of about $3500 to $5200 for 5000 pounds of cargo. But keep in mind, if you have a specialty item like a car or a grand piano, your price would go up.
3 Bedroom: For a 3 bedroom house, moving locally would require about 4 laborers and 7 working hours. This amounts to an approximate cost of $1680 for labor alone. If you are moving long distance, with a cargo weight of about 9000 pounds, your cost would rise to anywhere between $6700 and $7800. Remember to add specialty item and private freight container costs separately.
Various Factors Affect the Cost of Your Move
Apart from weight, mileage and number of laborers required to facilitate the move, there are additional costs and fees to consider when budgeting for your move. This would cover all the different tools and other services required in order to make this move happen smoothly and efficiently. So when you are calculating the final amount you will have to spend for this move, remember to factor these costs in as well.
Special items: Speciality items have a different price range than regular cargo. These items may include musical instruments, vehicles, antiques, large flat-screen TVs and grandfather's clocks.
Extra services: There are add-on services you can avail of, including disassembling and reassembling furniture, procuring storage facilities for items you want to keep away for the time being, and moving specialty items.
Packing supplies: If you want the movers to handle the packing of your cargo, the equipment and materials they use will be considered an extra charge as well.
Date of move: The moving cost varies depending on the time of the year. If you are moving during peak-season, which is the summer, you are likely to pay double of what you would in the winter.
Insurance: Moving insurance for your cargo will be a separate cost, which you can either pay the movers for, or acquire through an insurance agency on your own.
Also Read: Why Is Moving So Stressful?
How to calculate moving costs
Some moving companies like Mayflower and U-Pack offer Moving Cost Calculators. You can use this tool to get an approximate quote online, before you approach the companies for a detailed meeting. You'd have to enter the specifics like number of bedrooms, the range of services you're looking for, and how far is the place you are moving to. Remember that the weight of the items you are transferring will also play a huge role in the final calculation. It would be wise to consider the amount of time and energy you would have to put in for this process as well, and weigh them against the option of hiring help. If your personal well-being is at risk, then hire professional movers.
Pros & Cons of Hiring Professional Movers
Pros:
They have experience and knowledge of what is required for the move from start to finish
They take responsibility for all your things while they are being transported
You will endure less physical and mental exertion
You can avail of their add-on services and make life easier
Cons:
They will cost more than a DIY or hybrid move
You will have to work around their schedules and availability, which might be inconvenient
You might have to share moving or shipping containers with other people who are moving, especially internationally or interstate
You would have to rely entirely on the moving team to efficiently control the process and safely handle your household items
How to choose a moving company
Keeping in mind how much help you require, when you plan to move and how much you are willing to spend, you can decide how much and when you need the services of a professional moving company. Of course, before you lock in the moving company, you will need to consider some factors. Do not book the first company you get, without doing a little comparative study and costing analysis.
Research: Do a background check on all the moving companies you are considering for your move. Read their reviews, good and bad, see how much business they get in a year, find out if there's anyone you know who's used them. Check for any red flags, in case they aren't legitimate and are trying to scam you. See how many options they are offering as well as any add-on services. When you speak to them, gauge whether they are accessible, friendly and cooperative.
Get quotes from several companies: Don't book a company until you've compared prices with at least three other companies and haggled with them a bit. Remember, they all want your business, so they will negotiate a deal that suits you. You have got to be persistent in order to find the best deal for your budget.
Decide how much you want to do yourself: You may find that you do not need the professional movers to carry out every stage of your move. You could probably drive the truck yourself and would only need labor to load and unload the cargo. Or you might do the packing, loading and unloading, but need them to transport your things to the new residence. Figure out what the most difficult tasks are and then inform the companies what you need them for.
Check availability: Once you know around what time of the year you plan to move, keep a few extra days on both sides of the time frame you've chosen. When you approach the companies, their schedules may vary, and depending on popularity and seasonal demand, not everyone will be available at your convenience. Decide whether your dates are as important to you as the movers you're keen on hiring. This will help you narrow down the candidates.
See Also: Best Moving Companies in Sacramento
Conclusion
While the cost of moving could make a remarkable dent in your savings, it doesn't have to completely strip you of your nest egg. There are ways to work around the costs, make modifications to the plan and adjust the size and weight of your cargo. With these tips, you can get a good deal out of the professional movers you hire, and get your house moved safel, efficiently and in good time.
See also: Are Moving Quotes Negotiable?
Frequently Asked Questions
Q. How much does valuation coverage cost?
Typically, the cost of valuation coverage is about 5 to 6% of the total weight of your cargo. So if your cargo weighs about 10,000 pounds, the coverage cost would be about $500 to $600.
Q. What types of estimates do movers offer?
There are binding and non-binding estimates. A binding estimate means that you will have to pay the amount that has been quoted, even if there are any unprecedented costs later on. A non-binding estimate means that you are likely to end up paying an amount that is different from the one that was initially quoted to you by the movers.
Q. Are moving costs tax deductible?
The latest ruling on tax deductibility for movers is that you can no longer claim this deduction on your federal return. You are exempt from this ruling if you have served or are serving in the military, or had a return claim before this ruling that qualifies.
Q. How are moving costs calculated? To get a rough estimate of how much you're going to have to pay the moving company, you can do a little calculation yourself. You multiply the estimated time for moving your cargo to the destination with the number of hours you think it would take to complete the process. This number would apply to local moves, for about 2 laborers. If it's a long distance move, you can expect to pay at least anywhere between $2500 and $6000.
See also: How Much Does it Cost to Move 500 Miles? |Giving Tip to the Movers? | When Should You Book a Mover?
Enter your information
Almost done!
Enter your information to view your quote.
Your information is safe with us. By using this service, you agree to receive email communications solely regarding your relocation process