7 Best Moving Companies In South Carolina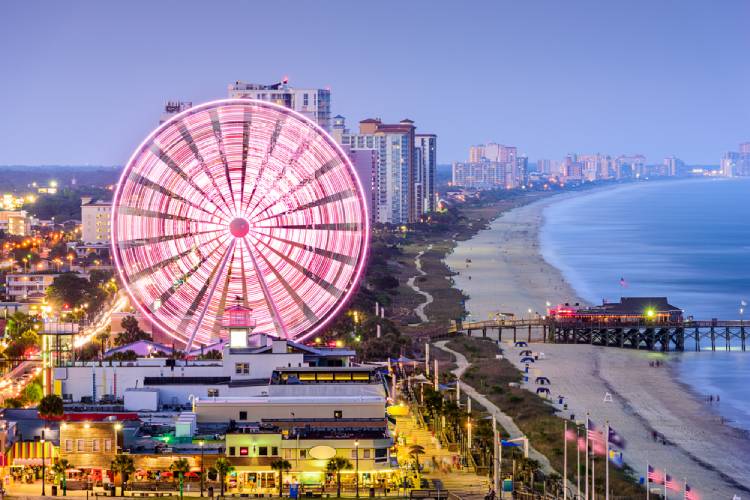 South Carolina is a beautiful low profile state which is known for its warm southern hospitality and natural scenery. There are a dozen other things that make South Carolina a good place to live and its low cost of living certainly is a big factor. But there are an equal number of reasons why living in South Carolina might not feel the best for you.
Whether it is the risk of alligators prompting you to move or you simply want a change, a moving company by your side will make it simple for you. We have made the process of finding the right moving company effortless by creating a list of the best moving companies in South Carolina so you can go ahead and get moving.
7 Best Moving Companies In South Carolina
Soda City Movers
Smooth Move Charleston
Tiger Moving
Gamecock Moving
Art of Moving LLC
Low Country Moving Specialists, LLC
We Love Moving LLC
Soda City Movers
Established in the year 2013, Soda City Movers understand the complexities of moving and strive to provide you with a hassle-free moving experience. It is a locally-owned and operated company that offers you competitive pricing without any hidden rates so you will be able to gauge your moving expenditure. You will be happy to know that their moving experts are all professionally trained and background checked.
They have the team to successfully handle any kind of household move, provide labor-only services, office moves and even your heavy items like a piano. They are experts in packing and also offer packing supplies so, go ahead and get in touch with them and they will do the work with and for you.
All in all, they will guide you personally through each step of your move so you can let go of the anxiety of the big move as they will streamline the process. In terms of their legitimacy, you must know that they are licensed and insured moving company.
Website: www.sodacitymovers.com
Contact Number: +1-803-731-7792
Address: 3100 N Main St, Columbia, SC 29201, United States
Rating: Google (4.8/5)
Services / Products Offered
Home moves
Packing services
Office moves
Labor-only services
Packing supplies
Pros
Competitive pricing without any hidden fees
Licensed and insured
Junk removal services are available
Cons
Online reviews are slightly inconsistent
Smooth Move Charleston
A smooth moving experience sounds like a far-away dream when you skim through multiple moving companies online with shady reviews. But that is far from the impression you get when you look at Smooth Move. As a team, they surely understand the difficulties that come with a moving journey and pursue to bring end-to-end moving solutions. They offer flat-hourly rates and are a completely insured and licensed company as well.
As they aim to provide a smooth moving experience for all clients, no move is too small or big for them. They organize local, residential, commercial, and long-distance moves within or to South Carolina.
Their experts will pack your belongings with utmost care and safety so they can survive the roads. If you are looking for temporary or long-term storage for the belongings you cannot take with you immediately, their storage services can come to your rescue. For occasions when you have everything else figured out and just require labor-only services for loading, unloading, and heavy lifting, they can help you out. To put it simply, they do everything you might need so go ahead and get your free estimate to see whether or not they are the perfect match for your moving needs.
Website: www.gosmoothmove.com
Contact Number: +1-843-860-9717
Address: 4767 Rivers Ave, North Charleston, SC 29405, United States
Rating: Google (4.9/5)
Services / Products Offered
Local moves
Labor-only services
Packing and unpacking
Junk removal
Pros
Free same day estimate
Guaranteed low prices
Overnight holding fee
Cons
Also Read: Moving To Charleston, SC
Tiger Moving
Tiger moving was established in 2013 with the goal to provide a clean-cut, stress-free moving experience to its customers and reviews reveal that they have been pretty successful in doing that. The satisfactory customer reviews across multiple platforms vouch for their services and consistency which is why they couldn't be left from our list.
They are a professional moving company with its own large trucks, modern equipment, and athletic movers so no move is impossible to execute. From moving a small home to a big commercial space, they can do it all and efficiently. They are licensed and insured so you can also trust them with your heavy furniture pieces and they will move them effortlessly for you.
Senior moving services is also offered by them and their movers have the empathy and compassion which is required to handle older adults moving homes. They also offer labor-only services so in case you have your own rental truck or moving PODS and just need some helping hands to do the heavy lifting, they will be pleased to do that for you. It is an A+ accredited moving company so you definitely can go for it without worrying, so, go ahead and call them to get an estimate.
Website: www.tigermovinggreenville.com
Contact Number: +1-864-908-9028
Address: 899 N Main St, Mauldin, SC 29662, United States
Rating: Google (4.9/5)
Services / Products Offered
Residential moves
Commercial moves
Packing services
Furniture assembly and diassembly
Local and long-distance moves
Pros
Insured and licensed
Senior moving services are available
Piano moving
Cons
In some cases, movers did not wrap the furniture items properly
Gamecock Moving
Gamecock Moving is a company offering reasonable estimates and aims to offer you a wide range of moving services while taking away the stress of paying hefty amounts. They are a local moving company so communications about your moving process will certainly feel a lot more personal. Trust them to take care of all of your moving needs, no matter how small or big they will provide you with clarification and solutions. They also offer flat transparent rates and you can visibly find their pricing structure on their website. This leaves no room to interpret how much you would approximately spend on your move.
In terms of services, besides the standard moving services, you can hire them for labor-only services, specialty item moving, or a big commercial move of your retail store. You must note that they do take a $100 deposit when you book them. Other than that, they are a licensed and insured company indicating the legitimacy of the company. If you are considering hiring the company and want a clear estimate, it is best can get in touch with them. They will be happy to offer you a personalized estimate based on your moving needs.
Website: www.gamecockmoving.com
Contact Number: +1-803-814-3569
Address: 1506 King St, Columbia, SC 29205, United States
Rating: Google (4.9/5)
Services / Products Offered
Local moving
Out-of-state moving
Piano moving
Heavy item moving
Commercial moving
Senior moving
Pros
A+ rating by BBB (Better Business Bureau)
Transparent and flat rates
No hidden fees
Locally-owned and operated
Cons
No storage services
No international moving facility
Art of Moving LLC
Moving truly can be looked at as an art form that isn't mastered by many companies. After all, it is a complex process that requires the right practice, equipment, and experience. However, this is where Art of Moving LLC excels. It is a local and family-owned moving company that acknowledges and appreciates the sentiments of customers.
They don't hesitate to go above and beyond to provide you with a stress-free moving experience. Since they are also a licensed and insured company, you can consider handing them the project to take care of all moving needs with confidence. Another great part about Art of Moving is that they understand the value of transparency thus offering their audience flat rates and multiple interesting discounts. You can easily book a free virtual consultation with them and they will help you move forward.
Website: www.moverscolumbiasc.com
Contact Number: +1-803-476-7213
Address: 112 Harold St, Columbia, SC 29223, United States
Rating: Google (4.9/5)
Services / Products Offered
Residential moving service
Long-distance moves
Local moves
Packing services
Pros
Flexible moving dates and time
The owner is extremely friendly and mostly stays on site
Specialty moving services
Cons
No storage services
They do not serve internationally
Low Country Moving Specialists, LLC
With flat rates, a wide variety of moving services, accreditations, and great ratings, Low Country Moving Specialists could possibly be the perfect fit for you. The competitive advantage they have is they are a local moving company offering almost everything moving-related under one roof. Whether you are looking for labor-only services, packing services, or complete moving solutions, they can handle it for you.
They are also a fully insured and licensed moving company that believes communication and efficiency are the keys to any successful move. You will experience that yourself when you can get in touch with them for a quotation.
Their movers are highly-trained, background-checked, and non-smokers so you can expect a power-packed team of movers at your doorstep on the day of moving. They also offer flat hourly rates which are mentioned on their website and they can curate a personalized and reliable moving experience for you under your budget and time.
Website: www.lowcountrymoving.com
Contact Number: +1-843-737-1279
Address: 1514 Mathis Ferry Rd #18, Mt Pleasant, SC 29464, United States
Rating: Google (4.8/5)
Services / Products Offered
Labor-only services
Local moving services
Packing services
Piano moving
Antique moving
Furniture delivery services
Pros
Licensed and insured movers
Full-service moving
Transparent rates
Non-smoking, uniformed, and background checked movers
Cons
Inconsistent reviews about company responsiveness
We Love Moving LLC
They claim to love moving and their company culture aims to make the moving process fun and memorable for you so you can resonate with their love for moving. Your best bet is to hire them for labor-only services and local moves since they are a relatively small business but with constant growth. So if you have figured out your truck situation, they can handle everything else, whether it's packing, heavy lifting, loading, and unloading. For their labor-only services, they have pre-decided flat hourly rates, clearing any confusion one might have about pricing.
As a company, they are also licensed and insured and hold over a decade of experience fueled by the right intention. They keep customer satisfaction at the center of their business goals. They have expertise in handling heavy items so do not stress-eat thinking about moving your heavy furniture, they will easily do it for you. Their crew is 7 days available to serve you so schedule your move by giving them a call and see for yourself how they transform your moving experience.
Website: www.welovemovingchs.com
Contact Number: +1-843-580-3880
Address: 330 Concord St, Charleston, SC 29401, United States
Rating: Google (4.9/5)
Services / Products Offered
Local moves
Long-distance moves
Loading and unloading services
Packing and unpacking services
Heavy item moving
Pros
Flat hourly rates
7 days available crew
Senior moving services
Labor-only services
Cons
They do not have their own trucks
How Much Does It Cost To Hire Movers In South Carolina?
The good part about hiring a moving company in South Carolina is that they will be able to make your move easier at affordable prices. Many moving companies in South Carolina offer flat rates so you will be able to get moving services at affordable prices. If you think your move can be completed with the help of 2 movers, you will be able to get them for $75-$80 per hour for a local move. The overall prices will increase as per services and distance. A full-service local move can cost you anywhere between  $850 to $2100 and it will be double the cost or more in case of a long-distance move.
See Also: Moving to South Carolina | Relocation Guide for 2022
Conclusion
A change is always scary and when it is as big as relocating to a new place, your anxiety is absolutely valid. Though we might not be able to help the way you feel about your move, we certainly can help you plan it better. We are certain our list of best moving companies in South Carolina will guide you in the right direction so you can let go of the anxiety. These companies are licensed and have the right experience to do the job right, so, instead of pondering and procrastinating, go ahead and get the moving quotes.
FAQs On Best Moving Companies In South Carolina
What Day Is Cheapest To Hire Movers?
If you have a comparatively tight budget, it would be best to hire movers on weekdays instead of weekends since you could possibly get a better price. It is best to avoid holidays and weekends as most clients rush to block movers on those days due to which there could be a hike in price.
Is It Better To Have 2 Or 3 Movers?
2 movers will definitely cost you less but adding a third mover to the mix will definitely speed up the moving process. If you have just limited stuff that needs to be moved, go ahead and hire only two movers. But in case you have big items and your move demands more, hiring at least 3 movers will definitely be a good idea.
How Many Hours A Day Do Movers Work?
A move of a small 1 or 2 bedroom apartment would roughly take 2 movers around 3 to 6 hours. However, if it is a much bigger apartment, the work can demand movers to put in 8 to 10 hours into the work of moving.
Enter your information
Almost done!
Enter your information to view your quote.
Your information is safe with us. By using this service, you agree to receive email communications solely regarding your relocation process