Moving to South Carolina | Relocation Guide for 2022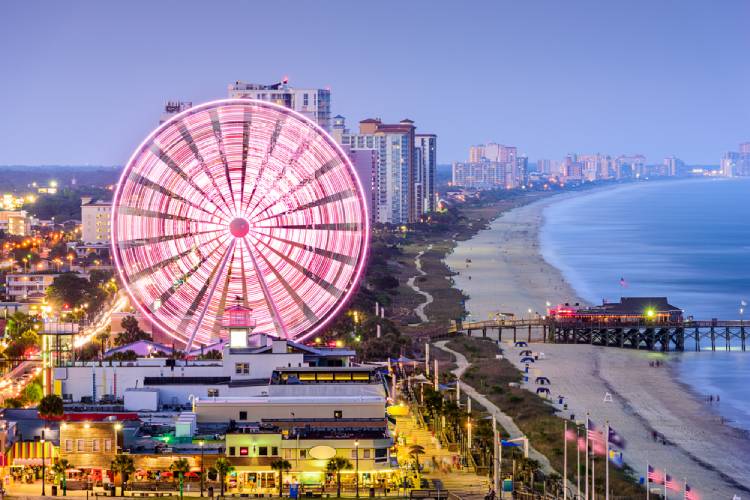 Have you ever heard of the Palmetto and wondered what it is? Well, you're not alone. Many people hear about it for the first time and wonder what it is, but we are here to help you. Surprisingly, Palmetto, in its literal meaning, is a type of tree.
However, it means more than a palm tree for the residents of South Carolina. It is the nickname they gave to their state because of the palm trees swaying through its beaches, making it a perfect vacation destination.
But there's more to South Carolina than just making a perfect tourism destination. FYI, it is one of the coolest places you can reside in the United States. It has a rich culture and welcoming people, making it a residential state to young people establishing their lives. Besides, retirees looking for a cool place to rest, find a serene environment here.
If you plan to move to South Carolina, there are a few things you need to know. We went out of our way to collect interesting facts that will guide you. Experience the breathtaking appeal of South Carolina state. This article will give you some insights into 'The Palmetto State.'
Living in South Carolina: What to Know Before Moving to SC
It looks like many people would love to move to South Carolina. Well, that's no surprise because it is a compelling state, according to my findings. According to research, South Carolina's population increased by 5.9% between 2010 and 2015.
Currently, it is the 23rd most populous state in the United States, with over 5 million people calling it home. That means more people are coming into the country, even stretching its beautiful cities to limits.
Pros and Cons of Living in SC
Before you move to this state, read the following advantages and disadvantages essential in helping you decide.
Pros
Nature – Whether it is the beach environment full of palm trees or beautiful houses dating 200 years ago, South Carolina knows how to make you feel comfortable. It is gorgeous naturally with a welcoming population that will make you happy.

Southern hospitality and food – South Carolina state is also a great place to enjoy seafood and many other mouthwatering dishes you desire. Also, the state will welcome you with the sweet tea it offers.

The weather – South Carolina has conducive weather patterns. The summer months are hot, allowing you to enjoy all the activities the state lets you to. Winters are mild, especially on the coast, making it easier to adapt.
Cons

Education – Education in South Carolina is not impressive. First, the state ranks 48th in the quality of education. Also, it may be expensive to enroll in the state because of its high tuition fees.

Limited housing – It costs an arm and a leg to afford a house near the South Carolina coast. If you want to stay in the state at a budget, you will have to consider moving to a non-coastal area.
Tax rates
Before moving to any state or even country, it is vital to check the tax rates. It is also a factor to consider before you pack your bags to South Carolina.
Luckily, the taxes in this state are not going to scare you away.

According to the bank rates, the tax rates in the state stand at 6%. That is not far from what the national average is as regards to sales tax. That generally makes the country an excellent place for young families that are yet to stabilize.

Therefore, we can conclude that the cost of living in the state is low. Thus, if you live in an expensive state, moving to South Carolina will help you save a few dollars. It is a perfect place for anyone who wants to experience a great life at an affordable rate.
SC Housing Market
With the state's booming weather attracting many people, there is a massive influx of people moving to South Carolina lately. This beautiful country has grown, and many more constructions are coming up to cater to the growing population.

So, what does that mean about housing? You can say that the accommodation in this state is much affordable, whether it is for buying or renting. However, the place you are planning to stay will dictate how much you part with for rent or the price for buying.

On average, the cost of renting in this state stands at $1300. The price of an impressive home in the state is $150, 600 on average. That compared to the national average that stands at $200000 is a steal. That means housing in this beautiful state will go easy on your bank account if you choose the right neighborhoods.

However, since the low housing rates are attracting many people to the state, you must plan well. Settling away from the cities will be a great idea because the housing costs are most likely going to rise in a few years.

If you are not going to settle on a budget, you can reside in the coastal areas or huge South Carolina cities. It will be a better option because you will enjoy more than the state has to offer.
Cost of Living in South Carolina
Several parameters determine the cost of living, but it is overall low in South Carolina. Although this depends on the lifestyle you would like to keep, expenses such as food and health care are low.

The cost of groceries in the state stands at 4.2% shy of the national average. Also, the prices of transportation are low than the national average.

However, you will have to dig deeper to meet utilities and health care costs on the upper side. During the hot summers, electricity costs average at 3.9% more than the national average while healthcare is higher by 2.3%.
Weather and Natural Disasters
The weather in South Carolina is friendlier than most parts of the country. As mentioned earlier, the winters are mild, something you may not find in most parts of the country. Besides, the summer months in the state are hot, making it a perfect time to enjoy at the beach.

Natural disasters happen all over the world, and South Carolina is not exceptional. The state experiences earthquakes sometimes, especially on the central coast. Also, the coastline usually experiences hurricanes. The best way to prepare is by having a disaster kit around the house to help treat minor injuries when they occur.
The Economy
The state is growing in popularity because of its fast-growing economy. Tourism has been a great contributor to the growing economy of South Carolina. The warm weather and affordable beaches have attracted a vast population of tourists every year.

In addition to that, the state has become a manufacturing hub with several industries located in its cities. Also, several countrywide outlets have their headquarters in South Carolina. That has made the business grow in the cities, consequently contributing to the state's economic growth.

The state's economy is highest countrywide at 16th compared to many aspects for which the state ranks lowly. The state is making huge strides economically.
Traffic and Transportation
South Carolina is relatively cheap when it comes to transportation. The average cost of gas at the start is $2.20 per gallon. The national average price for the same commodity is $2.55. That makes it easy to fuel your car and move around the state quickly.

Also, we can compare the overall transportation costs in the state with the national average. The total transportation costs stand at 13.2% lower than what the national average is. That means you will spend less moving around the state compared to the rest of the country.

Besides, the traffic in major cities can be insane, just like cities in other states. That is because of the growing population of the state, and most people prefer urban areas. Also, there is an increasing number of the working population making the traffic slow.

However, the state of traffic should not scare you away because it is bad during peak hours. Otherwise, traffic flows smoothly.
Things to Do in South Carolina
South Carolina offers too much that we cannot list here. But there are essential things that nature in the state has to offer. Let us look into some things you can do in the state.
1. The Charleston city market

It is an open-air market that has existed since the 1790s. It is one of the best places that you can visit in the state, whether for shopping or not. If you are a shopping freak, there is so much to buy in the market from hand-woven baskets to souvenirs that you will love.
Also Read: Moving To Charleston, SC – Relocation Guide for 2021
2. Congaree national park

It is another excellent place to visit just outside the city of Columbia. This national park is home to several bird and snake species that you would enjoy watching. Also, many local and international tourists take a kayak to explore what the park has for them.
3. Soda city market

Also, in the city of Columbia is a market with so much to see. The soda city market is where most of the state's produce gets sold. You can find fresh fruits and vegetables that you can enjoy onsite while listening to sweet country music by buskers.
4. Myrtle Beach SkyWheel

If you would like to have a great view of Myrtle Beach, then you better climb on this wheel. It is one of the most enjoyable places you can be to around the beach. The 187-foot wheel gives you a great view of the area and what it has to offer.
5. Kiawah Island

Kiawah Island is a high-end location in the beautiful South Carolina state. It is an excellent vacation destination for people that would like to experience the other side of the state. Beautiful private beaches litter the island, but if you can also opt for a public beach if they seem unaffordable.
Schools and Universities
The state of South Carolina does not have a great education system. South Carolina ranks number 44 out of 51 states in the country, according to recent studies. That means its population is among the least educated. Poor education leads to a low-income level for its inhabitants.

The research looked at various aspects of education to rank the states. Mississippi ranked last in education matters while Massachusetts topped the list. Therefore, you have to think about how and where your kids will school if you would like to move to South Carolina.

According to the studies conducted on the state of education, there are several reasons why education in South Carolina is not at its best. First, there are high tuition rates both for high school and colleges. Also, the graduation rate is low compared to many states.

Charleston is the best city when it comes to education in the state. It is home to The Citadel, which is the best college in South Carolina. Following on the list is the Coker college and the University of South Carolina. Fort Mill school district tops the list of school districts as the best place to find an education in the state.
How to become a resident of South Carolina
Making South Carolina your new home state is simple. The first thing is to ensure that you meet all the requirements of becoming a resident of the state. The most critical condition that you should achieve is residing in the nation for 12 months before beginning the residency application process. Also, you can have a parent claim you as a dependent person on their South Carolina taxes.
South Carolina DMV
Driving in the state of South Carolina depends on various things. First, you have to consider whether you are moving to the state temporarily or permanently. You do not need a South Carolina driving license as a temporary resident, but you must have an out of state driving license before you drive.

What happens if your out-of-state license has expired? You can still be eligible to drive if you pass the knowledge, road, and vision tests by the road safety department. That will ensure that they issue you with a temporary document that allows you to drive on the state's roads.

Also, you should ensure that you register your car with the South Carolina state after moving. The rule allows up to 45 days for new residents to transfer their car registration status to South Carolina. Also, they require that you change the car insurance to a company within the state.

When transferring your vehicle to this state, you will need a few documents to prove your identity. Here are some things that you need:

A government-issued ID or passport
Proof of Social Security Number
Evidence of legal name change, if applicable.
Two proofs of your current physical address.
Also, it is wise that you check on the state's website for a checklist of your documents. The documents required for proof differ on whether you transfer your documents from a US state to South Carolina or coming in from the International community.

Besides, you will have to undertake a vision test before you entirely become eligible to drive in South Carolina. You will have to pay all the fees that the state requires you to before scheduling a check with the department. It is after the test and verification of documents that you will get full acceptance.

It is vital noting that you will have to report to your county sheriff if convicted with a crime. The crime must have gotten yourself listed in SC code 23-3-430. You will have a maximum of 3 days after moving in to report at the office and get cleared.
See Also: 7 Best Moving Companies In South Carolina
Best Places to Live in South Carolina
There is a massive competition for the top spot in South Carolina city rankings. For example, there is Charleston, which on moving in, you may think is the capital. FYI, it's not. It is the fast-growing nature of these cities that is making them a great place to live.

Also, the city of Columbia is moving closer to the top spot as it grows. But what's more about these two and many other places to live?
1. Five Forks

It is the best place to reside in South Carolina, according to recent researches. The city has a vast population that is welcoming and easy to fit in. The weather is friendly with a clean and well-kept environment that you will enjoy.

Also, it is one of the best places that you can live with your family. Growing your kids is easier because the city has a better education system than most of the state. It is home to the top schools in SC. Also, there is a lot that your kids can engage in after school, with so many activities going on in the fast-growing Five Forks.
2. Greenville

As the name suggests, Greenville is a great place to stay in with many green places that you can hike or camp over the holidays. It ranks among the best places to stay in SC. That is because of the many things it has to offer outside the busy lifestyle.

It is the home of the South Carolina culture with one of the most prominent museums you can find. Also, there are many restaurants and coffee shops in downtown, making great places to relax and feel the city. Green Vile has a lot of opportunities, and you should consider moving there.
3. Spartanburg

It is a perfect place for young people looking to establish their lives. The city has many employment opportunities with several international companies such as Adidas, BMW, Michelin, and many more.

Also, the city's education levels are high, adding to reasons why it could be the best place to stay. During weekends, you can enjoy biking, which is the primary sport for people living in the city. Also, you can enjoy watching biking races that occur often.
4. Aiken

It is home to the University of Carolina that gives the city a young feel that you will enjoy. Aiken has a rapidly growing education system, which is among the best in the state. Also, there is a low crime rate making it a perfect place to live with your family.

Internationally, this state is known for horse racing events. The Thoroughbred Racing Hall of Fame and museum forms part of the city's identity. Therefore, if horses are your thing, Aiken will be a perfect place to spend the rest of your life.
5. Columbia

Columbia is the capital of South Carolina. It is the perfect place for young people with an excellent education system and many employment opportunities. You can feel the young and vibrant life in the city owing to the presence of The University of South Carolina.

You can also go downtown to experience the hospitality of the city with streets littered with bars and restaurants. It is a perfect place to stay with your family with many fun activities to enjoy over the weekends. Also, it is home to tourist attractions like the biggest entertainment arena and huge zoos.
6. Irmo

Its proximity to the state's capital has changed its dull state to a livelier place to stay. If you have a family, then Irmo will offer you the best opportunity to grow them. There are several universities and schools in the city, making education easy to access.

Also, there is a bustling economy with a lot of outdoor activities to do over the weekends. The downtown has many restaurants and bars with a great nightlife. You can also enjoy going to the beaches or mountains that are not far from the city Centre.
See Also: Best 5 Moving Companies in Fayetteville
7. Charleston

If you would like to experience Southern hospitality, then Charleston is a perfect place to live. As a newcomer, you will find the city easy to adapt to with a welcoming population. A little walk from the neighborhood will get you to the sandy beaches that are a huge tourist attraction.

Also, the culture of the people here is a great thing to experience. There are also great cuisines that define their unique culture, and that is something you will experience throughout your stay.
8. Myrtle Beach

It is the most prominent tourist destination in South Carolina. The area is also famous for being a great vacation spot for the state residents and outsiders. There are various things to enjoy in the city, with several restaurants and bars lining up the streets.

Besides being an excellent place for young people to enjoy, it also is a retirement destination for older adults that would like an affordable place to stay.
See Also: Moving To Chapel Hill NC – Relocation Guide for 2022
Conclusion
The essence of life is living comfortably and experiencing some adventure every day. Change of residence can be a great way to refresh and rejuvenate yourself.

Have you considered living in South Carolina? Moving to South Carolina can be a great decision if you would like to experience what the state has to offer. With so many beautiful cities to choose from, the state can be a great place to start a life. Also, it can be a retirement destination for people looking for cheaper options.
With this guide, deciding whether the state makes an excellent destination for you and your family is comfortable. If you think that South Carolina is a great place, you should move in now. Explore this incredible state! Live BIG!
See also: Moving Companies in South Carolina
Enter your information
Almost done!
Enter your information to view your quote.
Your information is safe with us. By using this service, you agree to receive email communications solely regarding your relocation process