Moving To Los Angeles – Relocation Guide for 2022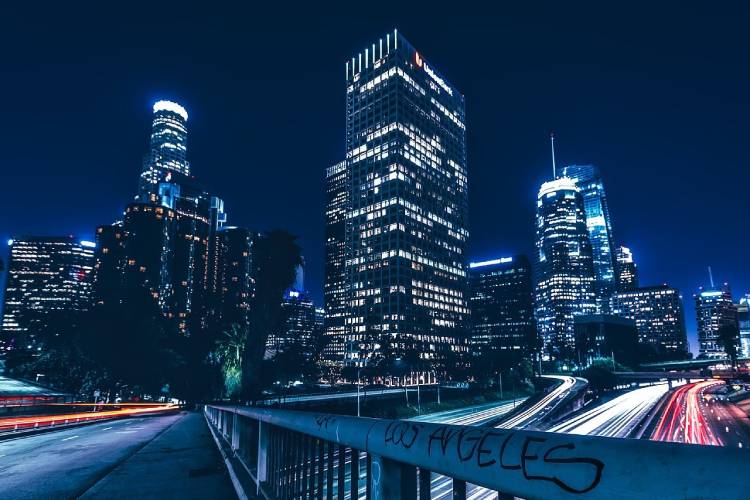 The entertainment capital of the world is a place that has a new world to offer. Beautiful beaches, museums, and great weather throughout the year are just the crust of this cheesecake.
This city is very well known for its diverse culture. You'll see people from all walks of life walking the streets, making something of their lives, especially the ones in the entertainment industry. Los Angeles is a peculiar place that is loved by many. Before you fall in love with it too, here are a few things you should know about this laid-back land of opportunities.
Pros And Cons Of Moving To Los Angeles
Pros
If you love the outdoors, you can choose to visit the trails for a trek or the beach for a swim. For a relatively calmer day, you can check out the monuments, museums, and historical and pop culture landmarks. Los Angeles is also home to many events and festivals like the California Strawberry or the free museum days. The nightlife of the city is amazing too.
It's no myth that Los Angeles has great weather. The temperatures are 90°F and below, even through the hottest parts of the year. Surprisingly, even though Los Angeles is on the West Coast, the weather is far from humid, making it much more enjoyable.
The city of Los Angeles is huge, almost 503 square miles huge. So even with about four million people calling it home, it does not feel as crowded as NYC or even Chicago. It is still Los Angeles, though. So don't expect the prices to come down by a lot as you look for different places to live in.
Even though Los Angeles has a lot of venues for being stressful, the city has an appreciation for a good relaxed evening. You'll rarely see people with 9-5 jobs and even fewer running around in suits. The city will not only teach you how to work hard, but also party harder.
Since the city is spread around half a thousand miles, it does have everything. Starting with the urban cities to the mountains, deserts, and beaches, you do not have a lack of options for what you want to see.
Los Angeles is welcoming to people from each and every corner of the world. From cuisine, art, music, and design, everything in this city is an infusion of the many people and their flavors. Regardless of their ethnic background, religion, gender, or sexuality, you'll come across many different kinds of people.
The thing about LA's food culture is that it's unique because it lacks singularity. Since the city is a melting pot of so many cultures, it comes as no surprise that the cuisine is similarly fashioned. You'll find amazing street food and magnificent fine-dine restaurants all around the city; you just need to look in the right place.
Cons
Traffic And Transportation
Transportation in Los Angeles is a little more challenging than you might think. There is a public transport network but it isn't extensive. What makes it worse is the fact that this city is about 500 square miles wide. So you either have to live, work, and socialize close to home, or get a car and drive through the traffic.
The parking in this city can become a little overwhelming, even to someone who has been living in the city for a while. There are a plethora of signs telling you where to park, when to park, and how to park and you need to make sure you follow all of them. No wonder so many businesses in LA offer valet parking!
This should not come as a surprise considering everybody wants to move here. Housing prices are equally high throughout the city and utilities and other expenses do not do much good. What makes it even more challenging is the fact that as you go farther away from the more desirable neighborhoods, the transportation costs add up rather quickly.
Los Angeles makes you work in every aspect of becoming a resident here. Since it's a city with more non-conventional businesses and jobs than conventional ones, the job market is not just fierce but tricky to navigate through. On the other hand, the housing market is just as fierce. A lot of times, places that show up to let or for sale are picked off within a day and that is despite the insane prices.
Like any other metropolitan city, LA has its fair share of crime and criminals. Of course, TV and movies have stretched it to some extent, but it isn't that bad. Just do your research, check crime stats, Google reviews, and talk to the people around you before deciding the neighborhoods you like. Some neighborhoods are definitely safer than others.
Thanks to the San Andreas fault-line that moves right along the west coast, along with California's tendency to attract forest fires, LA is no stranger to natural calamities. It's definitely something that you need to take into account before you decide on moving.
Weather In Los Angeles
Los Angeles is known for its year-round pleasant weather. The city experiences about 300 days of sunlight with moderate temperatures. This means the city along with the entirety of South California, faces dry and hot weather for a majority of the year.
The trade-off for the warm and sunny days is that you practically get only two seasons: summer and winter. Los Angeles does see a little bit of rain but it's barely enough to be classified as a different season.
To put it in numbers, the average temperature can vary between 48°F and 85°F, with the recorded extremes on either end being 42°F and 93°F. The summers lie between 84°F and 66°F, with the daily average being 81°F. The winters, while slightly chilly, lie in a comfortable bracket between 68°F and 48°F, with the daily average being 55°F. The city gets a mere 16 inches of rain in its wet season, which lasts from November to April.
Cost Of Living In Los Angeles
Los Angeles is a city of four million people. It's also the second-largest city in the US and a hub for a variety of industries that can provide substantial employment. All of this contributes to one huge factor when it comes to living in Los Angeles: it is expensive!
Also Read: How Much Does it Cost to Move Out Of Los Angeles?
Buying A House
The housing costs in LA are among the most expensive in the country. It's significantly higher than the national average. If you're considering buying, remember that the prices are driven up by all the celebrities buying or building their multi-million dollar mansions. Due to this, when the rest of the population tries to buy a normal home in Los Angeles, the median prices land around $738,000. On the other hand, a slightly less expensive option can be a condo, the median value of which is around $541,000.
To break it down into a few neighborhoods, beachfront Venice is the costliest, with the median price being $1,763,285, while typical family homes in the city will cost around $835,074. The median value in Downtown LA is around $700,000.
Renting A House
The costs in this city full of palm trees are high primarily due to the housing. If you're trying to rent, the average cost per month is around $2,454, which is almost double the national average. If you want to live in trendier neighborhoods like Playa Vista and Venice, the average rent is much higher, around $3,415 and $3,203, respectively.
However, you can save some money on rent by living in neighborhoods like Van Nuys, where the average rent is around $1,960, or Eagle Rock, where the rent is around $1,931. You can also save some bucks on rent by choosing to share your living space. Even in that case, you're looking at an expense of over a thousand dollars per month.
Taxes
As of 2021, the sales tax rate in Los Angeles is 9.5%. This is the total of the state as well as local taxes. Currently, the sales tax of California State is 6%, while the county sales tax rate is 0.25%. As per SmartAsset, the average effective property tax rate in Los Angeles is around 0.72%.
Utilities And Other Expenses
When it comes to the other operational expenses like utilities and groceries, Los Angeles will hit your pockets with around $129/month, citywide. This cost includes electricity, gas, water, and garbage disposal. Some homeowners choose to install solar panels in order to save some money on those bills.
Other expenses like healthcare, groceries, and the internet will cost more than the national average. You can find cheaper internet in some parts of LA for about $60 per month. The monthly expenses for groceries could be around $378 per month. Healthcare in Los Angeles is considerably more expensive than the national average, about 22% more expensive. Factor in all of these costs before you decide on moving to the city of dreams.
See Also: What Salary Do You Need To Live in Los Angeles
Crime Rate In Los Angeles
Crime can be a concern in LA depending mainly on the area you choose to live in. As per NeighborhoodScout, the violent crime rate per 1,000 residents in LA is 7.43 and the property crime rate per 1,000 residents is 24.58. This takes the total crime rate in LA to 32.01 per 1,000 residents. This is higher than the national average, but then again, bigger cities do tend to have more crime rates.
Your chances of becoming a victim of violent crime in Los Angeles is 1 in 135 whereas the same for property crime is 1 in 41. Do keep in mind that not all areas or neighborhoods in LA are equally dangerous. The city also has few areas that are relatively safer and have a lower crime rate.
Economy And Employment Opportunities In Los Angeles
The city is flogged with constantly changing demographics. This makes it a little difficult to pinpoint the exact trends of the job market. However, there are two axioms of this city's economy: Los Angeles is expensive, and every artist needs a job until they become an artist.
Thankfully, Los Angeles has an economy that is divided into a few different fields. Of course, all the jobs in the entertainment industry are a huge chunk of it. However, the pay scale and job security of this industry are highly fluctuating. This means any sort of projection would be inaccurate.
Other industries like manufacturing, business, and hospitality day jobs are on the list of the best jobs in LA, with the toppers being trade, transportation and utilities, manufacturing, professional and business services. According to USNews, to survive living in LA, you would need an average salary of about $57,373 per year, as opposed to the national average of $53,490.
To give you a very clear idea, here's a list of the highest paying jobs in LA:
| | |
| --- | --- |
| Job Role | Annual Income |
| Software Engineer | $90,215 |
| Project Manager (General Type) | $79,371 |
| Mechanical Engineer | $76,094 |
| Marketing Manager | $66,940 |
| Operations Manager | $66,240 |
| Account Manager | $60,246 |
| Executive Assistant | $55,569 |
Education In Los Angeles
When people think of Los Angeles, they think of trying their luck in the entertainment industry or partying on the beach. While that statement might have been true in the '80s, LA has also become a great place to raise a child since then.
Other than the facilities and amenities, LA has become home to some great schools. Relative to the public schools, the private schools enjoy a better reputation. However, there is a huge difference between the fees, faculties, and facilities.
Here's a list of schools throughout the city that stand out:
Elementary Schools
Granada Hills Charter, Granada Hills
Palm Crest Elementary School, La Canada Unified School District
La Canada Elementary School, La Canada Unified School District
Paradise Canyon Elementary School, La Canada Unified School District
Middle Schools
Milken Community School, Bel Air
Riverside STEM Academy, Riverside Unified School District
Granada Hills Charter, Granada Hills
Los Angeles Center For Enriched Studies, Los Angeles Unified School District
High Schools
Harvard-Westlake School, Los Angeles
Flintridge Preparatory School, La Canada Flintridge
Polytechnic School, Pasadena
Westridge School, Pasadena
Colleges And Universities
University Of Southern California, Los Angeles
Pomona College, Claremont
California Institute Of Technology, Pasadena
University Of California, Los Angeles
Transportation In Los Angeles
Unlike other large cities, Los Angeles lacks an extensive public transport system. There is no subway or monorail like NYC or the Bart in the Bay Area. What this means is, all the load of travel and transport falls on to the roads.
You can choose to travel by bus and metro network, but even that won't take you to many places beyond metropolitan LA. As a result, rideshares and rentals have become a staple in this city. You can get an Uber or Lyft to go wherever you want, or rent one of the multiple dockless scooters and bikes.
One more thing to take note of is the fact that LA is 503 square miles wide. All of these miles are divided into four parts and they are a little away from each other. Being in LA traffic might make you think you live that far away from everyone, even if you're driving just a few miles away. Because of all this, you'll have to embrace the traffic in the city. You might get tired of it but the Angelenos have made peace with it. So we suggest you do too.
Places To Visit In Los Angeles
Universal Studios Hollywood
Universal Studios is two things, a theme park, and a functional movie studio. The theme park has an ever-changing selection of rides that are based on TV shows and movies. Even though they keep on changing, you'll find at least one ride from one of your favorite things on the TV.
Santa Monica
Whenever we hear Santa Monica, we cannot help but think of the golden sands surrounding the Santa Monica Pier with its iconic Ferris Wheel along with the many shops and restaurants along the beachfront.
Rodeo Drive
Rodeo drive is a paradise to every kind of shopaholic. It has everything from high-end outlets like The Grove and Westfield Century City to the more hip stores like The Citadel Outlets. Rodeo Drive is arguably the best place to go if you like window shopping.
Hollywood
No, Hollywood isn't its own city, but it's a destination you might not want to miss. The Hollywood sign, the Hollywood Boulevard, the Chinese Theatre, and the Walk Of Fame are some of the spots that should be on your list.
While these places are the cherry on top of the cake, there are a few more spots that you might want to see. Here are a few suggestions for you to check out:
Griffith Park And Observatory
Petersen Automotive Museum
California Science Center
Battleship Iowa Museum
Dodger Stadium
Best Places To Live In Los Angeles
Los Angeles is an eclectic city. It has an amazing combination of lifestyle aspects that make it an ideal city to move to, regardless of whether you want to raise a family or start a new career. However, where you choose to live in this city will decide if you fall in love with LA, or just leave out of frustration. To make that decision easier, here's a list of the best neighborhoods in Los Angeles.
1. Brentwood
Sprawling across the beautiful hills on the westside, Brentwood is one of the best areas to move into, especially if you're thinking of living with your family. Mid-century ranches, Moderne New-Age, and Hollywood-styled two-story rooms, all with sprawling backyards and some of the best views of the city. Brentwood offers all of this to everyone who is looking for a home here.
You can have a relaxing visit at the Getty Center or the Getty Museum while the adventurous ones can ride the bike trails in Mandeville Canyon Park. For the kids, you can go to the Barrington Recreation Center, where they have enough options to burn all their energy. Kids also have access to amazing schools like Brentwood School and the Archer School For Girls.
Population: 36,418
Median Home Value: $1,628,579
Monthly Median Rent: $1,923
Annual Median Household Income: $150,124
2. Eagle Rock
Located northeast of Downtown LA, Eagle Rock is a residential area that is known for its quaint, laid-back, and eclectic nature at the same time. Eagle Rock offers a great variety of houses between craftsman-style bungalows and proper Spanish homes.
Eagle Rock also has a multitude of options for you to explore on the weekends. You can visit the Eagle Rock Recreation Center, where you can play a game of basketball or just have a nice picnic. You can also visit the Center For The Arts Eagle Rock or the Bob Baker Marionette Theater to have a much more immersive experience.
Population: 34,644
Median Home Value: $515,345
Monthly Median Rent: $1,182
Annual Median Household Income: $89,743
3. Mar Vista
Mar Vista is the ideal neighborhood for a family. It has a small-town vibe and a tight-knit community that is very welcoming to all. Mar Vista has a unique style with its mid-century ranches and Spanish homes. Other than that, it has a bunch of restaurants, parks, and schools in the neighborhood itself.
For a dose of culture and history of this place, you can visit the Farmers Market or the Flying Museum. You can visit the Mar Vista Recreation Center for a game of roller hockey or the different workshops and classes. You can also take a short drive to get to Hollywood and the Santa Monica Pier. Children have access to top-rated schools like Mar Vista Elementary and Windward School.
Population: 59,167
Median Home Value: $797,290
Monthly Median Rent: $1,576
Annual Median Household Income: $87,464
4. Playa Vista
Playa Vista is a very well-known neighborhood amongst students. Just on the west end of the city, Playa Vista has a huge number of options in every aspect of living here. You'll find houses ranging from Streamline Moderne to Mission Revival, with a bunch of events and venues like parks, community centers, and fitness studios strewn across the neighborhood.
You can choose to spend a day at one of the 29 parks in this neighborhood, where you'll find a bunch of events like workshops and concerts happening throughout the year. If you're feeling adventurous, you can take a hike on the LMU Trail. Students here have access to schools like Playa Vista Elementary School, Westside Neighborhood School, and Loyola Marymount University.
Population: 14,465
Median Home Value: $655,300
Monthly Median Rent: $1,535
Annual Median Household Income: $138,786
5. Playa Del Rey
Playa Del Ray is the quintessential neighborhood that everyone thinks of when they say they want to move to LA. Located in the heart of Silicon Beach along the Pacific Coast, Playa Del Rey gives you the opportunity to look for jobs in a bunch of tech conglomerates as well as startups, and to go take a swim in the many SoCal beaches right around the corner.
You can visit Venice Beach or rent a boat from Marina Del Rey for a day in the water, or stay on land and have fun at the Playa Del Rey Beach and the Del Rey Lagoon. You can also take a walk in Vista Del Mar Park.
Population: 16,230
Median Home Value: $873,850
Monthly Median Rent: $2,309
Annual Median Household Income: $118,177
Summing Up
Contrary to popular belief, Los Angeles is a great place to live, regardless of whether you're moving with your family or just by yourself. Finding a job here is difficult and finding a place to live is even harder. However, once you do, you'll find yourself in a community that is accepting and very closely knit. Lastly, you cannot forget the amazing weather the city is blessed with throughout the year!
However, it's also very expensive and competitive. The crime rates are substantial, but you'll also find neighborhoods that are safe and comfortable. With due research, planning, and the will to have fun, Los Angeles is one of the coolest places to settle down in. So get to the drawing board, chalk out a plan, and move. Hollywood welcomes you!
Also Read: Moving from San Francisco to Los Angeles – A Complete Guide
FAQs
Is Los Angeles Safe?
Yes, it has a reputation for being somewhat dangerous but it's also known for being a clean and safe holiday destination. The high crime rates might alarm you, but in comparison to other big cities in the US, Los Angeles has "the largest decline in crime of any major American city" – according to the FBI.
Is Los Angeles Expensive?
Yes, the cost of living in LA is higher in comparison to many other cities in the US. According to the Numbeo Cost of Living Index by City, Los Angeles, mid-year in 2021, ranked 77th among the most expensive cities in the world in which to live. Among the 87 US cities in their survey, Los Angeles ranked 16th.
Is LA Worth Moving To?
Armed with greater flexibility and a deeper appreciation of home, more people are considering a move to Los Angeles. The city is known for its welcoming climate, inclusive culture, and rich history. It's no wonder that over 12 million people call the Greater Los Angeles area home. If the city calls out to you too, then moving to LA could be worth it for you.
Enter your information
Almost done!
Enter your information to view your quote.
Your information is safe with us. By using this service, you agree to receive email communications solely regarding your relocation process