Moving to Charlotte NC – Relocation Guide for 2022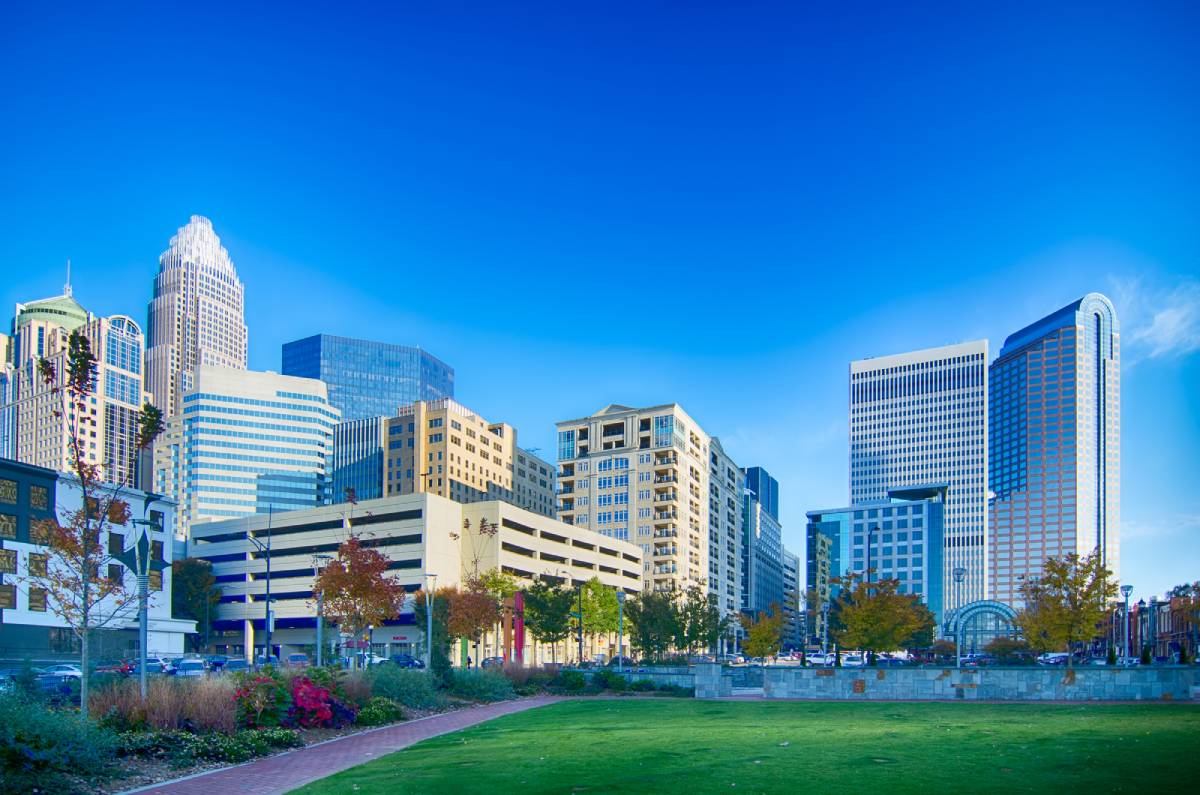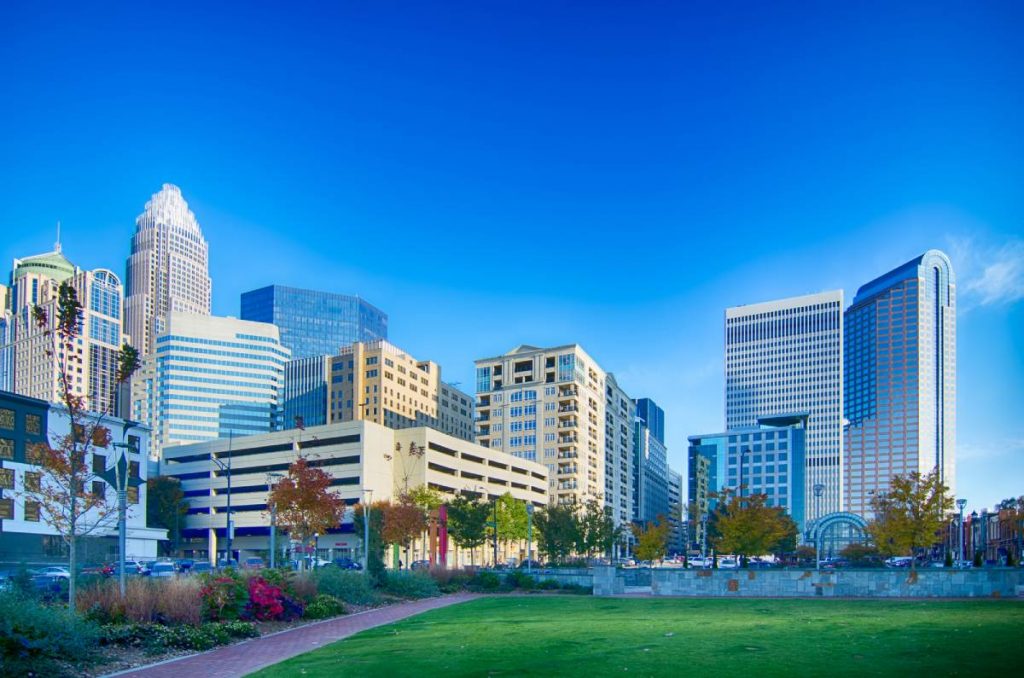 Charlotte aka the 'Princess City' of the US was named after a German princess, Charlotte of Mecklenburg-Strelitz. As one of the financial capitals of the United States, it has quickly become one of the most populous cities in North Carolina. And no wonder – thanks to the climate that represents all four seasons, great outdoors, and the large banking hub for the country, Charlotte is one of the popular places to move to. It offers charming neighborhoods, vibrant community life, good schools, and nightlife. It can definitely be a place that should be on the top of your list if you are looking for a new city to move to.
We have jotted down an elaborate guide on moving to Charlotte that will help you know what living in Charlotte would look like, and all the things that the city would offer you.
Pros And Cons Of Living In Charlotte, NC
Pros
Great Schools
Charlotte has some of the top-rated schools in the city. From elementary to university level, the education system in the city has done an excellent job of providing quality education to students.
The Weather Is Amazing
The weather in Charlotte is really great as you get to enjoy the outdoors all year long. Short summers and pleasantly mild winters are just perfect for you to hang out with your friends and family, and have a good time.
Steady Job Growth
The city is known for providing job opportunities in many fields, with fields like hospitality, tourism, trade, and healthcare generating the most employment of late. In the past few years, the job growth in the city has been able to provide many professionals with a steady career and income. According to a recent article, Charlotte's job market has been doing exceedingly well, particularly after the lows of the pandemic.
Affordable Real Estate Market
The real estate market in Charlotte is affordable and financially feasible. The demand for houses has been constantly on the rise since the past decade, but even then, the houses are pretty affordable.
Cons
High Cost Of Living
Charlotte is a city that has a high cost of living. A majority of it is due to the high cost of healthcare services. You will be spending higher than the national average on your monthly cost of living expenses.
The Rising Crime Rates
If safety is your priority, you won't be happy to know the city has a high crime rate. Both the violent and property crimes in Charlotte, NC are higher than the national average.
Bad Traffic Congestion
Traffic is typically a bit challenging in large cities like Charlotte. The traffic is going to be annoying to get through especially during the peak hours in the downtown area. You may want to leave your home a bit earlier than you usually would to ensure you reach your destination in time.
A Quiet Lifestyle
The city is quiet and lacks annual events as compared to other cities of the same size. If you are a party animal and love having people around, Charlotte may feel a bit aloof and lonely for you as it is quiet and has a reserved nature to it.
Weather In Charlotte, NC
The best thing about the weather in Charlotte is that you get to enjoy outdoor activities all year long. The winters are mild and even though the summers are humid, you can opt for a camping trip, a concert, or enjoy some picnics in a local park.
August, June, and July are the hottest and most humid months of summer in Charlotte. The average temperature this time of the year is anywhere between 71°F to 86°F. In June though, the temperature rises to as high as 90°F, and switching your air conditioning to a lower temperature will be your only way to escape the humidity.
The winters in Charlotte are mild with a considerably low amount of snowfall during the four months of the year. The lowest temperatures during winters in the city hover around 30°F. It is more of a sweater-weather winter rather than a freezing winter.
Cost Of Living In Charlotte, NC
The cost of living in Charlotte is a bit higher than the national average. The residents of Queen City pay more for healthcare, transportation, and housing in Charlotte compared to the other cities in North Carolina and other big cities of the same size.
See Also: How Much Does It Cost to Move Out of Charlotte, NC?
Buying A House In Charlotte
The real estate market for houses in the city has been rising in the past few years. Even though the house prices are on par with the national average, the overall rate of the houses in the city has gone up. This has also increased the competitiveness in the market for good-sized homes.
| | | |
| --- | --- | --- |
| | Charlotte, NC | United States |
| Median Home Value | $349,186 | $320,662 |
As you can see in the table above, the median home value of a house in Charlotte is slightly higher than the national median. This price range obviously changes depending on the size of the house, type of house, and the neighborhood as well. Largely, the neighborhoods in the city are great and provide a wide range of housing options to potential buyers. You will find modern apartments and homes in almost all parts of the city while some also have a front yard and/or a backyard space.
Renting A House In Charlotte
The rental market for houses in Charlotte is doing really well as more and more people have been moving to the city. The demand for rentals has been rising and so has the pricing for it. According to Bestplaces.net, over 40% of the residents in Charlotte live in rental homes.
You will find apartments and houses of all sizes in the varied neighborhoods in the city, all of which will be available to rent. You have the condos and apartments for singles and couples while you will also get a good variety of houses and townhomes for people with families and kids. This makes renting in Charlotte that much easier, giving you more variety.
To further help you understand what kind of rent you would be expected to pay on a monthly basis in Charlotte, we have listed a table below with the help of Bestplaces.net.
| | | |
| --- | --- | --- |
| Apartment Size | Charlotte, NC Average Monthly Rent | US Average Monthly Rent |
| Studio apartment | $918 | $950 |
| 1-Bedroom Home | $946 | $1,050 |
| 2-Bedroom Home | $1,076 | $1,278 |
| 3-Bedroom Home | $1,385 | $1,680 |
| 4-Bedroom Home | $1,811 | $1,950 |
Taxes In Charlotte
The tax rates in Charlotte are not the most appealing as all of them – property tax, sales tax, and income tax – are on the higher end of the scale. It is one of the cities that has the highest tax rates in the country.
There's a uniform income tax imposed on all of the residents of Charlotte – it is one of the only cities to do so in the USA. It has a flat income tax rate of 5.25%, independent of your income.
Charlotte has a 25% sales tax rate which is the highest sales tax in North Carolina. It has a property tax rate of 1.16% which is lower than the national average but higher than the state average. Taxes in the city are not its strongest assets. This may not seem like a good bargain as you will be spending a fair bit of your income paying off these taxes. But keep in mind the perks the city offers you to make an informed decision.
Utilities And Other Expenses In Charlotte
Your healthcare bills, utility bills, and groceries affect your overall cost of living in Charlotte. Even with higher healthcare expenses as compared to most other cities in the country, Charlotte still has a 5% lower cost of living on average.
Utilities in the city come at average prices. Your monthly utility bill in Charlotte amounts to $141.60 which includes heating, cooling, water, garbage, and electricity bills. This is not a bad bargain, to be honest, and an additional $60 for a monthly internet service will do no great harm.
The groceries and food in the city are affordable, and are 6% lower than the national average according to Payscale. A gallon of regular milk will cost you $1.78, a carton of eggs will cost $1.79, and a loaf of bread will cost you $3.13 in a local grocery store in your neighborhood. These are the average prices according to Payscale and are also lower than the national average.
When you look at healthcare, you will be spending 3% higher than the national average in Charlotte. The healthcare services in the city are a bit on the expensive end but not so expensive to scare you out of moving here. Your one-time visit to a doctor's office will cost you $114.45 and a one-time visit to the vet will cost you $52.34.
See Also: What Salary Do You Need To Live In Charlotte NC
Crime Rate In Charlotte, NC
The crime rate in Charlotte is definitely not the selling point of the city as it is higher than the national average. According to Neighborhoodscout, Charlotte is safer than 8% of the cities of this size in the US. Both the property and violent crime rates are higher than the national average. The crime in the city is localized with some parts having more concentrated rates than others.
The violent crime comparison per 1,000 residents in Charlotte is 8.6, twice that of the national rate of 4 It goes the same for the property crime rate which is 33.66 per 1,000, much higher than the national average of 19. Both of these crimes are on the rise in the city and you need to be aware of the same. Moving alone in some corners and neighborhoods is definitely not advisable and carrying pepper spray in your bag is a must.
Thankfully, you will find plenty of neighborhoods in the city that are safe for you and your family to move to. Tuckaway Park, Providence, Pine Harbor, Darby Chase Dr, are some of the safest neighborhoods that you will come across in Charlotte, NC.
Economy And Employment Opportunities In Charlotte, NC
Charlotte is one of the fastest-growing metropolitan cities in the USA with a GDP of $184.818 billion a year. It is one of the largest economies in the country and a budding banking hub as well. Healthcare, insurance, social assistance, finance, and business are the top industries strongly responsible for the economic development and employment opportunities. Budding professionals will easily be able to nail a job when in Charlotte.
The average median salary of an individual in Charlotte is roughly around $70,000 a year according to Payscale.com. With a salary that size, you will definitely live a comfortable life in the city.
You get ample job opportunities in a wide range of industries, in established companies. Lowe's, US Trust, Wal-Mart, Bank of America, Compass Group, Wells Fargo, Atrium Health, and American Airlines are the top employers of Charlotte that provide thousands of job opportunities to young professionals and fresh graduates.
Also Read: Job Relocation Guide
Education In Charlotte, NC
Charlotte is a city known to have some of the best schools and universities in the country. Students from across the country move to the city to avail themselves of the courses that it provides at the higher levels of education. The finance and business courses at college and university levels are well-known among students and the booming industry is an appealing factor as well.
Additionally, the education at primary levels is also well-structured and holistic. Both the public and private schools have a teaching staff that caters to the requirements of their students. The city of Charlotte has more than 825 schools that include both public and private institutions.
With the help of Greatschools.org, we have listed down a few of the top-rated schools, colleges, and universities in Charlotte, NC that will help you.
Schools
Bain Elementary School
Irwin Academic Center
Northwest School Of The Arts
Community House Middle School
Province High School
Colleges And Universities
University of North Carolina at Charlotte
Queens University of Charlotte
Davidson College
Johnson and Wales University- Charlotte Campus
Charlotte Engineering Early College- UNCC
Traffic And Transportation In Charlotte, NC
The transportation system in Charlotte is extensive. The Charlotte Area Transit System aka the CATS system operates more than 70 bus and rail routes within the city that connect the city suburbs with the downtown areas. The transportation system in the city is well connected and provides efficient services to the public. Both the locals and the tourists make use of the following services to get around in the city.
Charlotte has the Light Rail called the LYNX Blue that connects the University of North Carolina with the southern Charlotte area. The line runs Monday through Sunday and has about 26 stops at its designated stations in between. There are trains passing every 10 minutes and the fare is $2.20 for a one-way ticket; you can also avail of a monthly pass if you're a daily commuter.
There is also the CityLYNX Gold line that provides free car rides between the Novant Health Presbyterian Medical Center and Time Warner Cable Arena. This service is available all week long with a timetable that you can avail of from the website.
Charlotte's Charlotte Douglas International Airport is located around 6 miles west of the central business district. The city is also served by Concord Regional Airport, a hub for Allegiant Air's domestic flights.
Places To Visit In Charlotte, NC
One of the best ways to truly feel the vibe of a city is to drop by its popular attractions. These are places that give you a glimpse of the city's past, its culture, and the way its residents mingle too. Here are some of the places to visit in Charlotte.
Nascar Hall Of Fame
The Charlotte NASCAR Hall of Fame is a must-visit place for all the NASCAR enthusiasts. It will give you a glimpse into what goes behind the scene and how the racers prepare for their races. It is one of the most exciting things to do in the city.
Freedom Park
Freedom Park in Charlotte is one of the biggest green spaces in the city. It is a heaven for outdoor enthusiasts who want to have a fun time playing games in the different arenas and courts available in the park. It has ample sports facilities and outdoor activities for everyone to enjoy.
Carolina Aviation Museum
For all the aviation and techno-geeks out there, the Carolina Aviation Museum is an exciting place to visit. The museum will give you an overall understanding of the history, evolution, and technology that goes behind building all kinds of airplanes. Additionally, it also has replicas of several aircrafts on display for you to say.
Best Places To Live In Charlotte, NC
Dilworth
Dilworth is one of the oldest neighborhoods in the city that is situated a little towards the south of Charlotte. It is one of the well-to-do spots that has all sorts of amenities from playgrounds, parks, schools, hospitals, and local markets to fitness trails and soccer fields. You will not fall short of things to engage yourself in when living in this neighborhood. Dilworth is definitely a neighborhood suitable for families to live in.
Population: 10,110
Median Home Value: $345,500
Annual Median Household Income: $75,454
Monthly Median Rent: $1,896
Myers Park
Myers Park is one of the most historically-rich and well-established neighborhoods in Charlotte. It is also one of the safest areas in the city and home to a large number of families. The neighborhood has ample historically-significant architecture including a 100-year-old tree-lined street, 70-year-old Manor Theatre, and vintage-styled homes. Myers Park has a bit of an expensive real estate market that has some of the biggest bungalows with a gorgeous backyard.
Population: 12,377
Median Home Value: $645,800
Annual Median Household Income: $196,757
Monthly Median Rent: $1,678
Davidson
If you are looking for an uptown urban neighborhood with a country vibe, Davidson may be the right place for you. It is a medium-sized neighborhood where a majority of the residents are homeowners. You will come across several coffee shops, cafés, restaurants, eateries, parks, and playgrounds here. It also has some of the top-rated schools along with job opportunities which is ideal for families with children. The community in this area is reserved yet welcoming and friendly.
Population: 12,736
Median Home Value: $517,455
Annual Median Household Income: $158,216
Monthly Median Rent: $1,624
Northlake
Northlake is a relatively smaller neighborhood in Charlotte with a dense suburban feel to it. This neighborhood has a diverse community of families, singles, retired couples, and people from different backgrounds. The community here is more reserved and prefers staying aloof, making it ideal for those of you who prioritize keeping to yourselves. The houses in this neighborhood have a more homey and comfy vibe that attracts a lot of families with children. Northlake also has parks and green spaces around for you to explore.
Population: 7,950
Median Home Value: $299,900
Annual Median Household Income: $57,715
Monthly Median Rent: $1,465
Summing Up
We can go on and on about Charlotte, NC to tell you about how great the city is for you. With the booming economy and great job opportunities, you also have a low cost of living waiting for you in the city. These are just a few of the many things that Charlotte has to offer you and your family.
However, you may save up on your cost of living, but buying a house in Charlotte doesn't come easy. Plus, with high crime rates and some neighborhoods more notorious for crime than others, you have to be that much more alert when house-hunting. Lastly, picking a location close to your office isn't just ideal, it's essential, thanks to the bad traffic in the city.
Make sure you go through everything we have listed in the article above and make an informed decision for yourself. Weighing your options is your best bet!
Also Read: 11 Best Charlotte NC Neighborhoods to Live In
FAQs For Moving To Charlotte, NC
What To Know Before Moving To Charlotte?
Charlotte, North Carolina is one of the biggest economically-developed metropolitan cities in the US. It has high crime rates (one of the major yet few downers), excellent colleges and schools that provide quality education, great neighborhoods to live in, and a great transportation system.
Is Moving To Charlotte, NC A Good Idea?
Yes, moving to Charlotte is a great idea. There are many things about Charlotte that you will love. From job opportunities and low cost of living, to some amazing places to visit and best neighborhoods to live in, Charlotte has everything and more to offer you. However, the high crime rates and traffic are things to consider.
Where Should I Not Live In Charlotte, NC?
Charlotte has a high crime rate, concentrated mainly in some neighborhoods. Some of the neighborhoods you must avoid are Pinecrest, Tryon Hills, Grier Heights, and Lincoln Heights.
See also: Best Long Distance Movers in the United States
Enter your information
Almost done!
Enter your information to view your quote.
Your information is safe with us. By using this service, you agree to receive email communications solely regarding your relocation process