Moving To New Orleans – Relocation Guide for 2022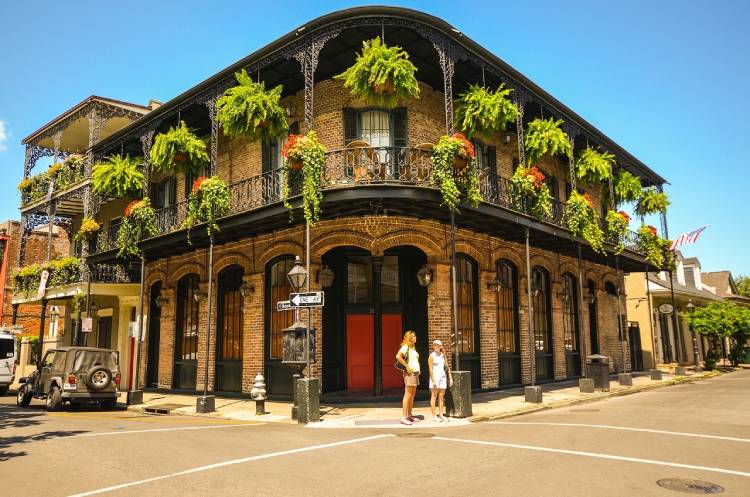 This city is like a journey. Once you reach New Orleans, you experience its fast and extravagant culture but you somehow find that life is leisurely in some parts as well. This mix makes New Orleans an attractive place for those who are tired of the hustle and bustle of daily life.
Since the French discovered this city in 1718, the Creole culture has caught on with the cuisine of New Orleans. So you'll get a taste of not just one but many cultures. This diverse culture has been the main standpoint for many Hollywood films, thus earning the nickname 'Hollywood South.'
Want to know more about the offerings of this city? Read our detailed article to find out if moving to New Orleans works out for you.
Living In New Orleans: What To Know Before Moving To New Orleans
Pros
The Food: Who doesn't enjoy a good meal? A satisfied stomach is a satisfied mind and there's no better place for you to experience Creole cuisine than in New Orleans. Whether you fancy something hot, spicy, or sweet, the numerous restaurants present along the length of the street will cater to all your sudden hunger pangs. Also, you get the best fried chicken here as well.
The Festivals: If there's one thing that New Orleans knows, it's how to party. You must have heard about Carnival and Mardi Gras but that is just two of the few festivals you will experience. Adding to that you have the French Market Creole Tomato Festival, the New Orleans Oyster Festival, and the Boudin, Bourbon, and Beer Festival. New Orleans is indeed a self-proclaimed Festival Capital of the World.
Drinking In Public: The drinking laws in New Orleans are lenient and do not penalize anybody holding an opened beer can in the middle of the street. Not only that, bars and restaurants in this city are open a bit later than usual closing time, so fancying a drink in the middle of the night has never been easier. But don't go overboard!
Slow-paced Lifestyle: Once you're in New Orleans, you will recognize that life is more relaxed and slow-paced. This place is a perfect fit for those needing a breather from a strenuous work environment. Here, you won't hear the honking of cars nor the bustling of large crowds.
Cons
Too Many Pests: New Orleans is known to have a bit of an insect problem. Apart from the usual spiders and roaches, this city has its own added collection to the species of pests. Watch out for buck moth caterpillars, brown recluse spiders, and fire ants.
Not A Beach State: If you're a beach bum, then New Orleans isn't the place for you. To enjoy the sand, the nearest beach which is an hour and a half away is in Mississippi (Biloxi Beach). Although the city is not entirely surrounded by land, the beaches are still stretched far apart.
The Weather: Since this city falls in the subtropical zone, you'll experience harsh summers sometimes staying higher than 90°F. Also, thunderstorms and rainstorms are frequent due to the high humidity present in the air. So take note of this factor before moving to New Orleans as well.
Tax Rates
Do you know that Louisiana is the only American state that has parishes and not counties? Now you know. However, the tax rates fluctuate depending on the locality of the parish. Speaking about New Orleans, this city is located in Orleans Parish and the tax rates are higher than the national average. Bear this mind before planning to settle in New Orleans.
The income tax rate in New Orleans is 6% as compared to the national average of 4.6% and the sales tax rate stands at approximately 9.45%. Statewide, the base sales tax rate is just 4.45%, but the added 5% parish tax rate pushes the amount a bit further.
Also, the average effective property tax rate in New Orleans is stuck at 0.78% where you will pay about $1,714 per year on property taxes. Since the rate is below the national average, you can comfortably afford to buy a house.
Housing Rates
If you compare real estate prices in New Orleans against the national average, they are lower. But compare them to the average rate statewide and you will find the prices slightly expensive. The median home value in New Orleans is $254,600. This is 35% higher than the state average of $189,200 and 12% lower than the national average of $291,700.
Similarly, New Orleans' average rent per month exceeds the state average but is much lesser than the national average. This table will help you compare the rates of different apartment sizes:
| | | | |
| --- | --- | --- | --- |
| Size Of The Apartment | Average Rent Per Month | State Average | USAverage |
| Studio | $769 | $673 | $949 |
| 1-Bedroom | $910 | $760 | $1,048 |
| 2-Bedroom | $1,069 | $912 | $1,278 |
| 3-Bedroom | $1,400 | $1,175 | $1,681 |
| 4-Bedroom | $1,590 | $1,358 | $1,950 |
Cost Of Living
Where the cost of living in New Orleans is concerned, you might find it expensive if you compare it to the state average. Otherwise, living expenses in this city are much lower than the national average. Most parishes in Louisiana are cheap, unfortunately, New Orleans just happens to be one of the more expensive ones. If you can deal with this difference, then the cost of living in New Orleans should not affect you. On the cost of living index with 100 as the average, New Orleans scores 96 while Louisiana stands at 86.9.
As far as utilities go, you will pay approximately $395 per month which is 2% less than the national average.
● Electricity: $116
● Gas: $56
● Water and garbage amenities: $113
● Cable: $58
● Internet: $52
Weather And Natural Disasters
If there's one thing that southeastern states can proudly boast about, it's their warm subtropical climate with moderate winters seeing less to no snowfall. And New Orleans scores a few brownie points since it is embedded deep in Louisiana's hemisphere. You'll get along with New Orleans well if snow-angel-making isn't your penchant during the winter. Expect an average of 216 days of sunshine per year in New Orleans.
This warm subtropical climate is carried throughout New Orleans in any given season. That means you'll be wearing shorts and light-colored clothes throughout the year except in January. Where summers are concerned, temperatures range between 76°F to 93°F and this can get unpleasant if you're not used to such high temperatures. Therefore, get those air conditioners serviced or face the onslaught of the heat. Also, you'll experience small bursts of rain throughout the summer, so carry a raincoat or an umbrella when you see cloudy skies.
The temperatures simmer down in September in the range of 72°F to 88°F but unfortunately, this month sees a lot of thunderstorms. So take note of that.
Coming to winters, January (New Orleans' coldest month) sees temperatures within 45°F to 64°F. These temperatures are pleasant and you won't feel the need to carry a pair of extra woolen socks.
Economy
If you're moving to New Orleans in search of work, then you're making the right decision. This city is not limited to just one industry and that is the beauty of the job market here. More industries mean more opportunities and New Orleans is filled with them.
Also, New Orleans is home to one of the world's largest ports and has an extensive central business district. Here are some of New Orleans' top employers:
Ochsner Health System
Tulane University
Entergy Corporation
Boh Bros Construction and Superior Energy Services
Whitney Holding Corp
Woodward Design + Build
Other industries that have massively contributed to the city's GDP are energy, advanced manufacturing, international trade, healthcare, and tourism. You're in luck if you have your foot in any of those industries.
However, many jobs were lost in the aftermath of the COVID-19 pandemic as a result, the unemployment rate is still above the national average. The unemployment rate has increased up to 11.0% in contrast to the national average of 6.0%.
Another fact you should know is that you will earn a bit less in this city compared to the US average. Therefore, to survive the inflation in New Orleans, you need a well-paying job to bank on.
| | | |
| --- | --- | --- |
| | Income per year | National Average |
| Average Income of a resident in New Orleans | $27,255 | $28,555 |
| Median Household Income | $36,964 | $53,482 |
Traffic And Transportation
The traffic isn't something you have to worry about in New Orleans. Although metropolitan areas can get a bit congested during rush hour, after that, you see fewer cars in comparison to other cities surrounding New Orleans. For a one-way commute, the average time taken in this city is just 23 minutes long as against the national average of 26 minutes. Finally! Your dream of getting home faster will be finally achieved.
If you don't own a car, the public transportation system in this city has got your back. Under the administration of the New Orleans Regional Transit Authority (NORTA), New Orleans has a plethora of options such as buses, ferries, and streetcars to move from one place to another. If you're a literature buff, sighting a streetcar will obviously remind you of Tennessee Williams' play A Streetcar Named Desire.
Also, you can easily navigate New Orleans by foot since the neighborhoods are pretty much close to each other. If you wish to cycle around New Orleans instead, the flat terrain the city comprises makes this activity healthier and greener.
Places To Visit
1. The National WWII Museum
The Second World War brought the world to such a standstill that it is regarded as the war that changed the world. To understand how the war shaped the lives of the US army and the citizens, the National WWII Museum – America's official World War II museum inaugurated in the year 2000 – has documented each and every niche ranging from weapons to historical time stamps about the war. In addition to that, there is a room dedicated to wartime bombers.
2. Preservation Hall
You might have already heard of New Orleans' vibrant music scene. And there's no better place to engage in a couple of musical notes than in the Preservation Hall. Established in 1961 when the jazz scene in New Orleans was prominent, this hall still continues to host various other genres of music such as hip-hop, rock, and gospel. You'll develop a deep connection with this city if you have gone to at least one of the 350 annually hosted shows
3. Magazine Street
If you want to experience some of the bustles in New Orleans, then walking around Magazine Street will be fruitful. You can experience the 6-mile stretch by hopping on and off the Magazine Street bus, but the street is best explored by walking. Along with the farmers' markets, you'll see numerous food trucks and clothing stalls situated across each other. This place is heaven for those who enjoy the vibrancy of city culture.
Other Notable Places You Should Visit:
Frenchmen Street
Maple Leaf Bar
Cafe Du Monde
Ogden Museum of Southern Art
City Park
Schools And Universities
New Orleans fares pretty well with its quality of education as some of Louisiana's top-ranking colleges and schools are based in this city. Well, their education infrastructure may not be amongst the top end in the country, but one redeeming quality is that the student-to-teacher ratio in New Orleans is not that high. That means your child will get more one-on-one attention from teachers and even more opportunities to participate in the class activities.
Here are some of the top-ranked schools, colleges, and universities we have curated for you.
Elementary
Lake Forest Elementary Charter School, Lake Forest Blvd New Orleans, Orleans Parish School District
Harahan Elementary School, Jefferson Highway New Orleans, Jefferson Parish School District
Bricolage Academy, Esplanade New Orleans, Orleans Parish School District
Middle
Riverdale Middle School, Jefferson Hwy New Orleans, Jefferson Parish School District
Einstein Charter Middle School At Sarah Towles Reed, Michoud Blvd New Orleans, Orleans Parish School District
Wilson Charter School, General Pershing Street New Orleans, Orleans Parish School District
High
Benjamin Franklin High School, Leon C. Simon Drive New Orleans, Orleans Parish School District
Lusher Charter School, Freret Street New Orleans, Orleans Parish School District
Warren Easton Senior High School, Canal Street New Orleans, Orleans Parish School District
Universities And Colleges
Tulane University
University of New Orleans
Dillard University
Xavier University of Louisiana
University of Holy Cross
Best Places To Live In New Orleans
Audubon
If you're searching for a neighbourhood with a strong educational stronghold, then Audubon should be on your list. Due to the presence of two of New Orleans' most prestigious universities (Tulane University and Loyola University), this part of New Orleans is regarded as the University District by many locals who reside there. If you're fond of posh structures with finesse architectural designs, universities are not the only architectural prowess you will find in Audubon. Walk along the pathways of St. Charles Avenue and Audubon Place [1] and admire the intricate design of houses that Audubon is home to.
Where safety is concerned, you'll be able to sleep peacefully in Audubon since it is by far one of New Orleans' safest neighbourhoods. You'll find University police making significant rounds around the neighbourhood, so that means chances of someone committing a crime are slim.
Population: 16,228
Median Home Value: $755,302
Monthly Median Rent: $1,569
Annual Median Household Income: $93,224
Garden District
Garden District is the opulent side of New Orleans. Historically known for its gardens per block, now it's mainly known for its historic mansions. Coming to the livability aspect of the Garden District, shops and restaurants would be well within reach. So you won't have to worry about driving to buy groceries as this neighborhood is so walkable. Also, the streetcar is close as well so getting around in Garden District will be much more of a breeze.
Here are some of the many historic mansions present in providing Garden District its opulence:
Gilmour – Parker House
Bradish Johnson House
Adam-Jones House
Claiborne Cottage
Population: 1,829
Median Home Value: $805,775
Monthly Median Rent: $1,312
Annual Median Household Income: $106,331
Algiers Point
If you're yearning for a quiet neighborhood with many restaurants and shops, then Algiers Point is basically what you're looking for. Comparing the quality of elementary education with other neighborhoods of New Orleans, the public schooling, which is served by the Orleans Parish School Board, is much more decent in Algiers Point. So now you won't have to search other neighborhoods for better schools.
Population: 2,584
Median Home Value: $358,474
Monthly Median Rent: $1,201
Annual Median Household Income: $74,765
Conclusion
If you were to ask us how we would rate New Orleans on a scale of 10, we'd probably give this city a 7.5. We subtracted a few points to account for the high tax rate and fluctuating weather. Other than that, New Orleans has everything for everyone; from a vibrant party atmosphere to a relaxed lifestyle, you can say this city has the best of both worlds. If that attracts you, then moving to New Orleans is something you must consider.
Also Read: Moving To Louisiana – A Relocation Guide for 2022
FAQs
Is New Orleans A Good State To Move To?
From chic restaurants to vibrant festivals, New Orleans has a lot to offer to newcomers. Adding to that, the cost of living is much lower than the national average, so you won't have to spend much on utilities and groceries. The property tax rates are competitive as well. However, the economy is still recovering from the pandemic and the average income a resident from New Orlean earns is less than the US average. But the job opportunities in its booming sectors will guarantee lucrative opportunities. So decide and plan accordingly.
How Much Money Do You Need To Comfortably Live In New Orleans?
If you follow the 50-30-20 budgeting rule (50% for necessary expenses, 30% for luxury and comfort, and 20% in savings), an income of $60,782 will be more than enough for you to afford living in New Orleans.
What Should I Know Before Moving To New Orleans?
Here are some main points you need to know before even you begin to plan on moving to this city:
Extravagant seasonal festivals
Diverse music and art scene
Good food
Slow-paced lifestyle
Enter your information
Almost done!
Enter your information to view your quote.
Your information is safe with us. By using this service, you agree to receive email communications solely regarding your relocation process