Is It Better to Renovate or Relocate?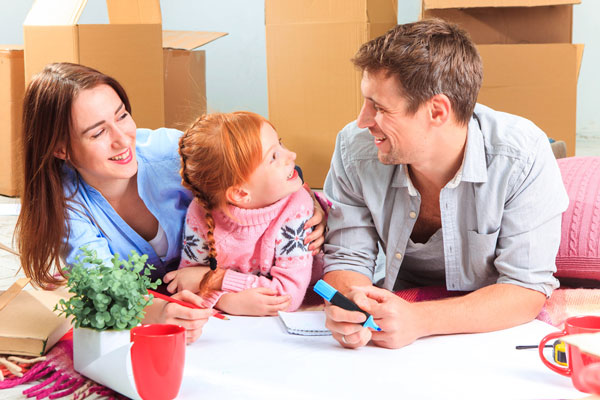 After a decade or two, most families reach a point when they need a change in their house. Either good spruce up or find a more prominent, better place. This happens due to increased family size, natural wear, and tear of the house, an address change, etc. However, Americans do not like to move, and it is one of their life's most stressful events. But is it not so wise to live on a construction site too? Before deciding on moving or renovating, you should go through a checklist of your requirements and see if you can upgrade your current house as per your requirement on a fixed budget. If not, it is time to move.
All things are easier said than done. The financial situation is a vital factor before taking any decision. How it impacts your home insurance is a thing to think over well. 76% of Americans said they would upgrade their current home than put a down payment on a new one — but that doesn't mean renovating is always the more innovative option.
You may prefer to live in the peace and comfort of the old home as it holds precious memories and a feeling of familiarity. At the same time, you might want to move, as the renovation might be a back-breaking process, physically and financially. You should ask yourself the six most essential questions before contacting a realtor or a contractor.
Should I Build an Addition or Move Houses?
Setting all costs aside, there are several factors to consider while deciding whether to renovate or move. Firstly, it is essential to ask yourself whether the house has the potential to be transformed and be turned into an ideal living space for the future. If your home in question doesn't have the potential to expand enough to accommodate a large and growing family, you may be better off moving house.
On the other hand, it may surprise you to know how well you can transform a house with creative remodeling or even an extension. If you think the current home can be remodeled and expanded, you should have a meeting with several fixer-uppers and contractors to brief them on your requirements. Ask for a detailed quotation to understand how much the transformation will cost. At the same time, check the houses in the area you want to shift, and imagine living there. Evaluate how it makes you feel. If favorable, determine the cost of the property, including the moving charges. Once you have both the figures, you will be able to decide which option is more advantageous for you.
When making the decision, also consider other factors. You should find out how much disruption the renovation will cause you and your family. Is it possible for your family to continue staying in one section of the house if an extension is built? Would you prefer to remain on the property, or would you like to avoid this inconvenience? If you plan to rent accommodation during the renovation process, add the rental cost to the final figures of the renovation. However, if your house is worth renovating and you are very comfortable with the area, spending extra on the renovation process should not bother you.
It would be best to calculate how the renovation and addition to your property will add to its net worth. Compare the difference by trying to "Mock-Sell" your house with and without an extension. If the expansion doesn't add to the selling price of your house, you should seriously look into the moving option. It would be much better to buy a new home.
Cost: Is it cheaper to renovate or move?
Home renovation or a shifting decision depends primarily on the mortgage situation too. Renovations need an immediate outflow of cash, whereas buying a new home can help you gain some money now but will create a considerable expense in the coming years. When planning to renovate, you should have current savings.
The median house price in the U.S. for all home types (single-family, townhomes, condominiums, and co-ops) was $284,600 in May 2020, according to the National Association of REALTORS® (NAR). The median sale price for existing homes went up to $295,300 in June 2021.
Moreover, there are many hidden costs to moving house, including the appraisal, home inspection fees, and realtor commissions. Overall, it would help if you planned to pay the equivalent of between 3% and 5% of your mortgage amount on closing fees. Besides all the above expenses, another high cost is moving. House prices also change as per the area, so it can be cost-effective to move if your existing home is of more value than homes in the area you wish to move to.
Generally, it is more affordable to remodel than move house, but that doesn't mean it's a cheap option. If your home needs a bit of a face-lift, it's almost certainly cheaper to remodel than move. However, if the entire house needs remodeling, you should expect to spend $100,000 and $200,000. The overall cost depends mainly on what work you're planning and the size of the living space you occupy. Getting several quotes from contractors can help you decide whether you should remodel or move based on affordability and how much upheaval is involved.
See Also: How Much Does it Cost to Move a House
Is Remodeling a House Worth It?
It is crucial to determine the house's ROI (Return-on-investment) factor. Remodeling a home is a substantial expense, so it is essential to decide if spending that much money on it is worth it. It is worth considering the likely ROI if you choose to sell the house in the future.
The return on investment mostly depends on the work taken up during the remodeling process. The work that will surely increase your ROI is the installation of a new roof and restoring the plumbing and civil work.
Emotional attachment to your home?
Home is the most integral part of our lives. You might be much more attached to your home than you realize. The comfort zone you and your family have built around it, the feeling of familiarity and belongingness cannot match anything. Before taking the plunge, you should check the emotional state of all your family members, including yourself. Sometimes a more expensive remodeling is worth more than a cost-effective shifting.
Value in the Real estate market?
Buying and selling a home can be stressful. A lot of research on market conditions needs to be done before putting your house on sale. So, even if it is cheaper to move and buy a new place instead of renovating, you must sell your house when you are getting the most out of your investment. Homes generally sell faster in spring and summer, and you are likely to get a much better bargain. However, it would be wiser to have patience and wait to get the best rates for your house.
If the market conditions are unfavorable for selling, you should remodel the house. Calculate the ROI and work towards better planning and vision for the new design and structure. An excellent professional contractor would be beneficial to hire for carrying out your plans successfully.
Is the Timing Right?
Many times our decisions depend on the life and engagements of our family members. Moving might need you to change school districts, daily commute routes, distance to the nearest hospital, Office, mortgage costs, etc.
When planning a renovation, you need to pay money immediately out of your savings. So, you will have to check if the money saved by you is not required soon for college, medical, or other financial needs. If you are planning on some major expenses soon, it is a smart move to sell your house on extra equity.
Renovation
It is possible to create the home of your dreams in a place you already call home by simply remodeling your current residence. However, there are many downsides to a home remodeling project. The disturbance to your current lifestyle, the cost, and the time required are a few of them. If you plan to renovate your house or a part of it, like only the kitchen, you can call home renovation Toronto or kitchen renovation Toronto for professional services.
Why?
Signs that show a need for renovation:
• You plan to stay in your current home.
• The house is surrounded by stores and amenities that you need immensely.
• You have good savings and extra cash-in-hand
• Your house is in an upmarket area.
• Houses in your neighborhood are fetching excellent great value.
• You can leave your house for a few months while it is renovated.
Benefits of Renovation
A renovation adds value to your property. A well-planned and executed renovation can raise the equity of your house by 10 – 15% in 5 years. It is best to get an estimated cost of your current home and the price after renovation.
A well-designed and planned remodeling will add to the beauty and usability and eventually value to the house. If you plan to sell the house within a short period, make sure your home looks appealing through renovation.
While renovating, you save undue documentation, tax, and moving expenses. This helps you save a lot of money in the long run. With a renovation, you can upgrade your home as per your dreams, needs, and budget. Reorganize your home, keeping in mind your family's changing needs and requirements. 
Relocation
Why?
Signs that show the need for relocation:
• The property does not fit your lifestyle or needs.
• You are no longer satisfied with the neighborhood and surroundings.
• It is a great opportunity to put your house on the market and get a great deal.
• You are financially ready to move to another place.
Benefits of Relocation
To keep up with your requirements and needs, sometimes it is an excellent choice to sell your house and settle at a different location. If you want to upgrade your life and plan to relocate to a premier location with better schools and a lesser crime rate, it is also good to move. Moving is also a great alternative if your house is in despair and you cannot handle the repairs. 
Conclusion
Moving or renovating both options is time-consuming, expensive, and stressful. Weigh all options before you jump in the water. Carefully ponder all the points mentioned above with your family and reach a practical conclusion. After a good renovation, your house could become an ideal living space, but is it worth the cost and effort? Keep in mind the availability of finance for smooth sailing through the process. Your house might have seen some better days. But the main question here is whether you should renovate or relocate. Should you persevere and continue building memories? When is it time to throw in the towel and cut losses? You have to consider so many factors when mulling over whether you should renovate or relocate. It is not just a matter of expenses. You have to take the emotional toll on your loved ones too. Be wise – Be practical – Be sensible.
FAQs
Should you renovate your home before you move?
Things can get pretty stressful and hectic during a move. Why choose between renovating or moving when you can get the best of both worlds? You can use your need for renovation to sell your home faster and at a better price.
Should you remodel or move to a bigger house?
Calculate your remodeling return on investment (ROI). It is a win-win situation if remodeling can increase your ROI and make it a spacious place for your family to live. Adding square footage to any home can be expensive, and you will need a city permit. Moving may be more cost-effective if you can add on too much to your house when planning to remodel.
See Also: Moving to a Bigger House
What's the difference between renovation and remodel?
While both renovation and remodeling will improve and update your living space, the two types of projects are very different. Each has its benefits. Get to know six key differences that help keep the terminology straight and nail down the project that best suits your vision.
Do you need a general contractor to renovate a house?
The five types of home renovation are best undertaken with the help of a skilled general contractor to oversee the project. A contractor may also offer help and advice during the remodeling process. To find a general contractor, it's best to look at our directory.
Enter your information
Almost done!
Enter your information to view your quote.
Your information is safe with us. By using this service, you agree to receive email communications solely regarding your relocation process