Moving To Charleston, SC – Relocation Guide for 2022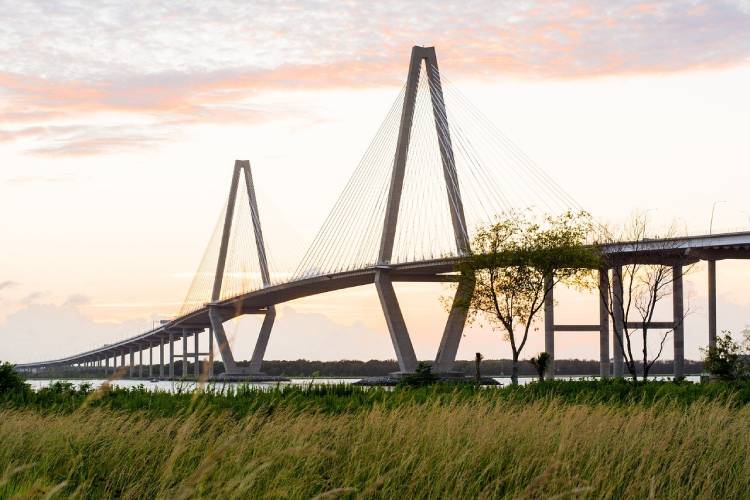 Charleston, SC is a beautiful city located on the east coast of the US. Despite being the biggest city in South Carolina, it still manages to give off a small-town vibe. It offers you the opportunities of a big town that most people have been interested in. Some of the things that have made people drawn towards the Holy City are laid back lifestyle, charm, incredible historical sites, fun outdoor activities, miles of beautiful beaches. Charleston is also considered one of the best cities to live on the East Coast. If any of these things are on your mind when you are looking for a city to reside in, we can say confidently that your search has definitely ended.
Here are a few things that you need to know before moving to Charleston that will confirm that it is the city for you:
Pros And Cons Of Living In Charleston
Pros
Full Of History
It would be impossible to ignore Charleston's rich history, thanks to its significance in events including the American Revolution, the Civil War, and both World Wars. The many museums and monuments here are a testament to this.
The Holy City
Known for its religious tolerance, Charleston has over 400 churches dating from the 17th century. The skyline of the city is filled with steeples, making the nickname well-deserved.
Has Nature's Bounty
The coastal city is surrounded by the beauty of nature. It has ample parks, beaches, and rivers that add to its beauty.
Great Education And Employment Opportunities
City of Charleston SC, has a thriving economy that contributes to the kind of opportunities that it offers its residents. The job and educational opportunities in Charleston are wide. This has allowed many people to flock to the city.
Easy To Get Around
The city is easy to move around as everything around the city is located within walking distance. Besides, the fuel prices in the city are affordable.
Awesome Food Scene
Charleston SC is a paradise for foodies as it has ample seafood along with some Southern staples that you'll enjoy.
Cons
Bad Traffic
The constant traffic congestion around different parts of the city could get a bit annoying at times.
It's Hot And Muggy!
Being near the coastline, Charleston can get quite humid. Especially during the summertime, the heat and mugginess can get quite oppressive!
Increasing Expenses
The cost of living in Charleston is higher than the national average. And to make things worse, it's consistently increasing!
It Floods Quite Often!
The geographical location of Charleston (low-lying, close to the ocean, along with man-made factors) is such that floods are quite common here. Keep this in mind when you buy a house here!
Weather In Charleston
Charleston experiences subtropical weather that is constantly changing. The summers are hot while the winters and other seasons are mild. Fall brings in sunny afternoons with cool evenings while springtime gets a bit sunny and humid.
The summer months in Charleston (June to August) can get extremely sweaty and humid. July is the warmest month with an average high temperature of 92°F. During the other months of summer, the average high temperature in Charleston is 82°F and the average low of 72°F. It can be muggy, but the coastal winds make the summer a bit bearable.
As mentioned earlier, the winters in Charleston are mild with barely any snow. You may get lucky during December as it is the only time you may possibly witness some snow in Charleston. The average high temperature during winters in Charleston SC is about 52°F while the lowest low temperature lies somewhere between the mid 40°F.
You may experience some flooding in some areas of Charleston as the city is vulnerable to it. We suggest you get yourself a flooding insurance to be safe and do not buy a house in the areas that are determined as flood zones.
Cost Of Living In Charleston
No matter where you're moving, it will be disastrous if you don't take into account the expenses you'll incur when living there. There are several factors like taxation system, monthly expenditure, the housing market that play a part in determining the cost of living. Here's an overview of the cost of living in Charleston.
To put it shortly, it's higher than the national average by a slight margin. The cost of living index of Charleston SC is 111.5 which is 11.5 more than the national average of 100. This goes to show that living in Charleston could be expensive if you do not have a good paying job.
Buying A House In Charleston
The housing market in the city of Charleston is a bit on the steeper side. This is primarily owing to the high demand and low availability of houses here.
Even so, Charleston is mostly populated with families as the housing in this city is mainly family-centric. There are cottages, bungalows, condos, and apartments in Charleston for you to choose from. Depending on your needs, you can choose a house.
| | | |
| --- | --- | --- |
| | Charleston | United States |
| Median Home Value | $437,252 | $316,368 |
Charleston median home value is higher than the US average, but not terribly so. Buying a house is definitely the smart choice if you want to move to Charleston on a long-term or permanent basis.
Renting A House In Charleston
Given the lack of houses to buy in Charleston, the city has turned into a renter's market, and is also among the best places in the US to rent a house.
We have listed a table below to help you know the kind of monthly rent you would be expected to pay when living in Charleston.
| | | |
| --- | --- | --- |
| Apartment Size | Monthly Average Rent | US Average Monthly Rent |
| Studio apartment | $1,114 | $950 |
| 1 Bedroom Home | $1,134 | $1,050 |
| 2 Bedroom Home | $1,292 | $1,278 |
| 3 Bedroom Home | $1,621 | $1,680 |
| 4 Bedroom Home | $2,078 | $1,950 |
The rent for an apartment in Charleston is on the higher side. If you're moving to Charleston permanently, we suggest you consider buying a house!
Taxes In Charleston
The next thing you would be spending your money on is taxes. The tax rate in Charleston is high. The income tax rate in Charleston falls anywhere between 3%-7% depending on the per capita income. The sales tax is also a bit higher in Charleston with an average of 9%.
The property tax is also relatively in the lower range with an average of 0.48%. This makes it one of the very few places in the USA to have a low property tax rate. This is the only tax in Charleston where you could be saving a bit of your hard-earned money.
Utilities And Other Expenses In Charleston
As mentioned earlier the cost of living in Charleston is higher. This means that you'll be required to spend a little extra on your monthly expenses. If you come from cities like New York, you may not see a major difference, but if you're from a small city or town you may observe a big difference!
We've listed down a few expenses that you'll be expected to pay off each month. It will give you a basic idea of how much you will be spending on your basic monthly expenses.
Loaf of Bread- $2.69
Monthly transportation pass- $57
Monthly internet bill- $64.62
Basic utilities bill- $220
Crime Rate In Charleston
One good thing about moving to Charleston is that you may not have to worry so much about crime – after all, it's one of the safest cities in South Carolina! That said, the average crime rate here is indeed more than the national average though, with you having a 1 in 36 chance of being a victim of a crime, according to NeighborhoodScout.
The property crime rate in Charleston is higher than the violent crime rate. The US average of property crime is 21 while that of Charleston is 24.21. You have a 1 in 41 chance of being a victim of a property crime like burglary or theft when living in Charleston.
The violent crime rate is 3.79 which is just a bit lower than that national average of 4. But this lowers your chance of being a victim of a violent crime in Charleston. Charleston is 17% safer when compared to the other cities of the US. To put it shortly, the city has both good and bad neighborhoods, so you can choose accordingly!
Economy And Job Opportunities In Charleston
Charleston has experienced some steady economic growth in the past decade. The growth of major industries like education, manufacturing, healthcare has created several job opportunities. This has enabled the economic growth of the city in the past few years.
We've listed a table below that will give you an idea of the economic stability that the residents of Charleston have been experiencing for the past few years:
| | | |
| --- | --- | --- |
| | Charleston SC | US Average |
| Average Household Income | $61,367 | $57,652 |
| Job Growth | -3.70% | -6.18% |
| Income Per Capita | $38,126 | $31,177 |
| Unemployment Rate | 4.0% | 6.0% |
If you're a job seeker living in Charleston, you may want to look at industries like, education, manufacturing, healthcare, and hospitality. These are the industries that have contributed to the economy of Charleston SC. These industries have job openings for all professionals at various levels of experience and qualifications.
Some of the leading employers in the city of Charleston are Berkeley County School District, Cummins Turbo Technologies, The Boeing Company, Joint Base Charleston, Medical University of South Carolina, etc. A majority of the population is employed in these companies as they have ample job listings open for professionals.
Education In Charleston
Education is one of the top-rated industries in Charleston SC that has contributed to economic growth. The quality of education in the city is one of the best in the US with several top-rated schools and universities. This has resulted in many nationwide and international students enrolling in some of the top universities and schools.
Let us have a look at some of the best schools and universities in Charleston that you must know of:
Elementary And Middle Schools
Ashley River Creative Art Elementary
Daniel Island School
Orange Grove Charter
Montessori Community School
High Schools
James Island Charter School
Allegro Charter School of Music
Charleston Charter School of Math and Science
Philip Simmons High School
Colleges And Universities
Charleston Southern University
Charleston School of Law
The Medical University of South Carolina
College of Charleston
Clemson University at Charleston
Traffic And Transportation In Charleston
As the city has a coastline and some rivers, there are bridges networking throughout the city of Charleston. These bridges are a major reason for the traffic congestion in the city as there are strict rules that need to be followed when passing through them.
The public transportation system in Charleston is efficient and works well within the city. The tourists as well as the locals make use of the public transportation system known as CARTA (Charleston Area Regional Transportation Authority) when commuting within the city. There are airport shuttles and downtown shuttles that make commuting easier for the residents.
Most people prefer having their personal vehicle as the prices of gas are affordable and commuting becomes easy. Other than that, most people also prefer cycling or even biking to their destination. Bikes are common in many parts of the city where traffic congestion gets a bit too rough during peak hours.
The city has a remarkable walk score of 93 but this does not apply to the entire city of Charleston. The walk score is only limited to the Charleston peninsula region and does not look at the whole city. The average commute time for a one-way route in Charleston takes about 21 minutes, which is lower than the national average time of 24 minutes.
Best Places To Visit In Charleston
We have a list of places that you must visit when you move to Charleston to have some fun time and chill with friends and family.
1. Nathaniel Russell House
Nathaniel Russell House is the neoclassical house of a merchant who lived in Charleston. It's one of the most popular historical houses that you can visit to get an understanding of the history of the city.
2. Charleston Ghost Tours
The Charleston ghost and haunted tours are thrilling that most people enjoy. You can book a slot for one of the tours with your family and or friends to experience the thrill yourself.
3. Charleston Tea Garden
If you're a tea lover, you need to visit the Charleston Tea Garden and take a look at the beautiful view of the gorgeous tea plantation while sipping on some tea. It's a good vacation post to go to on weekends.
A few other places that you visit in Charleston are:
South Carolina Aquarium
Harleston Fossil Adventure Tour
Angel Oak
Cypress Gardens
The beaches
Places To Live In Charleston
One of your major concerns when you decide on moving to Charleston would be to find a suitable neighborhood to move to. It is one tedious task that takes time and a lot of research. We have listed down a few neighborhoods in Charleston that you could consider moving to.
1. Downtown Charleston
Downtown Charleston is a large neighborhood divided into a few sections. The community is a mix of professionals, students, and families living together. The housing market is the best in the city as you'll find ample rentals of various sizes in this neighborhood. There are some great schools and colleges around the neighborhood along with parks as well. But of course, a neighborhood as awesome as this comes with a huge cost as well!
Population: 9,912
Median Home Value: $694,083
Annual Median Household Income: $64,022
Monthly Median Rent: $1,485
2. James Island
James Island is a neighborhood where many families reside. The neighborhood has ample outdoor activities for both young and old. The close community and small country life that you get to be a part of are what makes James Island among the best neighborhoods to live in Charleston.
Population: 11,908
Median Home Value: $261,300
Annual Median Household Income: $81,674
Monthly Median Rent: $1,092
3. North Charleston
North Charleston is a neighborhood in Charleston with affordable housing rates which has attracted a lot of student and family population. The neighborhood has low crime rates and has schools, outdoor activities, and job opportunities for everyone. With a gorgeous neighborhood, and ample amenities, North Charleston makes for the perfect place to call home.
Population: 108,168
Median Home Value: $155,900
Annual Median Household Income: $45,510
Monthly Median Rent: $980
4. Mount Pleasant
Mount Pleasant is one of the highly populated neighborhoods in Charleston. A majority of the population is filled with homeowners and the population of renters in this neighborhood is low. You'll find a good and peaceful environment in Mount Pleasant that attracts retirees to here.
Population: 80,611
Median Home Value: $413,600
Annual Median Household Income: $103,232
Monthly Median Rent: $1,465
Summing Up
Along with the serene beauty, the city of Charleston also has some top-notch restaurants with the best food, affordable homes, job opportunities, and other spectacular opportunities that have drawn many people to flock to the coastal city. If any of these things resonate with you and seem like a good trade-off, you may want to look at moving to Charleston!
FAQs
Is Charleston SC Expensive To Live?
The city of Charleston is quite an expensive city as the tax rates are higher for residents in the city. Additionally, the cost of living is not the most affordable one and you'll have to keep up with the monthly bills.
See Also: 7 Best Moving Companies In South Carolina
What Is The Best Area To Live In Charleston?
Charleston has several neighborhoods that you can choose to live in depending on your needs. Some of the neighborhoods that attract the most attention are:
Downtown Charleston
Folly Beach
James Island
Mount Pleasant
Is Living In Charleston Worth It?
The weather in Charleston is great and the city is surrounded by a beautiful coast, rivers, nature, and rich history. Charleston also has ample opportunities for students and professionals. All of these reasons combined make living in Charleston absolutely worth it.
Enter your information
Almost done!
Enter your information to view your quote.
Your information is safe with us. By using this service, you agree to receive email communications solely regarding your relocation process