Moving from NYC to Austin TX – A Complete Guide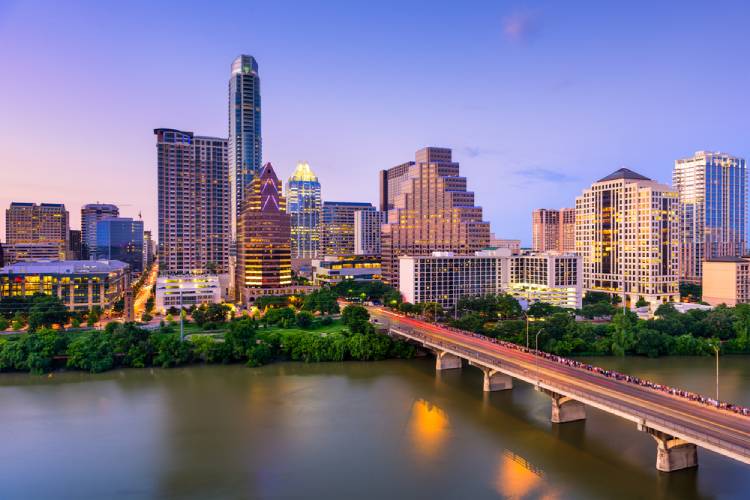 Everything you need to know about your move from NYC to Austin
It can be quite the challenge, packing up and moving from a neighborhood you've called 'home' for years. And to move to a city that is unlike what you're used to – it is understandable why you would be overwhelmed with the idea of moving at all. But in all fairness, you would be moving to a city that offers more significant benefits in your standard of living, where you work and how you spend your free time. And even though you're moving from one of the most popular cities in the entire world, if you are going to be happier elsewhere, it's worth taking this leap. But this leap won't necessarily have to be one of faith. With a good amount of research, you'll know what you are diving into before even packing your bags. Here is the lowdown on what you'll need to know before planning your move from New York City to Austin.
Moving from NYC to Austin:
You will be moving about 1,742 miles from New York City to Austin, with all your belongings (and family, if this is a family move) in tow. While in comparison to other cities in Texas, Austin ranks higher on the expensive scale, it is still cheaper than living in New York. So before you get going, it is recommended you do a little calculating of how much this entire operation will cost you. You would have to consider how long the drive would be, how many items you are moving and how much they weigh, whether you are moving alone or with somebody, and if you are planning on hiring movers to help you with the process.
Cost of Moving
The approximate of moving from New York City to Austin is usually calculated by the number of bedrooms in your old house. This would count as the base price for your moving operation.
1 Bedroom: Moving a 1-bedroom house would cost about $4100.
2 Bedroom: Moving a 2-bedroom house would cost about $5700.
3 Bedroom: Moving a 3-bedroom house would cost about $8800.
4 Bedroom: Moving a 4-bedroom house would cost about $11,720.
How is the cost calculated?
There are various elements that go into calculating the cost of your move. To get a better idea, here are the factors that affect the cost of your entire moving operation:
Household items: The quantity and weight of your household items make a huge difference in the cost of moving. Depending on the size, you will require moving equipment and a specific number of laborers. If the items need to be handled a special way, this might incur an extra cost too. And in case you need help with packing, that's a whole other price list.
Moving requirements: Your moving requirements include how far you need to carry your household items until you reach the loading dock. Are there any obstacles, narrow corridors, or stairways to maneuver? How many laborers would you need in total to pack and move your things within a certain time frame? Apart from these questions, you will have to decide whether you need a vehicle to be provided or use your vehicle. Also, you'd have to decide when you plan to move. The time of the year also affects the final cost.
Also Read: Things to do Before Moving
Special items and Add-ons: You may have specialty items like antique furniture, a car, grandfather's clock, or grand piano. These require special handling and therefore have an added cost. You could also pick add-ons, like providing packing supplies and moving equipment, which would add to your expenses.
Benefits of Living in Austin
At first, you might find it challenging to explain to your New York friends why you would want to leave this magnificent at all. Most Americans aspire to live in Manhattan and live their 'Sex and The City' dreams out in style. The truth is that Austin has a lot of people moving there from New York, so there has to be a good reason why so many New Yorkers find Austin an excellent place to move to.
Job opportunities: The job market in Austin is booming at the moment. Thanks to its steadily expanding tech industry, techies from all over the country are shifting base to Austin, in the hopes of being absorbed into the 'Silicon Hills', a nickname for the cluster of tech companies prevalent here, such as AMD, Google, Facebook, PayPal, Intel and Indeed, to name a few.
Also Read: How to Find a Job Before Moving
Nightlife: If you are into exploring the nightlife and seek this atmosphere in the city you live in, then Austin does not disappoint. Austin attracts people of all age groups to party the house down with a vibrant nightlife culture. With lively eateries and music venues in places like South Congress Street (also known as "SoCo"), party-goers young and old, throng to this neighborhood. For the younger crowds, there's Six Street, where you can party all through the weekend (starting Thursday), drinking and dancing. Then, there's the Mohawk, where you can enjoy shows even from the breezy rooftop.
Live Music & Entertainment: Austin is considered the musical festival capital of the world. Austin famously hosts the South By Southwest Festival with a massive music festival scene boosting its reputation, which celebrates movies, music, and technological advances over ten days. Another people magnet is Austin City Limits at Moody Theater, the longest-running music series in television history.
Best Places to Live in Austin
There are many living options in Austin. So whatever you were used to in the old neighborhood in New York City, chances are you may not have to worry a lot about a new living environment. And add to this the more affordable housing prices (compared to NYC) in Austin, and maybe you'll end up having an upgrade, instead. But there are several things to keep in mind when scouting for accommodation in this popular city. Depending on your budget, you can find a neighborhood that works for you. Here are some good neighborhoods to look at in Austin, which fall in different pricing brackets.
Downtown Austin: Starting at the top of the spectrum, Downtown Austin is considered the most expensive neighborhood in Austin. But it's worth the investment if you are seeking out fine dining restaurants, lots of greenery, entertainment venues, and higher-income job opportunities.
East Austin & South Congress: South Congress (or SoCo) and East Austin are an excellent pick for people moving to Austin, where you'll find diverse living options. These neighborhoods are hot and happening from historic bungalows to new apartment complexes, attracting people of higher and mid-range incomes. There are plenty of restaurants, cocktail bars, and hotspots to discover here.
North Austin & Westgate: If you are looking for affordable housing in a calm and peaceful environment, you should check out Westgate and North Austin. This area is ideal for people who prefer a laid-back lifestyle, with lower rent and lesser activity. You will find green spaces, supermarkets, and restaurants to be where most people gravitate towards. You will also encounter ethnic diversity. Mostly, people here are singles, couples, and young families.
Hyde Park: If you're enrolled at the University of Texas, Austin, or are looking for a more artsy neighborhood, you can scope for housing in Hyde Park. This neighborhood is surrounded by pecan trees and tall oaks, ideal for poets to gain inspiration from. Some buildings boast a mix of Victorian architecture and Tudor revival art. This place is ideal for creative personalities, offbeat social lives, and a mix of quiet and activity.
Clarksville: Clarksville offers a journey into Texas history. This quaint neighborhood was established in 1870 by freed slaves and therefore holds great significance to the making of Austin as it is today. It also houses a trendy pedestrian-friendly commercial lane near Lamar Boulevard, where you can enjoy a cup of coffee at the cafes or go shopping in the boutiques. But don't think there isn't any entertainment in this neighborhood.
Travis Heights: Travis Heights is a great option if you want to be close to the action but not in the hustle-bustle. It has a mixture of old-world charm and new age excitement, with winding streets, green parks, art galleries, and eateries by the waterfront. Adjacent to SoCo, Travis Heights offers reasonable accommodation options ranging from 1920s era homes to new housing constructions.
North Loop: Established in the suburban boom post World War 2, this quaint neighborhood is popular for college students and University of Texas staff. The people in this neighborhood are friendly and warm, giving off a welcoming and peaceful vibe. You can get anywhere on foot, in this pedestrian-friendly area, so you won't have to worry about commuting to nearby supermarkets or restaurants.
Also Read: 11 Best Austin TX Neighborhoods to Live In
Getting Around
Moving to Austin from New York City might have some surprises since this city is predominantly a driving state. This means it is best to own and drive a car to get around comfortably and in time. However, this does cause concern for traffic, which Austin is notoriously famous for. There is public transport, though, like the Capital Metro for downtown and greater Austin. A monthly pass for the Capital Metro costs about $41.25, which is worth picking over being stuck in traffic for hours. The Metro Rail runs through Downtown Austin and Leander throughout the week (reaching Lakeline on Saturdays). If you want to drive out of the city, then State Highway 130 proves to be a fast exit.
Also Read: Moving From NYC To Chicago – A Complete Guide
Conclusion
Austin is climbing the charts when it comes to choosing where to live comfortably in the United States, where you can work for high incomes and still have a personal life to pursue hobbies, socialize and manage your health. While New York continues to glitter from afar, Austin is where New Yorkers are going home to.
Also Read: Moving from NYC to Philadelphia – A Complete Guide
FAQs about Moving from NYC to Austin:
Is it worth moving from New York to Texas?
One of the most important reasons people are moving from New York City to places like Austin is the considerably cheaper cost of living. Given that New York City is probably the most expensive place to live in the United States, New Yorkers who move to Austin are pleasantly surprised with the housing costs being 55% cheaper than what they would have to pay in New York City.
Why are people moving from New York to Texas?
There are throngs of people who are part of the mass exodus from New York City to cities in Texas, especially Austin. This is because Texas now offers a booming job market, better (warmer) weather, and affordable housing, all of which are essential to New Yorkers.
Is moving to Austin a good idea?
Austin has been voted one of the best places to live in the United States. In fact, many also consider it to be the best place to retire. On a 10-point scale, Austin scored an impressive number 9 for how much people desire to live there, thanks to its favorable housing costs, better weather, and a great job and educational opportunities.
How much does it cost to move from NYC to Austin, TX?
Considering how much time you will take to move all your things to your new place of residence in Austin, hiring a moving company, and scheduling the move itself, the estimated cost of moving from New York City to Austin, Texas, ranges between $3,100 and $8,900.
How much money should I save before moving to Texas? This depends on your living situation. Of course, if you have roommates, your cost will decrease. But if you are moving by yourself and need to lock down an apartment by paying the security deposit, apart from your income, you should have saved up at least $3000 before moving to Texas.
Also Read: Moving From NYC To Houston
Enter your information
Almost done!
Enter your information to view your quote.
Your information is safe with us. By using this service, you agree to receive email communications solely regarding your relocation process