Moving From Chicago to Florida – A Complete Guide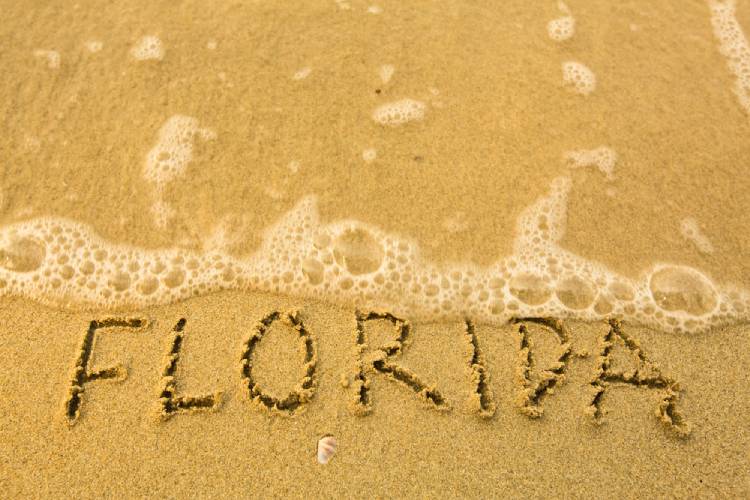 Regardless of whether you're at the very beginning of your career or at the end of it, Florida has everything to offer you that Chicago has and much, much more. The best part is, Florida will give you all that you're looking for on a sun-filled platter. If that is not enough to convince you, keep on reading our guide on moving from Chicago to Florida.
Weather
The difference in weather that you'll get to experience when you move from Chicago to Florida will feel like you've stepped into a different world altogether. While Chicago is usually a little cloudy and gloomy, Florida is nicknamed the 'Sunshine State'. Here are the specifics that you should know.
Chicago has a humid continental climate, which translates to warm, humid, and wet summers that are followed by freezing, snowing, and windy winters. On the other hand, the climate in Florida is classified as subtropical. So, you get hot, sunny summers, and mild winters.
According to ClimatesToTravel, temperatures in Florida are similar throughout the state. In the summers, the average temperature ranges from 88°F to 91°F. However, it does go up to 100°F when it gets to the extremes. On the other hand, the winter season sees a short and slightly harsh run. The average temperature swings between 52°F and 68°F. There are about 8/9 days of rainfall in the northern part of the state, while the southern part sees about 6/7 days each winter.
The most marked difference between winters in Chicago and in Florida is the little to no snow; snow in this state is very rarely seen. However, if you want your share of snow, you'll have to be in the northern-to-central part of the state. South Florida never sees snow. So, you can literally drive to a part of the state in order to avoid or enjoy the snow.
Cost Of Living
First things first, this section might seem a little weird since we're comparing the cost of living of a city to that of a state. However, there is one thing you can make total sense of, and that's the fact that the overall cost of living in Florida is lower than that of Chicago. The average cost of living in Miami, one of the most expensive areas in Florida, is about 14% higher than the national average. On the other hand, the average cost of living in Chicago is 23% higher than the national average.
Buying A House
Buying a house in Florida is fairly simple. However, there is one rule of thumb for a house-buyer in the Sunshine State: Beware of the HOAs (Homeowner's Associations), who have a fair bit of say in whether or not potential buyers/renters can stay. Some of them are notorious in their neighborhoods and might drive you out as soon as you move in. That being said, here is a comparison of the average prices of the homes in Chicago and Florida with data from Zillow.
| | | |
| --- | --- | --- |
| | Chicago | Florida |
| Median Home Value | $306,100 | $348,735 |
Renting A House
According to RoofStock, the state of Florida has the third fastest-growing rental market in the United States. However, the market that truly takes the cake is the one in South Florida. This is mostly due to the abundance of employment opportunities, affordable housing, sunshine, and sand. This also makes the market extremely competitive and chaotic. So, if you are looking for a house on rent in this state, you might want to stay on your toes, more so as you go from the north to the south.
The table below gives you a good enough idea of the overall rent rates in Florida compared to those in Chicago with data from Bestplaces. The differences are marginal, but Florida sure reflects the sort of figures you would expect from a fast-growing rental market.
| | | | |
| --- | --- | --- | --- |
| City | 1 Bedroom | 2 Bedroom | 3 Bedroom |
| Chicago | $1,111 | $1,285 | $1,630 |
| Florida | $1,104 | $1,355 | $1,795 |
Taxes
When we compare the tax burden in Chicago and Florida, it is apparent that the state of Florida is much more affordable than the city of Chicago. Keep in mind that this is an overall trend, and the cost of living of a neighborhood or city is highly dependent on its actual prices. That being said, here's a comparison between the tax scenarios in Chicago and Florida.
In the state of Illinois, home to Chicago, property taxes are charged at the second-highest rate in the country. Every resident has to pay 2.16% as the effective property tax rate. On the other hand, Florida charges a statewide effective property tax rate of 0.98%, making it cost less than half of what it would in the former.
When it comes to the income tax rates, the state of Illinois charges a flat state-wide rate of 4.95%. This means, regardless of how much you earn, you will be charged income tax at the same rate. On the other hand, the state of Florida does not charge any income tax at all. That makes the math a little easier, doesn't it?
Lastly, the effective sales tax rate in Chicago is 10.25%. However, this is the total sales tax consisting of the state, county, and city taxes. The effective tax rate in the state of Illinois is 6.25%. On the other hand, the general sales tax rate in Florida is 6%.
Expenses
When it comes to the cost of living, one thing to note is that the cost of living in Florida might vary a little from place to place. However, it will float near the average, which is about 9.9% higher than the national average, even in the most expensive areas. On the other hand, the city of Chicago is 23% more expensive than the national average.
Speaking of the Sunshine State, the cost of basic utilities like electricity, water, heating, and garbage disposal is around $459. This includes the monthly costs of a decent internet connection as well. According to WTXL.com, this is about $100 more than the national average.
When it comes to food, Florida is slightly more expensive than the national average. On an average, a single adult spends around $3,410 on food annually, while a family of four spends $9,855. To give you a better scale, the national average expenditure of a single person on food is $3,240, and that of a family of four is $9,355, according to 24/7WallSt.
The healthcare costs in the area are pretty much in line with the average costs country-wide. A typical Florida resident usually spends around $4,213 per year, while the average cost of healthcare for the entire country is $4,266. This includes the costs of routine check-ups and insurance.
Crime Rate
According to data from NeighborhoodScout, the total crime rate in Chicago is 35.19, while the same in Florida is 21.73. This total crime rate is a sum of the property crimes and violent crimes committed per thousand residents in a location.
Speaking of violent crimes, Chicago has a rank of 9.69, whereas the state of Florida ranks at 3.87. These numbers translate to the chances of becoming a victim of violent crimes in Florida to 1 in 258, while the same in Chicago is 1 in 103.
The property crime rates follow a similar theme. While the rate of property crimes is less in the state of Illinois, Chicago ranks higher than the state of Illinois, the state of Florida, and the national average. The rate of property crimes in Chicago is 25.49, while that in Florida is 17.85. This brings the chances of becoming a victim of property crimes in Chicago to 1 in 39, while the same in Florida is 1 in 56.
Economy And Employment Opportunities
This is another factor that is a little difficult to compare since we're essentially pitting a state against a city. However, when we put the averages of both the places on the table, remember that the average will vary slightly through the state, giving you a fair idea of what to expect.
That being said, the average salary in Chicago is $50,181. On the other hand, the average annual salary in Florida is $51,909, putting the average income in both places very close to each other. Moreover, USNews puts the economy of Florida at the 8th rank in the country, while Business Insider has ranked Chicago's economy in the third rank.
Speaking of the economy in Florida, it is a strong and diversified economy that is driven by industries like aviation, cleantech, defense and homeland security, and tourism. All of these industries brought the GDP of the state to $1,106,035 million in 2020. Here is a list of average income per year from Payscale.
| | | |
| --- | --- | --- |
| | Chicago | Florida |
| Average Income Per Year | $73,000 | $63,000 |
The US Bureau of Labor Statistics puts the unemployment rate in the state of Florida to 4.4% in December of 2021. This has been consistently dropping over the last two years. This rise in employment can be attributed to the biggest companies that call the Sunshine State its home, some of which are Fortune 500 companies. Here is a list of the biggest employers in Florida, so you can make the best decision possible.
Walt Disney World
Publix Super Markets
Naval Air Station – Jacksonville
Adventist Health System
BayCare Health System
Education
Chicago has quite a robust education system. But luckily for you, the state of Florida is also known for the quality of education it offers to its students. As of 2021, the Florida Department Of Education put the K-12 education system at the third rank in the nation. This ranking is obtained by the 67 school districts, 12 public universities, and 28 public community colleges. Rest assured that you won't have slim pickings when choosing a Floridan city that prioritizes education.
Moreover, U.S. News puts Florida's state university system at the first rank. All of these systems have worked seamlessly in order to improve the overall rankings over the years. To give you a clearer idea, here is a list of the best schools and colleges in Florida.
Schools
Southside Elementary School
Ashton Elementary School
Alice B. Landrum Middle School
Seaside Neighborhood School
School For Advanced Studies-Wolfson
A.D. Henderson University School & FAU High School
Colleges And Universities
University Of Florida
University Of Miami
Florida State University
University Of South Florida
Traffic And Transportation
As a soon-to-be former Chicago resident, you're definitely used to the ease and efficiency of the public transit in the Windy City. Well, you don't have to worry much about Florida, since the state has a very robust public transportation system. You get a variety of modes of transportation like a network of interstate and US highways, Amtrak trains, commuter rail services, seaports, and airports in a number of counties and cities in the state.
Starting with the mode of transportation by rail, you have a network of Amtrak trains to get into the state and a network of High-Speed Intercity Rail to get around it. The latter is maintained by the Florida Department of Transportation and runs between Lakeland, Tampa, and Orlando. However, this is only the first phase of this project and you might see extensive expansion in the future.
When it comes to flying, Florida is home to more than 130 public airports. The four largest ones amongst these are the Miami International Airport, Orlando International Airport, Fort Lauderdale-Hollywood International Airport, and Tampa International Airport. There are three more international airports and about 120 more domestic ones, overall.
As you zero in on different locations in the state, you will find that each county and/or city has its own public transportation network that consists of road, rail, air, and water transport. Some of the biggest local public transport systems are Miami-Dade Transit, Hillsborough Area Regional Transit in Tampa, and LYNX in Greater Orlando.
Lastly, the Sunshine State is a part of the 3,000-mile inland waterway that is called the Intracoastal waterway, along with a few smaller ones like Okeechobee Waterway, Miami Canal, St. Lucie Canal, and Cross Florida Barge Canal. All of these waterways have their own transportation system that can be used in tandem to get to far-off destinations along the coast. You can also charter a boat for yourself in order to reduce travel times.
Best Places To Live In Florida
Naples
Naples is situated in the southwest corner of the state, right next to the Gulf Of Mexico. This is a city that is known for its sophisticated lifestyle that includes some top-notch shopping venues, restaurants, and nightlife.
You are also welcomed to an array of affordable housing options, low crime rates, and a high-ranking school district, making Naples a staple for families and retirees. The best part is, Naples is very well connected to cities like Tampa and Miami, making it even sweeter for people on their way to work, as well as on their way to a beach.
Population: 21,811
Median Home Value: $988,501
Monthly Median Rent: $1,355
Annual Median Household Income: $107,010
Also Read: 8 Best Naples FL Neighborhoods to Live In
Sarasota
Sarasota is a neighbor to Tampa and about two hours away from Orlando. It is also home to a booming job market in industries like healthcare and tourism. As a resident, you also have easy access to one of the most eclectic art scenes in the area.
Miles of beaches, a growing art scene, a lot of job opportunities, and a bunch of hiking and biking trails make living in Sarasota an ideal choice for families and retirees.
Also Read: 9 Best Sarasota FL Neighborhoods to Live In
Population: 56,920
Median Home Value: $268,401
Monthly Median Rent: $1,135
Annual Median Household Income: $53,670
Melbourne
Situated in the Southeast of the state, Melbourne is one of the best places in the state to watch rocket and satellite launches. Because of this, Melbourne has gained the moniker of 'Space Coast'.
Other than flying rockets, Melbourne offers its residents ample and affordable housing, as well as access to a lot of family-friendly amenities. This is a coastal community that prides itself on its beaches and laid-back attitude. So, if you are a young professional, this is the city for you.
Population: 81,450
Median Home Value: $170,000
Monthly Median Rent: $1,031
Annual Median Household Income: $48,680
Miami
This list would not be complete without the mention of the house of the Bad Boys. Fondly known as 'Little Cuba' and 'Magic City', Miami is the second-most populated city in Florida, right after Jacksonville. This is because of the amazing job opportunities as well as the public attractions.
Like every major city in the world, living in Miami has its pros and cons. The pros are the unparalleled nightlife, mind-blowing food culture, and the amenities that every major city offers. The cons are the high crime rates and high costs. But, the amazing beaches in Miami convince its residents to stay despite everything, and it might convince you too!
Population: 454,280
Median Home Value: $317,701
Monthly Median Rent: $1,185
Annual Median Household Income: $40,000
Also Read: Moving from Chicago to Atlanta – A Complete Guide
Cost Of Moving From Chicago To Florida
Allied.com puts the average cost of moving from Chicago to Florida right around $2,960. However, it can swing between $1,700 and $5,500 depending upon the exact distance of your move, the route your movers take, and their method of packing. We recommend you to research well before deciding on a moving company and have a clear conversation with them about handling your belongings.
Summing Up
Florida is a great place to move for literally everyone. It has some of the highest-ranking schools, booming job markets, and a huge amount of beach homes to retire into. A majority of the housing market is friendly and the tax burden is not very high.
In our opinion, the list of pros is one that won't end soon. However, we do recommend you take a well-researched call on what county or city you move to. After all, the prices, laws, and regulations there will make all the difference. Factors like the taxes and the crime rates need close scrutiny, as do your chances of being affected by the searing summers and the tropical hurricanes.
Also Read: 13 Largest Cities in Florida
FAQs On Moving From Chicago To Florida
Should I Move From Chicago To Florida?
Absolutely! Florida welcomes all its residents with more than a few amenities and benefits. For starters, you have to pay fewer taxes, you get to live right next to a beach, and you get all of that without the winds and with a lot of sunshine. But of course, take into account factors like education, transportation, and crime when picking a city to move to.
Is It Cheaper To Live In Florida Or Illinois?
While Florida costs less in a lot of aspects, the state of Illinois costs about 1.9% less than Florida. However, Chicago is a different story altogether. It is more than 20% more expensive than the entire state of Florida.
Why Shouldn't I Move To Florida?
The sunny state of Florida is known for its natural disasters. Hurricanes and sinkholes often hit the city and take huge portions of it out. A lot of the time, the storms caused by these disasters are fatal to businesses and people alike. Plus, the summers can be blindingly hot.
Enter your information
Almost done!
Enter your information to view your quote.
Your information is safe with us. By using this service, you agree to receive email communications solely regarding your relocation process