Moving To Illinois – A Relocation Guide for 2022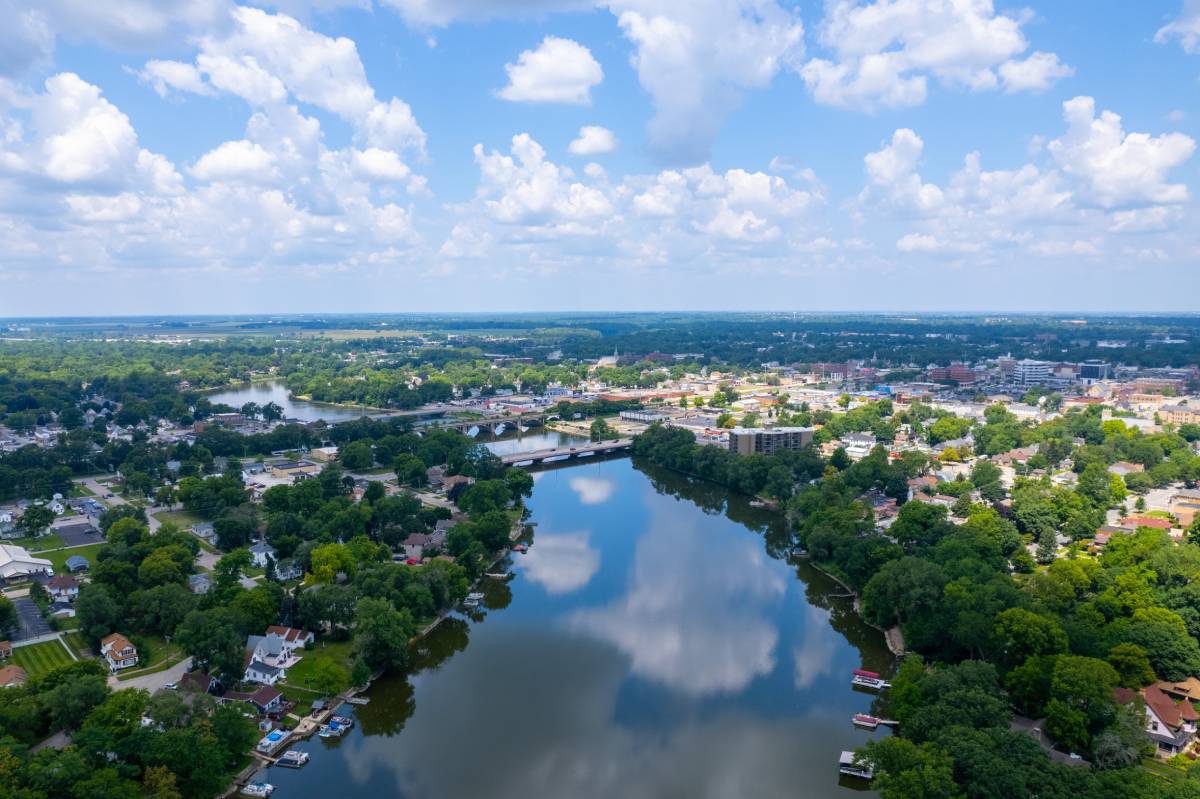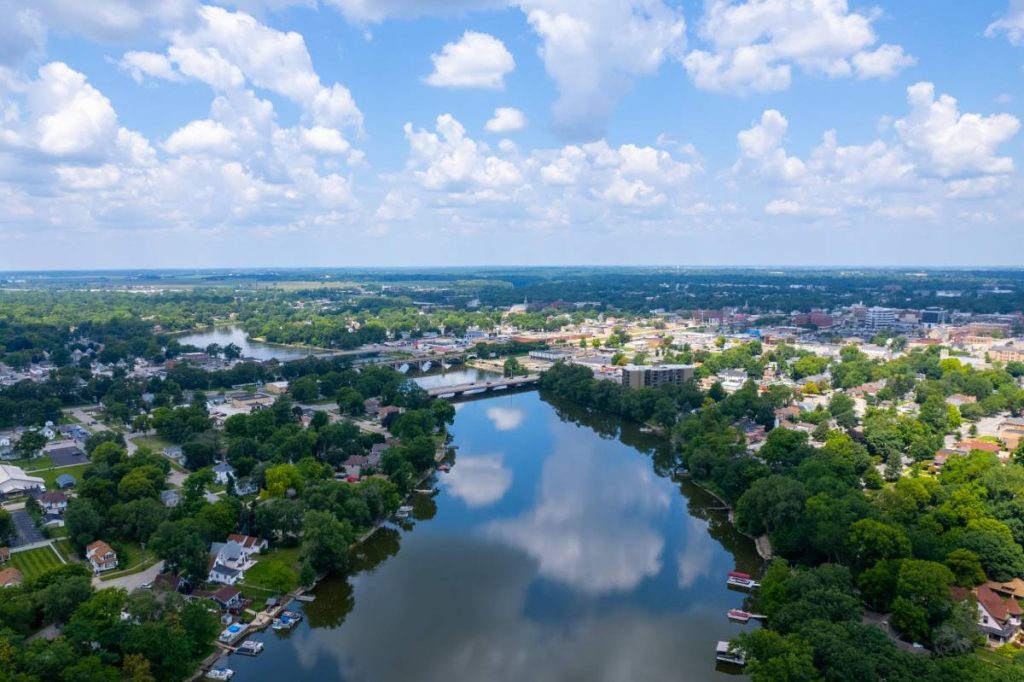 Located in the Midwestern region of America, Illinois is a state that is mostly known for the US' third-largest city. i.e. Chicago, and cornfields. Lots, and lots of cornfields. What this state lacks in terms of terrain, it makes up for in character.
The Prairie State is home to a wide variety of wonders and opportunities, along with friendly people and affordable living options. Moreover, it is a perfect blend of small towns and big cities. To give you a clear idea of what life would look like in this state, keep on reading our guide on moving to Illinois.
Pros And Cons
Pros
Strong Economy
The Prarie State is a giant when it comes to the economy. In fact, Illinois has the fifth largest GDP in the country. It is also one that provides the residents of Illinois with more employment options than one can think of. While cities like Chicago and Aurora are hubs for professional services, the rest of the state fends for itself with the help of farming and manufacturing industries.
Great Food Culture
The state of Illinois takes great pride in its food scene. While it indulges itself with local classics like deep dish pizzas, Gyros, Poutines, and Horseshoes, the bigger cities will give you a taste of many cuisines and even some hybrids that this state has given birth to. So, when you move here, make sure you keep an appetite for all sorts of food.
Affordable Cost Of Living
Contrary to popular belief, the state of Illinois is a very affordable place to live. In fact, even if you think of settling down in Chicago, you would have an easier time sorting yourself out than you would in NY, Washington DC, or even Seattle. The housing here, along with food, groceries, and transport is quite affordable.
Cons
High Crime Rate
The crime rate in the state of Illinois is higher than the national average. In fact, Illinois ranks 19th in the nation when it comes to total crimes committed. One of the biggest contributors to this is the city of Chicago. However, the local government has taken great efforts to combat poverty and crime. So, there is hope that this scenery changes for good.
Brutal Traffic
Chicago, the largest city in the state of Illinois, is the third-most congested city in the US. And unfortunately, other cities in Illinois aren't far behind in this manner. Almost every city in this state, especially the bigger cities, gets choked up during peak hours and if you're traveling by road, there's nothing you can do to escape it.
Harsh Winters
This Midwestern State sees some of the harshest winters in the country. The entire state gets covered in snow and everything around you gets frozen. The temperature in the entire state goes down to about 10°F. Occasionally, the state also gets in about with a few ice storms.
Weather In Illinois
The climate in the Prairie State can be described as a humid continental climate, meaning the summers are hot and muggy, while the winters are brutally cold. Since this state is mostly flat with hilly areas in the south, it is prone to heavy winds and storms.
Speaking of temperatures, the state of Illinois sees hot and humid summers where the average high temperature is above 80°F in its hottest month, July. The summer nights do go down by about 20°F, but you might not experience it if the state is in the middle of a heatwave.
Winters, on the other hand, see the other end of the spectrum. They are generally cold and see frequent ice storms and cold waves. The average low temperature in this state is 10°F. While the north sees much harsher weather, the southern part of the state is a little warmer.
When it comes to rainfall and snowfall, the state sees both of them increase as you go from north to south. The northern end of the state sees about 32 inches of rainfall, which gradually increases to about 48 inches in the south. Snowfall covers about 14 inches of the ground in the North and covers about 38 inches in the south.
Cost Of Living In Illinois
Buying A House In Illinois
The housing market in Illinois is a rather fierce one. The home sales seem to have dipped a little since there's a deficit in the supply of houses for buying. It is a seller's market and you'll have to be on your toes until you sign the house over to yourself.
However, there are a lot of new constructions coming up and the inventory is steadily rising. According to TrustedChoice.com, the housing market here is not the healthiest and might keep you searching for a long time. The table below compares data from Zillow and should give you a good idea of what to expect.
| | | |
| --- | --- | --- |
| | Illinois | United States |
| Median Home Value | $249,150 | $325,667 |
Renting A House In Illinois
Due to the increasing demand and lack of supply in the real estate market, the rents have gone up just as much as the house prices have in the past few years. However, a lot of people moving to this state have found themselves unable to compete with the buying prices of the houses, forcing them into the rental market. This has given landlords a position of power, which is reflected in the asking prices of rental units. Here is a table based on data taken from Bestplaces.com to show you where the rental market in Illinois stands.
See Also: Illinois DMV Change of Address
| | | |
| --- | --- | --- |
| Apartment Size | Illinois Average Monthly Rent | US Average Monthly Rent |
| Studio apartment | $940 | $950 |
| 1-Bedroom Home | $990 | $1,050 |
| 2-Bedroom Home | $1,200 | $1,280 |
| 3-Bedroom Home | $1,350 | $1,680 |
| 4-Bedroom Home | $1,600 | $1,950 |
Taxes In Illinois
The tax burden in the state of Illinois is aligned with that of the entire country. Of course, there are a few differences but they get overshadowed when it comes to the total cost of everything. To give you a clear idea of the taxes in this state, we will be covering income tax rates, property tax rates, and sales tax rates.
Speaking of the income tax in Illinois, this state has a flat income tax rate of 4.95%. This means, regardless of how much money you make, you will pay the same rate of tax. However, when you add the federal tax and Federal Insurance Contributions Act (FICA) to your state tax, you will effectively pay 25.67% as taxes on your income.
When it comes to the sales tax, the state of Illinois has three rate structures. One is for medical appliances, drugs, and food, the second for general merchandise, and the third for items that need to be titled or registered. These three structures follow two tax rates: 1% on foods, drugs, and medical appliances, and 6.25% on items that require title or registration and general merchandise.
Property taxes in Illinois are the second-highest in the country. The average effective property tax rate in Illinois is 2.16%, which is close to double the national average. This seems a lot more expensive as the base cost of the properties in this state is higher than the national average.
Expenses In Illinois
When it comes to operational expenses, the biggest concerns are generally the costs of utilities, food, and healthcare. In Illinois, when it comes to the cost of utilities, you will end up spending about 10% less than the national average for things like electricity, water, heating, and garbage disposal. This translates to about $150 per month. If you throw a decent internet connection in the mix, you will have to pay around $60 more per month, according to LivingCost.
If you are the kind to love cooking, you will find yourself spending around $3.59 for a gallon of milk, $2.40 for a loaf of bread, and a carton of eggs will cost you around $2.27. However, if you prefer eating out more than cooking, a meal for two in a mid-range restaurant will cost you about $58.
Healthcare costs in Illinois are pretty much on par with the national average. A typical visit to the doctor's office in Prairie State will cost you around $112, while the same for your pet will cost around $55.
Also Read: Average Living Expenses of a Single Person
Crime Rate In Illinois
The crime rate of any location is determined by analyzing the number of crimes committed per thousand residents and reflecting them on a scale. The number of total crimes is a sum of violent and property crimes committed in that area. According to Neighborhoodscout, the total crime rate in the state of Illinois is 19.50.
When it comes to violent crimes, the rate in Illinois is 4.18, which is slightly above the national average of 4. These statistics bring the chances of becoming a victim of violent crimes in Illinois to 1 in 239.
The stats for property crime rate are even better. The state of Illinois scores 15.32, which is lower than the national average of 19. These numbers bring the chances of becoming a victim of property crimes in Illinois to 1 in 65.
Economy And Employment Opportunities
Illinois is home to a very strong and diversified economy. The biggest drivers in this state are high-tech manufacturing, agriculture, and food processing. However, industries like chemical products, publishing, and transportation equipment are making their own mark on this state.
Along with these industries, Illinois is home to more than a few Fortune 500 companies. In fact, at one point, Illinois was the fourth-highest in terms of the number of Fortune 500 companies headquartered here. All of these factors brought the GDP of this state to around 1.66 billion dollars in 2020.
With the number of industries and companies driving the economy, choosing a job in Illinois can be a little taxing. To give you a clear idea of the job market in the Prairie State, here is a list of the biggest employers in Illinois.
Walgreens
McDonald's
Boeing
Caterpillar
Abbott Industries
Also Read: Job Relocation Guide
Education In Illinois
The state of Illinois takes great pride in the quality of education that it provides to its residents. According to WalletHub, Illinois ranked 15th in terms of quality of education and 40th in terms of safety. Unsurprisingly, some of the best schools and school districts are around Chicago. However, there are top-notch schools across the state. To give you a better idea of the best schools in Illinois, here is a list of the best schools in the area.
Schools
Luka Comm Cons School
Ravinia Elementary School
Twin Groves Middle School
Maple School
Lake Forest High School
Libertyville High School
Colleges And Universities
Northwestern University
Loyola University Chicago
Wheaton College
Traffic And Transportation In Illinois
Located in the Midwestern United States, Illinois is very well connected to the rest of the country by means of rail, road, and air networks. However, once you are inside the state, your best bet would be to get a vehicle for yourself or use the bus network to get around.
Speaking of the bus network, Illinois has 63 public transit providers that serve an estimated 400 million bus riders across the state. Almost all of the 102 counties in this state have some sort of transit system in place that works in conjunction with the state-wide bus network to reach their destinations easily.
The city of Chicago has an organization called the Chicago Transit Authority that covers the city and a few nearby suburbs. This network consists of light rail and buses that serve over 500 million people every year. The CTA manages 140 bus routes and approximately 242 miles of rapid transit rail track, making it one of the best public transportation systems in the country.
If you plan on flying into the state, you can land at one of the 119 airports here. Out of these 119, six are international airports. However, the biggest and most-used airports are Chicago O'Hare International Airport and Chicago Midway International Airport.
Illinois also has a fairly extensive railway network as well. Since it is located at the center of the nation's railway network, this state is covered with railway tracks in every direction. There are about 9,982 miles of railroad that are divided amongst 41 routes.
The transportation network in Illinois is extensive and covers almost every corner of the state. That being said, your transit times might often be higher than the national average as the condition of roads in this state is infamously poor. So, take that into account when calculating transit time.
See Also: Best Moving Companies in Illinois
Best Places To Live In Illinois
Winnetka
Winnetka is one of the richest communities in the state of Illinois. The houses here often go above a million dollars. However, the costliest house is the one that starred in Home Alone. Yes, one of those movies was shot here!
However, that is not Winnetka's only claim to fame. About 45% of the residents of Winnetka have a master's degree, professional degree, or a Ph.D. This has worked in favor of the neighborhood as the unemployment rate is under 3%.
Population: 12,430
Median Home Value: $1,092,000
Monthly Median Rent: $1,630
Annual Median Household Income: $250,000
Park Ridge
Park Ridge is considered to be one of the top-five places in Illinois to settle down in. It is located about 15 miles northwest of Downtown Chicago. Park Ridge is in close vicinity to a lot of amenities like the Wildwood Nature Centre, Pickwick Theater, and many more social avenues.
Moreover, this place is home to some great schools, a low crime rate, and a robust local economy. HomeSnacks has given Park Ridge a score of 10/10 in terms of livability since this place is one of the most densely populated neighborhoods on this list, making it great for young singles, professionals, or social butterflies of all kinds.
Population: 37,450
Median Home Value: $437,500
Monthly Median Rent: $1,430
Annual Median Household Income: $111,640
Wilmette
Located in northern Chicago, the suburb of Wilmette is home to some of the best schools in Illinois. In fact, GreatSchools has given the schools in and around this area a ranking of 9.5/10.
However, Wilmette is also known for having some of the highest student debts in the state. While that sounds like a concern, this neighborhood is also home to the 9th highest median household income in Illinois. So, you earn big, you learn big.
Population: 27,450
Median Home Value: $707,800
Monthly Median Rent: $1,480
Annual Median Household Income: $164,680
Inverness
Inverness is a suburb in Illinois that is known as one of the safest places in the state, thanks to the low crime rate as well as the unemployment rate. If you are an outdoorsy person, you can spend your days in the Baker's Lake Forest Preserve as well as Paul Douglas Preserve.
Moreover, Inverness has a very calm and slow pace of life, which complements the natural beauty and serenity that it has to offer. If you are looking for a place to retire into, Inverness might just be what you are looking for.
Population: 7,630
Median Home Value: $628,700
Monthly Median Rent: $3,250
Annual Median Household Income: $192,577
Summing Up
The midwestern state of Illinois is one of the most populated states in the country. It is also one that has many faces in every aspect. You will find huge metropolitans, small towns, calm villages, and a lot of open lands. Moreover, this state is home to one of the most diverse economies in the country. You have abundant opportunities when it comes to learning as well as earning in Illinois – and it is not just in Chicago.
The best part is, this state and its people make it very easy for the new residents to call it home. After all, affordable housing, great schools, and employment opportunities are the things that would make you move, right?
See Also: Largest Cities in Illinois
FAQs On Moving To Illinois
Is Illinois A Good Place To Live?
Yes, Illinois is a great place to live, owing to the economy, education, and overall quality of life. In fact, it is ranked 21st in the list of the best places to live in the country by 24/7wallst.
See Also: Best 5 Moving Companies in Naperville IL
What Is The Weirdest Law In Illinois?
There are quite a few laws that can be defined as weird. In Illinois, it is illegal to hang obstructions like fuzzy dice, air fresheners, or GPS units from the rear-view mirror of a car. Speaking of cars, it is illegal in Evanston to change clothes in a car with curtains drawn, except in case of a fire.
How Is The Climate In Illinois?
Illinois is known for its rather erratic weather. In this state, you will experience a humid continental climate, meaning that the summers are extremely hot and humid, while the winters are cold and snowy.
Enter your information
Almost done!
Enter your information to view your quote.
Your information is safe with us. By using this service, you agree to receive email communications solely regarding your relocation process