Moving To New York City – Relocation Guide for 2022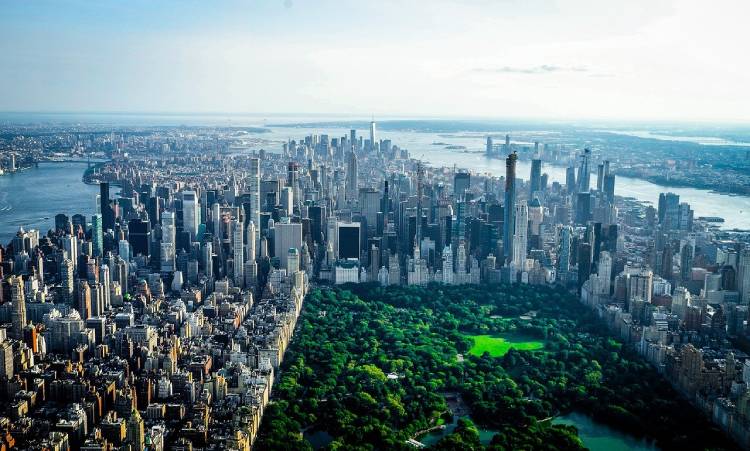 The city that started off as just a trading port is now home to more millionaires than any other city in the world. NYC is truly a cultural, financial, and media influence on the world. The Big Apple has a personality that is arguably larger than most places, too. Throughout history, we have seen some amazing people and things come out of New York. The Empire State Building, the Statue Of Liberty, and Times Square are just some of the places that will show you how alive and beautiful the city is.
However, all of this is what would attract you to the city. Living there, on the other hand, is a different ballgame entirely. Of course, the basics are still the same. Look for a place close to your place of work/education/purpose of moving, hope it fits into your budget, and then move. The thing here is, you need to know a little more than that. New York City is culturally, economically, and geographically a large city. Keep reading to know what it's like moving to New York City before you make your move.
Pros And Cons Of Living In New York City
Like any other place, NYC is a mixed bag. It will give you some things that are incomparable. Now whether that's a good thing or not is a call that you have to make. Here's a list of the pros and cons of moving to NYC:
Pros
New York has a very narrow yet large scope of work. Fields like fashion, management, finance, modeling, PR, and marketing are blooming. While these are the few fields that are notable, any field that you might choose to start your career with, you'll find job opportunities that best cater to you.
The food in New York is a class apart. Of course, you have the famous hotdogs, pizzas, and chips. However, the food in New York is not just that. It's a culmination of food from all over the world. You might have to walk a couple of blocks, but you'll find the food similar to your hometown, regardless of where you're from.
The phrase 'the city that never sleeps' is absolutely fitting to the city of New York. Whenever you decide to walk out of your house, you'll find a bar, restaurant, bodega, pub, or even a dance club filled with people who are there just to mingle and meet new people. It's not just the social aspect of it. In this city, these social venues also present a great opportunity to network with people who will be happy to connect with you in a professional aspect as well.
You might think that the city is unsafe because of the number of people and the number of strange things that you might come across. However, remember that about 90% of the people you come across are experiencing the same. New York City is also statistically one of the safest places in the world. Your chance of becoming the victim of a crime is 5 per 1,000 residents. For a city this size, NYC is relatively a safe place.
New York City has an insane transportation network. Be it buses or subway, you'll find some sort of transportation to get you home. You'll have to buy a MetroCard to avail of these services, but once you do, you'll be able to get around the city quite easily.
New York is a melting pot of multiple cultures, trends, and people. If you feel like an outsider who does not belong in the city, you'll meet people from the most unexpected places who feel the same. And it is this same feeling that will help you connect with each other. New York City has more than 200 languages that are spoken in New York. This means there are enough people in the city from different places who are exploring the Big Apple to find a new life.
Cons
New York City is the global hub for finance, culture, and media. The median rent in NYC is higher than the median rent of the entire United States Of America. The highest being Manhattan and the lowest being Staten Island, New York is expensive to live in. Other than that, a lot of people, even the ones staying there for a while and earning a good salary, still can't afford parking spaces. So it goes without saying that living in New York City can cause a dent in your pockets.
Just like rent, the cost of utilities and services that one might need is higher than the rest of the country and most of the world. So when you plan on moving to the city, you need to research and budget the cost of living into your expenses, since it will take up a major chunk of your finances.
The city is competitive in every sense of the word. Jobs, apartments, networking, and even tables in a pub. You'll have to be aware of things that go on around you and plan accordingly. The people in this city are empathetic and thick-skinned at the same time. This means, while they will help you when you fall, they will not let you ahead in a line regardless of how much of an emergency you're in!
NYC is known to never relax. Once you move here, you'll find yourself to be a part of that culture. Whether it be the busiest month of your job or the week before Christmas, you'll have to walk faster, harder, and just a little more than you would want to. That's not just literal. Remember that New York City is where people come to find jobs and work their heads off. Since people treat the city as a job portal, the city makes you behave like you're on a job. Never relaxed, never calm, still home.
Try to find a spot for a quick meal during peak break hours and you'll see what we are talking about. Nobody likes waiting, but New Yorkers have accepted it as a part of their life. Whether it be a club, restaurant, or art gallery, you WILL face a line. Most people who are now accustomed to the city and its ways will tell you how they avoid midtown through the day at all cost. With a population of over 82,00,000, it's no debate that the city is overcrowded. You just need to be aware and accepting of this fact as a way of life when you decide to move to New York.
Yes, it might seem like an issue that shouldn't be a part of this blog. The thing is, there are enough rats in this city to creep the Ghostbusters out. You'll see them on the subway tracks, in the alleys behind restaurants, and even the apartments that you're still visiting before renting.
Weather In NYC
NYC experiences a humid subtropical climate. This means the summers are hot and humid, the winters are cold and wet, and it gets plenty of rainfall all year round. While snow is infrequent, it can be quite heavy when it does occur.
Since New York is located on the coast, it experiences strong winds all the time and they get even stronger in the winters. So make sure you buy strong umbrellas. The weather here can also swing between the extremes. On average, the temperatures can touch 76°F in summers and go down to 30°F during winters. The city hits its temperature median at about 24°F.
Cost Of Living In NYC
The glory of living in New York City comes with a heavy price tag. If you plan on moving to the city without a steady source of income, it will be next to impossible to sustain the cost of living in New York City for a long period.
Buying A House In NYC
The housing markets in NYC are expensive and competitive. As per Payscale, the housing rates in NYC are around 369% higher than the national average. The median home value of homes in NYC is $660,001. The median home price could be higher but the range would vary based on your location in the city.
See Also: How Much Does It Cost to Move Out Of NYC?
Renting A House In NYC
The city is divided into five boroughs and the prices depend upon the boroughs and on what part of the borough you decide to live in. The costliest borough to live in would be Manhattan, followed by Brooklyn, Queens, Bronx, and Staten Island, in that order. This order is applicable to the studio and 1-bedroom apartments. The only outlier is Queens when it comes to 2-bedroom apartments. For better understanding, here's a comparison of prices in the boroughs.
| | |
| --- | --- |
| Borough | 2-Bedroom Rent |
| Staten Island | $2,010 |
| Bronx | $1,793 |
| Queens | $2,895 |
| Brooklyn | $3,621 |
| Manhattan | $5,844 |
Utilities And Other Expenses
Utilities like gas, electricity, and water can swing between $273 and $3,276, per month in NYC. Other costs like internet and cell phone charges may add up to approximately $139 per month.
Food costs might add up to around $307 if you like being in the kitchen. Otherwise, a proper three-course meal in a mid-range restaurant will cost you around $100. Of course, you can opt for the $5 hotdog, soda, and chips combo in NYC. However, it isn't the healthiest, and healthcare bills add up way too quickly when they do.
That being said, healthcare is a very important part of your expenses that you need to include in your budget. Employer-sponsored insurance will cost you anywhere around $2,935 whereas an individually-sponsored family of four may pay $7,135 on average. Since you'll be a new resident of the city, make sure you use all the new customer discounts that you can avail of on subscriptions.
Also Read: Moving From Buffalo To NYC
Taxes
New York City is among the few cities in the US that have a personal income tax. Residents of the Big Apple have to pay this tax along with the other taxes as applicable. This usually includes the state income tax, sales tax, and property tax. State income tax in NYC falls in the bracket of 4% to 8.82%, while sales tax falls in a similar bracket of 4% to 8.875%. The property tax is around 1.69% average effective rate and the NYC income tax is between 3.078% and 3.876%.
Crime Rate In NYC
Owing to its large size and diversity, the crime rate in NYC is also comparatively higher than the national average. As per NeighborhoodScout, the violent crime rate per 1,000 residents in NYC is 5.31 and the property crime rate per 1,000 residents is 16.06. This takes the total crime rate of NYC to 21.37 per 1,000 residents. The overall chances of you becoming a victim of a crime is 5 per 1,000 residents. Although NYC isn't the safest city out there, it's definitely safer than many other cities in the US.
Economy And Employment Opportunities In NYC
While New York City is the prime land of opportunities, the job opportunities are a relatively small window and the competition is fierce. The sectors that flourish the most here are the sales and service industries followed by medical practice. Eight out of ten highest paying jobs in NYC belong to consultants, sales representatives, VPs, executive VPs, and the likes. The other two are in medical practices.
As per Zippia, the highest paying job in NYC is that of a consultant and sales representative with a yearly salary of $243,938 on average. The minimum wage of the state is $12.50 per hour, which translates to about $26,000 per year. This is very close to the minimum you can make in New York City as well. However, NYC is not very accommodating to the ones who are still in the starting phases of their career. So a salary of anywhere upwards of $50,000 would be considered a good salary in NYC.
See Also: What Salary Do You Need To Live In NYC
Education In NYC
The education sector in NYC is vast and fiercely competitive. The rules and regulations that the New York State follows are different from the rest of the country and the rules in NYC are even more complicated. That being said, the schools in NYC are widely regarded as the best for scientific research in medicine and life sciences. Research the schools and school system well before starting the admission process. To make it a little easier, here is a list of schools in the city that are regarded as good schools.
Elementary Schools
Battery Park City School – Manhattan, NY
East Side Elementary School – Manhattan, NY
Augustus Saint-Gaudens – Manhattan, NY
Middle Schools
Mamie Fay – Astoria, NY
187 Christa Mcauliffe School – Brooklyn, NY
Baccalaureate School for Global Education – Long Island City, NY
High Schools
Trinity School – Manhattan, NY
Regis High School – Manhattan, NY
Horace Mann School – The Bronx, NY
Colleges/Universities
Columbia University
New York University
Cornell University
Baruch College
Traffic And Transportation
The best way to get around NYC is to travel by public transport. The city has an amazing network of subways and buses that connect all five boroughs. Other than that, you also have the Staten Island and City ferries to travel through the waters and the famous yellow cabs that you can avail of.
You do spend a little more when you use the cabs or rental car services and owning a car in a city that does not offer a lot of affordable options when it comes to parking spaces is an idea that can be realized by very few.
You'll walk more in NYC than you can imagine. One loophole to save up on money and get to your destinations faster is to get a bicycle. The only caveat is that you're not allowed to carry things as big as a cycle on the subway or the bus, in case you get tired. Some of the more eccentric residents traveling across the boroughs also buy boats to avoid the traffic. Depending on where you stay, regardless of how much you make, choose the mode of transport that makes the most sense to you.
Places To Visit In NYC
1. Empire State Building
This 102-story building in New York City became an attraction from the very moment that it was built. It has two observation decks, one on the 86th floor and one on the 102nd. The 86th Floor Observatory has a glass-enclosed viewing area and an open-air promenade that is accessible to all. However, the top deck on the 102nd floor is closed off.
2. Brooklyn Bridge
This centuries-old bridge with Gothic architecture was the first steel suspension bridge in the world. The best way to experience the Brooklyn Bridge is to either walk or cycle across the length of the bridge on the wood plank walkway. It lies above the actual road that the vehicles use.
3. Grand Central Terminal
The Grand Central Terminal, famously known as the Grand Central Station, is a beautiful Beaux-Arts building. The Grand Staircase, the restored ceiling, and the statuary on the top of the building are some of the key highlights of this landmark.
Some other notable places for you to visit in NYC are:
Metropolitan Museum Of Art
9/11 Memorial And Museum
Rockefeller Center And Top Of The Rock Observation Deck
Best Places To Live In New York City
New York City is filled with eclectic neighborhoods that have a personality of their own. The thing about living here is that you have to select a place to live that fits into your budget, your way of life, your aesthetic, and a selection of things that you are comfortable with. Here is a list of neighborhoods that we think are the best to live in.
1. Park Slope, Brooklyn
Park Slope is one of the best places for young professionals to start their life in New York City. This quaint, tree-lined neighborhood is also ideal for families with children. This historical neighborhood in Brooklyn is also known for its parks and a huge number of restaurants and cafes, making it one of the best places to live in NYC. The crime rate around Park Slope is relatively low. Statistically, Park Slope is 81% safer than other cities in New York State.
Population: 77,662
Median Home Value: $951,201
Monthly Median Rent: $2,004
Annual Median Household Income: $115,042
2. Forest Hills, Queens
With its green spaces, excellent variety of food, and beautiful houses, Queens is the best borough for a family. If you're an active family, this place is ideal for you owing to its quaint vibe and multiple venues like Forest Park and Flushing Meadows-Corona Park. It also has access to some excellent schools like Forest Hill Montessori School and Queens High School For The Sciences At York College.
Population: 73,034
Median Home Value: $444,362
Monthly Median Rent: $1,494
Annual Median Household Income: $84,713
3. Great Kills, Staten Island
If you're looking for an affordable house in a tight-knit community, Great Kills in Staten Island is the ideal neighborhood for you. Located on the South Shore, this isolated neighborhood is one of the best places in NYC to raise a family away from the crowds and still be able to travel easily. Great Kills gives you access to esteemed schools like The Barbara Esselborn School, The Gifford School, The Eltingville School, and P.S. 8 Shirlee Solomon. The neighborhood is also one of the safest in the city.
Population: 152,942
Median Home Value: $404,414
Monthly Median Rent: $1,147
Annual Median Household Income: $100,700
4. Lower East Side, Lower Manhattan
Lower East Side is the hip and trendy neighborhood where space is a little tight. There are a lot of art galleries, bars, and restaurants that keep on popping up here, which makes it even better for the solo crusaders to socialize and network. There are plenty of activities to do in the daytime and the neighborhood has a lively nightlife too.
Population: 84,794
Median Home Value: $884,648
Monthly Median Rent: $1,025
Annual Median Household Income: $49,246
5. Greenpoint, Brooklyn
If you're the kind of person who wants to move to NYC to focus on your career, Greenpoint might just be the place you want to live in. This former industrial hub is now coming back to attention with multiple big names setting up headquarters here. Greenpoint also offers an array of retail entertainment and street-based events, giving you the opportunity to maintain a healthy work-life balance.
Population: 151,308
Median Home Value: $1,05,000
Monthly Median Rent: $1,303
Annual Median Household Income: $43,160
Also Read: 9 Best NYC Neighborhoods to Live In
Summing Up
Living in New York City isn't the same as living in any other city in the US. It has weird ways of navigating the roads and even weirder ways of navigating through life! After everything is said and done, living in NYC will prepare you to take on challenges head-on. It will teach you to love everyday life as much as you would love an evening atop the Empire State Building. It's an experience that you'll carry through life and if you think you can detach yourself from the city, that sure wouldn't be an easy task!
See Also: Moving From California to New York – A Detailed Guide
FAQs
What Is New York City Best Known For?
New York City has to be one of the most famous cities in the world. Often referred to as the Big Apple, this vibrant city is known for its exclusive shops, flashy Broadway performances, and high-flying business tycoons. It's a city that has long captivated people from all over the world.
Is New York City Really Safe?
Yes, it may have a reputation for crime – of all kinds – but New York City is about as safe as any other huge city in the Western world. The total crime rate of the city stands at 21.37 per 1,000 residents and the chances of you becoming a victim of a crime in the city is 5 per 1,000 residents.
Is NYC A Good Place To Live?
New York City does offer plenty of opportunities and has ample attractions to make you fall in love with the city. That said, NYC could also mean overwhelming crowds, insane traffic, and a sense of rush with people always on the move. If you prefer a face-paced, happening life then NYC could be the place for you. If you're looking to have a laid-back lifestyle then you might want to consider other cities in the country that could better cater to your needs.
Also Read: Moving from Chicago to New York City – A Complete Guide
Enter your information
Almost done!
Enter your information to view your quote.
Your information is safe with us. By using this service, you agree to receive email communications solely regarding your relocation process