What Salary Do You Need To Live In NYC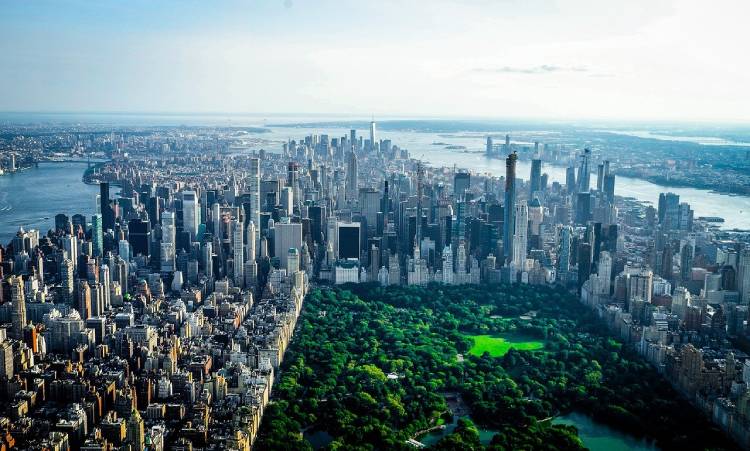 Living in New York City is like living inside a Hollywood movie or a television sitcom for many. You will have a fast-paced life for sure and also a high possibility of running into a celebrity while casually strolling through the city lanes. The city is well known as the "Land of Opportunities" and making a move here can be exciting.
But it should come as no surprise that living in NYC is not going to be cheap. You will need to have a decent-paying job in order to sustain yourself in NYC. That's when how much you earn becomes super important. As you know we exist to make your job easier so here is a complete overview of determining how much you will need to earn to survive in NYC. For a holistic idea, let's first go over on different aspects you will be spending your salary on.
Where Does Your Salary Go Living In NYC?
Costs Of Real Estate In NYC
Real estate is the biggest reason behind the sky-rocketing cost of living in NYC. Owning a house is the ultimate life goal for many but it can become a far-fetched goal. House hunting is most definitely quite a challenge especially after you take a hard look at the figures for real estate.
To give a price point, the median home value is $753,782, according to data by Zillow. Yes, it is a big figure with no signs of slowing down. Zillow also points out that rates have gone up by a whopping 7.2% over the past year.
Renting can offer you some relief but be prepared to live in cramped apartments while paying comparatively higher rents. According to RentCafe, you will be paying $4,265 for even a small 702 sq. ft. apartment. The rents have gone up by 24% from past years as per the data by the multinational business magazine Fortune.
The most expensive neighborhoods in NYC are Queens, Tribeca, Hudson Yards, Malba, Noho, and Central Park South among others. As they say, dreams have no limits, so, dream on, and good luck house hunting in these areas. Hell's Kitchen, Harlem, and East Side are the more affordable neighborhoods but not the safest. You will have to scout hard to find neighborhoods that give you the best for your buck.
Costs Of Transportation In NYC
New Yorkers spend most of their time in public transportation, especially on the subways. Before we take you into the transportation system and how much it will cost you, we have a great tip for you. Keep a good music playlist for your commute or pick a book to read en route because in NYC you will be using a great ton of public transportation.
The Metropolitan Transportation Authority (MTA) handles the subways and buses in the city and is known as MTA New York City Transit. Riding the subway will cost you $2.75 per ride and $116.50 for a monthly unlimited. Sadly, the cost of public transportation in NYC is also not cheap and is 75% higher than the national average. Getting a metro card will be a smart way to go about public transportation if you know you will be using them frequently. A MetroCard costs you $1 and can be refilled. You can get the 30-day card for $127 and will give unlimited swipes on the subway and local buses for 30 days.
Other than the buses and Subways, NYC is also well known for its taxis and yellow cabs. You can also take a Lyft and Uber in the city but it can be difficult to get and will be expensive. Owning a car in NYC isn't a wise and favorable choice because the city lacks parking space and well, general space. Let's be honest, NYC has one of the best and most environmentally friendly transportation systems and the least we can do is play a part in it by opting for it. The other reason you may not want to drive a car is the gas prices! According to YCharts NYC, retail gasoline prices for a gallon are nearly $4.63.
This is probably why most residents choose to walk to their destination. NYC has a Walkscore of 89 on 100. So don't be surprised if you always see new yorkers on the road, dressed fashionably, wearing comfortable or fancy shoes, walking fast on their daily errands, getting to their workspaces, or simply living their lives.
Taxes In NYC
Knowing your taxes will save you from a lot of unnecessary trouble and hassle. A huge chunk of your paycheck does go towards taxes so it is best to have a fair idea of the tax rates. Now unfortunately the tax rate in The Big Apple is some of the highest in the entire country. No one can provide you any relief in this department but we certainly can offer you information and clarity. The state income tax is at 4% and in addition to that the NYC income tax is between 3.078 to 3.8%. NYC has 4%-9% sales tax and 1.69% property tax. Be smart and updated with your taxes because trust us, you do not want to lose control over your budget by not taking tax into consideration.
Utility Bills In NYC
The utility bills are one department where NYC's average is almost similar to the state's average. If we look at the data by Numbeo, it points out that your average utility bill in NYC amounts to roughly $170 a month. This sum includes the figures you pay for heating, electricity, water, and garbage.
Over the course of the year, the amount can build up to $2040. However, keep in mind that NYC has bone-chilling winters. During the winter month, you would depend on your heater which would then lead to a rise in costs on your energy bill. The sum total you pay for your utilities will vary from location to location. In this world, we cannot imagine living a life without depending on the internet or our mobile phones, and that too comes at a cost. You can expect to pay $94 monthly for your cell phone service and around $67 for internet service. Once again, this cost will fluctuate based on your personal usage.
See Also: New York DMV Change of Address
Costs Of Food In NYC
Grocery shopping is fun and an essential part of human existence and adulting. Now your monthly groceries in New York City will cost you around $488 a month, according to the data by Numbeo. This is way higher than the national average for groceries which amounts to roughly $348.34 a month. To give you a broader understanding on a few of the staples, you must know that 1 liter of milk in NYC will cost you $1.18 and you will be paying $3.75 for 12 eggs.
Food is a love language and a necessity, lucky for you, NYC has great restaurants, food chains, cafes, and basically anything and everything you and your tastebuds can thank you for. A meal in a cheap restaurant will cost you around $25 and $100 in a mid-range restaurant in the city. The fancier the place you choose, the higher your bill will be so be considerate of your budget before planning your evening hangout. You will be tempted to dine out so keep a ballpark figure in your mind of how much you are willing to spend on restaurants.
Healthcare Costs In NYC
Health is another extremely important aspect of every other individual's life and is something you should not take a chance with. You must budget for unforeseen circumstances. Fortunately, healthcare is brilliant in NYC but like everything else, it is extremely expensive. According to Payscale data, healthcare in NYC is roughly 15% higher than the national average. A general visit to the doctor could cost you roughly $127 and a dental visit $109.
When it comes to healthcare, your best bet is to get health insurance. As per HealthInsurance.com, you might need to pay $484 a month per person for health assurance. Again, the prices can vary according to your insurance type, company you work with, plans, and even your personal health conditions. Always research well and see your insurance plan thoroughly before buying it.
Like we said in terms of healthcare facilities there's no shortage and NYC is brilliant. NewYork-Presbyterian Hospital, Lenox Hill Hospital, Mount Sinai Hospital, NYU Langone Hospitals are some of the best hospitals in the city with modern equipment, the best doctors, and top-notch services.
Childcare Costs In NYC
The decision to have a child to raise one requires a lot of planning and financial stability. It is a challenge to manage the expenses of childcare, education, and all the other expenses of bringing up kids in a city like NYC. However, you can have it figured out by organizing your budget. To give you some price points, you must know that child care costs for infants and toddlers in New York State can cost you around $16,250 a year or $1,354 monthly. This as per insights collected by the Economic Policy Institute.
If you are a working parent and need to put your child in a daycare facility, that will additionally cost you $1,300 and $2,500 per month. Once your little one begins schooling there will be additional tuition fees that enter the picture as well that must be taken into consideration. A New York Post daily tabloid reveals that new yorkers shell out $25,139 per kid for schooling, this is way higher than the national average. You must be prepared to set aside bigger budgets for your child's education. In terms of education, there are a good number of quality schools. If you can manage to secure admission for your child, do try Battery Park City School, Icahn Charter School, Anderson School, Special Music School, and Emily Dickinson School. These are some of the best.
Miscellaneous Costs
NYC is a happening city that has plenty of entertainment places and fun activities for you to help you get through life easily. It is important to consider these miscellaneous costs while doing a salary breakdown because these are the aspects that can hamper your budget. A gym membership is crucial for many New Yorkers and if you decide to get one, be prepared to pay.
You can expect to pay between $110 and $160 monthly depending upon the gym and its membership plans. If you are a movie fanatic, a movie ticket can cost you anywhere from $13 to $15 depending upon the movie, theater, and show timings. If you are a fitness enthusiast, a fitness club membership can cost you around $104 and if you enjoy shopping, be prepared to spend roughly $62 for a summer dress in a Chain store like H&M and Zara.
Understanding The Job Market In NYC
It's no secret that NYC has one of the biggest job markets in the country. NYC alone makes large contributions to strengthening the US economy. Though very competitive in nature, once you manage to get a job in the city, your life will get more or less feel on track. NYC is known as 'The Land of opportunities' and over a million businesses exist in it so you will find something that'll align with your qualifications and will help you pay your bills.
NYC is also home to NYU which is one of the best universities hence there are plenty of job opportunities available in the education sector. Other than that, financial services, healthcare, retail trade, and manufacturing are some of the top industries which will offer you high- paying salary. According to World Population Review, the average household income in New York City is $102,946 which is one of the highest in the country.
The unemployment rate in the city is 4.2% which isn't too bad if we look at the size and population of the City. Knowing the top employers in the city can give you the right direction you need to find a job. Hence, here are some of the top employers in NYC:
American express
Deloitte
ABM Industries
Citi Group
JP Morgan Chase
IBM
Verizon
How Much Should You Earn To Live Comfortably Well In NYC
Everyone wants to live a comfortable life and though it might feel difficult after reading our extensive breakdown, it is not impossible. According to apartmentlist.com, an individual will roughly need to earn $11,356 monthly to live a comfortable life and that is without taxes. You will significantly need to earn more if you decide to live in expensive neighborhoods. As a single adult, you will need to make at least $40,000 to $50,000 annually to have a comfortable life. The good news is in the Big Apple, few things cost a fortune while others don't. There's a variety of opportunities to live lavishly without spending the big bucks. So once you manage to secure a job, the rest will not be that difficult.
See Also: What Salary Do You Need To Live In NYC
Summing Up
If you have decided to move to the land of opportunity we are rooting for you. You can make it big in the city as long as you have your finances on track and your feet on the ground. Knowing where you will be spending your money will offer you the clarity you will need to sustain yourself in the big apple. We are sure you will keep coming back to this place even after you have made the move. Do not forget to enjoy the city while hustling because come on, It's NYC! The hub of all things entertaining and fun.
FAQs On What Salary Do You Need To Live In NYC
Why Is Living In NYC So Expensive?
Living in NY has always been expensive due to its booming job market and economy and it has been increasing constantly. The added charm comes from the glamorized version of the city presented by multiple movies and TV shows due to which many dreamers are constantly moving to the city that never sleeps, which is another reason for NY being so expensive.
What Is Minimum Wage In New York?
The minimum wage in NYC has increased from $12.50 to $13.20 per hour. While the minimum wage for people working in the fast-food sector anywhere in the State is $15.00 per hour.
See Also: 10 Largest Cities in New York
How Many Hours Is Full Time In NYC?
The term full time is extremely subjective and can vary from employer to employer. Generally, 35-40 hours of work over the course of a week is considered full-time in NYC but you will find New Yorkers always hustling and working, even during the weekends.
Enter your information
Almost done!
Enter your information to view your quote.
Your information is safe with us. By using this service, you agree to receive email communications solely regarding your relocation process