Moving To Austin – Relocation Guide for 2022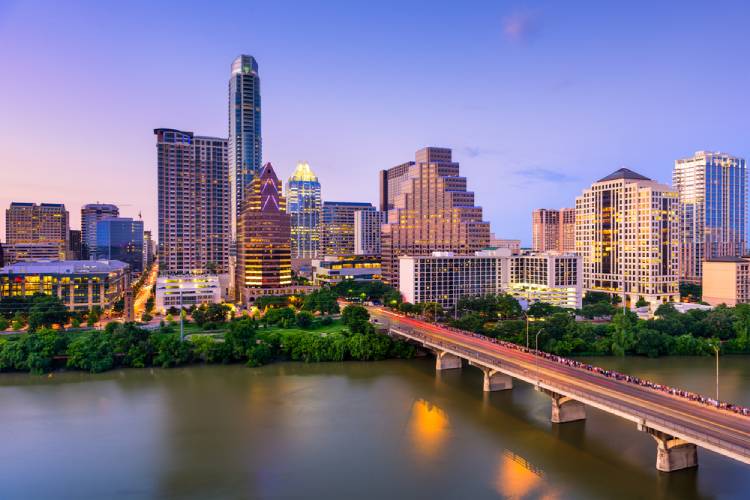 Some delicious food, live music (pop, rock, rock n roll), bright summers, and a thriving job market make Austin one of the most desirable cities in the US to live in. If you have been looking for a change of city and pace, Austin could be the city for you. Austin is a city that will make you want to stay for a longer time.
Austin is the third-largest city in Texas with a population of about 2.25 million people. As the capital city of Texas, it has a lot to offer to its residents. Austin is a vibrant capital city of Texas that is rich in culture and music, has a fast-paced economy, affordable cost of living, relentless hot summers, a great community of people among many other things.
Moving to a new city is an exhilarating, stressful, exciting, and an overwhelming experience. Let's get started about what things you need to know before moving to Austin that will help you make an informed decision.
Pros And Cons Of Living In Austin
Pros
No Income Tax!
The state of Texas imposes no income tax. As the capital of Texas, Austin too is free from income taxes.
Perfect Weather For Outdoor Activities
There are plenty of outdoor activities that you can indulge in during your free time in Austin. The weather in Austin is loved by many people. The long summer days and low amount of snow are desirable to many.
A Flourishing Job Market
The job market in Austin is one of the best in the US. Professionals seeking job opportunities have been flocking to Austin.
Great Food
The delicious food that you get in eateries, cafes, shacks and restaurants in Austin is the best food you will have ever tried.
Vibrant Nightlife
Austin attracts a lot of millennials thanks to its happening music scene and vibrant nightlife.
Cons
It's Hot!
The summers in Austin are hot and could get unbearable at times. It's common for the temperatures to reach as high as 100°F.
Competitive Housing Market
The housing market in the city is highly competitive. Finding a rental or buying a house at an affordable rate in Austin is tough.
Bad Traffic
During peak hours of the day, the traffic in Austin can get congested. You can be stuck in the same spot for hours at an end.
Rising Cost Of Living
Austin once was an affordable place to live in, but now the cost of living has gone high. While there's no income tax, the property tax rates in Austin are higher than the national average. So, be ready to pay off your taxes in Austin.
Too Many People!
The urban areas of Austin are overpopulated in some areas. The crowds can get overwhelming especially since the pandemic.
Also Read: Moving From Seattle to Austin
Weather In Austin
Austin, like the rest of Texas, enjoys hot and humid subtropical weather. The summer days are longer in Austin, making it convenient for people to enjoy their time outdoors. On an average, Austin experiences 228 days of hot summer. Summer time in Austin can get unbearable and you need to beat the heat with some drinks, ice cream, swimming or other ways.
Summer is the longest season in Austin, lasting for over 7 months. And boy, does it get hot? Most times the average high temperature in Austin is literally 100°F while the lowest is 80°F during summers. Most people in Austin joke about how there are only two seasons in Austin: winters and summers.
The spring, fall and winters in Austin are pleasant as the temperature is generally mild. It rarely snows in Austin and the ice is occasional as well. The winters in Austin are not the most freezing ones with the average low temperatures reaching not lower than 60°F-70°F. During fall and spring, the temperature is usually in the 80s as well.
The city is also prone to occasional tornadoes that cause quite a lot of damage in the city. The metro area of the city experiences floods and droughts as well. So keep an ear out for the weather updates!
Cost Of Living In Austin
Austin, a few years ago, was one of the most affordable cities to live in, but the times have changed now. With a fast growing economy, increase in tax rates, and the housing market, the affordability has become sparse in Austin. The cost of living index in Austin is 130 and the national average is 100. This makes the cost of living index of Austin higher than the national average by 30. Let us look at the different factors that contribute to the high cost of living in Austin.
See Also: How Much Does It Cost to Move Out Of Austin?
Buying A House In Austin
The housing market in Austin currently is running pretty high right now. Most times a house in Austin gets sold out within a day's time as the demand for houses is consistently increasing. More and more people are trying to buy a property to live in, or for investment purposes.
| | | |
| --- | --- | --- |
| | Austin | United States |
| Median Home Value | $606,319 | $312,728 |
As you can see through the table, the cost of a house in Austin is much higher than the national average, according to Zillow. The taxes on property are also high along with the demand for the houses. This makes the housing market extremely competitive among the people living in the city. So make sure you have the money for the monthly mortgage and down payment that you will be making for the house.
Renting A House In Austin
Even if you plan on renting a house in Austin rather than buying one, it does not come cheap. The monthly rent on houses in Austin has been consistently growing for the past few decades. Since there are many people flocking to this city from the outside, the demand for rentals has shot up.
Let us look at the following table to better understand the monthly rent for the different apartment sizes in Austin:
| | | |
| --- | --- | --- |
| Apartment Size | Monthly Average Rent | US Average Monthly Rent |
| Studio apartment | $1,012 | $950 |
| 1 Bedroom Home | $1,145 | $1,050 |
| 2 Bedroom Home | $1,344 | $1,278 |
| 3 Bedroom Home | $1,730 | $1,680 |
Tax Rates In Austin
The tax rates in Austin are high. Even though there is no income tax imposed, the sales tax and property tax make up for it. The sales tax in Austin is 8.3% which is 1% higher than the national average. The property tax, on the other hand, is 1.973%.
The overall cost of living is a crucial factor that your decision of moving to Austin is based on. The higher cost of living in Austin has increased in the past few years. So, if you're moving to Austin, you need to ensure that you'll be able to pay off all your bills in time and that your finances are well managed.
Utilities And Other Expenses In Austin
The monthly expenses on groceries and other bills sum up for a huge amount that you need to be paying at the end of each month. In Austin, you'll be spending lower than the national average on these bills and grocery items. Listed below is a list of a few things that you will be spending some amount on. It will give you an idea of the kind of spending you'll be required to make each month living in Austin.
Energy bill: $147.04 monthly
Gas: $2.44 a gallon
Internet: $62.31 monthly
Phone bill: $156.74 monthly
Loaf of bread: $2.92
Meal for 2: $60 in an inexpensive restaurant
Transportation: $45 monthly pass
Crime Rates In Austin
According to NeighborhoodScout, Austin is 7% safer than the other cities in the US. The property crime rates are quite high; the crime rate is also higher than the national median. 4.7 people in 1,000 are victims of violent crime in Austin. This is just 0.7 higher than the national median.
The property rates are much higher where 38.29 people in 1,000 people are victims of property crime rates according to statistics. As a resident of Austin, you have 1 in 245 chances of being a victim of a violent crime while a 1 in 26 chance of being a victim of property crime. Consider neighborhoods such as Old Enfield, Triangle State, Rosedale, and Allandale as they have a low crime rate.
Economy And Job Market In Austin
The economy of Austin is growing as there are ample job opportunities for skilled and qualified professionals. In Austin, people have the opportunities to get an education and acquire jobs in different industries of their choice. In the past few years, the economy of Austin has shown some consistent growth. This is the result of the development in finance, technology and agricultural industries that have provided ample opportunities and contributed to the city's economy.
| | | |
| --- | --- | --- |
| | Austin | US Average |
| Average Household Income | $63,717 | $57,652 |
| Job Growth | -3.3% | -6.2% |
| Median Family Income | $82,020 | $70,850 |
| Unemployment Rate | 5.1% | 6.0% |
As you can see in the table above, the average family in Austin earns higher than that national median household income. The unemployment rate is also lower than the national average. This shows that the opportunities in Austin are large.
In terms of the kind of jobs that residents of Austin have, it is termed as a white collar city. More than 85% of the population has white collar jobs, and this is a high percentage as compared to the national average.
Most people in Austin are employed in sales, business, and administrative jobs. According to NeighborhoodScout, Austin has more than 95% of people working in the math and computer science industries. Considering Austin is among the best cities in the US for artists, it's unsurprising that the number of artists in the city is also huge.
See Also: What Salary Do You Need To Live in Austin TX
Education In Austin
The education in Austin has in recent years grown to a full bloom. In the urban areas of Austin, there are several schools and universities that have been gaining a lot of attention for the quality of education they provide.
Austin has an independent school district with more than 80,000 students enrolled in over 128 schools. These schools are a mix of private, public and chartered schools. There are also some major universities in Austin that serve quality education to students from across borders. It is one of the reasons why the population in Austin has grown in recent years.
Let us look at a few of the best schools, universities and colleges in Austin that serve quality education for students.
Schools
Forest Trail Elementary School
Clayton Elementary School
Hill Country Middle School
Canyon Vista Middle School
Lasa High School
Westlake High School
College And Universities
The University of Texas
St Edward's University
Concordia University Texas
Huston-Tillotson University
Traffic And Transportation In Austin
Unlike the freeways and empty roads across Texas, Austin has bad traffic congestion in many areas. A contributing factor to this notorious traffic congestion is the lack of public transport. This is why most Austin residents have their own cars. A one-way commute in Austin takes 24 minutes, and it can most likely be worse than that!
The public transportation options that you can choose are MetroExpress bus services, MetroBus, MetroRail and MetroRapid. The officials are working towards bringing in efficiency and services in all the areas of Austin. Many people have been making a switch to walking and biking as it is a convenient and easy way to commute across Austin.
If you're moving to Austin, you may have the liberty to choose to live in a neighborhood that is closer to your office or university. If not, we recommend that you get your personal vehicle as Austin is very much a car-dependant city. Just be wary of the traffic!
Places To Visit In Austin
When you move to Autin, you would want to have a look around and tour the city. We have a few places listed down that will make for the perfect tour and a glimpse of the city life.
1. Barton Springs Pool
For a lazy afternoon, you can grab a blanket, sunscreen, and some food for a small picnic near the Barton Springs Pool. It is something that everyone living in Texas does during summertime.
2. Lake Travis
Lake Travis is one of the largest lakes in Austin that makes for the perfect weekend getaway spot. You can book a cottage near the lake and empire around the area and enjoy the view.
3. 6th Street
6th Street in Austin is one of the most popular places as it has ample bars, pubs, cafes, restaurants and other eateries that you can visit for some delicious food and enjoy partying during the night.
Some other places to visit around Austin are:
Umlauf Sculpture Garden
Hamilton Pool Preserve
Longhorn Caves
Texas Memorial Museum
Hippie Hollow Park
Paramount Theatre
Also Read: Moving from NYC to Austin TX – A Complete Guide
Best Places To Live In Austin
One of the most exhausting and overwhelming things you need to take care of when moving to Austin is to ensure that you pick out a neighborhood and a place to live in. Whether you choose to buy a property or rent one, you'll have to hunt for the best neighborhood that caters to your needs. We have a list of neighbourhoods in Austin that you might want to live in.
1. West Lake Hills
West Lake Hills is one of the most popular metro areas of Austin. It's a neighborhood that is more on the exclusive and luxurious side. Not everyone can afford to live in the neighborhood as the home value in the area rates in millions. Without a substantial income, you won't be able to afford to live here. The properties in the area are an attraction for realtors and investors.
Population: 3,254
Median Home Value: $2,255,750
Annual Median Household Income: $160,574
Monthly Median Rent: $1,723
2. Travis Heights
Travis Heights is one of the most populated neighborhoods in Austin that is popular among college students and working professionals. Travis Heights is known for its college and school community along with the ample corporate office around the neighborhood. Most college students prefer living in this neighborhood as the housing is affordable when shared among many people. And the neighborhoods also have affordable places to eat at and a lit nightlife.
Population: 47,000
Median Home Value: $600,000
Annual Median Household Income: $112,020
Monthly Median Rent: $2,000
3. Zilker
Zilker is the most fun neighborhood in Austin. The festivals, music, and the number of outdoor activities make it one of the most loved neighborhoods as well. The cost of living, including housing, is average, but finding an apartment in the neighborhoods is tough. The housing market for new homes is higher than the rentals, causing people to live here on rent rather than investing in a property.
Population: 10,092
Median Home Value: $632,000
Annual Median Household Income: $98,960
Monthly Median Rent: $1,600
Summing Up
We hope that a few of these things have answered some of your questions about Austin, TX. Do consider the cost of living in Texas before you make the move. If you think that the quality of life and job opportunities in Austin is a good trade-off, you can finalize the move. Our Moving Cost Calculator will help you calculate cost of moving to Austin.
Also Read: 11 Best Austin TX Neighborhoods to Live In
FAQs
Is Moving To Austin A Good Idea?
Moving to a new city is never an easy transition. But if you are looking for job opportunities, quality of life and good education for your children, Austin is definitely a city that you can consider moving to.
What Is The Coldest Month In Austin?
The winter in Austin is mild and the people enjoy their summers. But during the months of January and February, the temperature falls to 45°F during the nights, making them among the most pleasant times of the year in Austin.
Why You Shouldn't Move To Austin Texas?
One of the reasons why moving to Austin would be a bad idea is the high cost of living, high property crime rates, and the high rent and mortgage rate in houses. If you do not have the budget and finances settled for it all, moving to Austin would not be worth it.
Is Austin Dry Or Humid?
Austin enjoys over 228 days of summer throughout the year. The weather is hot and not humid with the highest average temperature being 100°F. So, if you're used to having mild summers, be mindful of the weather in Austin, Texas.
Enter your information
Almost done!
Enter your information to view your quote.
Your information is safe with us. By using this service, you agree to receive email communications solely regarding your relocation process