11 Best Austin TX Neighborhoods to Live In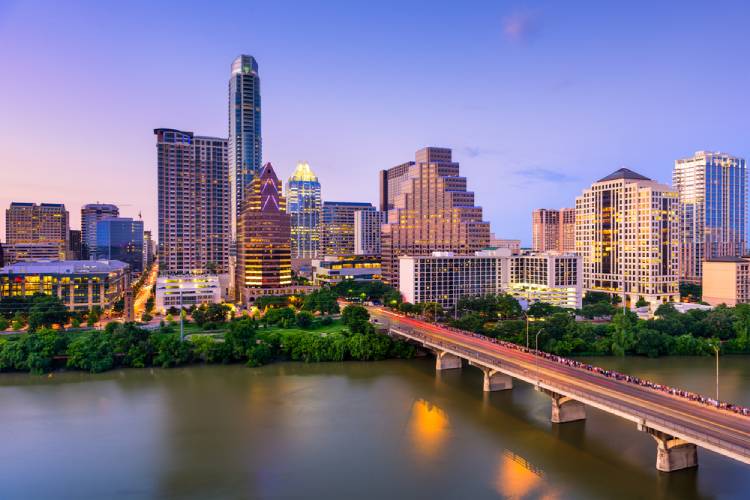 It's not always easy to know which Austin neighborhood is best for you. Everyone has different needs and wants, so it can be hard to find the right place. But that doesn't mean you should pick a random one!
If you're looking for the best Austin neighborhoods in which to live, you've come to the right place. In this article, we'll look at some of the most popular neighborhoods in Austin and give you our opinion on why each one is worth considering. So whether you're just starting your search or you've already got a few neighborhoods in mind, read on for some helpful advice.
1. Allandale
If you're looking for a laid-back neighborhood to settle in, Allandale is a great place to start. This area is known for its abundance of trees and green space and features smaller houses that give it a homey feel. Allandale is a quiet suburban neighborhood in Austin, surrounded by the bustle of city living. With easy access to the rest of Austin and several local parks, such as Burnet Crossing Park, Allandale is an unusual enclave of peaceful residential streets just minutes from Downtown. Residents here may enjoy a diverse mix of nearby businesses and restaurants and a rich history of family-owned shops and lesser-known eateries. Allandale is home to several schools, which gives it an extra boost. This neighborhood has been ranked one of the best places for families in Austin, so if you have kids, it's worth considering!
The typical price of a house in Allandale is $800,000. Ranch and mid-century modern designs are frequently seen in the houses for sale.
2. Northwest Hills
Northwest Hills is a must-see if you're looking for some of the best Austin neighborhoods. This neighborhood has it all: plenty of green space to take long walks in, a thriving business district, and excellent schools. As if that weren't enough, Northwest Hills also has easy access to Downtown and is within proximity to many other great neighborhoods.
Northwest Hills is a master-planned neighborhood in North Austin. The area has a smaller population than some other neighborhoods in the city, but it still offers a variety of housing styles, from condos to large custom homes on spacious lots. This tight-knit community also features several local parks, such as Lake Creek Park and Lake Pflugerville Trail Park, which offer residents plenty of recreational opportunities.
Northwest Hills is considered one of the best sedate communities in Austin and offers an exceptional quality of life for families. This neighborhood has plenty of healthcare options because it's close to several doctors' offices and medical facilities. Not surprisingly, Northwest Hills has ranked among the top neighborhoods to live in Austin for several years. If you're looking for a nice place to settle down, this is it!
From January 2021 to January 2022, home prices in Northwest Hills increased 117.5% over the prior year, selling for a median price of $620K.
3. Central Austin
If you want to be close to Downtown but don't want the noise and traffic, consider Central Austin. This neighborhood sits along the picturesque Colorado River and features large homes with ample green space between them. Central Austin is a great place to call home, with plenty of parks and other recreational opportunities.
Central Austin is another upscale neighborhood located in North Central Austin. It's known for its beautiful waterfront homes and its proximity to all the best attractions and events that make Austin such a unique city. The excitement of Downtown is just minutes from this peaceful enclave, which also has excellent schools and plenty of recreational opportunities, such as Zilker Metropolitan Park and Bartholomew District Park. There's even a popular farmers' market in the area that offers locally-sourced goods every Saturday.
The median home price of the Central Austin area is $250,000 to $300,000.
4. The Greater Austin Area
If you're looking for one of the best neighborhoods to live in in the entire Austin metropolitan area, you can't go wrong with The Greater Austin Area. This is the neighborhood where the world comes to play, and you'll find plenty of amenities within its borders.
The Greater Austin Area encompasses some of Central Texas's most desirable neighborhoods and includes nationally recognized golf courses to top-notch healthcare facilities. Whether you want a more relaxed pace of life or an exciting one, you'll find it in this neighborhood.
The Greater Austin Area is home to some of the most beautiful lakes in Texas—locals love swimming, picnicking, and boating on them during the summer months. Local schools are some of the best in the state, while new homes for sale boast modern amenities and open floorplans with plenty of natural light.
The Greater Austin Area has one of the most educated populations in Texas—almost 40% of the population has a bachelor's degree or higher. The neighborhood also features several museums, theaters, and art galleries that offer plenty of opportunities to explore the arts and culture scene.
The median house price in The Greater Austin Area is $400,000 to $500,000.
See Also: How Much Does It Cost to Move Out Of Austin?
5. Barton Hills
If you're looking for one of the best places to live in Austin, Barton Hills is a great choice. This neighborhood offers its residents some of the best amenities in the city and easy access to Downtown via the Mopac Expressway.
Barton Hills is home to many "firsts" in Austin, including the first shopping center and the first branch of a major bank. One of Austin's premier shopping destinations, Barton Creek Mall, is located within the neighborhood and popular locally-owned businesses and restaurants. Several parks in this area offer recreational opportunities to those who call this neighborhood home.
Barton Hills has seen considerable growth over the past few years, in large part due to its central location in Austin and top-ranked schools. New homes for sale in the neighborhood include many energy-efficient options that offer modern designs with open floorplans. This is an ideal location for families looking to settle down.
Barton Hills has a median home price of $1,200,000 and a wide range of properties. The schools in the area are highly regarded, adding to the neighborhood's appeal.
6. Buda
Buda, Texas, is located southwest of Austin in Hays County. The community first began as an agricultural outpost but quickly became one of the fastest-growing cities in Texas.
The median income for residents is on par with the state average, while housing costs are below average for Central Texas. Schools receive high marks from local news outlets while new homes for sale are designed to meet your needs—by offering plenty of storage options or lots with mature shade trees, the area's housing stock is diverse.
The median house price in Buda is $400,000, and the area includes Oak Forest, a luxury development with custom-built stone and brick homes. Public schools in Buda are considered to be among the best in Texas.
Also Read: Largest Cities in Texas
7. Cedar Park
Cedar Park is a small city located on the northwest side of Austin. The community is close to Austin's major employers, such as Dell, Apple, National Instruments, local IT and manufacturing firms, and the Cedar Park Medical Center. This excellent situation makes Cedar Park an appealing choice for workers who want to commute or professionals looking to downsize from an Austin home.
Cedar Park is a great place to raise a family as well—the median household income is on par with the state average, and the crime rate here is one of the lowest in all of Texas. Cedar Park, Texas Schools, are some of the best in Central Texas, while new homes for sale boast modern amenities and large open floorplans.
The typical property price in Cedar Park is $499,000. However, there are a variety of alternatives to choose from, ranging from 1,400 square foot properties in the low hundreds to large multimillion-dollar mansions.
8. Cherrywood
Cherrywood is a diverse mix of artists, retirees, professionals, and students and faculty from the University of Texas who live there. Its ideal position makes it easy for residents to walk or bike to popular local businesses such as Cherrywood Coffeehouse. Other great Austin activities are only a short drive away. This neighborhood is also close to the Capital of Texas Highway.
New homes for sale in Cherrywood provide the perfect combination of convenience and privacy, with plenty of storage options or large lots shaded by mature trees. Many neighborhoods have pools for residents to enjoy during warm weather months and other popular amenities such as dog parks.
In Cherrywood, buyers may find charming bungalows and craftsman-style houses. The median house price is $699,000.
9. Downtown
Downtown Austin is home to a bustling business center, a flourishing entertainment district, and elegant urban homes. Metropolitan residents in this area lead a more high-end lifestyle with an air of sophistication. The cost of property in this area tends to be greater than that in other parts of Austin, reflecting its position in the city's core with access to major employers, thriving shopping and dining options, and extensive entertainment.
Luxury condo buildings and smaller garden-style or loft condominiums may be found in Downtown Austin, a popular destination for investors. With an average of over 1,500 square feet, Downtown Austin condominiums provide an opulent, urban lifestyle with a sophisticated yet laid-back vibe. In January 2022, house prices in Downtown Dallas were up 12.3% year-over-year, with a median price of $365K.
10. Westlake
Among the rolling hills of West Austin's Texas Hill Country, Westlake is recognized for its stunning high-end homes. The community began to develop in the 1970s and 1980s on some of Austin's most coveted properties. Despite being located close to several highways that make getting around the city a snap, the community is conveniently positioned minutes from Downtown Austin.
Westlake real estate features upscale homes with plenty of outdoor space for entertaining. Here, residents may enjoy access to abundant natural beauty, including scenic hills and greenbelt recreation areas. It is also close to family-friendly events at the Palmer Events Center, popular restaurants in Downtown Austin, and some of the best shopping in Texas.
The first cluster of homes in Westlake was built over the course of 50 years, and they vary widely in design and size, giving this community a lot of flairs. The median home price is $2,450,000.
Several schools in Westlake have received national acclaim and excellent evaluations, including Carrol Middle School, Westlake Academy, and Westlake High School.
11. Mueller
Mueller is a contemporary development in East Austin, only 4 miles from Downtown. The environmentally friendly community has stunning natural-growth lake parks, chain and independent merchants, businesses, and neighborhood hubs. Mueller offers a range of flats, houses, townhouses, and apartments that appeal to a wide range of purchasers and renters.
Mueller houses are designed in a way that they offer a variety of up-to-date choices, such as hardwood floors, Silestone worktops, and 10′ ceilings. Mueller's median home price is $850,000.
Austin, Texas, the affluent city, is home to the prestigious Austin Independent School District. McCallum High School was ranked No. 13 in the 2015 GRAMMY National Signature School program.
Conclusion
No matter what neighborhood you choose in Austin, TX, you're sure to find a community that's perfect for you. With so many great neighborhoods to choose from, it can be hard to decide on just one! Our list of the best Austin neighborhoods should help make your decision a little bit easier. Each neighborhood has something special to offer, whether it's easy to access Downtown or beautiful scenery. So don't wait any longer – start browsing houses for sale in Austin and find the perfect neighborhood for your new home today!
FAQs
What are the best Austin, TX neighborhoods to live in?
The best Austin, Texas, neighborhoods to live in vary depending on each person's tastes and needs. However, some of the most popular choices include Downtown, Westlake, Mueller, and Southwest Hills.
What is the average property value in Austin, TX?
According to Zillow, at the moment, the median home value in Austin is $361K.
How much will it cost me to commute if I move to Austin?
According to Forbes, the average one-way commute time in Austin is 25.4 minutes which costs each person about $1.31 per day.
How many school districts are there in Austin?
There are many school districts in the Austin area, including Eanes, Leander ISD, Hays CISD, Round Rock ISD, Pflugerville ISD, Manor ISD, and Lake Travis.
Which neighborhoods should I invest in?
The best neighborhood for you to invest in is one that matches your personal taste and needs. When deciding on a neighborhood, consider the accessibility and convenience of the location and attractiveness and livability.
Do I need to hire a realtor? Why/why not?
It is recommended that you speak with a real estate agent before buying your home. Hiring an experienced real estate professional can help ensure that you get the best deal on the house for sale in or around Austin, whether you're a first-time buyer or an experienced investor
Also Read: 9 Best Sarasota FL Neighborhoods to Live In
Enter your information
Almost done!
Enter your information to view your quote.
Your information is safe with us. By using this service, you agree to receive email communications solely regarding your relocation process