How Much Does it Cost to Move 500 Miles?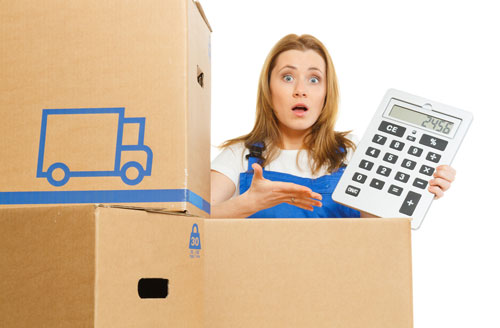 When the opportunity arises for you and your family to move long-distance, the most crucial question that comes to mind is: How much will this cost? It is imperative to start planning at the very outset. After the excitement and celebrations of your big news of moving, it is time to tackle some budgetary questions. Let us tackle them step by step for better understanding.
"Money is what makes the world go round", says the age-old idiom. However, with regards to moving, it is both money and the wheels of the truck that need to go round.
What is the Average Cost of Moving House?
| | | |
| --- | --- | --- |
| Type of Move | Low Estimate | High Estimate |
| Short-distance | $800 | $2,150 |
| Long-distance | $2,200 | $5,700 |
The average cost of your move depends mainly on the extra services you choose to get from your mover. If you are looking for all your household belongings to be packed professionally, you are left with no other choice than to hire a full-service mover. The national average cost to hire packers for a local move is approximately $60 per hour per packer. You can find little cost-effective options if you do a bit of research.
You will also need services like disassembly and re-assembly of big and heavy furniture handling of breakable and extra delicate stuff.
Below is a list of the average cost of movers, based on the number of bedrooms in the home you're moving out of. The average moving costs are calculated with the typical hourly rate of $60 per local mover.
| | | | |
| --- | --- | --- | --- |
| Home Size | Number of Movers | Number of Hours | Average Moving Cost |
| Studio / 1-bedroom | 2 | 4 | $480 |
| 2-bedroom | 3 | 6 | $1,080 |
| 3-bedroom | 4 | 7 | $1,680 |
| 4-bedroom | 4 | 9 | $2,160 |
| 5-bedroom | 5 | 12 | $3,600 |
Also Read: How to Calculate Moving Costs
Factors Affecting the Cost of a Long-Distance Move
Distance & Time:
How many miles are you moving between your current home and your new address? Moving companies typically charge a "per-mile" rate, and other potential costs could include toll or fuel charges. Ordinarily, you take the estimated time to complete the move and multiply it by the moving company's hourly rate to calculate the relocation costs.
Size of the household:
The estimated cost of moving is hugely dependent on the weight of your belongings. Rental truck and trailer pricing are based on the size. The industry average to move an entire house is $12 to $16 per square foot.
Driving:
It is awkward and stressful to drive a huge rental truck and park it, time and again. Should you want to avoid driving the truck, you can choose full-service movers or a cargo trailer service, which will cost more.
Labor:
Full-service professional movers include loading and unloading all your belongings, bulky or lightweight, in their full package. They'll also charge you extra for the packing and unpacking your things. With rental trucks and cargo trailers, you can choose to hire hourly help for moving, packing, and unpacking as per your budget.
Scheduling:
Be sure to mark the shifting date with bold on your calendar and then start working backward. This will help you stay focused. If you need flexibility with your moving dates, mention it upfront before making a deal. Due to unforeseen circumstances, if you may have to shift your dates, full-service movers will charge you as high as $500 as a rescheduling fee. Truck rentals and cargo trailers have some cancellation fees but are not as high as the full-service movers.
Season and timing:
Summer is the most preferred moving time of the year. It is also time for the kids to change their grades to change schools easily. Moving prices from May to September are the highest. However, you can seek a little respite in cost if you choose to shift on weekdays.
Moving supplies:
High-quality boxes and packaging materials cost $100 to $125 for a studio or one-bedroom to $175 to $150 for a 2-to-3-bedroom home. This is one cost that is least taken into account. Good tough, high-quality boxes are required for your belonging to be safe during the long haul. Full-service movers pack the furniture in cling wrap for protection. Moving blankets are used for high-end machinery and products. You'll need to buy all the packaging products if you choose to do your packing.
Fuel:
Fuel can be a significant expense with the rental truck. Remember to hand over the truck with a full tank of fuel; else, you'll be charged a penalty. Full-service movers do not charge separately for fuel etc., as their all-inclusive rates.
Moving insurance:
Carefully study if your homeowners' or renters' policy includes protecting your belongings during a move. If not, immediately work towards getting protection against damage or accidents. Please remember to put this most important task on your checklist.
Hotel and food costs:
While you are on the road with your rental truck, you will consider your overnight travel, accommodation, and food costs. Even if you choose the full-service rental, your family still needs to move to your new address, which will cost money.
What to look for in a long-distance moving company:
It is essential to choose a trustworthy and well-organized mover. The movers must be very proficient with their documentation and paperwork, required by federal laws and regulations to move across the state line. Good long-distance movers generally have the technology to keep their clients updated throughout the moving process.
Some have local agents who can meet your local needs even later. Always make sure your mover follows the FMCSA's regulations that grant authorization for an inter-state move.
Estimates:
You should sign a deal with the mover who gives binding estimates. If their estimates are not critical, they can increase their rates anytime with little or no notice. The written estimate you receive from your movers should mention "binding estimate" on it.
Coverage Options:
A good Mover company will cover basic liability coverage. This is like verification of the quality of the company. Do not sign a deal if the company doesn't cover liability.
Customer Reviews:
On social media, no company is untouched by online reviews. This is the most crucial step. Make sure you read all the reviews carefully before signing up with the company.
To begin with, let's discuss modes of transport for moving and a list of pros and cons for using them.
Full-service movers
Rental trucks
Moving and storage containers
Full-Service Movers
Full-service movers are the most desired ones. If money is not an object of worry, you should choose them. They make the process of packing and moving seems painless yet highly efficient. You won't have to lift a finger if you've hired them for packing and unpacking as well. However, don't expect the experience to be entirely hassle-free, as you are very much required to guide them along the way.
Choose a reputable mover and be wary of any scams. Thoroughly investigate the company's licensing, insurance, and references. You need to give the agency personnel a physical walk-through or a virtual tour of your house to carry out estimates. Also, discuss the base rates and extra fees for a flight of stairs, additional heavy furniture pieces, and other probable or unforeseen charges.
On the day you plan to move, make sure you're organized to handle a small army of handlers to collect your belongings and place them in their truck. Make a checklist for this day.
Pros and Cons of Full-Service Movers
| | |
| --- | --- |
| Pros | Cons |
| No heavy lifting | Expensive |
| No driving a huge truck | Schedules can be rigid, with extra fees for changes |
| Less hassle if you choose a good company | Higher risk of damage and loss |
| Extra services available | Possibility of added fees |
Rental Trucks
Renting a truck is the cheapest way to move out of the state. Renting a truck, packing, loading, unloading, and unpacking can be a DIY approach. This approach will save you a lot of money but will leave you very tired and exhausted by the end of the project. However, this approach is not penny-less. You should keep expenses like packing material, gas, food, and hotel stay if required.
This is an excellent option if you have help from your neighborhood, friends, and family. For additional savings, you can attach your vehicle to the truck.
Pros and Cons of Rental Trucks
| | |
| --- | --- |
| Pros | Cons |
| The cheapest option for short moves | Costs can be much higher for longer-distance |
| Easy online pricing and reservations | Stressful option |
| You can set your schedule | Driving and parking a huge truck can be cumbersome and tiring |
Cargo Trailer
This option can be way more cost-effective than the full-service mover. The most de-stressing fact about cargo trailers is that you don't need to drive them to the destination. The Cargo trailer option can give you the flexibility of hiring the most proficient packers of your choice or the reasonable one available. A 16-foot trailer can accommodate belongings of 2 to 3-bedroom households. Hiring a cargo trailer gives you a little flexibility and control over your moving project.
If you plan to book a cargo trailer, keep in mind your house should have a driveway to allow entry of the big trailer. If you are shifting houses from cities with less probability of front driveways, the trailer company might also have city services. Their smaller vehicles shuttle between the main trailer and your home in an urban location.
Pros and Cons of Cargo Trailer
| | |
| --- | --- |
| Pros | Cons |
| Cost-effective than full-service movers | More expensive than the rental trucks |
| No need to drive a huge truck | Parking spot required outside your house |
| Flexibility to set your own pace | Tight deadlines can be a nuisance |
| Option to hire hourly moving help with loading and unloading | You take care of your loading and unloading |
| Built-in storage options | Almost empty moving truck with a ramp |
Frequently Asked Questions
How do you prepare for a long-distance move?
Make sure you have given yourself good preparation time.
Try to reach out to different movers and packers for estimates. This will not only help you understand the market but negotiate too.
Sign the company that not only gives the best rates but excellent services too.
Make a detailed inventory of all your belongings much in advance.
Calculate whether shifting furniture is more cost-effective than selling it.
Gradually downsize all your items and donate or dispose of things you do not wish to take along with you.
If you plan to pack yourself, try sourcing free packing boxes and supplies from departmental grocery stores.
Give yourself a long and relaxed packing timeline.
See also: How to Move on a Short Timeline?
What is the average cost of movers per hour?
The average cost of moves is about $60 per hour per mover. This price may vary depending on your location.
Can we negotiate with the moving company?
It would help if you always asked for quotes from more than one company. This will give you the upper hand to negotiate with the company you choose by showing their competitor's quote. Besides, the movers generally negotiate in their process by providing discounts; make sure you ask for them.
What is the average cost of moving my car?
The average cost of moving automobiles is $800. The prices may vary depending on your vehicle and the distance to be covered. It also depends if you've chosen a closed trailer or a shared one.
What is the cheapest way to move out of state?
Rent a moving truck; this will cut the cost of hiring an entire truck for yourself.
Ask friends and family for favors.
Try to source packing material for free.
Ship your items in a moving container. You can book some space on it.
Sell the sizable belongings, like heavy furniture, bulky curtains, rugs, etc.
Do You Have to Tip Movers?
Tipping the movers is not mandatory but highly recommended. Tipping is a way of appreciating the worker's good quality of hard work.
How Much to Tip Local Movers?
Ideally, it should be $4-5 per person for each hour of work.
Are you supposed to help movers?
No, let them do the job they are good at. They are trained professionals who know their job efficiently. They are trained to move couches, boxes, and fragile items systematically.
---
Moving Forward
Long-distance moves are a significant undertaking, plan well and execute as decided. Soon the ordeal will be over, and you'll be settled in your new home. Whatever moving option you choose, we hope this guide has helped you find the services with the best value for your needs.
See also: National Movers vs Local Movers | How Much Does it Cost to Move a 2000 Sq Ft House? | Cost to Move 1000 Miles
Enter your information
Almost done!
Enter your information to view your quote.
Your information is safe with us. By using this service, you agree to receive email communications solely regarding your relocation process