How to Calculate Moving Costs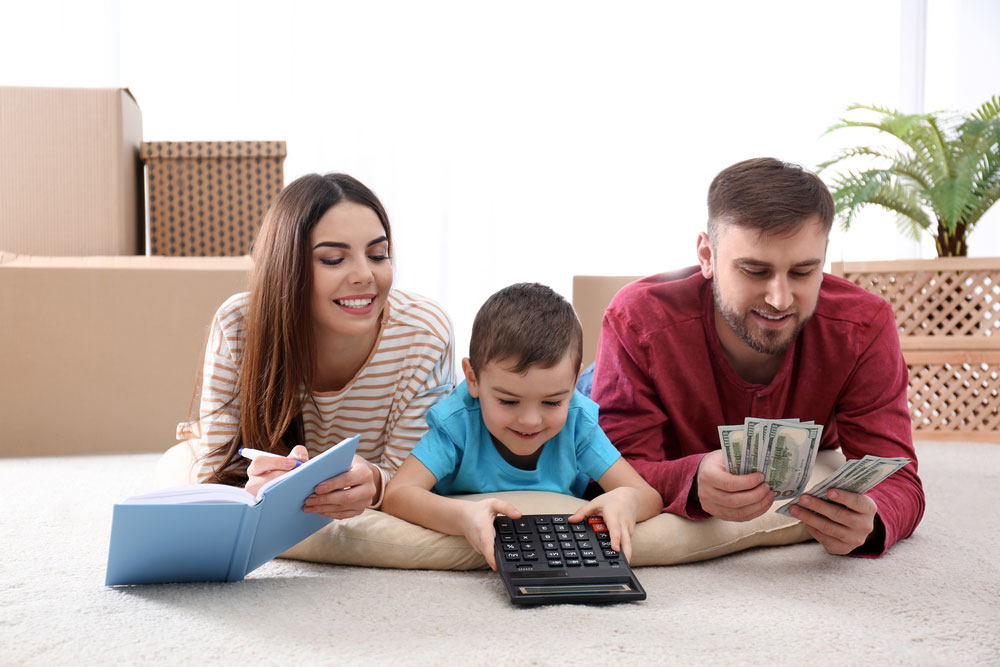 Moving is like having a baby. Everything leading up to the move, including the move itself, is pretty stressful. However, the end result is so pleasant and enjoyable that it doesn't matter what it cost to get there.
In this article, we'll help you figure out all of your moving costs perfectly and succinctly. Then, we'll give you some tips for lowering your moving costs and reducing your overall stress levels during this wonderful time in your life.
First Things First: What Exactly Are You Moving?
In the beginning, don't think about the details of your house moving. Instead, think about your whole property in terms of rooms and spaces. That will simplify the process and make it easier to break things down into smaller chunks.
Are you moving ALL of the rooms in your house?
Some rooms in your house may be used for storage or may barely be used at all. Maybe you put things in those rooms that you don't want to deal with but simply feel too guilty to just get rid of. Don't take that baggage along with you! If you won't move for a few months, sell all of the belongings in these rooms in your local flea market, on eBay or on Amazon. If you are moving in the next two months, don't spend your time on that. Simply donate these items to your local Goodwill or thrift store.
Besides tools and antiques, what items from your garage and attic are you bringing?
You will want to keep your tools and all of your family heirlooms. However, besides those valuable items, examine your motivations for keeping other belongings in your garage and attic. Are you currently using the shelving you have in your garage? Do you actually desire to fix that dryer, or was the idea of fixing it more appealing? In the next three summers, will you use any of the items in your potting shed?
Let's go over your attic and basement, as well. If a toy is broken, it doesn't matter how old or sentimental it is. You will never pass it down to your grandchildren. Only keep functional toys that have educational or sentimental value. If you can picture where to put an item in your new home, keep it. If you are bringing it along just so that you have it, leave it behind.
Do you plan to bring an entire shed or studio building with you?
Depending on the distance you are traveling for your move, this can actually be a really cost-effective idea. If your shed cost $1,200, you are moving to the next town over, bring it with you. If the shed cost $400, and you are moving across the country, leave it behind. Gardening sheds, painting studios, and attractive outbuildings are perfect additions to your new property.
All of Your Moving Costs: Set Budget
Now, let's calculate all of your moving costs. We'll discuss the various factors which can affect each item on your list. In the next section, we'll talk about how easy it is to lower some of these costs.
Distance Traveling
The miles add up in price. The longer the distance, the more it will cost you to move. We suggest traveling as light as possible if you are moving more than four states away from your old home. If you are moving from one end of the country to the other, we suggest taking a car and a single van. If you are moving within your state (Alaska and Texas are excluded.), you're clear to bring most or all of your belongings with you.
Also See: Moving To Alaska | How Much Does it Cost to Move 500 Miles?
Who is Driving the Vehicle?
This will depend on how much energy you will have after packing everything up and loading it into the van. If you don't have moving services and decide to move everything yourself, you may not feel up to driving your van more than two towns over. It will cost extra to hire a driver with your moving company, but it will feel a lot better.
Packing Supplies
Even if you use our cost-saving tips below, you will still need lots of packing tape (and a tape gun), plenty of bubble wrap, and lots of stretch wrap. Take the items you need for your move out of your drawers, but leave everything else inside. Wrap the plastic wrap around the drawers and tape it securely. They can now simply stack up in the moving van!
Days of Actual Vehicle Usage
Even if you rent a vehicle from U Haul or Budget Truck Rental for the days of your move, this does not mean that you won't need it for longer. Not everyone gets loaded up on time, and you will probably want a rest afterward. When you load into your new house, it may take you longer than you realized. Always add five extra days onto your vehicle rental when calculating your moving costs, just in case.
Packing Services provided by Moving Company
For an extra fee, you can have all of your belongings packed up and moved by the moving company without you having to lift a finger. This is the best option for people who don't want to put any sweat equity into their move. It will keep you more relaxed during the whole process, as well.
Moving Services provided by Moving Company
Loading your boxes and furniture in and out of the moving van is difficult. Moving companies also provide this service, often combined with the above service for a discount price. Full-service moving companies offer the complete solution to all your moving needs within the budget.
Your Moving Date will affect Your Price
If you move during a weekend or during the peak season, this will cost you more. To save money, schedule your move for a weekday, preferably during the off-season. That would be Fall, Winter, and Early Spring.
Also Read: When is the Peak Moving Season
Get Liability Insurance from a Third-Party Provider
Your moving company will provide full or partial coverage with their liability insurance. Make sure you check prices and compare rates on outside coverage providers. You want to make sure the cost of your belongings will be replaced if anything should happen. This is particularly true if you're the one driving the moving van.
Temporary Storage should be Considered in Your New Location
Some people put part or all of their belongings in temporary storage during a move. Never get storage in your old location. Always use temporary storage right beside your new location. That way, you will be more likely to pick it up someday.
How Many Rooms Are You Moving?
Typically, a moving company calculates its price quote based on the number of rooms you are moving out. Be sure to add up the furniture in each room to give an accurate picture of the size of the moving load. The bigger the load, the heavier the weight. This may end up costing more. You will need to discuss the size of your load with your moving company. Make sure they see the garage, attic, basement, and all outbuildings.
The Longer It Takes to Move, the More It Will Cost
If you hire a moving rental vehicle or van from U Haul, you may keep it around both properties longer than you anticipated. This rental moving vehicle can be a truck, trailer, van or a cargo van. If you are doing most of the labor yourself, this will take more time. However, there are two costs which coincide with longer moves. The vehicle rental and your time away from work. If the costs are comparative, consider purchasing a premium moving plan from your moving company and have them do the work for you (packing, moving, and transportation) in a much shorter timeframe. Here are some out of moving tips for your long distance relocation.
Also Read: How to Calculate a Linear Foot
Tips to Reduce Your Stress (and Moving Costs!)
You should always be looking for ways to cut corners yourself without yourself some services that you need. Here are some ways to do that.
See Also: Pros and Cons of Downsizing
Pick up boxes and packing materials from your local supermarket
Moving boxes or packing materials cost a lot of money. You can take care of these costs all by yourself by visiting your local supermarket. Look out back for boxes that are ready to be taken to the smasher. During business hours, talk to a manager about picking up boxes they will throw away. Many people do this, so don't worry about how you appear when asking for this. It's important to have enough moving boxes on hand to make sure you are packing efficiently and move goes smoothly.
Donate anything you haven't used in 8 months (excluding holiday items)
Obviously, Christmas decorations and Thanksgiving platters are seasonal items. Keep any seasonal items you like to use every year. However, if there is something else you have not used for 8 months or more, consider donating or selling it. This is a great way to get some extra money or to benefit others while you clean out your house.
Leave furniture behind for the next owner or renter
If final moving obligations are overwhelming you, consider leaving furniture behind that you don't want. Rather than moving it or dropping it off at a thrift store, consider allowing the next owner or renter (or real estate agent) to have a chance at it. This is a great way to cut out extra time and energy while also benefitting the next people to move in.
Do you want to save money or save energy and time?
Time and energy can easily be exchanged for money. If you want a low budget, you can put a lot of your own sweat equity into your move yourself. However, if you hate inefficiency and have the funds to do so, you can cut the amount of time and energy you expend on your house. Simply hire your moving company to do all the work for you. They have trained professionals who are accustomed to sorting, packing and moving all day long. Whichever route you take, you will have to give up one side of the equation to get the other.
Are you just moving across town?
If you are just moving across town, there are some additional benefits that other people don't have. You can pick your most important items and pieces of furniture from your old house and borrow your neighbor's pickup truck. A couple of days a week, you can move the main belongings you find important to the other house. This is also a great sorting tool. By picking your favorite items first, you are able to review your remaining belongings all by themselves. Many people choose to leave behind a greater amount of stuff with this method. This solution is low-cost, low-stress, and value-efficient because of its natural sorting process.
In conclusion, moving can be stressful, but there is a wonderful, final result. You are standing in your brand new house or apartment. It is fresh, clean and bright. You have a brand new beginning in life. That's worth all of the hassle, isn't it?
See also: How Can I Move Long Distance Cheap
Enter your information
Almost done!
Enter your information to view your quote.
Your information is safe with us. By using this service, you agree to receive email communications solely regarding your relocation process