Moving To Alaska – Relocation Guide for 2022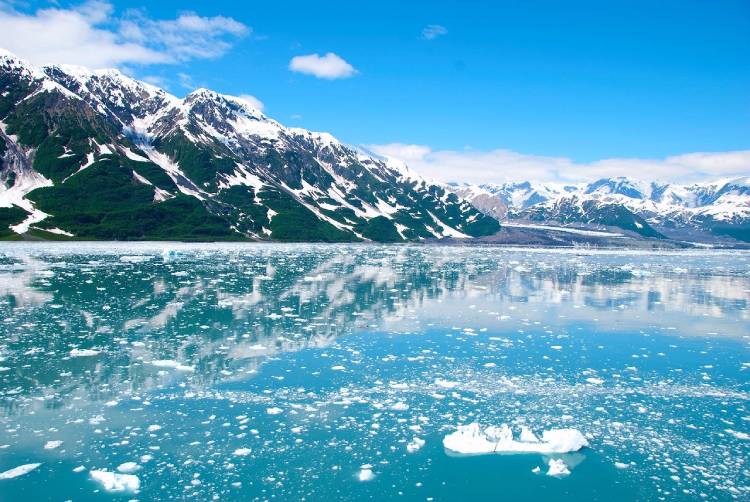 Alaska, or the Great Frontier as it's lovingly called, is highly underrated as a place to live. It's not just the beautiful landscapes, unending mountain ranges, and snow that draw people to the state. Alaska has a lot more to offer. It's a diverse and culturally rich state which also serves as a great launching pad for entrepreneurs.
Whether you're moving to Alaska for the great outdoors, the laid-back mountain life, or the snow, here are a few things to know about moving to Alaska that will help you decide a little better.
Pros And Cons Of Moving To Alaska
Pros
There's not a single place in Alaska where you won't find an opportunity to find adventure. If you enjoy activities like camping, hiking, mountain biking, and the likes, you can visit the Denali National Park. You can find many more venues like recreation sites and campsites as well. The number of venues increases in the winter for winter sports.
It's no surprise that Alaska is beautiful. The forests, the rivers, and the mountain ranges that surround them are all prominent enough for you to never get tired of the scenery of this state. The glaciers and the views this state offers are a different wonder altogether.
The people of Alaska care more about utility than aesthetics. This means you won't find a lot of high-energy, super sophisticated venues here nor would you find a lot of executives in suits running from meeting to meeting. Alaska has a lifestyle that will remind you to live life, and not just survive.
A by-product of a laid-back lifestyle is that you actually have the time to talk to your neighbors. And that is very much the case in this state. Even though Alaska is disconnected from the lower 48 states, the people living in this state have a strong sense of community.
The state of Alaska does not charge any income tax or sales tax, for that matter. This means you get to keep a little more of your money to yourself. You do have to pay excise and property taxes, though, since that's how the local governments raise money.
You Get Paid To Live Here!
If you qualify for the dividend, you'll get paid a certain amount of money per year just for being a resident of Alaska. This happens because of the permanent fund that the fossil fuel industry maintains through the government.
Cons
Since Alaska is so disconnected from the rest of the country, it's very difficult to transport goods and products to the state. Because of this, there is a steep increase in the prices of everything that is sold here. The low population of this state does not do the cost of living any favors, even though that's a factor that helps the same in other states.
Situated at a height of 1,900 feet above sea level, Alaska experiences some of the harshest winters in the country. The days are very short and cold, while the nights are long, snowy, and even colder. The average temperature across the state falls below zero degrees Fahrenheit, which is cold enough to freeze your car if you do not use a block heater.
Complicated Self-Employment
While it's very easy for anyone to become an entrepreneur in Alaska, you cannot be self-employed, or a freelancer, for that matter. The law in Alaska requires you to register your occupation as a business. This means that you might have to lift a higher tax burden than you would in other states.
Frequent Volcanic Activities
The place where the Pacific tectonic plate meets other tectonic plates is called the Ring Of Fire, and it's constantly shifting. Since Alaska is a part of the Ring Of Fire, it's prone to volcanic eruptions and earthquakes.
No Metropolitan Lifestyle
Alaska is more rural than urban. In fact, even its biggest city, Anchorage, has a small-town vibe. Other big cities like Fairbanks and Valdez also follow suit. If you can make do without a lot of the urban creature-comforts, you'll thrive in Alaska.
When you check the map, you'll see that Alaska is not just disconnected due to its geographical location, but also the amount of wilderness that surrounds the few ways in and out of this state. Flying out of here is also very expensive. So if you decide to move here, keep in mind that you might not see your acquaintances in the lower 48 states a lot.
Weather In Alaska
Most people imagine the entirety of this state to be buried in snow throughout the year. However, that is far from true. Alaska is divided into many different zones, depending on its elevation and geographical location. Because of this, the seasons in this state can mainly be divided into summer and winter.
In Alaska, the summer season begins in May and ends in September. The Inside Passage region experiences summer temperatures first, after which they move towards the north. By July, the average temperatures in the interior belt can average out at 70°F. However, it does frequently cross into the 90°F range. On the other hand, the temperatures in the coastal areas, as well as places with higher elevation, rarely go above 65°F. August sees the temperatures going down, which brings in an amazing foray of fall colors in the Alaskan forests.
The winter season in Alaska starts in October and ends in March. During this time, the coastal areas see moderate temperatures, rarely falling below 20°F. Much of the south-central area of Alaska is heavily blanketed with snow, making it a winter wonderland for people wanting to indulge in adventure sports and other winter activities.
The Interior and Arctic regions experience a completely different winter. It starts snowing as soon as the winter starts in October and the temperature of these places frequently goes below -20°F during the cold season. The Arctic region of Alaska, because of its climate, is technically a desert. You might see some snowfall, but all in all, the total precipitation in this area is less than 5 inches.
Cost Of Living In Alaska
Alaska is a huge state with a very small population. Now, add the many difficulties faced during transportation of goods and you'll find the cost of living in Alaska to be considerably higher than the national average. In fact, the overall cost of living in Juneau, the capital city of Alaska, is approximately 36.5% higher than the national average.
Buying A House
The cost of buying a typical family home in Alaska is higher than the national average by about 30%. As per Zillow, the typical home price in the USA is $293,349, while the typical home price in Alaska is $310,373.
Renting A House
The rental market in Alaska is highly fluctuating. The supply and demand of rental units in each area will highly affect the rent you pay. According to Zumper, the median rent in more urban areas like Anchorage is around $950. However, as you wander into the more rural parts of the state, you might find a good place to stay for $500-$750.
Taxes
Alaska is one of the most tax-friendly states in the USA. In fact, it has the lowest taxes and tax rates in the nation. The government of Alaska does not levy any income tax or sales tax on its residents, which translates to a lot of saved money in the long run. The residents do have to file a federal tax return, though.
The state collects revenue through other local taxes like gas taxes, excise taxes, and 'sin taxes', levied on products like alcohol and cigarettes. The cumulative total of all the local taxes falls at an effective range of 0% to 9.50%.
One specific tax that the state of Alaska does collect is the property tax. It's charged at a rate of 1.81%, through the state. However, there are a few exemptions that you'll have to qualify for. Make sure you research the taxes in this state to see if you qualify for any.
Utilities And Expenses
In this state specifically, one expense that adds up over the usual utilities like water, garbage disposal, and healthcare is the expense of heating. Because of the extreme temperatures in Alaska, heating your home becomes an issue of safety more than convenience.
On average, in places with relatively milder winters, the utility costs go to $265. This cost increases by at least 5% to 10% in places with extreme temperatures, coming up to an average of $300.
Talking about groceries and food, Alaska is about 26% more expensive than the rest of the country. This means a resident of Alaska would pay about $4 for a gallon of milk and $3.38 for a loaf of bread. Going out for a meal in a mid-range restaurant in a city like Fairbanks would cost about $20, while the same would cost $15 in Anchorage, which is the least expensive city in Alaska.
Gas in Alaska costs about 30 cents over the national average, while auto insurance is about 19% cheaper, bringing the insurance costs down to $1,152 per year. Last but not the least, healthcare in Alaska also costs more than the national average. According to Payscale, the typical visit to the doctor's office in Alaska would cost about $159 while the veterinarian will charge you about $56 on an average visit. This means the healthcare costs in Alaska are about 44% over the national average.
Crime Rate In Alaska
The crime rate in any location is calculated on a scale of crimes committed per 1,000 residents. According to this scale, NeighborhoodScout gives the state of Alaska a ranking of 37.78, when it comes to the total crime rate.
To break it down, if we consider violent crimes committed in Alaska, the state ranks at 8.67, whereas the national median for the same is 4. This means the chances of becoming a victim of violent crimes comes to 1 in 115 in Alaska. Property crimes in the state are ranked at 29.1. When put against the national median of 21, the chances of becoming a victim of property crimes in Alaska comes to 1 in 34.
Economy And Employment Opportunities In Alaska
With a GDP of $54.386 billion in 2019, Alaska was the 47th largest state economy in the USA. A huge chunk of this amount was brought in by the oil and gas industries in the area. In fact, these two industries are responsible for about 80% of the state's revenues. Even then, Alaska suffers from a high unemployment rate of 6.35%.
However, with constant efforts taken by the government to boost the economy of this state, things are looking positive for the future. There are a few huge organizations in Alaska which are changing the economic landscape. The organizations at the top of that list are as follows:
Bristol Bay Native
Chugach Alaska
Chenega
Afognak Native
Yukon-Kuskokwim Health
Ukpeagvik Inupiat
According to ZipRecruiter, the average salary earned in the state of Alaska is $69,750 per year. This translates to about $5,812 per month. If you want to earn a salary that is considered 'good', you need to earn at least $73,787 per year, which comes to about $6,148 per month.
Education In Alaska
There are about 500 public schools in Alaska, all of which are organized into 55 school districts. Even with these stats, Alaska only managed to score 36 out of 50 in terms of higher education, and 47 out of 50 in terms of K-12 education ranking in the country, according to USNews.
However, there are a few schools that manage to produce some of the best students in the state. The schools at the top of that list are as follows:
Elementary Schools
Bayshore Elementary School, Anchorage School District
Sidney C. Huntington Elementary School, Galena City School District
Aurora Elementary School, Anchorage School District
Middle Schools
Mitkof Middle School, Petersburg Borough School District
Homer Middle School, Kenai Peninsula Borough School District
Academy Charter School, Matanuska-Susitna Borough School District
High Schools
Mat-Su Career & Tech Education High School, Matanuska-Susitna Borough School District
Holy Rosary Academy, Anchorage
South Anchorage High School, Anchorage School District
Colleges And Universities
University Of Alaska Southeast, Juneau
University Of Alaska Fairbanks, Fairbanks
University Of Alaska Anchorage, Anchorage
Traffic And Transportation In Alaska
Getting around Alaska is a little more challenging than you might think. Not a lot of places in this state are accessible by road. This means you either have to get on a boat or on a plane. Moreover, given the varied landscape and far-off populous places, the public transport system turns out to not be convenient, or even adequate, for the residents to use.
Airways
Traveling by airplane is fairly common in the state of Alaska. There is one major airport in Alaska, namely the Ted Stevens Anchorage International Airport, which you can use to get into the state. Once there, you'll find yourself frequently depending upon the regional airline hubs like Bethel, Nome, Kotzebue, and Dillingham. Traveling by air is fairly reasonable and sometimes, it's the only way to get to your destination.
Roadways
To go around the state of Alaska in a car is, in itself, an adventure sport. Other than the big cities, you might not find a lot of places that even have roads. For example, the capital city of Juneau is only accessible by air.
Cities and villages are quite a distance apart with nothing but wilderness in between. Gas is expensive and in the case of a breakdown, you might have to stay in whatever town you are stranded in for at least a couple of days until parts arrive from Anchorage.
Buses are a better alternative to cars in some cases. However, there aren't a lot of big aggregators operating in the state. In fact, even Greyhound does not run any buses in Alaska. So you'll have to depend on the intercity services run by private bus providers. You might have to change multiple buses or modes of transportation entirely, to get to some of the more remote areas of the state.
Railways
The Alaska Railroad is more of a tourist attraction than a public mode of transport. It runs from Seward to North Pole, with stops in Anchorage, Denali, Fairbanks, Whittier, and Palmer. However, the Alaska Railroad only runs its daily passenger service in the summer season. In the winter, the rail belt is only used to transport passengers once a week.
Waterways
Many of the cities and villages in the state of Alaska are only accessible by sea, air, or a combination of both. Due to this, the state has a relatively well-developed ferry system. Known as the Alaska Marine Highway, this system connects the cities of Southeast, Southcentral, and the Alaska Peninsula, along with a few places in Washington State and Canada. The Inter-Island Ferry Authority serves as a major link between communities, villages, and places of work.
Places To Visit In Alaska
Alaska is not just a state in the wilderness, it is the wilderness. You'll find yourself in remote locations that look like the forest, glacial peaks, and even cold deserts! To explore this state is an adventure of a lifetime. A few places that are on top of that list are:
1. Anchorage
Anchorage is a very unique big city. It manages to fuse natural beauty and city life, art galleries and oil enterprises, and more than 100 miles of natural and city trails.
2. Fairbanks
Want to witness the mesmerizing Northern Lights? Then visit Fairbanks. Arguably one of the most well-known natural phenomena in the world, the beauty of this spectacle in Fairbanks cannot be justified by just words. Getting there might be a challenge, but it's definitely worth it.
3. Glacier Bay
Glacier Bay is a dream destination for anybody who likes to be in a kayak, on a cruise, or around water. There are seven tidewater glaciers that supply the seas around them with icebergs of all shapes and sizes.
Other places in Alaska that you should definitely explore are –
Denali National Park
Kenai Fjords National Park
Best Places To Live In Alaska
If you're looking for a place that is laid-back, beautiful, and full of excitement, Alaska might be just the place for you. Even with the prospect of transportation being one of the biggest challenges in Alaska, you'll find cities with great cultures and communities. Here's our list of
the best places to live in Alaska.
1. Cordova
Cordova is one of the oldest cities in this state. It's also only accessible by ferry. So unless you're working in the city itself, your commute to work and back is definitely going to be something to look forward to. Cordova is also known for having a strong economy. Because of this, Cordova has great scores in terms of unemployment, poverty, and crime rates. This makes it a very safe place to live, regardless of whether you do so with a family or by yourself.
Population: 2,829
Median Home Value: $330,600
Monthly Median Rent: $1,122
Annual Median Household Income: $94,625.
2. Unalaska
Unalaska was brought to fame by its fishing industry and the TV show Deadliest Catch. It's also one of the most productive ports in America, based on the amount of seafood caught. Due to this, Unalaska is one of the richest places to live in Alaska.
Unalaska also boasts of the lowest unemployment rate of 1.9% and a very low poverty rate of 5.7%. The crime rate in this city is the 3rd lowest in Alaska, making Unalaska ideal for a family. GreatSchools has given the school district here a decent score, further sweetening the deal.
Population: 4,724
Median Home Value: $368,000
Monthly Median Rent: $1,430
Annual Median Household Income: $94,750
3. Valdez
To enter the city of Valdez, you need to drive through Keystone Canyon. Once here, you can visit five glaciers that are very close to the city. It's no wonder that this place is ideal for anybody that loves the outdoors.
But that's not it. Valdez has a high rank when it comes to quality of education, median income, and healthcare. Valdez is also renowned for its affordable housing and small-town charm, making this an amazing place to live for a family, too.
Population: 3,847
Median Home Value: $168,600
Monthly Median Rent: $1,192
Annual Median Household Income: $85,085
4. Sitka
Homesnacks has placed Sitka in fifth place in the list of best places to settle down in Alaska. It's located on the west end of Baranof Island. Even then, connectivity to this place is good enough. However, all of this comes with a heavy price tag: Sitka is one of the most expensive places in Alaska.
The cost of living in Sitka is about 35% higher than the national average. However, that price does buy you access to great schools and a neighborhood with low poverty and unemployment levels.
Population: 8,640
Median Home Value: $358,600
Monthly Median Rent: $1,131
Annual Median Household Income: $73,682
5. Homer
Located in the southwestern Kenai Peninsula, Homer is a delight to every kind of fisherman. It does not come as a surprise that this city is named the fishing capital of the world by Halibut. However, Homer isn't just fish and water. You have access to education that is ranked well by GreatSchools. Homer also boasts of a low crime rate, low cost of living, and low poverty rates.
Population: 5,709
Median Home Value: $282,400
Monthly Median Rent: $1,020
Annual Median Household Income: $60,993
Summing Up
Moving to Alaska is a mixed bag. The state has some of the best sights in the entire world, serenity for days, and opportunities to start your life from scratch. It provides a culture that lets you live instead of making you run around, trying to make ends meet. However, it comes at the cost of adjusting to a lifestyle where you live in the absence of a lot of urban creature comforts.
Of course, living here is a challenge. But the friendly people and the endless snow-capped mountains will make you feel happy and content, while also providing you with enough of a salary to live comfortably. Research the state, learn how to fix more than just your car, and make your move!
FAQs
Is Alaska Expensive?
Yes, on average, Alaska is one of the more expensive states in the United States Of America. The cost of living in many parts of Alaska is considerably higher than the national average.
What Is The Minimum Wage In Alaska?
As of January 2021, the minimum wage in the state of Alaska is $10.38 per hour.
Is It Always Cold In Alaska?
Yes, even in the summer seasons, Alaska will see temperatures close to 20 degrees Fahrenheit. These temperatures go significantly down in the winters.
Enter your information
Almost done!
Enter your information to view your quote.
Your information is safe with us. By using this service, you agree to receive email communications solely regarding your relocation process