How Can I Move Long Distance Cheap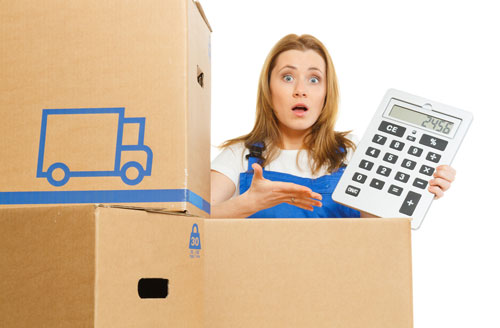 Working on a budget for moving long distances can not be easy. Not only are you changing where you live, who you meet, and where you work, but you are also going to be using a chunk of your savings to make it all happen. So it is understandable when you worry about how you will afford this undertaking and then have enough to settle into your new place of residence. But this is something that can be solved, and you can move a long distance and still have enough funds to subsist on until you're back to working in the new city. With the help of this guide, you can move long distances on a budget that works for you.
Cost of moving long-distance
Many factors go into the cost of moving, especially long distances. Consider several expenses, from booking a professional moving company or a moving truck to purchasing packaging material, buying a house, or paying the deposit for a rental and possibly new furniture to facilitate the actual moving process.
If you hire a professional moving company, it could cost you anywhere between $4000 and $9000. If you opt for hiring just the moving container, you're looking at the expense of about $2000 to $4000. A freight trailer could cost you about $2500 to $3000. And if you plan to DIY the whole thing, your truck rental would cost anywhere between $1200 and $2000.
See also: How to Calculate Moving Costs
Here are some things to consider when cutting corners in your budget:
PODS versus U-Haul: While getting a moving POD is cheaper than hiring a professional moving company, renting a U-Haul truck turns out to be even more affordable than a POD. Even if you get the U-Haul U-box container, you'll be saving more money than with a POD.
Moving furniture versus buying new furniture: This usually depends on how old your current furniture is. It is okay to move if they are just a few years old and pretty hardy. But if they are very old, overused and worn out, then it's not a good idea to move them, because they will undoubtedly be damaged while moving on a truck. So if your furniture is antique, then it's recommended that you sell it off and buy new furniture for your new house.
Buying a house versus renting: When you are moving to a new city, especially one far away from your old home, even though you may have done a lot of research, it will still be unfamiliar for a reasonable amount of time. You'll take a bit to distinguish good neighborhoods from sketchy ones, measure the time it takes to get to work from home and determine what you like to do there. It would be advisable to consider renting for a while until you've settled in and got the lay of the land. This way, you can scout for good deals and offers on houses on sale.
When you should hire professional help
If you feel you are pressed for time and cannot take a few days off of work, you will need professional movers to meet your deadlines regarding your packing preparations, moving date, and getting into your new place of residence. This will undoubtedly be money well spent.
Best long distance moving companies
The best professional moving companies for long-distance moves, lauded for their excellent customer service, include:
● International Van Lines
● Allied Van Lines
● United Van Lines
● Mayflower Transit
● U-Pack
Cheap ways to move:
It is possible to plan and execute an entire move across the country in a budget-friendly manner. Here are some ways to make your long-distance move easy on your pockets.
DIY Move: Of course, Doing-It-Yourself is the cheapest way to move cross country. Not only does it eliminate labor charges, but it also saves you stress about finding a company and booking a slot that suits you. You would only have to spend on packing, truck rental, and gas. The downside is that this will take up a lot of physical energy and time.
Hybrid Move: This is a little bit of DIY and professional help. You could hire professional help to help you pack and load the truck. This way, your things are secure and well fitted into the truck, and all you have to do is drive! You can choose which stages you can handle yourself, thereby saving on the cost of assisted labor, like driving the truck yourself.
Rent a moving pod or freight trailer: These containers can be hired and dropped off at your residence, where you can fill it up at your own pace. Once you're fully packed and loaded, all you need to do is call the professional movers to latch onto the pod and ship the container to your new address. Alternatively, you pack up the freight trailer, have the company move it across, and you unload and unpack when it reaches.
Ship away: If you don't have too many things to move, consider shipping it across. You can go for the ground shipping option, which is more cost-effective and offered by many shipping companies. Most companies tend to be reasonable when shipping large items like furniture. So you could do a half-and-half by shipping select items and hauling the rest by truck yourself. You'll be saving on money, time, and extra effort.
Off-Season: If you can bundle up and brave the cold, moving during the winter months could save you a lot of money. There are many offers and discounts during this time for professional moving services and assistance that you can benefit from. If they don't mention it, ask about discounts and offers at every service company you approach, anyway.
Garage sale: Declutter your space before packing. Don't carry everything just because it's there. Reexamine all your things and see what can be discarded or sold. Once the piles are big enough, you can have a garage sale and get rid of the extra luggage. Plus, you'll make some money which you can use toward other priorities.
Ask for help: Never be ashamed to ask for help when you need it. You never know how much people are willing to support you unless you ask. If you have friends, relatives, and colleagues who would be willing to donate money for your move, you should certainly ask them. Friends could help you set up a GoFundMe page, too.
Hire Moving Labor: Instead of going all out and hiring a moving company, you could hire labor for loading and unloading your luggage to and from the truck.
Keep in mind:
Insurance for shipped items: If you're moving a lot of expensive items, it's a good idea to spend a little extra money and have them insured. In the long run, this is value-for-money.
Send the Bill to your Boss: Are you moving because of a company transfer? In that case, you could certainly ask your company to pay for your moving expenses or at least contribute a fair amount to assist you.
Multiple moving quotes: If you're in the budgeting stage, don't settle on just one price. Make a decision when the price is worth the service offered. Get more than one moving quote and compare the prices versus the service you are receiving.
See also: Should You Choose a National Mover or a Local Mover
What not to carry with you:
You want to make this move as easy, quick, efficient, and cost-effective as possible. So make use of every day you have set aside for preparations and planning. Furthermore, you need to make use of every little space you've got in that moving truck. So when you are packing your things and starting to load the truck, while some things are essential, others you can do without. Here are some items you should not consider carrying with you.
Hazardous materials: If you have a garage full of chemicals for cleaning or pest control, especially if they have been opened and used, do not carry them along with you on the move. Chemicals are hazardous and dangerous to carry long distances in a vehicle. Not only could they leak, but they may emit fumes that could be poisonous and especially damaging to children and pets. You should contact the county officials for advice on safely getting rid of them.
Perishables: Carrying perishable items like food and plants that won't last the move's duration. Not only will they perish during the ride, but they may create a mess, leave a stench, or leak onto other items, destroying them. And what's worse is that if the food you carry goes stale, you could risk digestive problems if you or whoever's moving with you accidentally eat it. Try to carry only durable items that don't require constant monitoring or weather control as far as possible.
Bulky items: Ask yourself if you want to carry your CD and DVD collection, picture and painting frames, or other items that are hard to pack but eat up a lot of space.
Conclusion
Moving long-distance is a pretty arduous task. It takes a toll on the system, not to mention the emotional upheaval you will experience when the entire move is complete, and you finally have time to process the change you've just gone through. But the good news is that you can make this move, knowing you still have a safety net financially to fall back on because you planned a budget-friendly cost-effective transition.
FAQs
Q. Is it cheaper to move with PODS moving company?
It could certainly be cheaper to move with PODS instead of hiring a professional packing and moving company because you won't be paying for the labor that would help you pack and move everything from your house to the truck and, finally, the new place of residence.
Q. What month is the cheapest to move?
The cheapest months to move long distances would be between September and early April. Since late fall and winter are considered off-season, most families prefer to avoid moving house during this time. Subsequently, this frees up professional moving agencies, which offer better moving packages to attract more customers and get more flexibility in moving dates and real estate negotiations.
Also Read: Moving in the Summer – Useful Tips and Advice
Q. Is it okay not to tip movers?
Since it isn't a mandate that you must tip the movers, it is understandable that you are hesitant to shell out a few bucks for them. But consider the amount of energy and sweat they are putting in to make your life easier. It's also likely that you will be moving during the winter months, which means they will be moving your things about in the cold. It would only be fair to give them a tip of your choice for their hard work.
Q. How can I get money to move?
You could apply for grants and charities in your city or state to help you fund your move. Organizations like The Salvation Army, the YWCA, some Catholic Charities, and the Federal Relocation Assistance Program are avenues to check out for financial assistance. Some qualifications will need to be met for them to be able to assign funds to help you move.
Q. What places pay you to move there?
Thanks to the latest work from home trend, many local and state governments across the US are offering to pay people to move and set up houses in their cities. There are paid incentives, moving rewards up to $10,000, and housing stipends up to $1000. Cities where you could get paid to move include Oklahoma, Alaska, Iowa, Vermont, Maine, Nebraska, Ohio, and Kansas, to name a few.
Related: How to Find Good But Cheap Long Distance Moving Companies
Enter your information
Almost done!
Enter your information to view your quote.
Your information is safe with us. By using this service, you agree to receive email communications solely regarding your relocation process