Moving To Albuquerque – Relocation Guide For 2022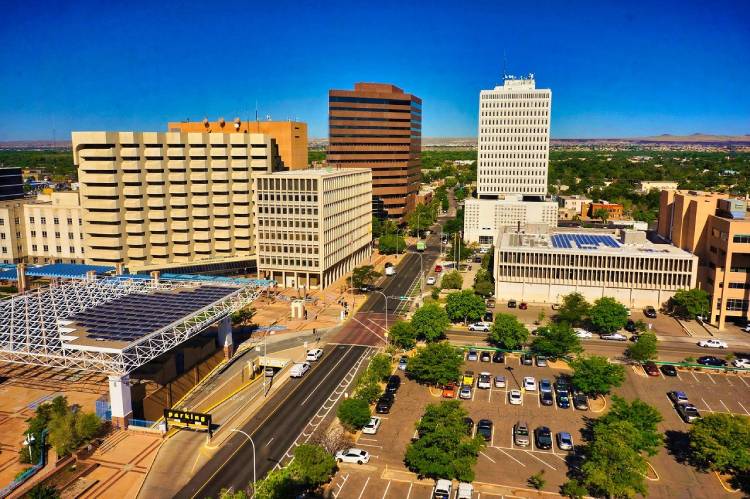 Albuquerque, the city that started its life as a colonial outpost and a farming community in the 18th century, is now a growing metropolitan city at the literal top of the United States Of America. At the height of 5,312 feet, Albuquerque, or ABQ, or Duke City, is also the most populous city in New Mexico.
The city of Albuquerque boasts a never-ending desert scenery, rich culture, epic history, and an art scene that is a culmination of all of this. The urbanization of this town sits in direct contrast to the still strong and standing Old Town Albuquerque. Moreover, this city is the set location of some great movies and TV series, adding to the charm of this city.
All of these factors make this city very alluring to come and live in. However, there are always pros and cons to everything. So, in order to help you decide better, we have curated a list of the same when it comes to moving to Albuquerque. Check it out!
Pros And Cons Of Living In Albuquerque
Pros
Cultural And Ethical Diversity
New Mexico is on the border of Mexico, due to which there's a significant number of migrants who have moved to the States, making New Mexico their new home. New Mexico also sees a heavy influence of the local native tribes like the Navajo, Jicarilla Apaches, and Mescalero Apaches.
The drip-down of the culture of this state is seen heavily in the city of Albuquerque since it holds about 25% of the state's population. It's safe to say that the culture and history of Albuquerque is a cultural melting pot on top of a mountain
Great Food
Given the rich cultural diversity in the city, the food here is a culmination of the centuries of native cuisines, fused with the Mexican cuisine that came in with the people who have moved to call this place home. However, the food here isn't like Tex-Mex, it is hard-core New Mexican. That means that even the servers at fast food joints will ask you 'Red or Green?' because even McDonalds serves a Green Chile Burger!
Manageable Traffic
Albuquerque is a big city, for all rhyme and reason. Due to the sheer size of the city and its population, you're bound to see some slowing traffic on the arterial streets. Of course, it won't be as bad as Denver, Dallas, or NYC. However, if you're used to driving down the country roads with no traffic, you might be in for a shock. To tie it with a bow, the traffic in Albuquerque is slow, but it keeps on moving.
Friendly Residents
This city is the epitome of Southern hospitality. You'll see your neighbors waving to you and introducing them when you just move in. However, this city is known to keep it real too. While the neighbors are nice and friendly, you'll know exactly where you stand with them.
Low Cost Of Living
Since Albuquerque is still in the process of becoming a big city, it enjoys a cost of living that is relatively low. Make no mistake, the real estate in this city is expensive, regardless of whether you're renting or buying. However, other operational costs like taxes and utilities are manageable, making the aspect of living here seem rather affordable.
Cons
Struggling Job Market
If you're planning on moving to Albuquerque, we recommend doing so only with the guarantee of a secure job. The job market in ABQ is still in the initial stages of growing and the proof of that is seen in the unemployment rate, which hovers right around 6% in this city.
Dry And Cold Weather
Albuquerque is the highest city in the United States Of America when it comes to elevation. This, combined with the desert-like terrain, means that the air is dry and mostly cold. It also means that the sun will do more damage to your skin than It would in any other city. So, after you move to Albuquerque, make sure you have moisturizer and sunscreen at hand. The thin air at the top also means that oxygen is noticeably less. This might turn into a health issue for some people.
Bad Roads
Albuquerque suffers from the lack of good roads to an extent where the state government has stated in a report that about 1 in 4 roads in this city are bad. While there are a lot of rural roads in this city, a big disadvantage comes from the US Route 491, where a majority of the bridges are reported to be the worst in the state. The winding roads that go through the mountains are in similar conditions, but with the added risk of falling off of a cliff.
Questionable Quality Of Life
The city of Albuquerque suffers from an inefficient schooling system which leaves a lot of parents following up on the teachers for their child's progress. This, tied with generational poverty, low wages, and lack of opportunities has also given rise to drug-related crimes. Walter White, is that you?
See Also: Best Moving Companies In Albuquerque
Weather In Albuquerque
The high elevation of Albuquerque, combined with the desert conditions of a majority of the landscape, has given this city a cold semi-arid climate. This means that the summer season in The Duke City is hot, dry, and long while the winters are very cold, very short, and snowy. The average temperature of the city is generally between 27°F and 93°F. If you like the sun, the state does receive about 300 days of sunlight with clear skies.
In the summer season, which lasts from mid-May to mid-September, the temperatures tend to swing between the low of 68°F and the high of 92°F. You might find yourself sweating the most in July, which is the hottest month of the year in this city.
The winter, on the other hand, lasts for three months, beginning in late-November and ending somewhere in the second half of February. The temperatures in these three months range between 29°F and 49°F, with the daily average temperature settling at around 56°F.
The city does see heavy precipitation from July to September, with an 18% chance of precipitation in that time. Precipitation in this city includes rain, snow, and a combination of both and the month of August sees the heaviest of it.
Cost Of Living In Albuquerque
The cost of living in Albuquerque is 4% lower than the national average while the cost of utilities is about 15% lower. This means that the operational costs of living in this city are cheaper than Columbus, Nashville, Tucson, and many more. The overall cost of living is calculated by analyzing the expenses made towards housing and all things associated with it, like utilities, groceries, and healthcare.
Buying A House In Albuquerque
According to BestPlaces, the median cost of homes in Albuquerque is $257,400, which is about $40,000 lower than the national median cost. While the cost of housing is still not the least expensive, it still is at a point where settling down can be called comfortable.
Renting A House In Albuquerque
The median rent in Albuquerque is very close, but slightly lower, than the national average. According to WorldPopulationReview, the national average monthly rent in the USA is $1,098 while the average rent in Albuquerque is $1,041.
Taxes In Albuquerque
The city of Albuquerque sees a combined effective tax rate of 7.88%. The break-down for which can be seen as the New Mexico sales tax being 5.13% and the city sales tax being 2.75%. There's no sales tax levied by the county, meaning the rate of 7.88% is all that a resident might have to worry about.
Other than that, there's a Central Income Tax (CIT) and Gross Receipts/Compensating tax levied on the residents of this city. While the former will charge a tax rate of 5.9%, the latter will charge rates of 5.125% and 7.875%, respectively.
Utilities And Other Expenses In Albuquerque
The biggest chunk of expenditure in any place, other than housing, is going to be utilities, and Albuquerque is no different. The average cost of utilities like electricity, heating, water, and garbage is around $140 per month, while a decent internet connection will cost somewhere around $75 for the same amount of time.
On the other hand, this city sees healthcare costs which also happen to be lower than the national average. A typical visit to the doctor's office would be around $108, while the same for your pet might be around $50. If you decide to avoid the doctor by eating healthy, you might be in luck, since the overall price of groceries in this city is 5% lower than the national average!
See Also: What Salary Do You Need to Live in Albuquerque?
Crime Rate In Albuquerque
In the city of Albuquerque, unfortunately, the rate of crimes, both violent and property, are higher than the national average.
When it comes to violent crimes, the city of Albuquerque sees a crime rate of 13.76 per 1,000 residents, which is more than double the national median of 4 per 1,000 residents, according to NeighborhoodScout. This means that the chances of becoming a victim of violent crimes in Albuquerque are around 1 in 73.
On the other hand, the crime rate for property crimes is about 57.69 per 1,000 residents, which also happens to be more than double the national median for property crimes, which is only 21. The chances of becoming a victim of the same in Albuquerque are 1 in 17, given the crime rate mentioned above.
Economy And Employment Opportunities In Albuquerque
A majority of the jobs in Albuquerque are dependent upon the state and federal governments. Some of the biggest employers, according to USNews, are Kirkland Air Force and Sandia National Laboratories. The high number of government facilities have also given rise to a lot of technological companies. For example, Intel Corporation, one of the biggest computer chip manufacturers in the world, has its headquarters in Rio Rancho.
Other than that, two of the biggest industries in this city are healthcare and television and film production. The scenic landscapes, a variety of urban locations, and a number of sound stages have been instrumental in the growth of the TV and film industries in the city of Albuquerque. One of the biggest examples of that would be Breaking Bad, of course!
According to Slacker, the top five salaries in this city are held by the people working as engineering managers, physicians, ophthalmologists, anesthesiologists, and gynecologists. The highest salary amongst these is around $292,740 annually.
Speaking of salaries and the general economy of Albuquerque, this table below (from BestPlaces) will help you get a better understanding:
| | | |
| --- | --- | --- |
| | Albuquerque | US Average |
| Average Individual Income | $28,229 | $31,177 |
| Job Growth | -7.7% | -6.2% |
| Median Family Income | $62,045 | $70,850 |
| Unemployment Rate | 3.5% | 6.0% |
Education In Albuquerque
While ABQ is known to have a quality of education that leaves a lot to be desired, there are a few schools that give the parents confidence in the teachers and their teachings. That being said, there are about 41 public schools in Albuquerque and we have found out the best ones.
Elementary Schools
Martin Luther King Jr. Elementary School, Rio Rancho Public Schools
Horizon Academy West, Albuquerque
Enchanted Hills Elementary School, Rio Rancho Public Schools
Ernest Stapleton Elementary School, Rio Rancho Public Schools
Middle Schools
Albuquerque Institute Of Math And Science, Albuquerque
Cottonwood Classical Preparatory School, Albuquerque Public Schools
Mountain View Middle School, Rio Rancho Public Schools
Rio Rancho Middle School, Rio Rancho Public Schools
High Schools
Albuquerque Academy, Albuquerque
Sandia Preparatory School, Albuquerque
Menaul School, Albuquerque
Bosque School, Albuquerque
Colleges And Universities
University Of New Mexico, Albuquerque
Brookline College – Albuquerque, Albuquerque
Traffic And Transportation In Location
The public transportation in Albuquerque is decent at its job. However, since the conditions of the roads are not the best, the public transportation system does need to catch up to some extent. However, there are many options available.
Bus
The largest network of public transport in Albuquerque is the network of buses run by ABQ RIDE. These buses run between Downtown Albuquerque and its immediate suburbs. You can hitch a ride on one of these from 5:30 am and do so until 6 pm. However, the schedules do differ on weekends and public holidays. So, make sure you check the timetables before going out.
You can get a one-way ticket for the bus for as low as $1. Or, if you plan on traveling by bus frequently, you can get a multiday pass for a price ranging from $2 to $6, depending on the number of days.
Train
There's a commuter train service run by the name of New Mexico Rail Runner Express provides service between Albuquerque and Santa Fe, making multiple stops in both cities. You can get a day pass for the entire route for about $9. The best part? You can get yourself a pass online! There are discounts available for those over 62, or younger than 17, while children under 9 and veterans ride free.
There's also a tram service that can take you to the top of the mountain that neighbors the city. While this is a great way to travel, this has now become a tourist attraction. So, expect a little bit of crowd as you travel on the tram.
Places To Visit In Albuquerque
1. Albuquerque Museum Of Art And History
Located at the edge of Old Town, the Albuquerque Museum Of Art And History is an in-depth look into the history of this city. The museum has cultural artifacts from about 400 years ago, including suits of Spanish armor, historic wood carvings, and great art pieces.
2. Indian Pueblo Cultural Center
The Pueblo community has called the region of New Mexico their home since long before even the United States Of America came into existence. The Indian Pueblo Cultural Center is a great way to look into the colorful lives of the people of this community. While there, you can attend one of the cultural events, lectures, workshops, and tours. You can also visit the Pueblo Harvest Café for their amazing Native American Cuisine.
3. Unser Racing Museum
The Unser Racing Museum is named after a legendary racing team from Albuquerque. You can visit this museum which has a wide range of automobiles and paraphernalia that one can see in order to learn more about the world of motorsports. There is also a racing simulator within the facility, allowing visitors to experience driving a racing vehicle.
4. Rio Grande Nature Center State Park
The Rio Grande Nature Center State Park is full of exhibits, both indoor and outdoor, that display the natural history of the city of Albuquerque. Amongst the outdoor exhibits, you'll find gardens, ponds, and wetlands while the indoor exhibits include installations and information about the natural geography.
Best Places To Live In Albuquerque
1. Huning Castle
Located near Downtown ABQ and the historic Old Town, the neighborhood of Huning Castle is right along the Rio Grande River. This scenic neighborhood not only assures a great view, but also a lot of music venues, museums, restaurants, and has a buzzing nightlife.
The easy access to the many venues of entertainment, secure living spaces, and budget-friendly housing options make this neighborhood an amazing place for a young family to grow.
Population: 925
Median Home Value: $282,750
Monthly Median Rent: $852
Annual Median Household Income: $58,536
2. Nob Hill
Nob Hill is a rather lively neighborhood that is a hotspot of young and lively people who like to have fun. Since the University Of New Mexico is in the vicinity, you'll find a lot of affordable housing options like apartments, condos, stucco-style homes, and townhouses. However, Nob hill offers a lot more to its residents.
The neighborhood is known to be colorful and have a lot of people who like to have fun. You'll find amazing venues for live music, bars, and cafes. If you want to get away from the crowds, you can take a trip through the legendary Route 66.
Population: 4,326
Median Home Value: $265,667
Monthly Median Rent: $685
Annual Median Household Income: $49,596
3. Taylor Ranch
Taylor Ranch is a great place for a family to live in. The houses are affordable, there are great schools like Chamiza Elementary School and Lyndon B Johnson Middle School, and there are multiple family-friendly outdoor locations in the vicinity.
You can also visit the many national monuments to see the historic rock carvings or take a ride in a hot air balloon to see the city in a new light! If you're looking for a relaxing evening, you can visit the many restaurants and bars in Downtown ABQ, which is just 20 minutes away from Taylor Ranch.
Population: 19,686
Median Home Value: $201,386
Monthly Median Rent: $1,042
Annual Median Household Income: $64,806
4. Bear Canyon
With affordable housing options, a strong sense of community, and plenty of green spaces in the vicinity, the neighborhood of Bear Canyon is perfect for anyone wanting to live in a quiet yet connected neighborhood. There's an array of housing options, from apartments to ranch-style houses, for you to choose from.
There are high-rated schools in the neighborhood like the Albuquerque Academy and Arroyo Del Oso Elementary School. Other than that, there are many green spaces, a golf course, and an amusement park not very far away.
Population: 3,332
Median Home Value: $243,750
Monthly Median Rent: $1,098
Annual Median Household Income: $81,746
Summing Up
The city of Albuquerque has something to offer to everyone. However, you might have to make adjustments to your life, since the city of Albuquerque is still in the process of becoming the next big city.
One of the best things about Albuquerque is that while it stays close to its roots of Native American culture, its fusion with the Spanish culture has made it a lively city that it has become today. You'll find a friendly and prominent LGBTQIA+ community as well!
Before moving to Albuquerque, just keep in mind to research schools, neighborhoods, and jobs. Since these might be a little bit of a hassle if you move without any of this. With that out of the way, your move to Albuquerque will be a very happy one!
FAQs
What Is Albuquerque Known For?
Known as the cultural center of the American Southwest, you can see a lot of unique things in the city. The most famous one amongst all the amazing things is the watermelon-colored Sandia Mountains that are right next to Albuquerque.
Is Albuquerque In New Mexico Safe?
Statistically, the city of Albuquerque can be announced to not be a safe place to visit. As a resident, things might be different since the city has a strong sense of community and you'll figure where to go, and where not to.
Is Living In Albuquerque Expensive?
No. The cost of living in Albuquerque is about 5% lower than the national average cost of living. This means living in Albuquerque is manageable, if not easily affordable.
What Is A Good Salary In Albuquerque?
In the city of Albuquerque, any salary above $80,000 per year can be considered a good salary.
Enter your information
Almost done!
Enter your information to view your quote.
Your information is safe with us. By using this service, you agree to receive email communications solely regarding your relocation process