Moving From Denver To Seattle – A Detailed Guide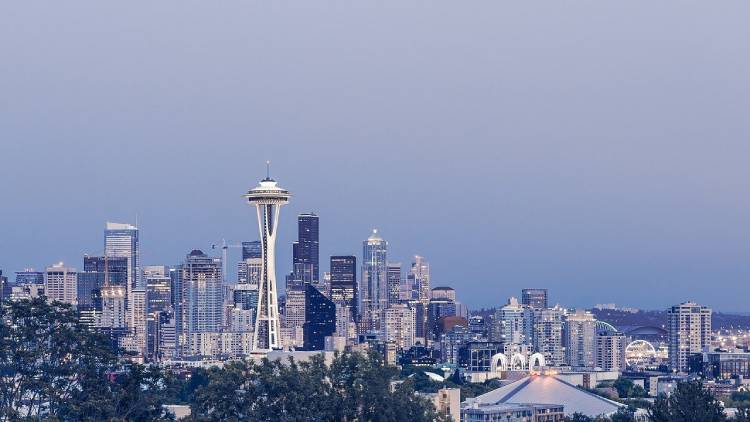 The two cities that we're talking about here are poles apart. Denver has enough sunlight for days while Seattle is relatively gloomier and sees occasional rains. Denver will give you tons of outdoor recreational venues, while Seattle is much calmer, with its farmers markets and ferries.
Both of these are great cities, in their own unique ways. But you may have a lot of reasons to move out of Denver; perhaps it's professional or you just want to leave the mountains for the sea! If so, and you're thinking of moving to Seattle, there are more than a few reasons why you wouldn't regret it. Here are a few highlights to help you decide on whether moving from Denver to Seattle works for you.
Weather
Denver is known for the high amount of sunlight it receives throughout the year. In fact, the arid conditions in Denver bring in about 300 days of it. You're probably only too aware of how hot and cold Denver can get, with an average of 86°F in summer and about 56°F in winters!
Seattle, on the other hand, is much colder and gloomier. In fact, this city is known to be among the gloomiest cities in the US thanks to the over 200 cloudy days. You get rainfall pretty much throughout the year in Seattle, except for summers. The summer is a pleasant temperature with surprisingly low humidity. The temperatures vary between 37°F and 79°F throughout the year with about 152 days of sunlight. For the rest of the 200 days, you might want to keep weatherproof clothing handy.
Cost Of Living
If you're moving from Denver to Seattle, the cost of living is something you might want to put on the top of your list of priorities. There's a considerable difference between the operational costs of both the cities and unfortunately, Seattle can be much more expensive.
While taxes and utilities are less of a strain for your budget in Seattle, pretty much everything else like housing, healthcare, groceries, and transportation cost more. In fact, the overall cost of living in Seattle is about 31.3% more than it is in Denver. So, make sure you have your finances worked out before you move.
Buying A House
The real estate market in Seattle is aggressively competitive. When compared to Denver, the real estate market in Seattle seems even more aggressive and expensive. To give you some perspective of how aggressive Seattle's market is, the median house price went from $405,000 in 2016, to $738,000 in 2021. This is a 26% rise in the house prices!
Denver, on the other hand, has a median home price of about $557,000 for a typical single-family home. This is a difference of almost 55% in the median buying costs of houses in the two places.
Renting A House
While the rent in both of these cities is above the national average, the rent in Seattle might seem quite expensive to the residents of Denver. These high prices of rental units in Seattle are in spite of the fact that more than 50% of the residents of this city are renters. To give you a fair idea of the rent prices, and the difference in rent in the two cities, here's a comparison of the rent, according to BestPlaces:
| | | |
| --- | --- | --- |
| Apartment Size | Denver, CO | Seattle, WA |
| Studio apartment | $1,777 | $1,572 |
| 1 Bedroom Home | $1,299 | $1,634 |
| 2 Bedroom Home | $1,580 | $1,920 |
| 3 Bedroom Home | $2,120 | $2,627 |
Taxes
Seattle sees tax rates that are a little higher than the ones in Denver. While this sounds like bad news, there is a silver lining. The thing is, while Seattle takes more out of your pockets in terms of taxes, the city does not see any income tax!
So, to give you a clear scale, the income tax rate in Denver is 4.8%, which can never beat the low income tax rates in Seattle, which happen to be at 0.0%! On the other hand, sales tax rates in Denver are slightly lower at about 8.3%, which is about 10.1% in Seattle. So, while you might have to walk a tightrope, you might be able to make your taxes seem affordable.
Utilities And Other Expenses
The cost of utilities and other operational expenses are a huge part of the decision to decide a place to live. When we talk about moving from Denver to Seattle, you might want to buckle up for higher expenses.
According to Zumper, the average cost of utilities like electricity, water, gas, and garbage disposal in Seattle would cost you about $212 per month for a 900-square-foot apartment, when put against the $127 in Denver, seems expensive. And at a $100 difference, it might just be!
When it comes to food costs, a resident of Seattle might end up spending anywhere between $4,000 to $13,000. This huge bracket is due to the locally caught seafood and the high amount of specialty foods available in Seattle. On the other hand, Denver is much more conservative in terms of prices as well as the availability of specialty food items. Due to this, the average food costs in Denver are at about $3,792, annually.
Last but not the least, the average healthcare costs in Denver are about 19% lower than they are in Seattle. To put that number in perspective, a typical visit to the doctor's office will cost you about $116 in Denver, while the same will cost you about $137 in Seattle.
Crime Rates
The difference in the crime rates in both Denver and Seattle isn't very conspicuous. To give you a scale, the national median for violent crimes is 4 per 1,000 residents while the national median for property crimes is 19 per 1,000 residents, according to NeighborhoodScout.
In Denver, the rate for violent crimes is about 8.86, which means, there's a 1 in 113 chance for any individual in the location to become a victim of violent crimes. On the other hand, the rate for violent crimes is 6.6 in Seattle.
Property crimes in both locations are a different story altogether, with a rate of 48.19 in Denver. This is actually lower than the property crime rate in Seattle of 52.5. This rate in Seattle brings the chance of becoming a victim of property crimes to around 1 in 19.
Economy And Employment Opportunities
One of Denver's greatest strengths is its diversified economy. Industries like aerospace, healthcare, financial services, bioscience, IT, broadcast and telecommunications, and energy brought the GDP of the city to $202.46 billion in 2019. While the city does not compare very well to the big players like Seattle in terms of the capital, finding a job is easier.
In the same year, Seattle had a GDP of $382.63 billion. This is due to the high contributions of industries like technology, biotech, healthcare, shipping, and fishing. Due to this, the average salary of a Seattle resident is $59,835. While this is higher than the national average, it might struggle to keep up with the cost of living in the metro area. To keep up with these expenses, you'll need a salary of $80,334 per year, to live rather lavishly.
The unemployment rate in Seattle is 5.3%. Which is a little lower than the national average of 6%. This is due to the well-employed nature of the city. There are more than a few huge organisations in the city which give employment a boost. If you are looking for a job in the bigger organizations, here is a list of the 5 biggest companies in Seattle, Washington.
Amazon
Starbucks
Costco Wholesale
Providence Health Services
Barrett Business Services
Speaking of jobs, the highest salary earned in Seattle is about $278,900, and is earned by psychiatrists, closely followed by other medical professionals, chief executives, and flight crews. To give you a better idea of the salaries and overall economy of these cities, here is a table from BestPlaces that gives you all the required information.
| | | |
| --- | --- | --- |
| | Denver | Seattle |
| Average Individual Income | $43,770 | $59,835 |
| Job Growth | -4.9% | -5.2% |
| Median Family Income | $85,641 | $92,263 |
| Unemployment Rate | 7.1% | 4.8% |
Education
Denver scores well when it comes to education. The strong student-to-teacher ratio of 19:1 only serves as a testament to the quality of education in the city.
That being said, the quality of education in Denver pales in comparison to what Seattle has to offer. Thanks to the high concentration of jobs in technology, engineering, and others that require advanced degrees, the quality of education in Seattle is very good. In fact, Seattle is named the most literate city in the US by a study conducted by the Central Connecticut State University.
There are a few schools in Seattle that stand out from the crowd of great schools. Here they are!
Elementary Schools
Ella Baker Elementary School – Lake Washington School District
Ordway Elementary School – Bainbridge Island School District
Middle Schools
International Community School – Lake Washington School District
International School – Bellevue School District
High Schools
Lakeside School – Seattle
The Overlake School – Redmond
Colleges And Universities
University Of Washington – Seattle
DigiPen Institute Of Technology – Redmond
Also See: Ten Cities Americans Are Fleeing To
Traffic And Transportation
The public transport system in Denver is much more efficient than the one in Seattle. This is mostly because of the difference in population as well as the infrastructure of the city. The public transport system in Seattle is extensive, but fails to get to all the corners of the city. Once you've moved from Denver to Seattle, we recommend that you get your own car.
That being said, both of the cities have public transport systems that offer services like buses, and light-rail vehicles. In Denver, the extent of the 'other' modes of public transport consists of a trolley and a RTD-run light rail. Seattle, on the other hand, gets a light rail, a streetcar, a monorail, and even a water taxi. However, the water taxi is much more of a leisure travel option than something to opt for in a rush.
While Seattle is much more equipped, it is also much more crowded and spread-out. So, you might end up choosing a car more often than not. However, beware of the bumper-to-bumper traffic that floods the city, along with a limited number of parking spots during peak hours.
You might think you can walk through Seattle in order to avoid the public transport and the traffic jams. However, while that is a good idea if you are going to go through just one neighborhood, you might want to buy, or rent, a two-wheeler if you plan to explore the city.
Places To Visit In Seattle
Pike Place Market
Pike Place Market is the birthplace of Starbucks. Other than the first branch of the iconic café, you can experience over 225 local artisans selling their wares, music playing street performers, and the classic 'market' sign in this place. Since its renovation in 2017, there are even more sights and sounds to fill your day.
Seattle Art Museum
Seattle Art Museum is the city's largest and one of the oldest museums in the city. Since its inception in the 1930s, this museum has acquired a huge collection of exhibits that span various eras and geographical locations. You can also visit the Olympic Sculpture Park, which is the outdoor extension of the museum.
Pacific Science Center
This family-friendly museum in Seattle will help you learn a lot about the world by bringing the lessons to life! You can explore galaxies in the planetarium, fly amongst the butterflies and other beautiful creatures in the Tropical Butterfly House, and much more!
Space Needle
This 605-foot observation deck quickly became an icon in the city of Seattle after its inauguration at the 1962 World's Fair. You can see Elliott Bay, the Cascade Mountains, and even Mount Rainer from the observation deck at the top of a 43-second elevator ride.
Museum Of Flight
The Museum Of Flight has one of the largest collections of space and air collections in the country. Amongst the paraphernalia, you can also see a lot of things like a Boeing lunar rover, an Air Force One from the Eisenhower era, and trainer tours in NASA space shuttles and flight simulators.
Best Places To Live In Seattle
South Lake Union
South Lake Union is an amazing neighborhood for the people looking to live and work in the heart of Seattle's tech industry. This 170-acre neighborhood offers post-modern houses and modern urban apartments that are very close to the banks of Lake Union.
South Lake Union is also known for the Amazon Campus, Museum Of History And Industry, and the REI flagship store. This neighborhood also offers mind blowing entertainment venues and eateries in close proximity, making it a great place for the young professionals in the city.
Population: 21,431
Median Home Value: $372,100
Annual Median Household Income: $114,975
Monthly Median Rent: $1,591
Lower Queen Anne
Lower Queen Anne is actually a part of two neighborhoods, with the other half called Upper Queen Anne. While the other one is popular among families, Lower Queen Anne is much more famous amongst the young professionals and singles looking for contemporary apartments and condos.
Around the neighborhood, you can find great views of Elliott Bay, Seattle Repertory Theatre, and even the Seattle Center and catch a WNBA or NCAA game at the Climate Pledge Arena.
Population: 22,717
Median Home Value: $447,030
Annual Median Household Income: $104,892
Monthly Median Rent: $1,354
Capitol Hill
Capitol Hill is lovingly called the 'Brooklyn Of Seattle', owing to the much more liberal and friendly vibe that runs through this place. There are multiple coffee shops, tattoo parlors, and LGBTQIA+ businesses. There are also a lot of music venues and businesses around music.
True to the Seattle spirit, there are a lot of green spaces in this neighborhood too. You can visit Volunteer Park, Boren Park, Cal Anderson Park, and Interlaken Park with your family for a jog or a walk. Speaking of walking, Capitol Hill is just outside Downtown Seattle, making commuting very easy.
Population: 32,858
Median Home Value: $526,860
Annual Median Household Income: $80,284
Monthly Median Rent: $1,259
Ballard
Ballard is one of the biggest neighborhoods in Seattle. However, it started its life as a different city altogether. The rich history of this place can be seen in the houses that range from traditional single-family homes to brand-new luxury apartments and condos.
Other than that, this neighborhood offers an eclectic mix of eateries, boutiques, bars, and many more entertainment venues. The best part? Ballard is only 10 minutes away from Downtown Seattle, making it a great place for people looking to settle down in this city.
Population: 27,534
Median Home Value: $522,193
Annual Median Household Income: $100,178
Monthly Median Rent: $1,410
Also Read: 14 Best Seattle Neighborhoods to Live In
Cost Of Moving From Denver To Seattle
Moving houses is a gigantic task. There are millions of things to do, including organizing, booking, cancelling, packing, and then actually packing. If you try to do it by yourself, it can get pretty hectic. Hence, hiring a moving company is a really good idea in order to help you maintain some sanity and strength through this process.
If you do decide to hire movers, you might end up spending anywhere between $3,170 and $9,060 in this journey across state borders. However, before you make any bookings, make sure you have some semblance of a plan and figure out all the formalities, paperwork, and the hacks you'll need to make this process as smooth as possible.
See Also: Moving From Los Angeles To Seattle
Summing Up
Moving from Denver to Seattle can present huge differences in all aspects of life. From the climate, the cost of living, to even something as plain and simple as traveling to work. So, we hope that you get all the opportunities you're looking for after moving to Seattle!
FAQs
How Much Does It Cost To Move From Denver To Seattle?
Based on current prices in the moving industry, moving from Denver to Seattle would cost you anywhere between $3,170 and $9,060.
Is It Better To Live In Denver Or Seattle?
There are pros and cons to living in both cities. While living in Denver offers a better climate, lower cost of living, and an easier commute to everywhere, Seattle is a much larger city with much larger opportunities and a larger-than-life way of living.
Is Moving To Seattle Worth It?
Yes. Seattle has a lot of opportunities when it comes to jobs. It also has a great balance of family-oriented and nightlife oriented entertainment venues. Seattle offers an amazing increase in the pace of living and also has corners that feel like they're in a different state altogether.
Also See: Moving To Seattle | Moving From Chicago To Seattle
Enter your information
Almost done!
Enter your information to view your quote.
Your information is safe with us. By using this service, you agree to receive email communications solely regarding your relocation process