Moving To Seattle – Relocation Guide for 2022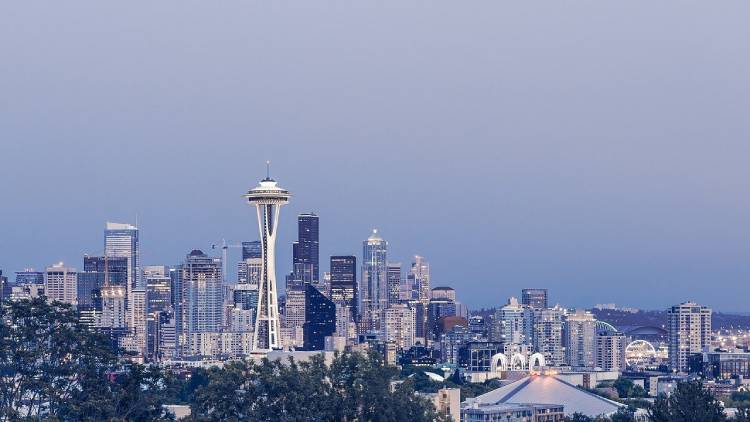 Moving to Seattle, Washington State's largest city, is the dream of many Americans. Seattle is the backdrop of several television shows, home to giants like Amazon and Microsoft and the birthplace of Starbucks. The city is perfect for families and millennials since the tech industry is booming, incomes are high and the city hosts some of the best universities in the US.
Why then does moving to Seattle require heaps of planning? Because it's one of the most populous and costliest cities in America. You'll find it especially difficult to accustom to Seattle if you're moving from the much affordable Midwest. But once you settle in Seattle, you'll see the best mix of urban and country living because of the culture, parks, farmer markets, and the shining metropolis. Read this super detailed and super helpful guide if you're considering moving to Seattle!
Pros And Cons Of Living In Seattle
Pros
No Income Tax!
There's no state income tax in Seattle, which means you'll be saving a great deal of your income every year.
Efficient Public Transportation
The bus system in Seattle is well planned and convenient; there are mobile-based ride apps if you miss the bus. You don't even have to wait for 5 minutes to find a ride.
Perfect For Pet Lovers
Seattle is very pet-friendly. Most workplaces, restaurants, and cafes welcome pets. Every other person in Seattle has a dog, so if you're a pet parent, it's easy to make friends.
Lots Of Open Spaces
There's an abundance of natural attractions and the city is very environmentally friendly. You can hike in the mountains, go on a running trail in the parks, or visit beaches in the summers.
Amazing Food Scene
Seattle has a great concentration of restaurants, the chefs and food critics take their work seriously. The seafood is brilliant and the coffee is top-notch.
LGBTQ Friendly
There's a large LGBTQ community in Seattle; there are gay shopping and recreation areas, pubs and bars, and gender-neutral washrooms. The city also hosts notable LGBTQ festivals and events!
Marijuana Is Legal!
It's legal to purchase recreational marijuana in Seattle if you're above 21. We needn't say more.
Cons
Very Expensive
Seattle's cost of living is higher than the Space Needle. Housing and renting are brutal on your pocket and you'll need roommates even if you earn big money. What you save thanks to the absence of state income tax, you spend on the expensive lifestyle. One night out and the bill is going to be sky-high!
Terrible Traffic
Traffic is ruthless in Seattle, be prepared to be stuck in your car for hours. It's one of the many reasons why people love the public transit system.
Homelessness
Seattle is battling a homelessness problem; there are around 11,751 homeless in the city and drug abuse is a common sight.
Lots Of Cloudy Days
Rainy days in Seattle are gray and gloomy, making the wait for summer unbearable. You'll see hikers crowd parks and trails when summer finally arrives.
Wildfires
Wildfire occurrences in the summers fill the city with dense black smoke and you'll be forced to be locked up indoors because of the poor air quality.
Difficult To Socialize With Locals
Seattle Freeze is a real thing and making friends is pretty tough. People don't date each other unless they've known each other for years. You'll start wondering if it's the weather or the people making you feel low.
Weather In Seattle
The weather in summers is warm but not as hot that you'll need an air conditioner. Temperatures in summers vary between 73°F to 79°F. People enjoy hanging out by the waterfront and swimming in the public pools in Seattle's parks. The hottest month is August but the temperature doesn't cross 90°F.
Seattle winters can be crisp and cold pushing you to invest in good weatherproof gear. There's a constant downpour in winters and the dampness can get to you. Winter temperatures vary between 39° F and 46° F. It doesn't snow as much to bury the city but the snow is enough for some winter sports!
You can expect rain between October to March, December being the wettest month of the year. Spring is a much merrier time with the climate perfectly balanced between hot and cold. Daylight hours are longer in spring and the sunny days are perfect for impromptu picnics. Fall in Seattle treats you with lovely colors but there can be cold winds so carry a hoodie during this season!
Cost Of Living In Seattle
The cost of living in Seattle is 172.3 which is a whopping 49% higher than the national average of 100. The housing is expensive and people in Seattle pay much more than an average American commuter for transportation. The cost of living will vary depending on the area you live in, your salary, and your standard of living.
See Also: How Much Does it Cost to Move Out Of Seattle?
Buying A House In Seattle
It costs you 115% more than the national average to buy a house in Seattle. It keeps rising every year with an 11.0% rise over the last year alone, according to Zillow. The lower interest rates for home loans compensate for this. If you're sure about buying a house in Seattle, don't wait because home values are on the way up every passing day. Timing the market isn't a great idea in this case.
| | | |
| --- | --- | --- |
| | Seattle | United States |
| Median Home Value | $874,877 | $312,728 |
Once you make up your mind and are able to afford a house in Seattle, know it for a fact that the struggle just began. The housing inventory is very limited and people find it tough to buy a house that fits in their price range, has the features they need, and is in the neighborhood they like. You've to compromise on one thing on the other. Plus, you need to arrange for a hefty down payment looking at the soaring prices. But once you do move into your own place, you'll lead a quality life with the fresh air, green spaces, and great food!
Renting A House In Seattle
Renting a place in Seattle is relatively affordable than buying a house in Seattle. Whether you want to buy or rent depends on your financial stability, family plans, and savings. Zumper's latest National Rent Report says that Seattle is the 14th most expensive US city to rent a house in. The average rent price to rent an apartment in Seattle is $2,169, but you shouldn't be spending more than 30% of your income on rent.
| | | |
| --- | --- | --- |
| Apartment Size | Monthly Average Rent In Seattle | US Average Monthly Rent |
| Studio apartment | $1,698 | $1,691 |
| 1-Bedroom Home | $2,435 | $1,621 |
| 2-Bedroom Home | $3,452 | $1,878 |
| 3-Bedroom Home | $4,024 | $2,017 |
Renting is a good option if you aren't sure about how long your stay in Seattle will be. If you're looking to change your job or explore more career options, it's best you rent a house. The rent rates are high but there are many new apartments popping up. You can find a landlord who's offering free electronics or a free one-month rent if you get lucky. More and more young working professionals are choosing to rent a place closer to the job center rather than buy a house in Seattle's outskirts and commute to work daily.
Taxes In Seattle
Before you thank the heavens that there's no personal or corporate income tax, let us cast a highlight on the high sales tax. Including the Seattle tax and the Washington State sales tax, buyers in Seattle pay a combined sales tax of 10.25%. When it comes to property taxes, Seattle has the highest median property taxes in the nation.
While the city of Seattle doesn't collect property taxes, you'll be paying taxes to the county. Currently, you've to pay a 0.93% average effective property tax rate in King County. Property taxes are going to put a dent on your paycheck, add to it the mortgage and the housing expenses. This gives you another reason to simply rent a home in Seattle. Seattle is very retirement-friendly in its taxation policies. You can choose to retire in Seattle because there's no taxes on social security, pension, or retirement accounts.
Utilities And Other Expenses In Seattle
The monthly average cost of utilities is $219 for electricity, gas, and garbage pickup, according to Numbeo. If you compare it with other costly US cities, the cost of utilities is still less expensive than New York.
The reason for the constant rise in housing and cost of living in Seattle could be given to the number of people moving in because Seattle is a climate haven. Though most groceries in Seattle are exempt from city sale taxes, citizens still spend an average of $412 on monthly groceries. Traffic is unforgiving and a gallon of gas in Seattle costs $3.45.
Annual food expenses: $5,543
Annual healthcare expenses: $5,040
Annual public transportation expenses: $1,200
The cost of all goods and services like getting a haircut, booking a movie ticket, or eating at a restaurant is high. This is due to the high rent these businesses pay to sustain in Seattle, prices in restaurants are also aimed at tourists. The brunt of this is borne by the locals who have to pay lots for dining outside. Now Seattle sure sounds expensive but there are ways to save, like renting an e-bike, cooking meals at home, etc.
Crime Rate In Seattle
Seattle is a safe city compared to most cities in the US for both visitors and locals. You can walk after sunset without fear but it's best to avoid dimly-lit streets after bars close. Though violent crimes are rare, property crimes like car theft and robberies are common. The rampant use of drugs also causes a lot of chaos on Seattle's streets after dark.
According to NeighbourhoodScout, the violent crime rate in Seattle is 5.96 per 1,000 residents. This means that your chances of falling victim to a violent crime are 1 in 168. King County is seeing rising cases of gun violence and the police department is facing staffing issues.
When it comes to property crime, the rate is 46.39 per 1,000 residents, which means your chances of falling victim to a property crime is 1 in 22. The most common kind of property theft in Seattle is larceny-theft but there's been a decrease in property crimes since the year 1999. According to SafeWise.com, Seattle ranks 71st when it comes to the safest cities in Washington State. Most residents have resorted to protecting their homes with guard dogs and security alarms.
Economy And Employment Opportunities In Seattle
The GDP of Seattle amounted to 382.63 billion US dollars in the year 2019. The largest players in the market are the aerospace, information technology, and retail industries. Creative industries like interactive media and music are also making their presence felt. The booming city also earns a great deal from manufacturing equipment and forest products. A considerable chunk of the GDP is also contributed by tourism.
The largest employer in Seattle is retail giant Amazon which employs 647,500 people. Some other top employers include Starbucks, Nordstrom, Avanade, Alaska Airlines, and the University of Washington. Aerospace company Boeing was also a huge employer in Seattle until it moved its headquarters to Chicago in Illinois.
Here's a quick breakdown of the salaries you can expect in Seattle along with the unemployment rate:
| | | |
| --- | --- | --- |
| | Seattle | US Average |
| Average Annual Income | $44,167 | $28,555 |
| Median Household Income | $67,365 | $53,482 |
| Unemployment Rate | 4.8% | 6.0% |
The average income of a Seattle resident is much higher than the US average. But the inflated salaries are spent on expensive goods and services because of the high sales tax. This might pose a considerable bit of trouble for the blue-collared workers of Seattle. The highest-paying jobs are in the medical, aerospace, and finance fields, with the highest salary being $278,900 annually for psychiatrists.
See Also: What Salary Do You Need To Live in Seattle?
Education In Seattle
Seattle's education is top-notch and the proof of that is its educated population, many of them hold a bachelor's degree or higher! The United States Census Bureau survey states that the rates of college graduates are higher in Seattle as compared to other US cities. It's also great to know that the Seattle Public Schools District is a pretty high-performing district.
If you're moving to Seattle with your family, this list of best schools, high schools, and universities will help. You can rely on the quality of education in Seattle after enrolling your kid in one of the best schools in Seattle.
Elementary Schools
West Seattle Elementary School
Leschi Elementary School
Greenwood Elementary School
Loyal Heights Elementary School
Genesee Hill Elementary School
High Schools
Seattle World School
Roosevelt High School
Lincoln High School
Cleveland High School
Garfield High School
Universities And Colleges
Seattle University
North Seattle College
Seattle Pacific University
Cornish College of the Arts
Seattle Central College
Traffic And Transportation In Seattle
Seattlites waste 148 hours per year due to traffic congestion and the city is facing some of the worst congestions during peak hours. We suggest you hop on a bike because pedaling past queues of four-wheelers is a different satisfaction. You can load that bike on a public transit bus if you get tired during your commute!
King County Metro, South Lake Union Streetcar line, and the First Hill Streetcar line are some of the regularly frequented transit options by locals. Seattle is also the city where you'll see electric trolleybuses, a rarity in North America. If you want to save on transport costs, you can just walk to work! Seattle is ranked as the 6th most walkable city in the US by Metromile in 2021.
If you want to fly in and out of Seattle, head to the Seattle-Tacoma International Airport. This is the largest airport in the Pacific Northwest and flew 51.8 million passengers in 2019! There are also water taxis and ferries to travel within Seattle. The King County Water Taxi connects people to Vashon Island, West Seattle, and the Downtown Seattle waterfront. You can hop in with your bicycles, strollers, and luggage, making this mode of transportation a breeze!
Places To Visit In Seattle
Seattle is a hotbed for tourism, and if you don't visit its popular landmarks after moving to Seattle then your move is in vain! Here are some of the places to see in Seattle:
1. Space Needle
This 605 feet tall observation tower gives you the best views of Seattle, the Puget Sound, and the Olympic Mountains. There's a revolving restaurant to dine at around sunset, you can bask in the views of nighttime Seattle!
2. Pike Place Market
This market offers views of neatly arranged farm produce and treats you to the freshest seafood. Pike Place Market is also the place where the first Starbucks is located. Unsurprisingly, it's a huge tourist attraction in all of Washington State.
3. Museum of Pop Culture
Want to see a sculpture made of 500 guitars? Head to this museum. Its exhibits revolve around pop culture and sci-fi. You shouldn't miss it if you're a fan of the pop music world.
Best Places To Live In Seattle
With its great schools, amazing jobs, and retirement tax benefits, Seattle is a perfect city for any generation to move in. These best neighborhoods in Seattle can give you better clarity as to which place should be your new home!
1. Denny-Blaine
Nestled between Madison Park and Madrona, Denny-Blaine is a small neighborhood community. The urban amenities, city life, and beautiful outdoor spaces make it one of the most lovely neighborhoods to stay in. Denny-Blaine is home to the most affluent families of Seattle. A highlight of the neighborhood? It's got 2 nudist beaches!
Population: 6,857
Median Home Value: $2,426,305
Monthly Median Rent: $2,183
Annual Median Household Income: $207,492
2. Normandy Park
This neighborhood is towards the south of Seattle and is the best place for retirees in Seattle. If you choose to move to this quiet suburb, you'll have all amenities, restaurants, and medical facilities within a walking distance. Most homes are built on large plots with enough green belts making and many houses in the neighborhood have breathtaking views of the Puget Sound and the Olympic Mountains.
Population: 6,670
Median Home Value: $928,774
Monthly Median Rent: $1,482
Annual Median Household Income: $89,313
3. Madrona
Madrona is the ideal neighborhood for families because of its proximity to Madrona State Park, Capitol Hill, and the Central District. The commuting time is just 22 minutes, which means you can return home to your children early! Several events keep taking place in Madrona like movie nights, outdoor concerts, and wine tasting. There are knitting groups too which will keep your aging parents occupied!
Population: 39,305
Median Home Value: $1,293,293
Monthly Median Rent: $1,450
Annual Median Household Income: $79,609
4. Capitol Hill
Brimming with bars, tattoo parlors, and LGBTQ businesses, Capitol Hill is a sought-after place for young working professionals. The commuting is easy and the nightlife is happening because of the hip music venues. On weekends, you can admire contemporary art at Seattle Asian Art Museum, applaud the plays at the Broadway Performance Hall, or go on a leisurely stroll in the Streissguth Gardens. The crime rate is low and the rents aren't that crazy!
Population: 32,144
Median Home Value: $982,210
Monthly Median Rent: $1,667
Annual Median Household Income: $112,431
Summing Up
Once you experience Seattle's culture, fresh food, and fun outdoor life first-hand, you'll start finding ways to move to this city permanently. If Seattle sounds too expensive, there are tried and tested ways of saving the bucks by installing solar panels, cooking your own meals, using public transit, and shopping from affordable local stores! If you're in the tech space, you'll save up a great deal over the years and move to your own place in Seattle!
Also Read: 14 Best Seattle Neighborhoods to Live In
FAQs
Is Seattle Safe?
Yes, most neighborhoods of Seattle are safe during the day, though you should still avoid shady alleys after dark. There's a rising homelessness and drug abuse problem but the state is taking measures to curb those issues.
What To Eat In Seattle?
Cream cheese hot dog, hom bow, cupcake royale, coffee, teriyaki, and craft beer should be tried when in Seattle. Explore Seattle's seafood culture: the fresh seafood is abundant because of the city's proximity to water bodies.
Should I Rent Or Buy A House In Seattle?
If you're loaded, go and book your house already! Don't wait because the housing inventory is low and demand is high. If you want to be closer to the city center and can't afford to buy a house yet, rent a place. Don't forget to rope in some roommates to save the extra bucks!
Is Seattle A Good City For Families?
Yes, totally! The safe neighborhoods, quality education, high-paying jobs, parks, museums, etc make Seattle an ideal place to raise a family in the US. Your children will have access to the great outdoors whilst growing up in a big metropolis.
See Also: Best Moving Companies to Move to Seattle
Enter your information
Almost done!
Enter your information to view your quote.
Your information is safe with us. By using this service, you agree to receive email communications solely regarding your relocation process