Moving From Chicago To Seattle – A Detailed Guide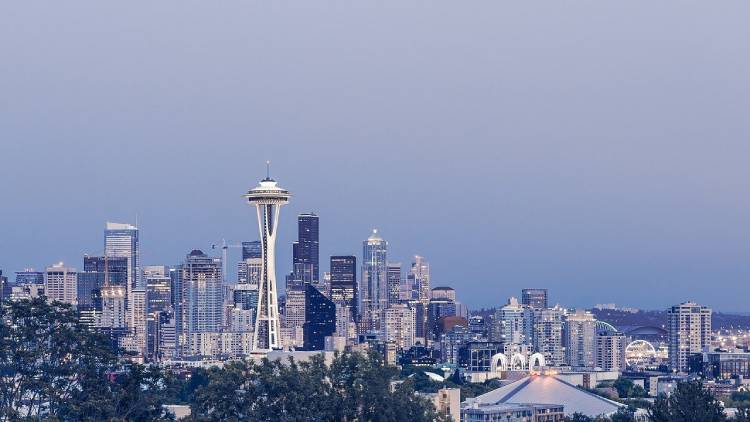 Seattle, commonly known as The Emerald City, has been recognized for its diverse culture, safe neighborhoods, and a strong economy. It won't be a surprise if you decide to move from Chicago to Seattle for this very reason. Also, the tech industry is much more prominent in Seattle than in Chicago, Illinois. So, if you want better exposure in the field, Seattle, Washington has got you covered.
There are many other points that make Seattle a desirable place to move to. Keep reading our article to know more about moving from Chicago to Seattle.
Some Points To Consider Before Moving From Chicago to Seattle
Weather
You will feel a vast difference in the weather when you're in Seattle because this city has fewer sunny days and higher humid temperatures than in Chicago. Also, winters in Seattle tend to be dull, cloudy, and rainy, so you will have to carry an umbrella or at least a light raincoat while going out.
Summers in Seattle range between 56°F to 73°F, whereas in Chicago, the summer temperatures range between 70°F to 84°F. If you don't desire Chicago's unforgiving heat, then move to Seattle's lenient summer temperatures.
However, here is the hard part: Seattle's winters are dull and wet. Although its winter temperatures are a bit more moderate than Chicago's, its winter months see more rainy days than in Chicago. You'll have at least more than 11 rainy days in Seattle than in Chicago during the winter season. To contrast the difference in temperatures: winters in Seattle are between 36°F to 46°F, whereas winters in Chicago are between 22°F to 32°F.
Cost Of Living
If you're planning on moving from Chicago to Seattle without having a steady job, you'd be making an unwise decision because the cost of living in Seattle is much higher than in Chicago. From transportation to groceries, everything is pricier in Seattle than in Chicago, unfortunately. Housing costs are the main reason why living in Seattle is expensive. If you decide to buy a house in Seattle, be prepared to pay a shocking 211% more in Seattle than in Chicago.
Median home cost in Chicago – $229,100
Median home cost in Seattle – $714,400
Similarly, renting an apartment in Seattle is expensive as well. If you compare the rent of a one-bedroom apartment in both cities, you'll see that the rate is 46% higher in Seattle than in Chicago.
| | | | |
| --- | --- | --- | --- |
| City | 1-bedroom | 2-bedroom | 3-bedroom |
| Chicago, IL | $1,115 | $1,286 | $1,670 |
| Seattle, WA | $1,624 | $1,920 | $2,627 |
While Chicagoans pay income taxes above the national average, Seattleites are free from paying any income tax. This is a huge cheer because you'll be saving some money in at least this aspect. Also, Seattleites pay slightly lower sales taxes as compared to Chicagoans as well.
Job Market
If you want to make a career in the technological sphere on the West Coast of America, then Seattle is the place to do it. Many Fortune 500 companies are based in this city which has resulted in creating many job opportunities for residents and newcomers alike. With a GDP of $382 billion in 2019, you can surely bank on Seattle's robust tech industry. Here are some of this city's best employers you should know of.
Amazon
Starbucks
Costco Wholesale
Providence Health Services
Barrett Business Services
Nordstrom
Microsoft
T-Mobile US
The Hotel Group
Avanade
Knowing that Seattle has a booming tech industry, it won't be surprising to know that the unemployment rate in Seattle is lower than the rate in Chicago. The unemployment rate in Seattle stands at 4.8% whereas the rate in Chicago is 9.0%.
You'll be earning more in Seattle than in Chicago as well. Have a glance at the difference in salaries between both the cities below.
| | | |
| --- | --- | --- |
| City | Annual Median Household Income | Average Salary Per Year |
| Chicago | $47,831 | $28,623 |
| Seattle | $67,365 | $44,167 |
Also See: Moving To Seattle
Transportation
Chicago and Seattle have pretty decent public transportation systems. Chicagoans prefer driving around since it's easier to navigate through all parts of the city but in Seattle, people prefer using public transit as their primary mode of commute since they're blessed with a commuting system that efficiently covers nearly all parts around the city. Here are some of the ways to commute around Seattle.
Metro Transit: A majority of its buses route through downtown Seattle, West Seattle, Ballard, and University District.
Light Link Rail: This line runs through Sea-Tac Airport, University of Washington, Westlake Center Downtown, South Seattle, and Tukwila.
Taxi: There's always Uber and Lyft to help you navigate to areas that are inaccessible to public transport.
Some Notable Places Worth Sightseeing In Seattle
Chihuly Garden and Glass
Museum of Flight
Seattle Center Monorail
Starbucks Reserve Roastery & Tasting Room
Fun fact: Seattle is known as the starting point of the grunge music movement, kicked off by Nirvana in the early 1980s in America. So, for all you Kurt Cobain and Dave Grohl fans, this one's for you.
Best Places To Live in Seattle
Capitol Hill
A lot of people have been flocking to this neighborhood for several reasons. This part of Seattle is home to a variety of coffee shops, restaurants, and nightclubs decked along the sidewalks of the place. You'll also find that the LGBTQIA+ culture is more welcoming in this area and many people of this population have called Capitol Hill their home. With such cultural diversity, you'll be meeting people with different opinions and thought processes and while you learn a thing or two from them, your perspective on life will surely broaden.
Population: 10,256
Median Home Value: $858,746
Monthly Median Rent: $1,828
Annual Median Household Income: $136,117
Ballard
Ballard is more of a young neighborhood. We say "young" because a majority of young people have come from far and near to take part in Ballard's vibrant nightlife and culture. Located north of Downtown, Ballard is a place that is home to lofty mountain ranges and sandy shores which will make life worth living in this neighborhood.
Population: 27,534
Median Home Value: $840,000
Monthly Median Rent: $1,787
Annual Median Household Income: $88,479
Fremont
Fremont is centrally located in Seattle which means a lot of the main bus transit routes will be running through this neighborhood. Therefore, you won't be having any problem traveling in Fremont even if you don't own a car. Since it's one of Seattle's safest neighborhoods, visiting restaurants, shops, and supermarkets at odd times shouldn't be a problem for you at all.
Population: 20,904
Median Home Value: $699,420
Monthly Median Rent: $1,806
Annual Median Household Income: $108,508
The Cost of Moving From Chicago To Seattle
Suppose you had to ask someone who has moved interstate before about how much they spent on their move. They would probably all give you the same answer: "Moving is expensive." So to cut down costs, it's important to downsize to only a few items that are required. If you haven't used an item for more than a year, that item is deemed unimportant. Also, moving furniture is an expensive affair, so if you have any pieces of furniture that aren't really required, then it will be a good idea to sell them off and use that profit to buy new furniture when you're in your new place.
Also, the time and location of the place affect moving costs as well. Here is a rough estimate of how much you might spend on moving from Chicago to Seattle.
| | | | | |
| --- | --- | --- | --- | --- |
| Size Of The Move | Professional Moving Company | Moving Container Company | Freight Trailer Company | Truck Rental Company |
| 1-bedroom | $1,976 – $3,456 | $2,166 – $2,737 | $1,997 – $2,522 | $1,540 – $1,945 |
| 2-bedroom | $2,434 – $4,400 | $2,830 – $3,575 | $2,565 – $3,240 | $1,580 – $1,996 |
| 3-bedroom | $3,545 – $5,480 | $3,411 – $4,308 | $2,945 – $3,720 | $1,807 – $2,282 |
Since moving is expensive, cutting down costs by choosing a cheaper alternative is understandable. And you can further cut down costs by choosing to rent a truck instead of a professional moving company.
A professional moving company will do all the heavy work for you that includes lifting, loading, unloading, packing, unpacking, and even removing junk. But they're expensive. Renting a truck is indeed the only cheaper alternative but you will have to do all the hard work yourself.
Also Read: Moving from Chicago to Nashville – A Complete Guide
Conclusion
Living in Seattle is expensive, there's no way of sugarcoating it. That's why it is important to analyze your financial condition first before you think about moving. In all, Seattle has a pretty strong economy and if you're looking for a place to advance your career, especially in the IT sphere, hands down Seattle has some of the nation's best technological firms you can send your resume to. Keep all of these points in mind before moving from Chicago to Seattle. And last but not least: Travel safely!
Also Read: 14 Best Seattle Neighborhoods to Live In
FAQs
How Much Does It Cost To Move From Chicago To Seattle?
Moving from Chicago to Seattle will cost you approximately $2,803 to $4,404 depending on the size, location, and time of the move.
What Salary Do You Need To Live Comfortably In Seattle?
If you're only providing for yourself, then a yearly salary of $40k will be sufficient to live comfortably in Seattle. However, if you're the only working member providing for two children, you will need approximately $90k to afford living in Seattle.
Is Seattle Cheaper Than Chicago?
Seattle is 61% more expensive than Chicago! Steep housing rates are the main reasons for such a huge difference. Buying a house on a tight budget in Seattle is not at all a good idea.
See also: Moving from Chicago to Austin TX | Moving From Denver To Seattle | Moving from Chicago to Los Angeles
Enter your information
Almost done!
Enter your information to view your quote.
Your information is safe with us. By using this service, you agree to receive email communications solely regarding your relocation process