Moving to Minneapolis – Relocation Guide for 2022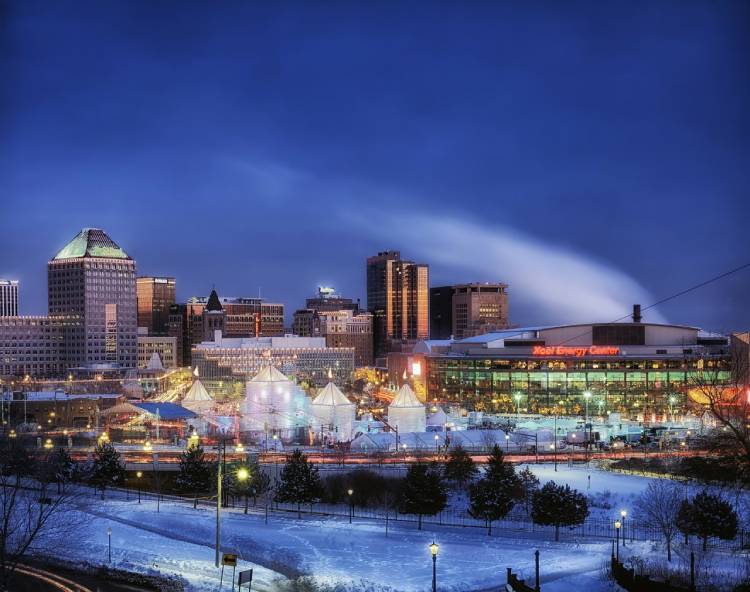 Minneapolis is the most populated and largest city in Minnesota with a population of over 430,000 people. The city has shown exponential growth in its economy and population in the past few years, and it continues to maintain this growth. Its growing tech and IT scene have attracted a lot of the younger generation to move to the city. Additionally, the nightlife, food scene, culture, and vibe of the city are some of the other factors that attract a lot of attention.
The city is home to more than 20 lakes and some extraordinary outdoor activities. Plus, the winters in the city add to its charm and overall appeal. If you're looking for a new city to call home and are thinking of moving to Minneapolis, this guide is sure to help.
Pros And Cons Of Moving To Minneapolis
Minneapolis is a city that offers great opportunities if you enjoy the outdoors, vibrant culture, good food, and a great lifestyle. But, all of this comes with some worrying red flags as well, and you should be prepared for it all. We've listed down some of the pros and cons that come with living in Minneapolis.
Pros
A Healthy Economy And Job Opportunities
The economy of Minneapolis is growing at a fast rate. The tech industry, in particular, has seen a great growth rate in the city. Naturally, this creates employment opportunities.The city has some of the best job opportunities in the IT and tech sectors, and also has a large number of new, small businesses emerging.
Amazing Winter Sports
The winters in Minneapolis enable you to enjoy some of the best winter sports in the city. Every year, Minneapolis receives a generous fall of snow, paving the way for several fun winter sports for rookies and pros alike. You can go ice skating and ice fishing on the many lakes, ski down cross country trails, and more!
Amazing Public Transportation
Minneapolis' downtown region has a great public transportation system that makes traveling in and around very convenient. The city is also well-connected via roadways and traveling to different parts and neighboring cities has become very easy for residents.
Great Healthcare Services
The healthcare services in the city of Minneapolis are some of the best in the country. The state of Minnesota was the 2nd best state for healthcare in the US according to a survey by WalletHub. With institutions like Abbott Northwestern, M Health Fairview University of Minnesota Medical Center, Children's Minnesota, and more, Minneapolis contributes to such rankings. People from all over the country visit the city to avail themselves of these services. Plus, it also makes for a great city for anyone working in the healthcare industry.
Cons
Heavy Taxes
The city of Minneapolis has some heavy taxes. According to some of the most recent data from the U.S. Census Bureau's annual survey of state and local government finances, Minnesota has some of the highest taxes in all of the US. It has the 6th highest income taxes, the 26th highest property tax, and the 30th highest sales taxes. Combined, they make for a heavy load of taxes that the residents of Minneapolis have to pay.
Harsh Winters & Humid Summers
Living in Minneapolis will expose you to some harsh winters. You'll need to get used to heavy snowfall and sub-zero temperatures. Carrying some heavy winter wear when moving is recommended, you'll sure need it! Apart from the harsh winters, the summers are also pretty rough. The humidity can be uncomfortable and the mosquitoes add to the mugginess.
Heavy Traffic
If you move to Minneapolis, you'll be spending a fair bit of time stuck in traffic during peak hours. The traffic in the downtown areas of the city can be challenging, and you need to account for this when considering your daily commute.
High Crime Rates
Unfortunately, Minneapolis is known for its high crime rates that have spread across most areas in the city. The property crime rates, in particular, are on the higher end, and getting them under control has been a task.
Weather In Minneapolis
One of the best things about living in Minneapolis is that you can enjoy all four seasons. The winters are harsh and summers can also get uncomfortable, particularly for those accustomed to moderate temperatures. But, you can definitely enjoy spring and fall, and even the extreme winters leave you with plenty of fun winter activities to do.
During winters, prepare yourself for some sub-zero temperatures accompanied by heavy snowfall. December and January are the toughest months where the average temperature is around 5°F. The average temperature during the winters is anywhere between 26°F to 7°F. During most winter days, experiencing 0°F is also common in the city.
The summers in the city are harsh, what with the hot and humid weather, but are comparatively not as extreme as the harsh winters. The average summer temperatures are anywhere between 60°F and 80°F. July and August are the months that experience the highest temperatures that average around 81°F on most days.
You only get to experience around 198 days of sunshine in Minneapolis, with 33 inches of rainfall on an average every year. December and January experience the heaviest snowfall in the city. On average, Minneapolis experiences about 53 inches of snowfall every year. The fall and spring are short-lived but are the most pleasant time of the year, perfect for venturing outdoors to enjoy the weather.
Cost Of Living In Minneapolis
Moving to a new city has its perks, and when moving to Minneapolis, one big perk is the average cost of living. It's an affordable city to live in where your monthly utilities are on par with or lower than the national average. Let us have a look at what living in Minneapolis will cost you when it comes to housing, taxes, and utilities.
Buying A House In Minneapolis
Buying a house in Minneapolis is a good investment, since the value and prices are on the rise. However, this has also increased the competition in the housing market in recent years. As a result, houses in Minneapolis are fairly expensive, and you'll have to do some digging if you're on a budget. Already, home values have seen an increase of 5.5% over 2021.
For a better understanding, here's a comparison of current median home values, according to Zillow.
| | | |
| --- | --- | --- |
| | Minneapolis, Minnesota | United States |
| Median Home Value | $322,040 | $320,662 |
Renting A House In Minneapolis
Minneapolis has a wide range of apartments and houses on rent. The market for rentals is growing fast in the city as renting has grown popular, and currently, nearly half of the residents live in rentals.
Rent rates differ for different-sized apartments and they also depend on the areas you are looking at. To help you get a better idea of the kind of rent you would be paying in Minneapolis, we have listed down a table with the help of data from Bestplaces.net.
| | | |
| --- | --- | --- |
| Apartment Size | Minneapolis Average Monthly Rent | US Average Monthly Rent |
| Studio apartment | $881 | $950 |
| 1-Bedroom Home | $1,020 | $1,050 |
| 2-Bedroom Home | $1,255 | $1,278 |
| 3-Bedroom Home | $1,741 | $1,680 |
| 4-Bedroom Home | $2,027 | $1,950 |
Taxes In Minneapolis
The locals in Minneapolis aren't very happy with the taxes they have to pay. After all, the city does have some of the highest tax rates in all of the US. Minneapolis follows the state tax rates of Minnesota without adding any additional rates. Nevertheless, the property tax, income tax, and sales tax in the city are all higher than the national average.
Minnesota's average effective property tax rate is 1.08%, slightly higher than the 1.07% that is the national average. In terms of income tax in Minneapolis, residents will follow the state's four–rate graduated tax of 5.35%, 7.05%, 7.85%, and 9.85% percent. The sales tax in the city is also a bit higher than the national average. The sales tax in Minneapolis is 8.3%.
Since home values have been on the rise, Hennepin County residents have received property tax estimates that are as high as 20%. Bracing yourself for high property taxes is a must when moving to Minneapolis.
Expenses In Minneapolis
The second place where you'll end up spending the most amount of money is your basic utilities and other expenses around the house. This includes your food, utility bills, healthcare, etc. Thankfully, utilities in Minneapolis cost 9% lower than the national average according to Payscale.
Your basic utilities include heating, electricity, cooling, water, and garbage. According to Numbeo, a resident living in Minneapolis spends an average of $150 per month on these utilities. Add to this around $60 for your internet and phone bill each, and you're spending around $270 on basics. You'll also pay around $2.80 for a gallon of gas.
When it comes to groceries and food, which is a large amount of your monthly expenditure, an individual in Minneapolis ends up spending 7% more than the national average. This means you need to manage your finances accordingly when moving to Minneapolis. A loaf of bread costs $3.56, a gallon of milk costs $2.08 and a pack of 12 eggs costs $2.95 according to Payscale. One way to save a few bucks when going to the grocery store is by using some coupons or applying for their memberships to get some discounts.
As mentioned, the city is known for its excellent health care services for all, but it comes with a price. According to Payscale, a Minneapolis resident spends 5% more than the national average for healthcare. A one-time visit to the doctor's office costs you $116 in Minneapolis and a visit to the vet costs around $55. This is a slightly high number for a one-time visit to the doc.
Crime Rate In Minneapolis
The city of Minneapolis has experienced a high crime rate that has spread in most areas of the city. Both the crime and property crime rates in the city have been growing in the city. According to Neighborhoodscout, Minneapolis is only safer than 2% of the cities in all of the USA.
The crime in the city has been getting worse day by day and the crime rates are skyrocketing. The violent crime index in Minneapolis is 12.88 per 1,000 residents, which is 3 times higher than the national median of 4.
The property crime rates have also seen an increase since the pandemic hit. The average property crime index in Minneapolis is 48.29 to 1,000 residents. This is also the highest property crime median in all of Minnesota. You have one in 21 chances of being a victim of a property crime in the city.
Moving around Hawthrone, Folwell, Jordan, and Harrison (the most unsafe areas in Minneapolis) during the dawn is not safe. The overall crime index in Minnesota is 59 per 1,000 residents, and it falls under the 100 most unsafe cities to live in Minnesota.
Economy And Employment Opportunities In Minneapolis
Minneapolis has a very healthy economy that has only been growing even with the ongoing pandemic. According to Opendatanetwork, the estimated GDP of Minneapolis in the year 2021 is over $645 million. Life sciences, healthcare technology, manufacturing, biotechnology, finance, and retail are some of the sectors that have majorly contributed to the growing economy.
With the growing economy, the city has also seen an increase in the job market and a reduction in the unemployment rate in the past few years. The unemployment rate in Minnesota is 2.2%, much lower than the national average of 3.9%.
The average salary of an individual in Minneapolis is over $59,000 a year according to Payscale. This salary is higher than the national average suggesting that you can live a comfortable life in the city. US Bank, UnitedHealth Group, Xcel Energy, Boston Scientific, Wells Fargo, Best Buy, Medtronic, Target, Cargill, Upsher-Smith, 3M, General Mills, and Ecolab are the top recruiters in Minneapolis.
Education In Minneapolis
The quality of education in Minneapolis is top-notch. It is home to some of the best and top-rated schools in the state of Minnesota. According to Bestplaces, the city has more than 180 schools that provide education to over 36,000 students. A majority of the neighborhoods here have ample schools, making it easier for young families to find a neighborhood and settle down. Additionally, the city also has options for higher education for students who want to pursue their masters or diplomas.
Let us have a look at some of the top-rated educational institutions according to Greatschools.org.
Elementary Schools
Hale Elementary School
Field Community School
Armatage Elementary School
Middle Schools
Justice Page Middle School
Lake Harriet Upper School
Yinghua Academy (K-8 public charter offering full immersion – Mandarin Chinese)
High Schools
Washburn Senior High School
Venture Academy
Edison Senior High School
Colleges And Universities
University Of Minnesota
Augsburg University
Macalester College
Traffic And Transportation In Minneapolis
Metro Transit's public transportation systems are the fastest and most convenient ways to get around in Minneapolis. Metro Transit has 2 services – the buses and the light rail.
Metro's light rail has two lines. The Blue Line connects Mall of America, downtown Minneapolis, and the Minneapolis–Saint Paul International Airport. The Green Line, on the other hand, connects downtown Minneapolis, downtown St. Paul, and the University of Minnesota. The rail runs every 10 minutes during the day and every 30 to 60 minutes at night. Riding the light rail costs $2.25 normally, but goes up to $3.50 during rush hours (Monday to Friday, 6 – 9 a.m. & 3 – 6:30 p.m.)
Metro Transit's nonlinear bus routes can get confusing, but they do help you get around the city pretty well. Fares for bus tickets are the same as the light rail. There are also the Free Ride buses on all days of the week running from 5 a.m. to 1 a.m. They only cover the route between Washington Avenue and downtown Minneapolis. If you board along Nicollet Mall, you ride for free, but if you want to take a ride in the Washington Avenue areas, you have to pay 50 cents.
Minneapolis is well-connected to the rest of the US and the world by the Minneapolis-St. Paul International Airport (MSP). It's the largest and busiest airport in the upper Midwest and has two terminals. A cab from downtown Minneapolis to the airport is around $39 – $49.
The transportation system in Minneapolis is excellent in the downtown areas, while the exterior neighborhoods suffer. Downtown Minneapolis is well-connected with skyways, Metro Transit, a light rail, commuter rail, and even by the buses and taxis in the city. That is not the case in suburban areas as the public transport systems are limited in places outside of the city. So, you will need to have your own car or vehicle to move in and out with ease.
According to Walkscore.com, the city has an amazing walk score of 70 making it11th most walkable city in all of the USA. The dedicated bike lanes have also given the city a remarkable bike score of 84. Sadly, the traffic in the city is extremely congested in certain areas due to poor roadways. During peak hours, you may find yourself stuck in traffic for a few long minutes. This is not the case in the suburban areas of the city as most people prefer using their bicycles or choose to walk.
See Also: What Salary Do You Need to Live in Minneapolis
Places To Visit In Minneapolis
When moving to a new city, you'll likely visit a few times to go neighborhood and house-hunting. When you do this, make sure you also visit some popular spots. These are the areas where locals and tourists mingle, and they tend to encapsulate the vibe of the city. Here are some places to visit in Minneapolis that can help you know the city better.
Minnehaha Regional Park
Minnehaha is the oldest and largest tourist attraction in the city. It is also one of the largest parks in the city where you can take a stroll amidst the beauty of nature and dine at a local café. For a nice getaway, Minnehaha Regional Park is the best place to explore.
Minneapolis Sculpture Garden
Minneapolis Sculpture Garden is a large green space spread over 19 acres. In this garden, you will see some of the biggest sculptures like The Spinner by Alexander Calder, the Geometric Mouse – Scale A by Claes Oldenburg, and the Bog Walker by Aaron Spangler. It is one of the most interesting places to be in the city.
Mill City Museum
Mill City Museum is a place where you can get in touch with Minneapolis' rich history and culture. In this museum, you will see the ruins of the world's largest flour mill. This mill is now turned into a venture for the flour industry and your museum tour guide will guide you through the history and background of the mill.
Best Places To Live In Minneapolis
Of course, you need to start somewhere when neighborhood-hunting, finalizing on a few places to actually visit in person. We've listed down some of the nice neighborhoods in Minneapolis so you can get a headstart with this process.
Uptown
Uptown is a very unique neighborhood in Minneapolis that is an amalgamation of architecture from different eras. On one hand, you have the old buildings from the 1920s and on the other, you have modern-day apartments in the city. The neighborhood is also surrounded by two of the most beautiful lakes in the city, Lake of the Isles and Lakes Bde Maka Ska. This neighborhood is mostly populated with the youth and college-going students. It is known for its small cafés, restaurants, and eateries that are spread around.
Population: 6,849
Median Home Value: $309,020
Annual Median Household Income: $85,416
Monthly Median Rent: $1,645
Lowry Hills
Lowry Hills is a neighborhood just a few miles away from Downtown, and is extremely popular among working professionals with families. The housing market in this area is quite affordable and traveling to the downtown area where there are ample job opportunities is relatively easy. Most houses in this area feature the Victorian architectural style. There are also some of the best schools located in this area perfect for families with children.
Population: 3,700+
Median Home Value: $300,100
Annual Median Household Income: $87,128
Monthly Median Rent: $1,035
Fulton
Fulton is one of the family-friendly neighborhoods in the city that is a popular choice among many families with kids. It is closer to the downtown area, making traveling to and fro convenient. The area also has ample schools, parks, restaurants, and other amenities perfect to raise a family. Most residents in the area are homeowners.
Population: 8,181
Median Home Value: $535,719
Annual Median Household Income: $157,018
Monthly Median Rent: $1,232
East Harriet
East Harriet is one of the most expensive and best neighborhoods to live in the city of Minneapolis. It gives its residents urban-suburban feels and is known for its dynamic nightlife as well. Mostly populated with retirees and singles, East Harriet is a safe place to reside in. It also has some of the best schools for kids. The community in East Harriet is diverse and welcoming to all. It is one of the best places to call home.
Population: 3600
Median Home Value: $384,984
Annual Median Household Income: $95,431
Monthly Median Rent: $1,592
Summing Up
Minneapolis is obviously an amazing place surrounded by lakes and greenery, it also has its downfalls. The city has a high crime rate, unavoidable traffic during peak hours and some of the highest tax rates in the country. Not to forget the harsh winters in Minneapolis that bring along heavy snowfall. You may need some time to get used to the winters in Minneapolis and carrying an emergency kit is a must.
Having said that, Minneapolis has some of the best amenities with a midwestern feel. It attracts a lot of students and families to the city with its affordable cost of living and quality education. But it is also a known city among employees and employers equally. If these things seem as a fair trade off, moving to Minneapolis is definitely a great choice.
FAQs On Moving To Minneapolis
Is It A Good Idea To Move To Minneapolis?
Moving to Minneapolis can be a great idea provided you research the city well beforehand. It is the typical Mid-Western city that has ample opportunities and a warm and welcoming community. Great neighborhoods, quality education, job opportunities, a low cost of living, and more are a few benefits. However, winters are harsh, and the high taxes and crime rates make the task of picking a neighborhood that much more important.
What Are The Pros And Cons Of Living In Minneapolis?
Some of the pros of living in Minneapolis are:
You will find ample job opportunities in the city.
The quality of education here is excellent both at primary and higher levels.
If you enjoy winter sports, Minneapolis can be amazing for you.
However, some of its cons are:
The harsh winters can be difficult to deal with.
The crime rate in certain parts of the city is extremely high.
The traffic in Minneapolis during peak hours is very bad.
Is Minneapolis A Good City For Education?
The schools in Minneapolis are rated higher than average and provide excellent quality education. Almost all the neighborhoods in the city have ample schools that provide an excellent education from elementary level to higher levels. If education is a priority for you, moving to Minneapolis is a great choice.
How Bad Are Minneapolis Winters?
Winters in Minneapolis can be a lot to deal with, what with snowstorms and freezing temperatures. The average temperatures reach as low as 5°F in the months of January. It won't be too hard if you're already used to snowy winters, but someone coming from a city with mild winters will take a while to adjust.
Also Read: Best Long Distance Movers for Moving to Minneapolis
Enter your information
Almost done!
Enter your information to view your quote.
Your information is safe with us. By using this service, you agree to receive email communications solely regarding your relocation process