Ten Cities Americans Are Fleeing To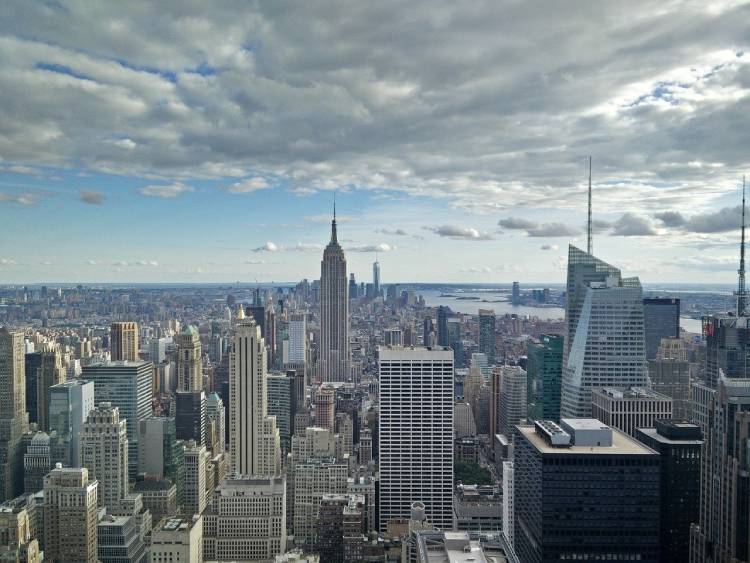 The United States Of America is truly a wild ride. The country has a large, loud, and long history full of accomplishments in all aspects of life. The country is also constantly evolving into a better place with different cities finding their footing in new employment opportunities, better quality of life, or just regaining popularity for the beauty they have been holding for as long as civilization existed.
The people living in the States have never been shy to start their lives over in a new place if it offered them a chance at a better life, whatever their definition of 'better' is. However, in the last decade or two, the idea of moving has picked up quite a lot and people have become much more selective in terms of the city they want to move to. Due to this, different cities, with their unique qualities, have become people's favorites.
So, we have curated a list of 10 cities that people in America are fleeing to.
1. Atlanta, Georgia
Atlanta is one of the top choices for people to move in order to begin their careers. The city offers a wide variety of jobs across multiple industries like medical, tech, entertainment, and art. In fact, the city of Atlanta has had some of the highest influx of young people looking for jobs in the last decade.
When it comes to safety, Atlanta had a rapport for having a high crime rate for a long time. However, that is changing fast and you will easily find many neighborhoods that are very safe. This is contributed to by the public transport system, too. MARTA runs trains and buses through the city and maintains a reputation for its safe and convenient transport.
The weather in Georgia is just like the rest of the southern end of America. The summers are infamously humid. However, the winters are mild and the rest of the year is pleasant. You can expect rain in spring and infrequent snow in winter.
The education in Atlanta is also quite impressive. There is a wide variety of public, charter, private, and international schools. The schools are regulated by Atlanta Public Schools, Georgia Department Of Education, and Fulton County Schools.
Some of the more notable colleges in Atlanta are:
Georgia State University
Emory University
Clark Atlanta University
Morehouse University
Population: 488,800
Median Home Value: $290,400
Monthly Median Rent: $1,153
Annual Median Household Income: $59,948
Also Read: Best Places to Raise a Family in the US
2. Raleigh, North Carolina
Raleigh is known for its family-friendly atmosphere, great quality of life, and the epitome of the Southern community. Raleigh has also been making its name as one of the fastest-growing technological hubs. It's no wonder that people are rushing to move into this modern yet quaint city.
The weather in Raleigh is known to be pleasant all year long. However, you might want to prepare for some really hot summers. But the silver lining is that the winters are pleasantly mild and you see relatively low humidity.
Talking about education, the quality of higher education in Raleigh is a major draw to the young families thinking of relocating. Duke University, North Carolina State University, and the University Of North Carolina – Chapel Hill. Due to this, about 43.1% of people in this city have a bachelor's degree.
The job market in Raleigh is growing exponentially. There are amazing opportunities in industries like healthcare, education, and of course, technology. In fact, Raleigh was named the second-best city to live in 2021 by USNews. Now why wouldn't you want to move to Raleigh?
Population: 464,485
Median Home Value: $248,300
Monthly Median Rent: $1,121
Annual Median Household Income: $67,266
3. Albuquerque, New Mexico
This is the biggest and the highest city in New Mexico. At a height of 5312 feet, the city of Albuquerque attracts many young people owing to its mind-blowing landscape and about 310 days of the sun each year. This city in New Mexico is also rich with history and culture that stems from the time of Native Americans and has seen an increase in job opportunities, making it a better deal to move here!
Speaking of jobs, Albuquerque sees an unemployment rate of 4.3%. However, owing to the efforts of the government and the increase in the companies setting up shop here, you can find great opportunities in fields like energy technology, research science, education, defense, and manufacturing.
The biggest employers in the area like Kirkland Air Force Base, Intel Corporation, Honeywell Defense And Space Electronics, Thomas And Betts, and General Mills. These companies have given a boost to the economy to the point where the median annual household income is about $52,911.
In terms of education, the city of Albuquerque does struggle to catch up to its population and progress. However, there are constant reforms and improvements made by the school district, making the future for the education sector in this city seem bright.
Currently, some of the best schools and universities in ABQ are –
Hubert H, Humphrey Elementary School
Desert Ridge Middle School
College And Career High School
The Art Center Design College
One major pro of living in Albuquerque is that the traffic is minimal and you'll hardly ever have to face a terrible jam. On the other hand, the crime rate in this city is definitely a con that you may need to take into consideration.
Population: 559,374
Median Home Value: $198,200
Monthly Median Rent: $873
Annual Median Household Income: $52,911
4. New York City, New York
Geographically, New York City isn't huge at all. But the city does know how to make living here larger than life itself. Home to over 8.6 million people, NYC offers a fast-paced life that incorporates multiple cultures, a variety of job opportunities, and the ability to have fun when working 9-5.
Since New York City is located on the coast, you get hot and humid summers, cold and wet winters, and rainfall pretty much all year-round. Snow in NYC is infrequent, but can be heavy when it happens. A lot of times, you'll also have to face heavy winds. So, buy strong umbrellas.
The job market in New York is generous and ferocious at the same time. You'll find a bunch of opportunities in many different industries which include, but are not limited to, entertainment, medical practitioners, and people in high managerial positions. The ferocious job market also gives rise to very good salaries. In fact, the highest-paid salary in NYC is $243,938!
In order to get a good job, you need a good education. Well, NYC covers that too! The education sector in NYC follows different rules than the rest of the country, and they're known to be complicated. However, the schools here are regarded as the best in the country in a variety of education. Here's a list of some of the best educational institutions in NYC:
East Side Elementary School
Baccalaureate School For Global Education
Regis High School
New York University
Population: 8,419,316
Median Home Value: $606,000
Monthly Median Rent: $1,443
Annual Median Household Income: $63,998
5. Dallas, Texas
Dallas is the fourth-largest industrial market in the country. It's no surprise that this city is quickly becoming a hotspot for people looking to start their careers. This 343 square-mile-wide city is also a melting pot of multiple cultures while managing to offer a small-town vibe.
When it comes to the weather, this city located in north-central Texas offers hot summers and mild winters. However, rainfall is pretty consistent throughout the year, with one bout of rain lasting a day or two. Snow, on the other hand, is only seen in late December or early January. There are a lot of thunderstorms in the area, many of which also bring light hail.
The job market in Dallas is focused on jobs in fields like sales, education, engineering, and finance. However, there's also an abundance of entry-level jobs, making it easy for young professionals to start their careers. All of these factors bring the average annual salary of Dallas to about $53,800.
Dallas is a major educational hub in south-central USA. However, this city is also known to have a few schools that do not hold up the reputation of the school districts in Dallas. Some of the best schools in Dallas are listed below.
Jenny Preston Elementary School
Coppell Middle School
Carroll Senior High School
University Of Dallas
Population: 1,330,612
Median Home Value: $188,100
Monthly Median Rent: $1,052
Annual Median Household Income: $52,580
Also See: Moving To Dallas Texas
6. Denver, Colorado
Denver, a.k.a The Mile High City, is a land of opportunities. In fact, more than 100,000 people have moved to the city in the last decade for its job markets, beautiful landscapes, and the city's affinity towards outdoor sports.
Talking about the climate in Denver, you'll experience hot summers and windy, cold, and sometimes harsh winters. In fact, the city of Denver sees a huge amount of rain and snow. While the majority of the snow occurs in January, you might see rain in February to November.
The job market in Denver is very good. In fact, the city of Denver contributed around $202.46 billion to the GDP of the country. Two of the biggest industries in the city are hospitality and the sale of marijuana (which is legal, by the way). Other than that, industries like healthcare, aerospace, and tech are also big contributors to the economy of Denver. The resulting average annual salary in Denver is $61,540.
The education sector in Denver is very well-equipped. The city is home to about 157 public schools, 220 private schools, and 9 colleges. The credibility of the education is further driven up by the awesome student to teacher ratio of 19:1. The best schools and colleges in the city of Denver are as follows:
Littleton Academy
West Middle School
Kent Denver School
University Of Colorado
Population: 308,174
Median Home Value: $138,700
Monthly Median Rent: $828
Annual Median Household Income: $43,896
7. St. Louis, Missouri
St. Louis is an iconic city with something for everyone. This city is perfect if you're looking for a big city without the hassle of a big city. Family-friendly fun, a vibrant nightlife scene, great neighborhoods, and top-rated schools are just the highlights of this city.
Talking about education in St. Louis, the public school system here is very well-funded and results in high ranking schools and colleges sprinkled around St. Louis. In fact, this city has some schools that are ranked in the top ten, nationally!
Considering looking for a job after schooling, you'll be pleased to know that there are huge employers like MasterCard, Nestle-Purina, and about 21 other Fortune 1000 companies calling St. Louis their home. The great job market in this city brings the median household income to about $67,420, per year.
Another huge factor that decides the attractiveness of any location is the weather. In St. Louis, you'll see all four seasons. However, you need to remember that there are extremes. The summers are hot and soggy, while the winters are cold and snowy.
Population: 308,174
Median Home Value: $138,700
Monthly Median Rent: $828
Annual Median Household Income: $43,896
Related: Moving To Missouri – Relocation Guide
8. Fort Lauderdale, Florida
Fort Lauderdale is the physical rendition of the phrase 'sugar, spice, and everything nice.' As a resident of this South Floridian city, you'll have access to warm weather, great nightlife, and a tight-knit community. As home to over 185,000 people, you might find the previous statement to be very true.
Speaking of the weather, Fort Lauderdale offers a climate that's slightly beyond warm. It's hot and humid in the summers to the point where you have to be mindful of avoiding heat strokes. Winter, on the other hand, is pleasantly cool and the temperature stays around 50°F most days. You also have to be careful of calamities like hurricanes, thunderstorms, and floods, all of which frequently visit this beautiful city.
Fort Lauderdale is much more than its beauty, though. Industries like mining, education, finance, and tourism are booming and cumulatively offer an average annual salary of $52,315 to its residents. There's also a plethora of jobs in the trade and marine industries, both of which, while conservative, can offer great opportunities.
Speaking of opportunities, one can create some for themselves with the high quality of education in Fort Lauderdale. With more than 213 schools in the city, you have access to some of the largest school districts and top-rated colleges in the state. Some of the best ones from the bunch are:
Harbordale Elementary School
William Dandy Middle School
Stranahan High School
University Of Florida
Population: 180,124
Median Home Value: $334,000
Monthly Median Rent: $1,293
Annual Median Household Income: $59,450
9. Charleston, South Carolina
Located on the east coast of the US, the largest city in South Carolina does a great job of maintaining its small-town aura. There's a plethora of job opportunities, a laidback lifestyle, religious venues, and multiple outdoor activities.
In order to enjoy the outdoor activities, you need to have suitable weather. Thankfully, the city of Charleston has a climate that allows you to be outside for almost the entire year. While the winters are relatively pleasant, the summers get really hot, humid, and muggy.
In the past decade, Charleston has seen great developments in fields like education, healthcare, manufacturing, and hospitality. To prove this point, you can see that companies like the Boeing Company, Medical University Of South Carolina, and Joint Base Charleston call this city their home and bring the average household income to about $61,367.
When talking about the leading industries in Charleston, you cannot skip the education sector. There are educational institutions in this city that offer top-quality education and facilities to all students. Here are some of the best of them:
Ashley River Creative Art Elementary
Montessori Community School
Philip Simmons High School
Charleston Southern University
Population: 135,257
Median Home Value: $330,600
Monthly Median Rent: $1,257
Annual Median Household Income: $68,438
Also Read: Why are Retirees Leaving Florida?
10. Austin, Texas
Austin is the home to a booming job market, amazing entertainment venues, and a culture that is inviting to everyone coming here. As home to more than 2 million people, Austin seems like a big city, and behaves like one too!
When considering moving to any place, you need to make sure that the weather suits your taste. As for Austin, you will find insanely hot summers, where the days frequently go above 100 degrees Fahrenheit. Moreover, it lasts for 7 months!
For the other five months, the temperatures in spring through winter drop to around 60-70°F. There are also occasional tornadoes, floods, and droughts in this city. So, you might want to keep an eye out for the weather forecast.
After you figure out living, you might want to figure out making a living. In Austin, you might find it relatively easy to find a job as a skilled, or qualified, professional. In the last decade, industries like technology, finance, and agriculture have developed exponentially and brought the average household income to $63,717.
Last but not the least, the education sector in Austin has also seen exponential growth in the past few years. The independent school district of Austin consists of a combination of 128 private, public, and chartered schools. Many of which are highly rated. The best ones from this lot are listed below for you to check out:
Clayton Elementary School
Canyon Vista Middle School
Westlake High School
The University Of Texas
Population: 950,807
Median Home Value: $337,400
Monthly Median Rent: $1,280
Annual Median Household Income: $71,576
See Also: Moving To Austin
Summing Up
The United States Of America has cities that offer all sorts of lifestyles that can suit all sorts of people. The country has always made it a point to evolve and improve, and the quality of life in the big cities, especially the ones on this list, are evidence of that same spirit.
While these are the cities we think are the best to move to, there might be some things that might not fit your needs. Make sure you do all the due research before making a move, and if you find that this new place still does not tickle you right, we've got nine other options!
Also Read: Top 10 Cheapest States to Live In 2022
FAQs
Which US City Is Best To Live In?
While there is no definite answer to this question, the cities of Atlanta, Georgia, Raleigh, and Charleston take the top rankings in terms of the overall quality of life.
What City Has The Best Cost Of Living?
The city of San Jose has the best cost of living amongst all the big cities in the USA.
What Is The Friendliest City In America?
The city of Buffalo, in the state of New York, is known as the friendliest city in America. This is due to the majorly diverse and liberal residents of the city.
Enter your information
Almost done!
Enter your information to view your quote.
Your information is safe with us. By using this service, you agree to receive email communications solely regarding your relocation process